Angels in America is an epic. There's no better word for it. Including four or five 15-minute intermissions, the complete work runs about seven hours, so it's usually produced in two parts: Cygnet Theatre is showing Part One: Millennium Approaches now, and Part Two: Perestroika begins soon. You buy tickets for them separately, but if you're up for seeing the whole thing in one day—paging my fellow Lord of the Rings Extended Edition marathoners out there—you can do that, at four complete shows (dates below).
"But it's 2019," you say. "Social media has microwaved my attention span down to sizzling three-second chunks. I can barely sit still two hours for a movie anymore, let alone seven." Would it sweeten the deal to know that it won the Pulitzer Prize for Drama and—between the original run and its revival—10 of the gobsmacking 23 Tonys it was nominated for?
If you're unmoved by awards, simply take this personal recommendation: I spent all 3.5 hours of the first half completely riveted. There's not a slack minute to be found. The script, by theater megastar Tony Kushner, is crisp, funny, thought-provoking, grand as Biblical revelation and intimate as a whispered confession. Every scene tries some new character pairing, artistic device, thematic commentary, and/or conflict escalation, and I spent both intermissions just antsy to find out what happens next. I can't say that about most shows. Angels more than justifies the commitment it asks of you.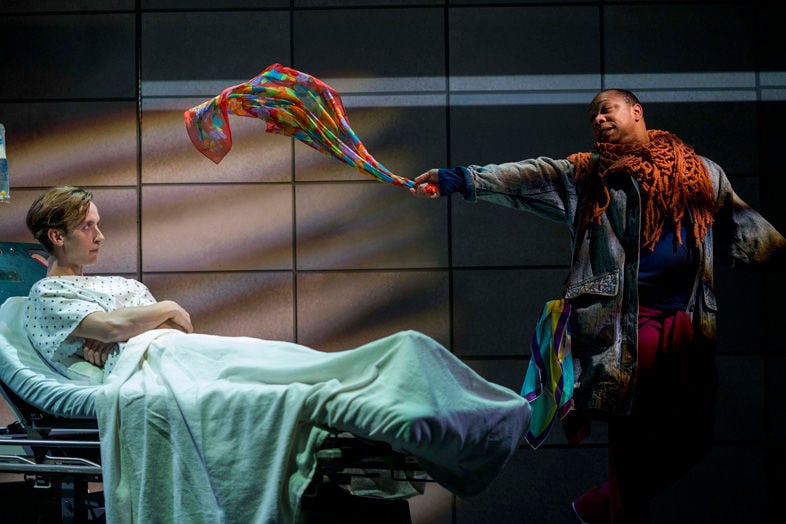 Alex Bodine and Kevane La'Marr Coleman | Photo by Daren Scott Photography
The story takes place in Reagan's America at the peak of the AIDS crisis, following two fictional couples and their friends, family, angelic visitors, and one real-life political figure. Prior (Alex Bodine) is the last of a family line stretching back to the Battle of Hastings; as he struggles against his compromised immune system and the side effects of experimental treatment AZT, he's haunted by comedic visions of his ancestors and a booming heraldic voice personified in an incandescent Hebrew aleph.
Prior's sardonic intellectual leftist Jewish boyfriend, Louis (Wil Bethmann), holds out as long as he can in the face of this agonizing decline, but he's keeping his eye on the door. Belize (Kevane La'Marr Coleman), a nurse and ex-drag queen, serves as their intermediary—both comfort and reality check where necessary—as their relationship, and Prior's health, deteriorates.
Louis's wandering eye falls on a rising star at his office, Joe (Connor Sullivan), a Mormon Republican lawyer who Louis can immediately tell is closeted. Joe's got trouble at home, too: his wife, Harper (Rachael VanWormer) is a Valium-addicted shut-in who knows that something is deeply wrong with their relationship (Just where is he going on all those late-night walks?) and is escaping into dream worlds to cope.
Joe and Harper's crisis point is swiftly approaching thanks to the influence of Joe's boss, Roy Cohn (James Newcomb), the real-life political "fixer" and all-around swell human being who took pride in helping Joseph McCarthy bar homosexuals from federal employment, sending the Rosenbergs to the electric chair, and (incidentally) mentoring Roger Stone and Donald Trump.
Angels is crisp, funny, and thought-provoking. Every scene tries something new, and I spent both intermissions just antsy to find out what happens next. I can't say that about most shows.
Every actor performs additional roles, often as other genders. Rounding out the cast are Rosina Reynolds as a mother, a rabbi, and a doctor; Debra Wagner as the Angel, and two dancers (Isaac Kalimo and Hans Krueger) who will debut in Part II. I remember Wagner from sparkling comedic turns as Imelda Thornton in Cygnet's On the 20th Century and Prudy Pringleton in SD Musical Theater's Hairspray; she brings breathtaking gravitas to bear here. And since San Diego Rep's Sex with Strangers wasn't my cup of tea, it's great to see Sullivan working wonders off a better script. VanWormer takes the same awe-conjuring powers she displayed so well in Silent Sky at Lamb's Players and strangles them with paranoia and brokenness to great piteous effect.
I'll update this review a little after seeing Part II, but so far I have to reserve greatest praise for Newcomb. Roy Cohn is a despicable villain, but in this telling his villainy arises from a boiling-hot stew of lusts and facades with no clear-cut interpretation. He makes interesting choices in seemingly every line delivery and gesture, making the character gripping to watch.
This is a stupendous effort by Cygnet's artistic director, Sean Murray. His letter on the first page of the program shares that this play is personal for him, and it shows. Any theater would need to be supremely confident of their talent at hand to mount something of this magnitude, and unless something goes pear-shaped in Part II I'm ready to call it the best thing I've seen so far this year.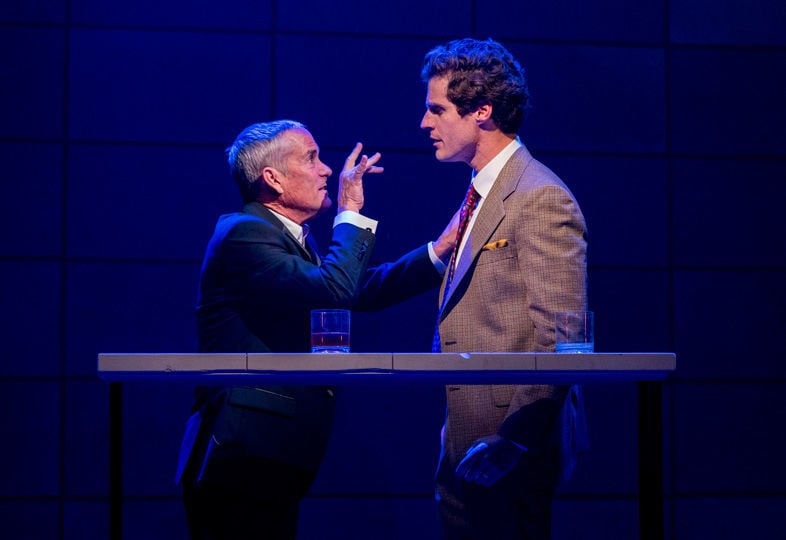 James Newcomb and Connor Sullivan | Photo by Daren Scott Photography
Angels in America: A Gay Fantasia on National Themes
at Cygnet Theatre, tickets at cygnettheatre.com
Part I running now
Discounted previews for Part II begin March 22
See both parts in a row on March 30 and April 7, 13, and 20
Both parts run in rotating repertory until April 20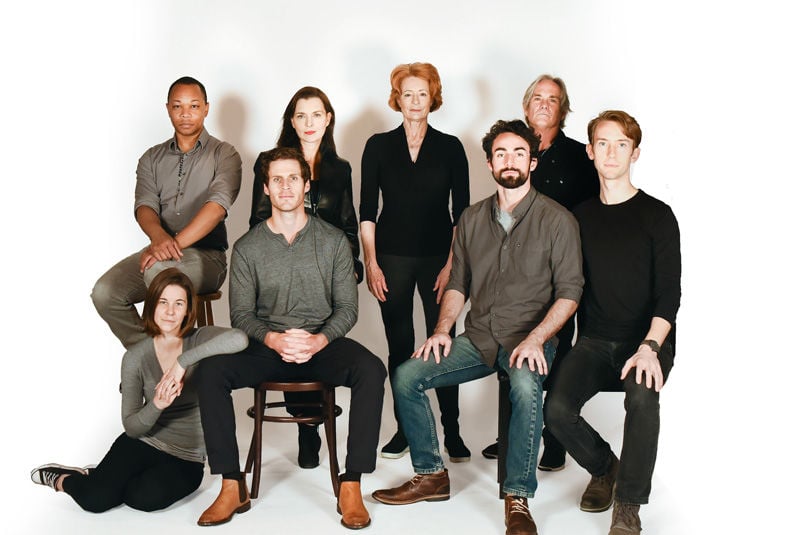 Top: Kevane La'Marr Coleman, Debra Wanger, Rosina Reynolds, James Newcomb. Bottom: Rachael VanWormer, Connor Sullivan, Wil Bethmann, Alex Bodine | Photo by Rachel Esther Tate.