In the first scene of Dance Nation, one member of the preteen dance troupe—all played by adults, in Donald Duck sailor outfits—breaks a leg. (Literally.) For a minute while she's abandoned to drag herself offstage, you can almost hear the audience's mental gears recalibrating from "Comedic Realism" to "Absurd Farce." But if there's one thing you can count on from Moxie Theatre, it's a show that defies quick labels.
Not that there's anything wrong with farce. But Dance Nation has a lot more on its mind than a simple satire of the hypercompetitive world of Dance Moms, which should be evident from the recognition it's received: It won the Relentless Award and the Susan Smith Blackburn Prize after debuting at Playwright Horizons in 2018, and promptly became a finalist for the 2019 Pulitzer Prize for Drama. It's heading to Chicago's Steppenwolf Theatre after this, its West Coast debut.
You realize soon after that first shock that this is one of those rare empathetic, character-driven stories that are actually enhanced by their glimpses through the looking glass. Each of these six girls (and one boy) are motivated by real coming-of-age concerns like the pressure to succeed, the fear of being excluded, or even just the difficulty of giving oneself an orgasm; and each one has a voice that's very well differentiated from the others, which (in the writing world at least) is an underrated achievement.
I wanted to gush to the playwright, 'I can't believe someone else felt this way as a kid, too—and I'm so happy that you've put it into words.'
Where a less confident script might explicitly announce its wilder segments as dream sequences or inner monologue, Dance Nation paints a more vivid picture of adolescence by blurring the lines of reality. As much as the realistic narrative hits the authentic mannerisms and conversation style of high-achieving preteens, the more stylized detours capture the feeling of unlimited potential that drives them. Could I get into some in-depth analysis of the thematic reasons why the dancers transform into vampires, their ballet into a rave? Sure. But why waste words on justifying the form when the feeling speaks louder?
There is a conventional plot, following the troupe's preparation for the "Boogie Down Grand Prix" in Tampa Bay—but it unfolds by way of vignettes, incidental conversations, character observation through dance, and other slice-of-life episodes. I don't know about playwright Clare Barron's background, but the flavor of these are too deliciously specific not to have some origin in memoir. Dance Teacher Pat (Daren Scott, whom I'm happy to see onstage after seeing his photography for theater companies all over town) is always "Dance Teacher Pat," never "Pat," never "Mr."; and his methods are progressively bizarre, hilarious, threatening, and inspiring.
Everyone in the cast gets their turn to shine, and if not for lack of space I would go on about each of them. I've seen Sandra Ruiz and Joy Yvonne Jones in previous Moxie productions (and just had the privilege of interviewing the latter) and both of them have put a lot of thought into embodying young characters who have just as complex an interior life as any adult.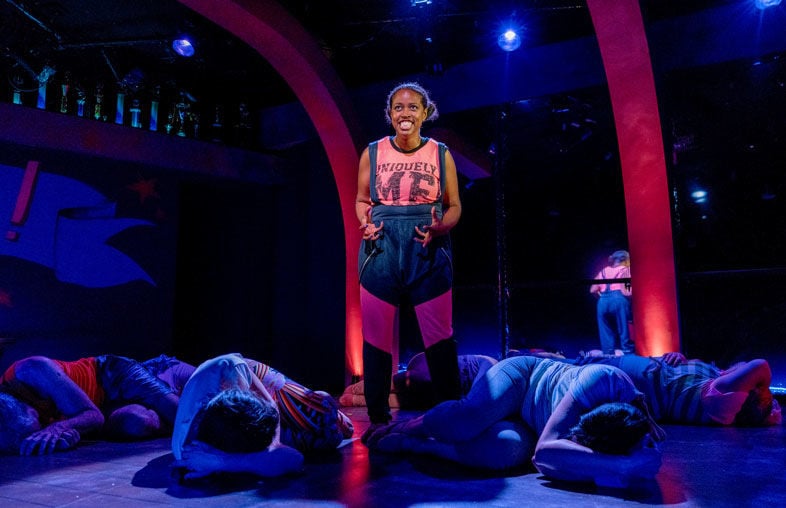 Andrea Agosto in Dance Nation at Moxie Theatre | Photo by Daren Scott
Sarah Karpicus Violet plays a few different moms, now commanding, now cuddly. Eddie Yaroch's character has less dialogue than others, but it's sweet to see representation for boys who are quiet but sincere and completely unconcerned with machismo. Wendy Maples is a star burdened by the expectations that accompany teacher favoritism; Farah Dinga plays a new student hoping to join the in-group; and Li-Anne Rowswell's big moment is such a touching tribute to the power of magical thinking that I wanted to gush to the playwright, "I can't believe someone else felt this way as a kid, too—and I'm so happy that you've put it into words."
Last but not least, director Jennifer Eve Thorn must have seen Andrea Agosto in Diversionary Theatre's Bull in a China Shop—for me, her monologue was the highlight of that play—because Agosto gets the pièce de résistance here, too, delivering a knives-out, flag-planting feminist manifesto where every syllable and gesture are fine-tuned for maximum impact. (What I'm saying is, the Craig Noel Awards should have a category for best monologue.)
To be honest, my only complaint about this show was that it ended so abruptly. Ninety percent of the plays I see, I'm ready for things to wrap up halfway through the second act, but I would've enjoyed another half hour with these bright, dynamic characters, seeing just how big their appetite for the world could get.
Dance Nation, directed by Jennifer Eve Thorn
at Moxie Theatre through September 15
Tickets at moxietheatre.com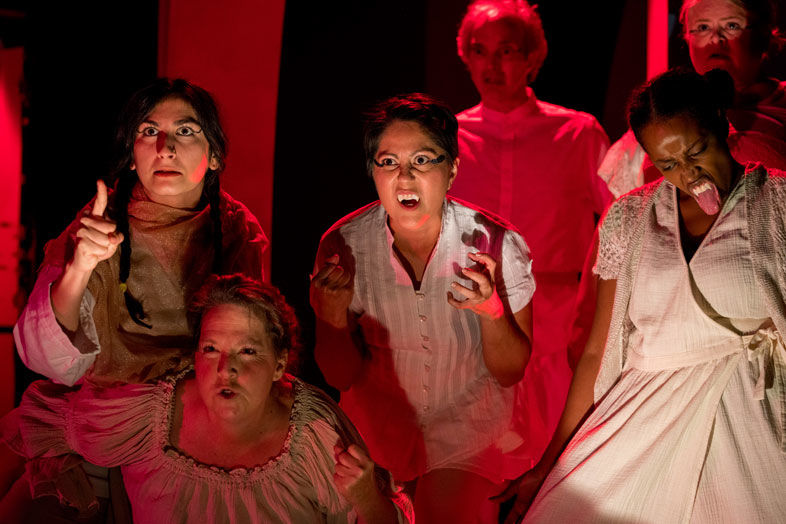 Farah Dinga, Li-Anne Rowswell, Sandra Ruiz, Eddie Yaroch, Andrea Agosto, and Wendy Maples in Dance Nation at Moxie Theatre | Photo by Daren Scott