NOTE: For restaurant reviews in San Diego Magazine, I visit at least twice, sometimes three or four times. There are many reasons for this (a cook might've called in sick or hungover, staff may be moody due to personal or political reasons). "Rapid Review" is an impression of a restaurant after just one visit. Not as in-depth. But I believe it still has value. After all, most people form their impression of a restaurant after one visit.
---
It's a Tuesday, and the Little Italy Food Hall is lousy with people. The boom town needed this—an effluvial fan where the overflow of humans could decamp, gather, grab quick bites. Locals who work in the area are here on their lunch breaks, seem thankful. With six concepts doing counter service, it's basically a walk-in vending machine of restaurants. Whereas all the other restaurants along India and Kettner streets are full-service, sit-down, stay-awhile places, the food hall is a Tinder approach to eating out. Scan potential suitors, make your selection, and ghost them.
Food halls are not like food courts at malls. They are exactly food courts at malls. The operators simply removed the retail (can't blame them, it's hard listening to the screams as Amazon sinks its vampiric incisors into retail's femoral artery) and brought in better food.
I've already tried Sam the Cooking Guy's Not Not Tacos (very good, especially that pastrami one). The line for Wicked Maine Lobster is wicked. So I make a run at Single Fin Kitchen—a global seafood concept from chef Antonio Quindere, who spent a little time under Japanese masters Nobu Matsuhisa and Jeff Ramsey, which explains his sushi and donburi (Japanese rice bowls). He went to culinary school in Peru, which explains his ceviche marinated in aji amarillo (a sauce made of Peru's iconic aji peppers).
I order the albacore al pastor. For this, Quindere marinates his raw fish in achiote paste, which most people recognize as a great way to make Mexican tacos. "Achiote" is the Spanish word for "annatto"—a pretty remarkable seed.
Annatto became a staple in Mexico for a few reasons. First, the flowers are beautiful, like roses, and made any home look like one of the residents was making money. But it's the deeply red seeds' talent as a coloring agent that really took the food world by storm. That's why they call it oxblood, or "the lipstick tree." The seeds are often called "Mexican saffron" because, though it doesn't have that legendary saffron flavor, it'll turn anything red. In fact, historians say some Native Americans used achiote/annatto to make warpaint, and that's where we got the derogatory slang term "redskin." In food, commercial cheeses and butters will use it to add a yellowish tint that consumers expect, and it's added to some smoked fish and chilies.
Achiote paste is usually achiote/annato, cloves, bay leaf, coriander, cumin, oregano, garlic, vinegar, lime and lemon zest (basic achiote is just ground seeds, salt, sugar, and an acid). Not sure of Quindere's recipe, but what it does to his high-quality albacore is give it an earthy, spicy, vaguely sweet flavor, with the welcome texture of a dry rub. Raw albacore is very mild, and this gives it an attitude. A jolt of oxblood Baja lipstick.
The rest of the bowl is well-seasoned herb rice, onions, chile threads, a salad of cucumber and wakame (sweet seaweed), microplaned radishes, mango, and furikake—the amazing Japanese rice seasoning blend, usually dried seaweed, sesame seeds, dried tuna flakes, ground shiso leaf (kinda like mint, kinda like basil, kinda citrusy).
Quindere says people don't know what to make of his place quite yet. It's easy to understand a lobster roll. But his raw seafood preparations are more global, whether Japanese or Peruvian or Baja.
It's definitely worth a venture. Start with that al pastor bowl and keep going.
550 W. Date St., Suite B, Little Italy. singlefin.kitchen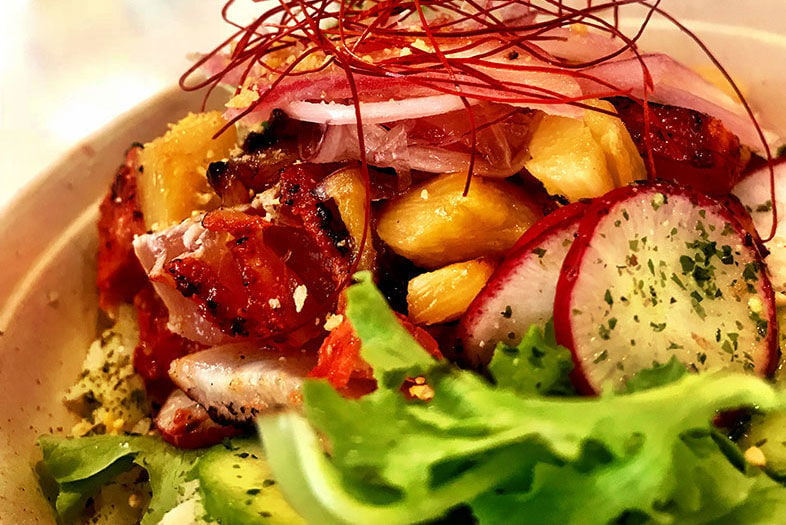 Albacore al pastor bowl