The county's favorite small-town mountain getaway, Julian has given many a SoCal kid their first exposure to snow for nearly 150 years. In January 1869 A. E. Coleman, a cook from a nearby ranch who'd escaped slavery in Missouri, discovered gold in a creek that would later bear his name. Though the California gold rush was long over by then, prospectors soon swarmed the mountains, many of them former Confederate soldiers who weren't receiving the warmest welcome from San Diego's chief landowner at the time, New Englander Alonzo Horton.
One of them staked a claim and named it after his cousin, Mike Julian, purportedly because he was the handsomest man in town. As the gloriously named Horace Fenton Wilcox remembered: "I reckon [Julian] wasn't any tougher'n most minin' camps of that time. Every other place of business was a saloon, a gamblin' joint, or a dance hall; but on the whole things was pretty orderly."
Gold production shut down in the 1890s, but Julian avoided becoming a ghost town because while its men were off in the mines, their wives had been busy planting apple orchards, which would become its lasting hallmark. In 1897 another former Missouri slave, Albert Robinson, built the Julian Hotel, which today is the oldest continuously operating hotel in Southern California.
Thanks to its designation as a historical district, all new buildings on Main Street, pictured here, must conform to 19th-century architectural styles, which secures Julian as San Diego's best place to take a trip back in time, go for a romp in the snow, and cozy up with some hot apple pie.
By the Numbers:
1909 – Year of the first Apple Day celebration
$450 – Salary made by the town's first schoolteacher, in 1870
13 – Number of active rare-metal mines in San Diego County
100 – Population in 1876 (1,502 in 2010)
4,222 – Feet elevation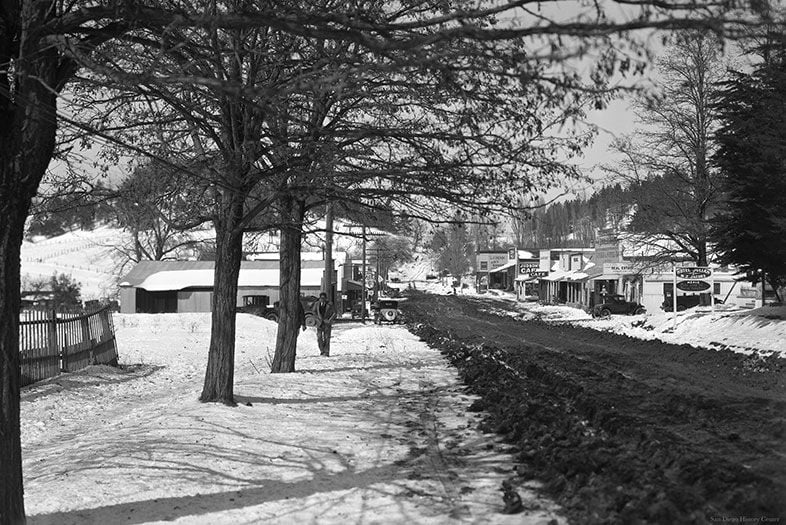 Main Street Julian circa 1925 | Photo courtesy of the San Diego History Center