Meg Myers, Glass Spells (Music Box, November 20): Meg Myers makes pop music, ostensibly, but there's a dark side to her big pop hooks. It's pop music that was weaned on Nine Inch Nails, PJ Harvey and Portishead, with a hefty dose of goth atmosphere coloring her soaring melodies. Which is to say it's the kind of pop that speaks to weirdos like me. Make sure to get there early for the infectious synth-pop of local outfit Glass Spells.
Big Freedia, Low Cut Connie, Boyfriend (November 21, Belly Up Tavern): New Orleans diva Big Freedia made her name as the Queen of Bounce, and nowhere is that more apparent than when she's onstage. Her unique brand of southern hip-hop will make your backside move. Guaranteed.
Wonderfront (November 22-24, San Diego waterfront): I have no idea what exactly to expect from the inaugural edition of this festival—the third major festival in San Diego this year, following Kaaboo and CRSSD (or fourth if you count both CRSSD events)—but it's definitely the biggest thing happening in music locally this week. But as I wrote earlier this year, the lineup offers a lot of interesting insights into what the strategy is behind this new event, which is the only festival I know of that includes water taxi service between stages. In any case, there are a number of artists worth checking out, including Parquet Courts, Vince Staples, Miguel and Japanese Breakfast, not to mention a pretty solid lineup of local bands. While the first installment of any festival is likely to have a few wrinkles to be ironed out, I admire the ambition and desire to further paint San Diego as a major live music destination.
Vetiver, Credit Electric, Ditches (November 22, Soda Bar): Vetiver first rose to prominence in the mid-'00s during the dubiously named "freak folk" resurgence, as frontman Andy Cabic had previously collaborated with acclaimed singer/songwriter Devendra Banhart. But Vetiver's sound always seemed a little less freaky, a little more folky, evoking balmy desert nights with their earthy sensibility. They've continued releasing solid to great new music over the past decade, maintaining the same warmly comforting sound as before without missing a beat.
Turnover, Men I Trust, Renata Zeiguer (November 24, Observatory North Park): I'll be the first to admit I didn't see the emo revival coming before it happened, but now that it's here, it's a solid reminder that there are a lot of great artists within this loosely held-together subgenre of twinkling guitars, unguarded feelings and punk energy. Virginia Beach band Turnover took an interesting turn on new album Altogether, embracing the slick sophisti-pop sound of '80s-era bands like The Style Council. And I'm here for it. It's smooooooth.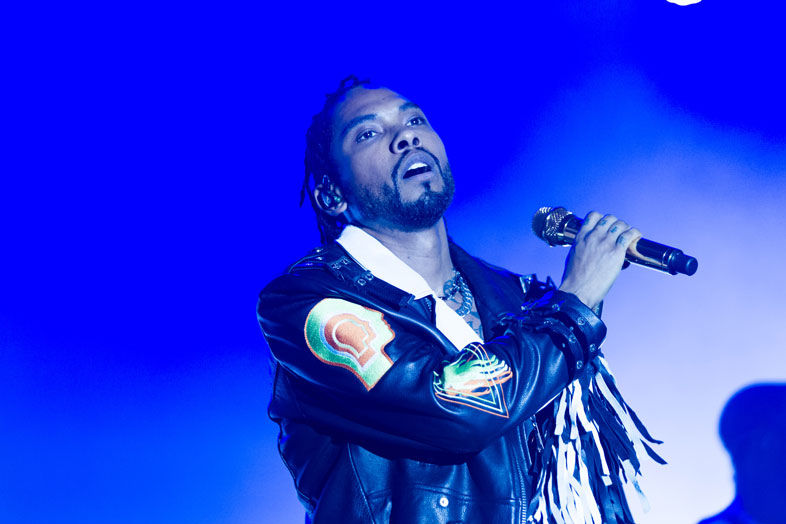 Miguel performs this weekend at the inaugural Wonderfront Festival | Photo by Jamie Lamor Thompson/Shutterstock.com