For several months each year, Carlsbad father of three Mark Palm can be found halfway around the world delivering medicine to a clinic via seaplane, flying a pregnant woman suffering complications to a hospital, or rescuing a snake bite victim who would have faced certain death without intervention.
He estimates that the faith-based charity he cofounded 13 years ago, Samaritan Aviation, has flown thousands of patients from remote villages of Papua New Guinea to the city of Wewak, which has the only hospital in the area—a trip that would take days without a plane. 
Raised in a family of preachers and pilots, Palm says he was called to use his passions for serving others and aviation skills from a young age. When a college friend from Papua New Guinea showed Palm his home country, his philanthropic nature took hold.
"The goal of the trip was to go see how they lived and what were the things they struggle with, and it was very obvious, very quickly that they didn't have access to medical supplies, they didn't have access to hospitals," he says. "I kept hearing stories of people just giving up when there was any type of serious medical condition because there was no hope. So, we had this vision—aviation was something I was planning on doing, and what if we could turn a three-day trip to the hospital into a one-hour flight in a seaplane?"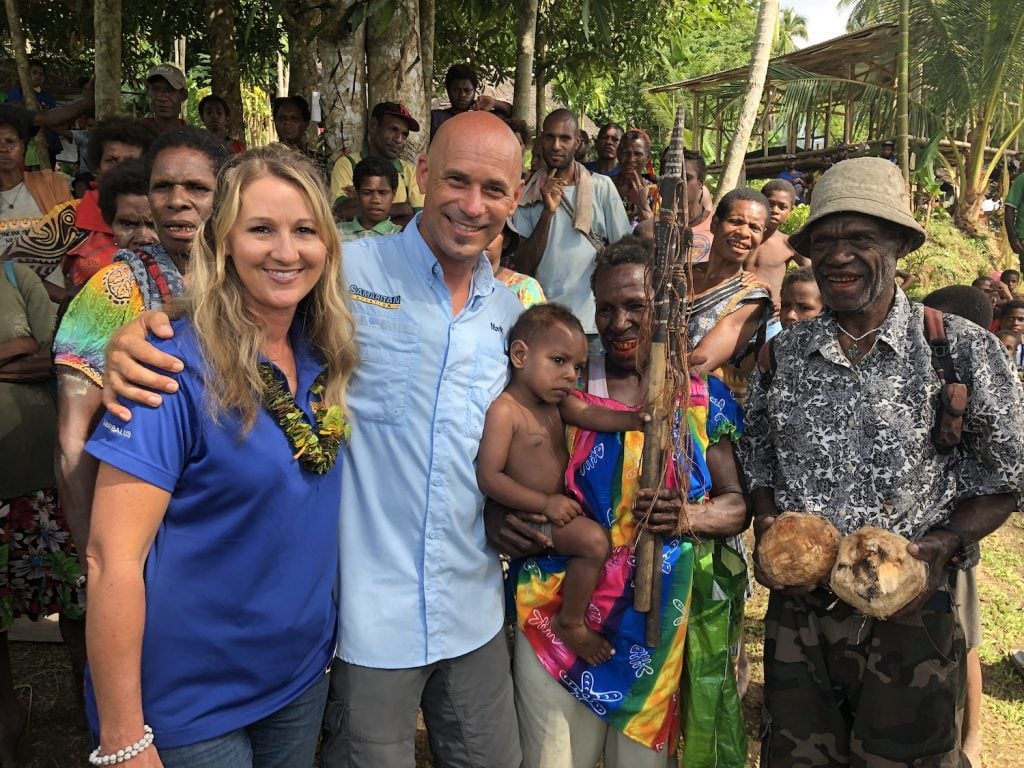 Papua New Guinea, which covers half the island of New Guinea, has a population of more than 10 million people. Roughly 80 percent of its residents live in remote villages, far from medical care. Samaritan Aviation and its four aircraft conduct life flights, medicine delivery, and disaster relief flights, serving more than 350,000 villagers. 
"A few weeks ago, we had a lady with pregnancy complications and another patient that had been in a trauma situation, tribal attack," Palm recounts. "So, we have him in a stretcher of the lady sitting up next to him. Wewak was a 35-minute flight—and she delivered twins in the plane sitting up."
Though Palm has dedicated his life to helping others access health care, he recently faced a health challenge of his own. Palm was diagnosed with B-cell lymphoma and spent months undergoing treatment. He says he has a newfound appreciation of what it's like to be a patient and to have access to top-quality care.
"I've picked up thousands of people over the years, and it's like I'm the guy helping. But now, all of a sudden, I was the patient and that was a humbling experience, to be at a place where you can't help yourself," he says. "The other humbling part of it was knowing if I was living in New Guinea, I wouldn't be here because they don't have the medicine that we have. With the type of cancer I had, I would've died in probably a matter of weeks. I feel God's given me more time here."
Now in remission, he has resumed splitting his time between his Carlsbad home and his duties overseas. Samaritan Aviation has been busy building a new seaplane, enlisting more staff to cover more of the island, and fundraising for the nonprofit's Fuel for Life campaign.
"To see the need over there, that's what drives me now," says Palm. "We've done really well, and we're having the biggest year we've ever had, but the needs are continuing to grow. We're getting better at what we do, and now it's time to take Samaritan Aviation to the other side of the island. And then there's two other provinces that we want to move in the next five to seven years. Our goal is to be a serving a million people."