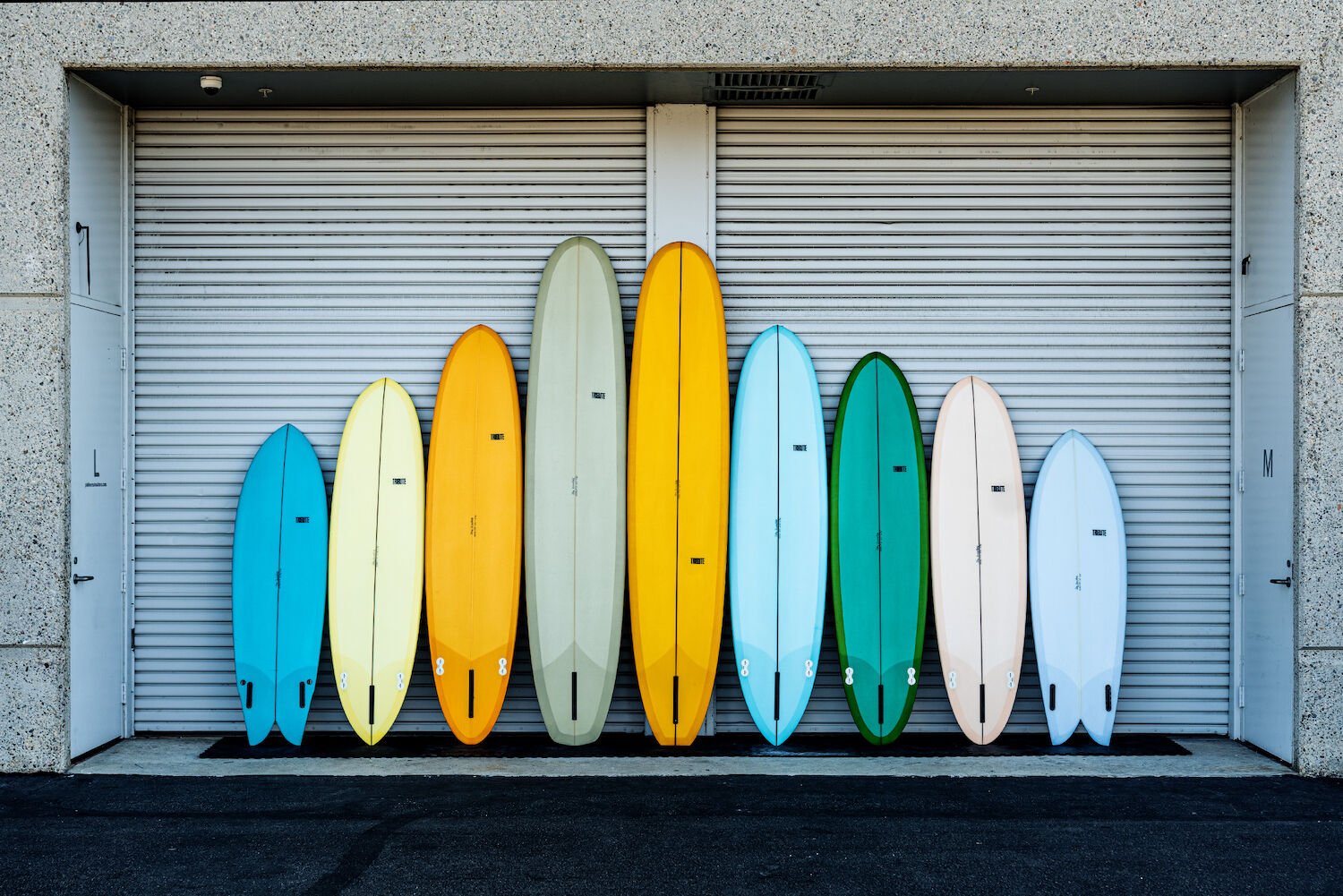 Courtesy of The Board Source
San Diego is a surfer's haven—but even our sunshine-filled paradise is occasionally subject to some bad breaks. On afternoons when the water's no good, scratch your surf itch at one of the county's locally owned surf shops. From classic stores dating back to the golden age of noseriders to newcomers re-inventing the board-shopping experience, here are the must-visit spots to explore and salivate over on your next waveless summer's day.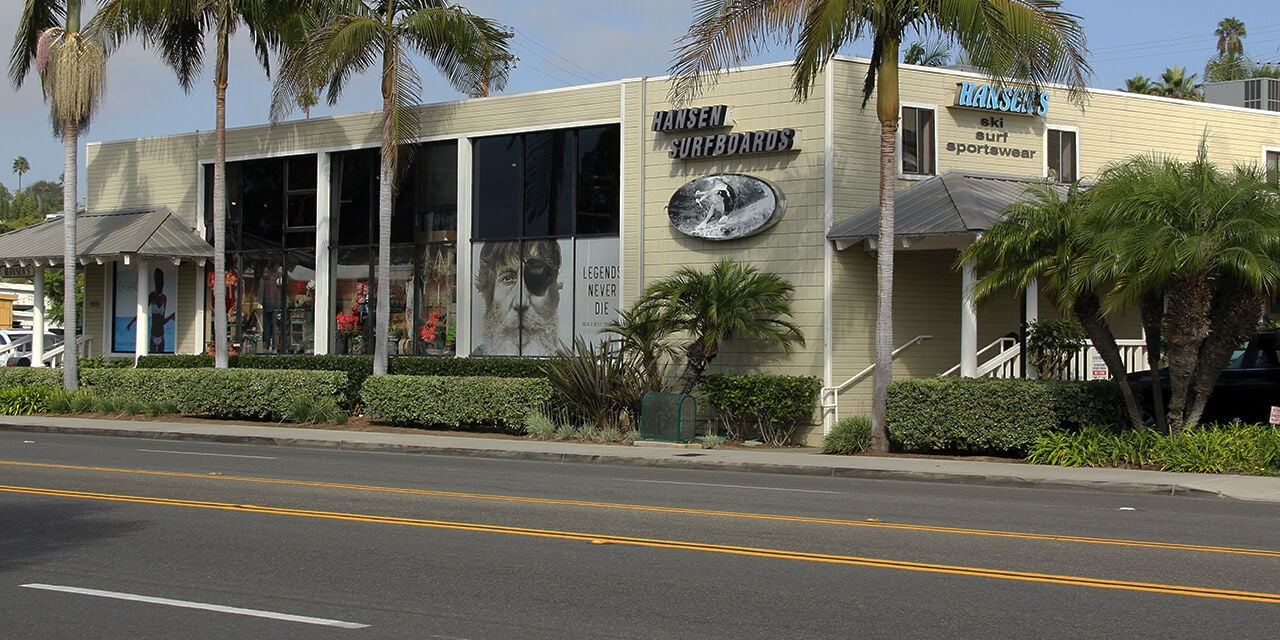 Courtesy of Visit California
Hansen's Surf Shop
Located steps from one of San Diego's most popular breaks (Swami's), Hansen's Surf Shop is possibly the largest board joint in San Diego. The outpost is a seemingly endless wonderland of new and used surfboards and beach apparel especially during their annual 4th of July and Back to School tent sales which are worth a visit. Hansen's even offers snowboarders a chance to practice their carves on a revolving carpet. 1105 S Coast Hwy 101, Encinitas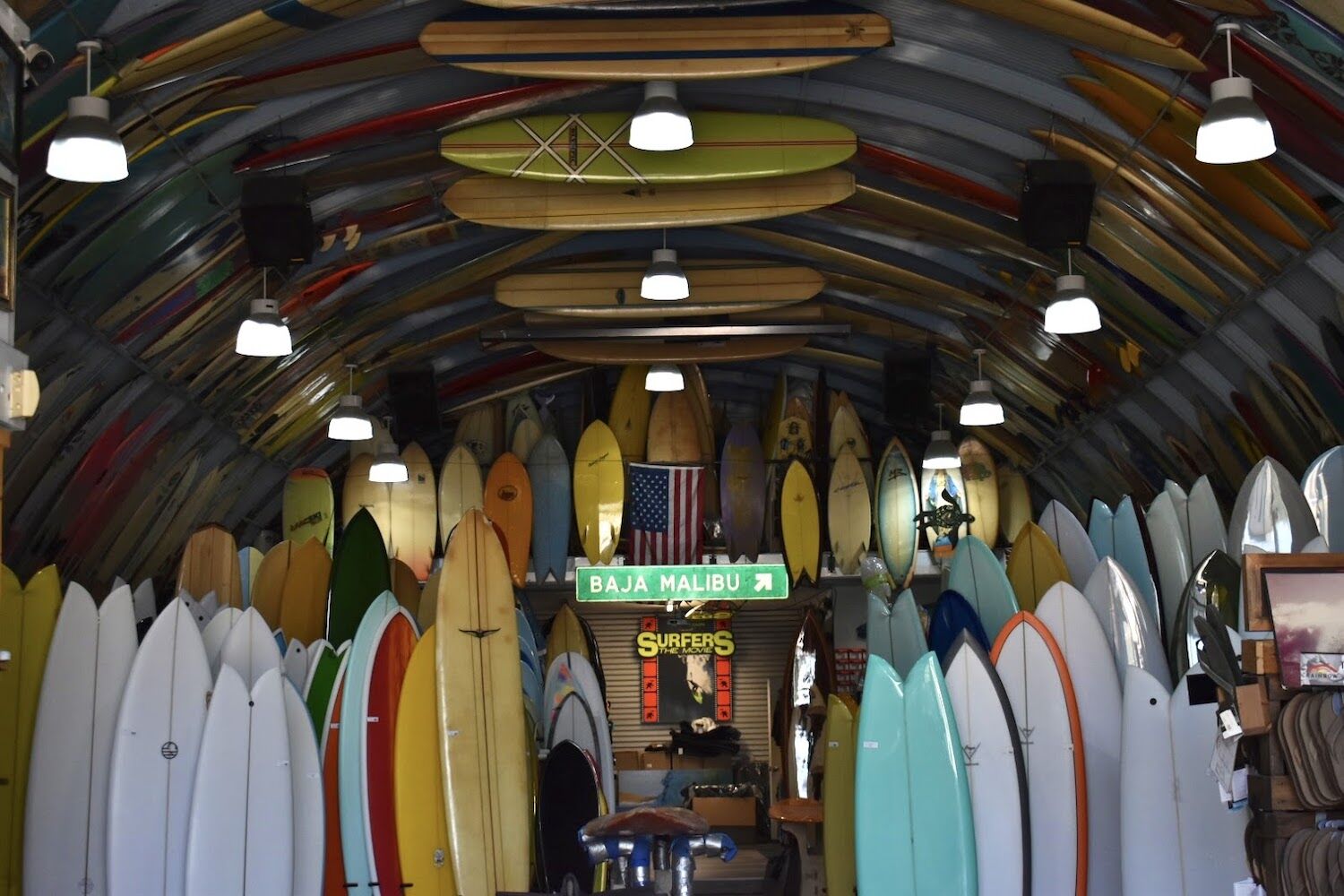 Bird's Surf Shed
Bird's Surf Shed provides a 360-degree experience of surfing history, craftsmanship, and culture. Owned by Eric "Bird" Huffman, a lifelong surfer and San Diegan, the shop offers a plethora of watercraft (both new and pre-loved) produced by local shapers and moonlights as a museum featuring vintage surfboards you won't find elsewhere. Bird is like an encyclopedia of surfing history–ask him anything and he's sure to have an answer. 1091 W Morena Blvd, Bay Park
Clairemont Surf Shop
A staple of the San Diego surf scene since 1976, Clairemont Surf Shop has retained its charm throughout the years. The knowledgeable staff can set you up with the perfect wetsuit, surfboard, skateboard, or anything else you need to shred ocean or concrete waves. Sign up for the shop's membership program to get yourself even more savings and perks from an already affordably priced shop. 6393 Balboa Ave, Clairemont Mesa
Mitch's Surf Shop
An old-school gem, Mitch's Surf Shop was established in 1967 making it one of the oldest shops in San Diego, plus original shop owner Mitch Hagio still manages it after all these years. Mitch's is an ideal spot to pick up a classic noserider longboard, wheels for your skateboard, or rent snorkeling gear for flat wave days. 631 Pearl St, La Jolla & 363 N Hwy 101, Solana Beach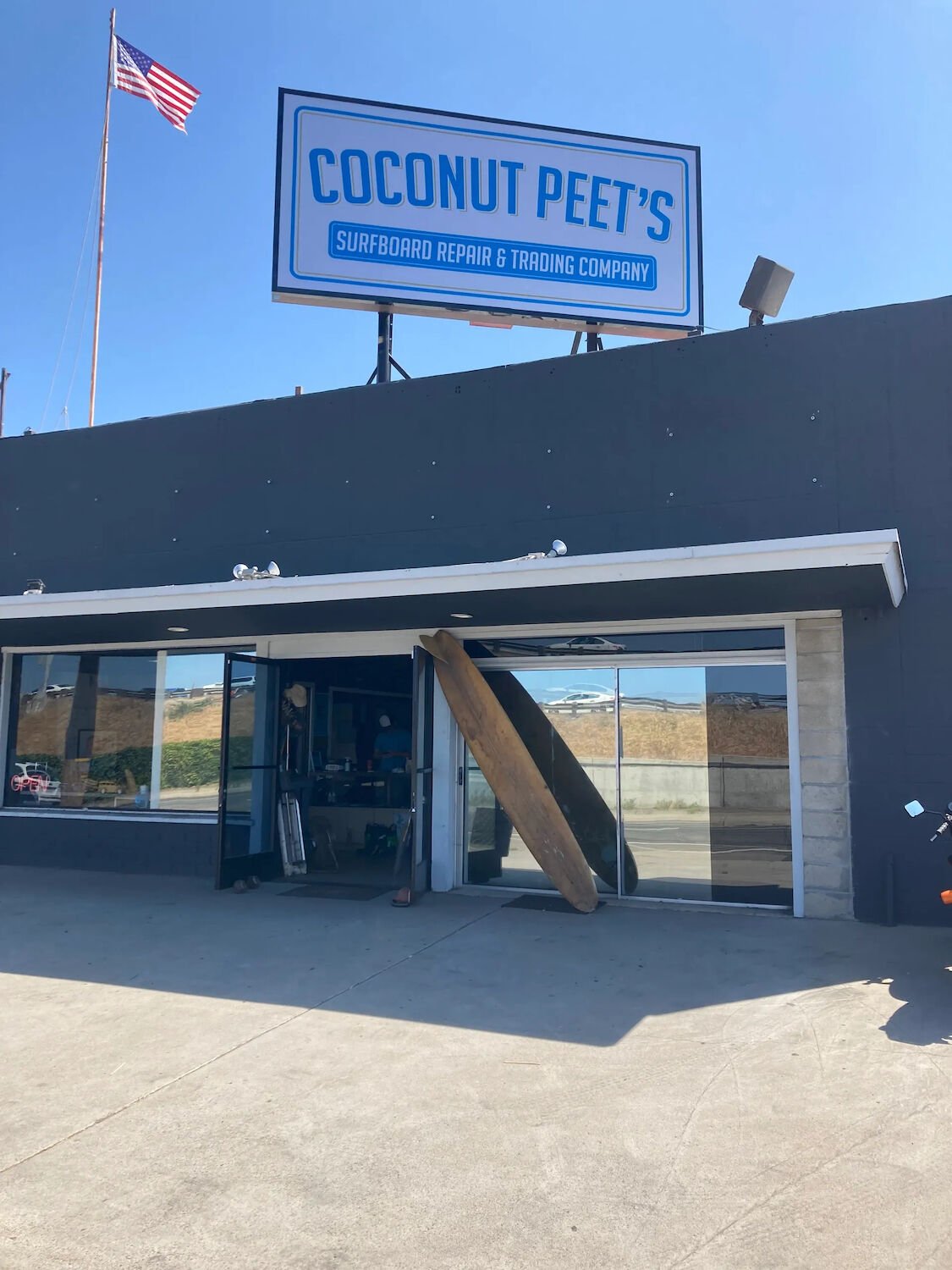 Courtesy of Coconut Peet's
Coconut Peet's
Coconut Peet's is one of San Diego's best-kept surf shop secrets. Owner Billy and shop friends like Kowabunga Dave are always happy to help surfers find the right board, fix the unfixable ding, and get you stoked for your next session. The shop has an amazing selection of pre-owned boards to choose from and will even give you 50 percent off on repairs for used boards bought from the shop—a win-win for your wallet and your wave count. 3231 India St, Little Italy
The Surf Hut
A beloved mom-and-pop shop established in 1986, The Surf Hut neighbors the Imperial Beach Pier and is a prime destination for South County surfers. The service at Surf Hut is always top notch. Beyond the racks full of surfboards and limitless selection of wetsuits, the Surf Hut also boasts an extensive collection of body boards, fins, and even handplanes for our body-surfing brethren. Pillar of the IB surf community and owner Jesus, makes the shop welcoming for surfers of all levels and always hands out free wax and stickers to the local groms.
710 Seacoast Dr, Imperial Beach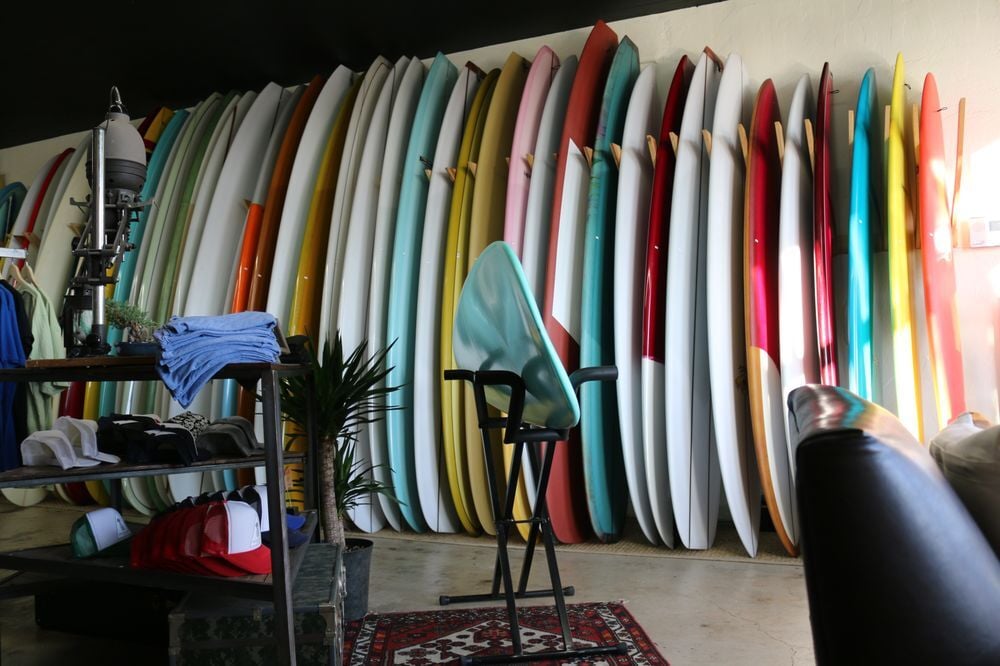 Courtesy of Yelp
Happy Battle
Happy Battle, located on El Cajon Boulevard, is a feast for longboarders' eyes and a burden to our wallets. Catering primarily to longboarders (although mid-lengths and shortboards are also available), their shop features an assortment of the most beautiful, handcrafted, and bespoke surfboards you'll find in San Diego, all produced exclusively by local shapers. If you're tired of the summer surfing blues and are looking for something a little more local, swing into Happy Battle for a handmade noserider that doubles as a fine art piece.4958 El Cajon Blvd, College Area 
Emerald City
Named after the mythical city of Oz, Emerald City is a one-stop-shop for the latest surf gear and rentals in South County. The store specifically has a great selection of brand new shortboards that hit the market like the Firewire Seaside and Beyond and the Pyzel Red Tiger. Beyond surfing gear, the shop has an impressive collection of cruiser skateboards, apparel, and even Impala roller skates. Good luck not spending your whole paycheck here. 1118 Orange Ave, Coronado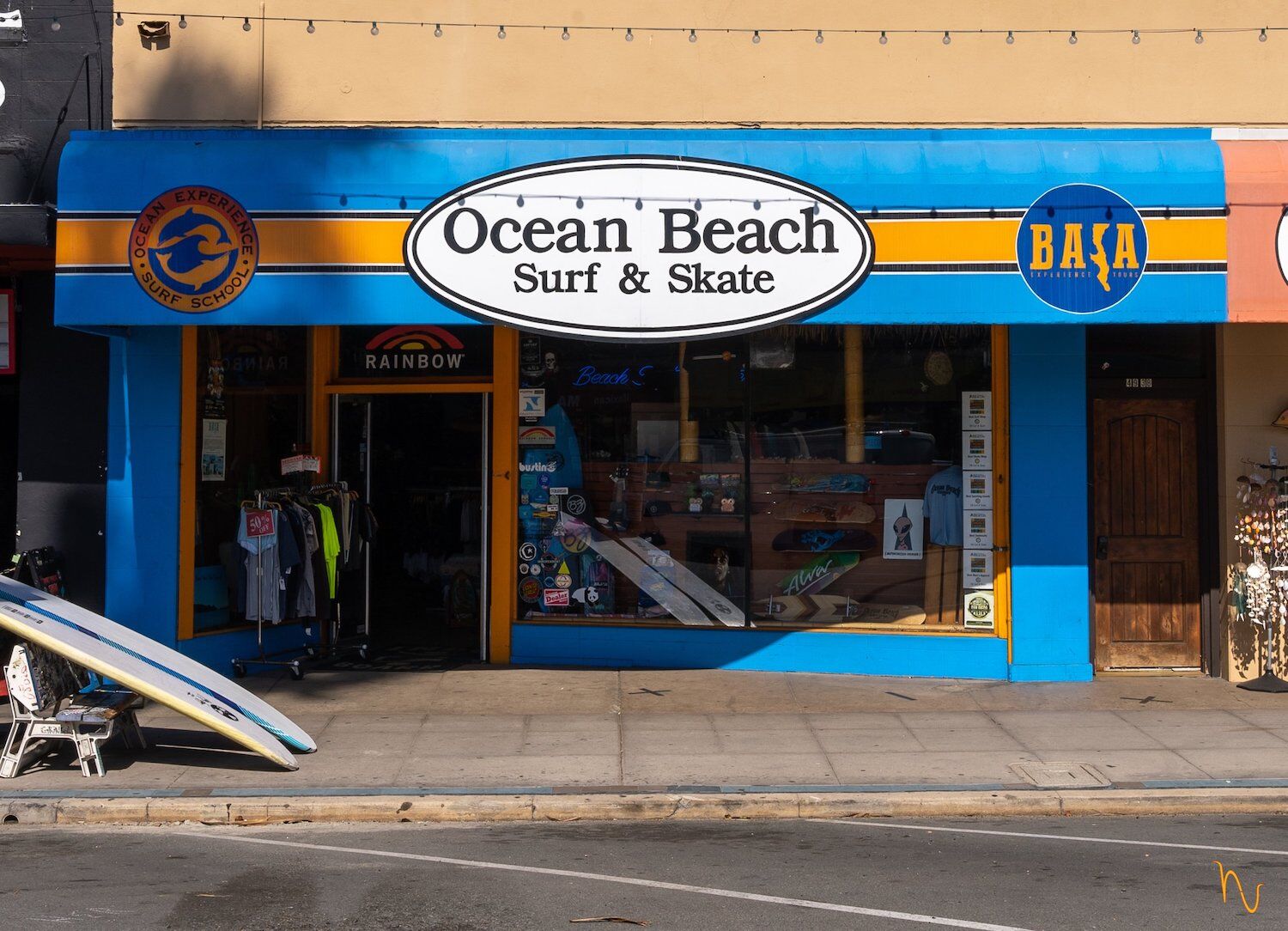 Courtesy of Ocean Beach Surf & Skate
Ocean Beach Surf & Skate
The owners of OB Surf & Skate established the shop in the early 2000s after years of running the Ocean Experience surf school. The store offers gear for riders of all watercraft types (yes, even skimboarders), but is an especially great shop if you need an upgrade on your skateboard with a wide variety of sector 9 decks, double kingpin trucks, or sliding wheels. Today, the shop still operates several surf and skate camps, perfect for beginners looking to master their pop-up or practice dropping into their first skate ramp. 4940 Newport Ave, Ocean Beach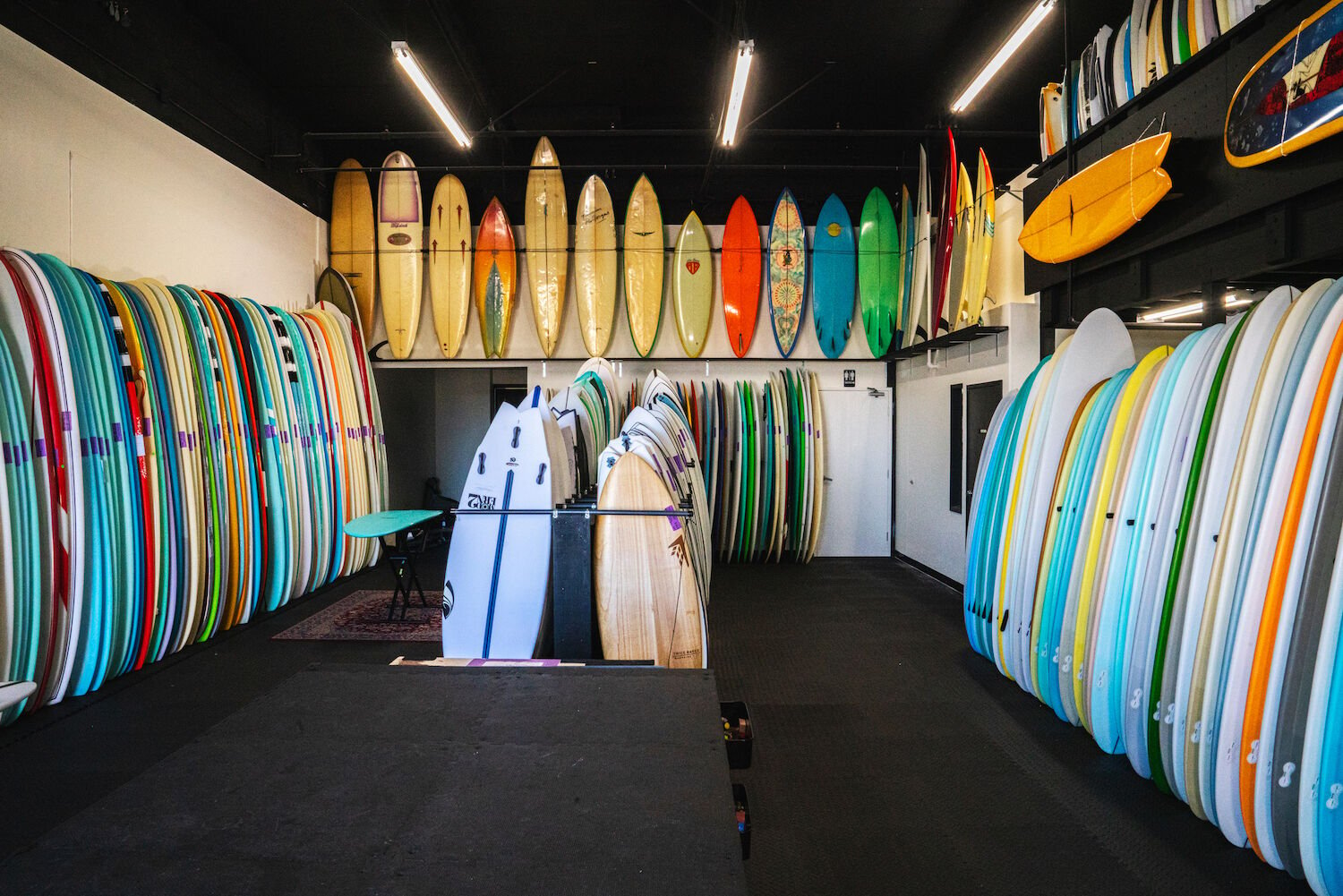 Courtesy of The Board Source
Board Source
Tucked away in an unsuspecting warehouse building in Carlsbad, Board Source offers a killer collection of new, used, and repaired surfboards at competitive prices. Founded by local surfer Jon Faure in 2014, the shop gives new life to well-loved boards and offers competitive prices for customers wanting to sell or trade their boards in. Plus, the Board Source's website features a comprehensive assortment of used boards and images you can explore and reserve (for 24 hours) before visiting the shop in-person. 1945 Camino Vida Roble Suite M, Carlsbad