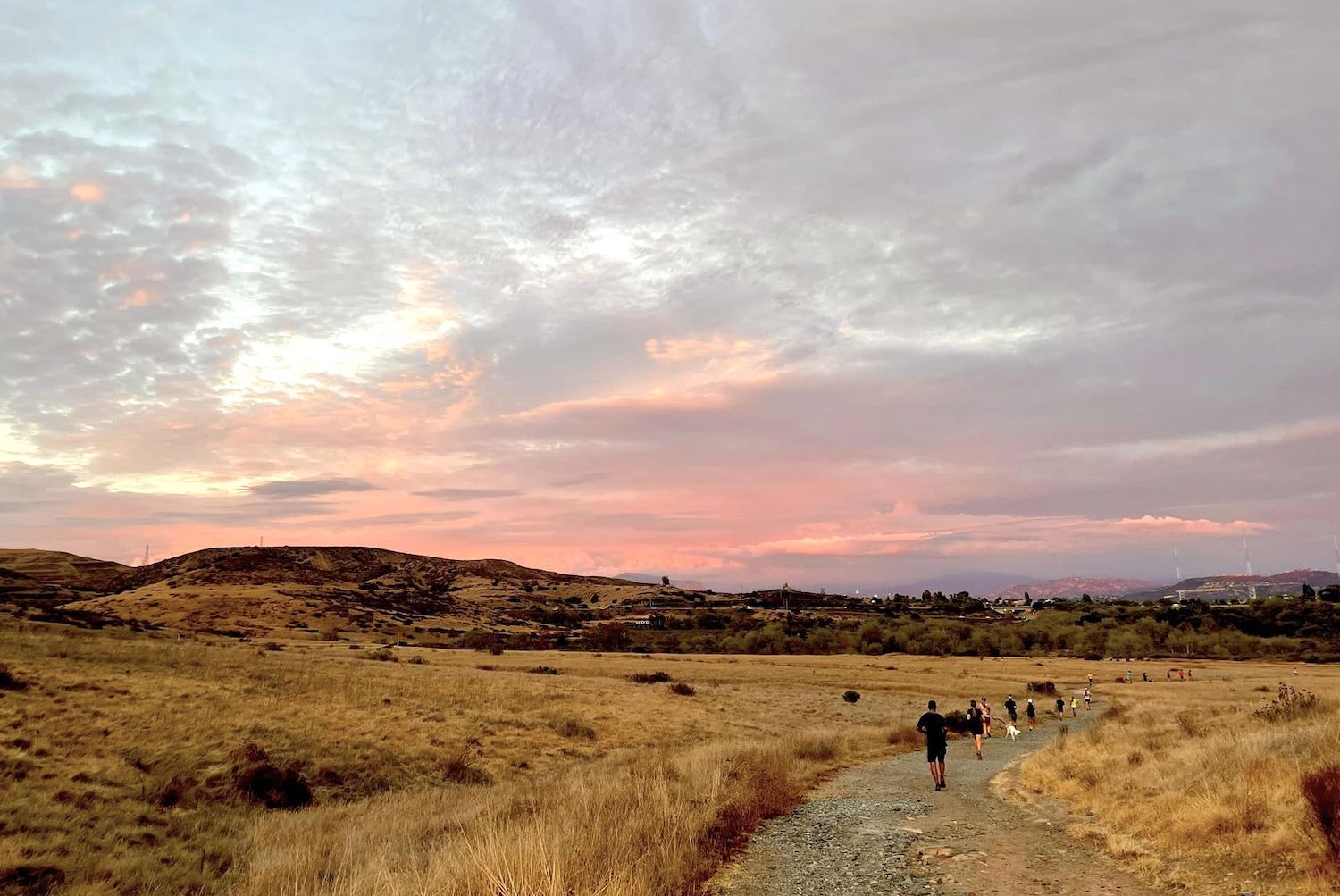 Courtesy of San Diego Trail Runners
If I'm being totally honest, I'm not much of a trail runner. My outdoor exercise comes in one of two forms.
One: get out and run, often from my house, sometimes at Mission Bay or Lake Murray, and get it done as efficiently as possible so I can get back to the rest of my responsibilities in life.
Or two: Take a full day or at least a long morning and go on a leisurely hike where I walk and talk and enjoy the time.
Sadly, these days, I'm spending far more time in option one than two, and to me, trail running seems to fall somewhere in the middle. You're running, so it's not leisurely, but you also have to drive to get there and run more slowly, so it's less efficient.
But I consulted a few friends and experts who are experienced trail runners, and they explained to me–politely–that I'm just wrong. First of all, they say, trail running is as enjoyable and peaceful as hiking.
Daniel Smith leads the group San Diego Trail Runners, and he says time on the trails is like a meditative experience because you have to stay focused on your footing.
"I'm always hyper vigilant. Take your time. Make sure that you can get good footing. The roots, tree stumps, and of course, technical trails will catch you, especially by yourself," he says. "The whole reason why we do it is to have a good time, to forget about the world for a little while."
Julia Dixon Evans, a veteran trail runner who just won her division in the Ragnar Trail SoCal race says trail running helps her "get out away from it all in the middle of somewhere wild and pretty."
"And I love the mental challenge where even though you can feel peaceful because of your surroundings, you still can't just zone out like running on roads, or you'll trip," she says. "I like the adrenaline of having to focus like that."
Meanwhile, Mike Daly, another veteran trail runner, says after his first time on a trail, he was hooked.
"I was lucky enough to have a running coach that took a group of us up to Mount Laguna to run in Laguna Meadow and to this day it is one of my favorite runs," he says. "I had no idea that with just an hour drive from the ocean you could be at 6,000 ft. of elevation and running in pine tree covered trails in the mountains. It was just so beautiful and a nice change of pace from Mission Bay."
So really, trail running is like hiking+. You have the peaceful and "get away from it all" aspect, but it's more of a workout and actually takes less time than an all-day trek.
If you're ready to give trail running a try (and now I think I am!), here are some other tips from the experts:
---
Where to Start Trail Running
Dixon Evans recommends starting out at Los Penasquitos Canyon, which has 13 miles of fairly flat dirt trails, or Lake Hodges, where the trails go on for miles and miles. There are enough people around that you won't feel totally alone, and the trails aren't too challenging, she says.
Smith also recommends Proctor Valley, Hollenback Trail, Sycamore Canyon and Mission Trails. His favorite spot in Mission Trails is to start on the Clairemont Mesa Boulevard trailhead, where you can access North and South Fortuna and the Fortuna Saddle Trail.
Trail Running Gear
Dixon Evans says for Los Penasquitos or Lake Hodges, you can run in regular road running shoes. That'll give you a chance to experiment with trail running and make sure you like it before investing in actual trail shoes.
Once you are ready to commit, she recommends Altra Timp trail running shoes, Hoka Challengers or Speedgoat, "or the good old classic Nike Wildhorse." She also recommends either a water bottle you can carry or a hydration pack. She uses a Salomon vest but says Nathan packs are also very popular.
If she's going to run for more than an hour, she carries an energy gel, and often brings one as backup. "If you're going on an unfamiliar trail or something hilly, it could take you longer than planned, which is why it's nice to have water and gels just in case," she says. Good options include the local company Muir Energy, or Clif shot blocks.
And good wool hiking or running socks are also important for trail running. Her pick is Smartwool Zero Cushion Mid Crew, and she recommends never wearing low socks. "Crew height all the way, otherwise dirt gets inside your socks," she says.
Beyond hydration and footwear, most of the running gear is the same as what you'd need to run in urban environments, Daly says. "A watch or a smartphone with the Strava app can be helpful to monitor your distance and time," he says. "Many watches also have a track back feature that will help you retrace your steps back to your start point which can be a helpful feature if you're exploring unfamiliar trails."
Trail Running Etiquette
There are rules for passing other trail users like hikers and mountain bikers, but Smith says regardless of the rules, he always steps out of the way for bikes.
"If I'm coming down and I see a mountain biker coming up, I'll get out of the way for him because I know that they're struggling to come up the hill," he says. "And then downhill, I'll just be smart about it because sometimes people are just flying, I'm always just over cautious about everything. It's better to be safe than sorry."
Dixon Evans says to always be a good trail steward, which means yield to horses, no trash, and please, please don't play amplified music. Please.
Trail Safety
The first rule is to always let someone know where you're running and what time you'll be back and check in with them before and after, Dixon Evans says.
Also, run with a friend or a group if you can, or choose places where more people are around. She also carries a beacon or a noise maker, plus mace or pepper spray. Smith says to always be aware of your surroundings and don't run with music. He's on the lookout for snakes, sticks, and other things you might trip over.
You'll also really want to pay attention to your footing, especially when running downhill, Daly says. "While it can be fun to use gravity to pick up the pace, all it takes is one misstep or loose rock and you could find yourself face first in the dirt," he says. "That says, the risk is so worth the reward of getting off the beaten path and out into nature."
How to Ease Into Trail Running
If you're a road runner, don't expect your paces on the trails to be the same. Trail running is meant to be done more slowly, but your level of exertion should be the same, if not higher, Dixon Evans says.
"Because the ground gives just a little bit, you're exerting more effort to propel yourself forward," she says. "So knowing that it's going to feel like it's taking more effort, that is important."
She says even just occasional trail running can help you improve your speeds on the road, too. "You're getting this threshold style workout without sitting there timing intervals," she says. "When you're going up a hill, you're still putting in more effort, your heart rate is higher, you have engaged your hill climbing muscles. Even though you feel like you slowed down, you're still getting the benefits of a harder workout."
While there are physical health benefits to running, Daly says he's come across articles recently that reference the mental health benefits and rejuvenating benefits of spending time in nature.
"This was sort of an ah-ha moment for me, as it validated why I loved getting out onto trails and provided an explanation as to why I felt so much better afterwards," he says.
How to Find Trail Running Friends
Trail running is easier to do with a friend or a group, and Smith recommends finding San Diego Trail Runners on Instagram or Facebook to check out their scheduled group runs. He also recommends the app The Run Down, which can help connect you with other groups.
In fact, both Smith and Dixon Evans say that the community is one of their favorite parts of trail running.
"People are just more aware of each other because we're out there, miles away from anybody, and you run into somebody, so you ask, 'Is everything okay? You having a good run?'" he says. "You could tell if somebody's in distress, but on the road, you're kind of on your own."
"Everybody is supportive, everybody is friendly," Dixon Evans says. "You can run around Mission Bay and not even make eye contact with anybody. But when you're running on a trail, you see someone, you say hi, you wave, and I love that."