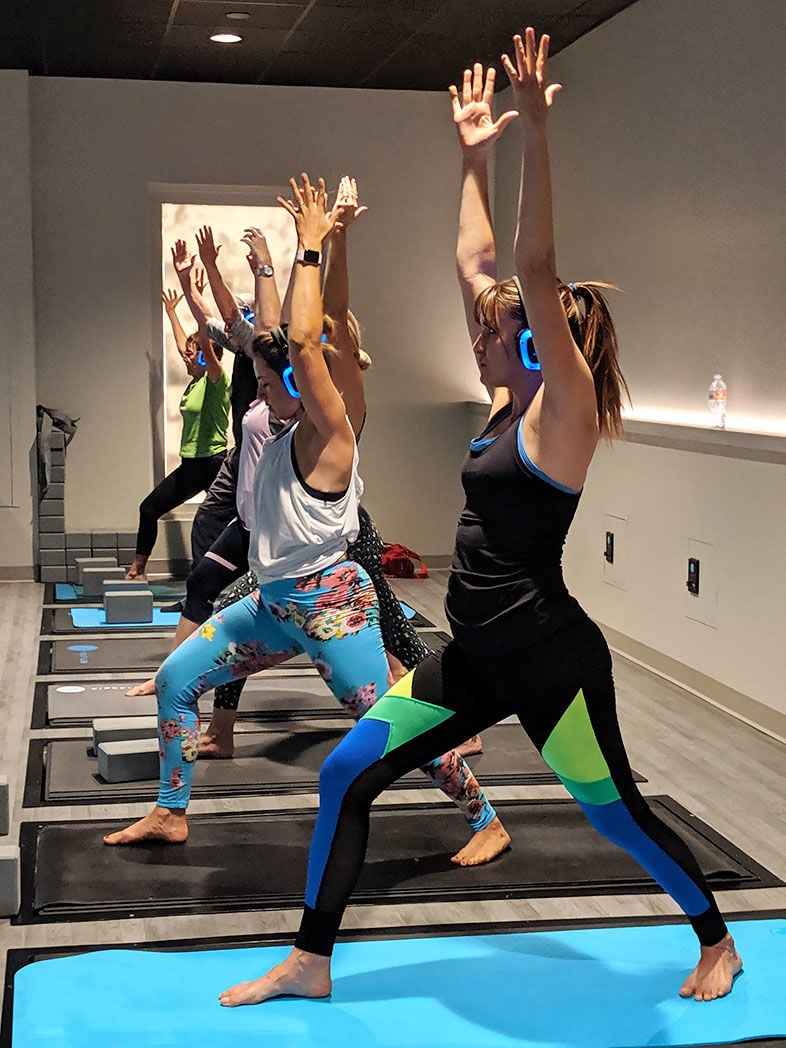 The longer I'm a writer—meaning the longer I sit at a desk—the more my body craves a good stretch. Yoga's proved to be the best medicine for this.
When I caught wind of a new yoga concept in Carmel Valley that promised to not only leave me feeling loose but also sore (in a good way) the next day, I couldn't resist seeing what this double whammy was all about.
VibeFlow Yoga, launched by San Diegan and Orangetheory Fitness franchisee Billy Borja, literally shakes up your flow by incorporating 20 minutes of whole body vibration technology into your 50-minute class. It's the first yoga studio ever to use the tech, Borja says.
It goes down much like your usual class, but instead of rolling out your mat on solid ground, you do so atop a recessed vibrating plate—similar to ones used in physical therapy settings to reduce joint and back pain and improve balance and bone density (astronauts also use it for this reason). For average joes like myself, the biggest benefit is that the vibration forces your muscles to contract 40 percent more than usual, meaning you're working harder in less time.
The downside: It's loud, like a muffled jackhammer outside your office. But VibeFlow has a workaround for that by offering noise-canceling headphones. And that's what had the greatest effect on me—since they isolated the instructor's easy-to-follow directions from the room's ambient sounds, I'd slipped into my own world by the end of our warm-up.
The class began with about 20 minutes of warm-up and no vibration. Then the instructor powered up our plates. For this beginner class, we shook at 20 hertz (you can go up to 60 hertz, and each plate can be set individually). Rule No. 1 was, don't let your head touch the ground during the shake. While this is a safety measure, it's also a hint that this is when the real workout begins.
Through the gentle rumble—a sensation similar to being a few feet from a subwoofer—we struck poses like warrior II, tree, reverse warrior, chair, and other balancing acts. Once the 20 minutes were up, my muscles were definitely feeling excitations.
As we wound down in savasana, my verdict was in: I'd achieved the stretched-out feeling I was looking for. By the next day, my most minuscule muscles were feeling the return on those good vibrations, while my back, hips, and joints were not one bit tight. A double whammy indeed.
You try it!
Class types
Hatha and vinyasa, levels 1–3
Price
First class free (and rentals waived); $30 per drop-in; packages from $229 for 10 classes
Additional fees
$5 headphone rental (waived for unlimited members), $5 mat rental, $2 towel purchase
Size
Two studios, 20 plates each
---
One Paseo, Carmel Valley