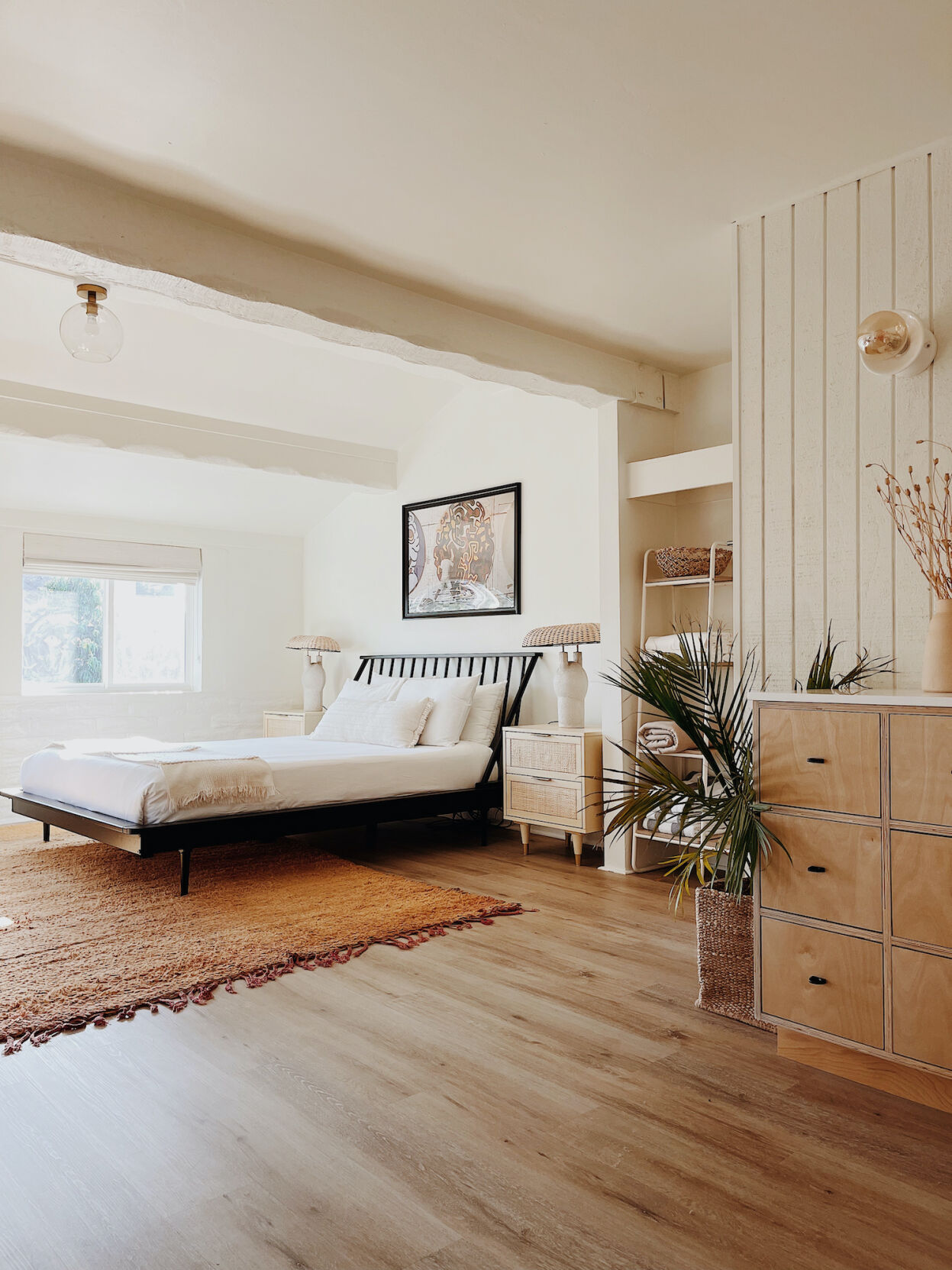 Nathan Mueller
Sometimes serendipity is a "for sale" sign.
Carlsbad couple Brett and Stephen Poovey knew it was meant to be when they spotted a forgotten midcentury motel on the market in South Oceanside, a location that had long been their next-door neighborhood and a favorite place to hang out. Following a design-minded makeover, the Green Room Hotel now puts California-cool style on the Coast Highway map.
For the Pooveys, staying true to South Oceanside's casual surf-town vibe was imperative, starting with the 12-room hotel's single-story bungalow architecture. "We kept the bones," Stephen says. "People don't use materials like this anymore: adobe brick walls, exposed wood beams, the poured concrete separating rooms."
The couple collaborated with Jessica Tingle of Staging Collective on the interiors, as well as with Brett's sister, designer Leigh Jendrusina of Carlsbad's Salthouse Collective. The result is a bright, modern feel, laid-back but luxurious, with boho furnishings, chic tiled bathrooms, and shiplap kitchenettes with retro-style European appliances. Work from local artists adds splashes of color throughout.
Rehabbing midcentury motor lodges—which once dotted every scenic highway in America—has become a nationwide trend in recent years, but with less emphasis on the motor. "You used to park three feet from the door," Stephen says. "We pulled the parking back and added private patios and a cedar hot tub."
The Green Room is a 10-minute walk from Carlsbad City Beach (guests can borrow beach cruisers and surfboards) and a short drive from popular spots like the Balinese-inspired restaurant Dija Mara. "We've loved exploring this neighborhood over the years," Stephen says. "There are great businesses here. We thought a boutique hotel would help."
2020 South Coast Highway, Oceanside