Neighborhood
La Mesa
Stats
1,400 square feet, with two bedrooms, two baths, and a detached art studio
Her Story: Somewhere off a winding road on Mount Helix, tucked into a hillside overlooking El Cajon, lies an unassuming midcentury treasure of a house with a story to tell. The home's current residents are KPBS culture reporter Angela Carone, 46, who also pens San Diego Magazine's monthly book column, and Joe Porteous, who works by day as the general manager at Warwick's bookstore in La Jolla and as an amateur photographer by night. The house was built in 1948 by sculptor and woodworker John Dirks. An art professor at SDSU, Dirks enlisted his graduate students to help erect the structure almost entirely by hand. He lived there until he died, after which his family worried new owners would tear it down. So they entrusted its care to Angela and Joe. Turns out, Angela had photographed Dirks for a story. The couple quickly fell for the house's rich history and log-cabin charm. These days, they love to host large parties with friends. (Their Thanksgiving dinners are legendary.) Imagine the likes of Bob Dylan, the Beatles, and Rye playing on the sound system, which just so happens to be built into the walls—a Dirks signature. Angela says, "It does suit our personalities and style very much."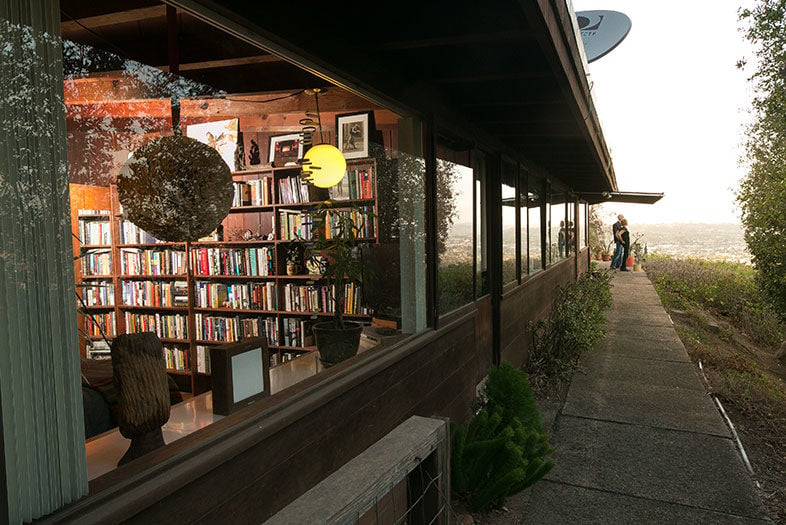 Birds of a Feather
Angela and Joe met through a mutual friend eight years ago. "She was pretty adamant," Angela says of the matchmaker, who knew the couple shared a love of photography, the arts, books (see their colorful collection above), and so much more.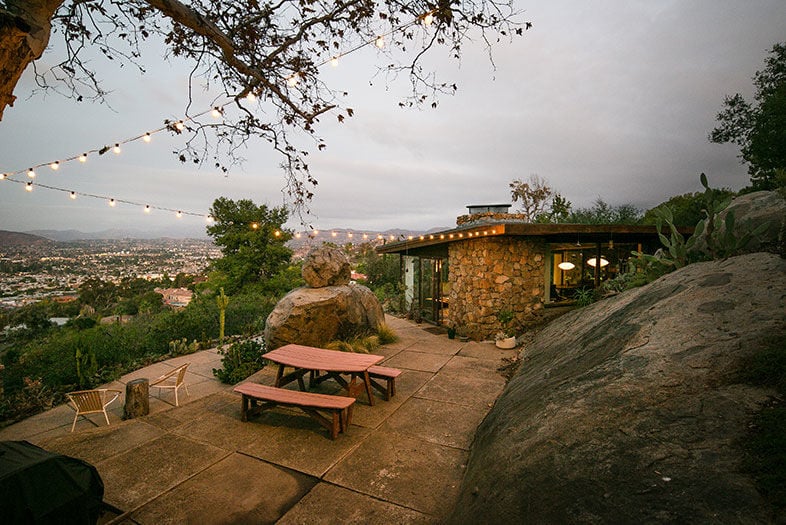 Rear Window
When Joe and Angela moved in five years ago, the surrounding lot was mostly dirt. Joe added all the landscape seen today. This slightly elevated view of the house is one of Angela's favorites. During dinner parties, she likes to step outside for a second and examine the scene. She says, "The house emanates this warmth and glows from within." Joe agrees: "It's almost like looking from across the street into an apartment. There's this voyeuristic quality."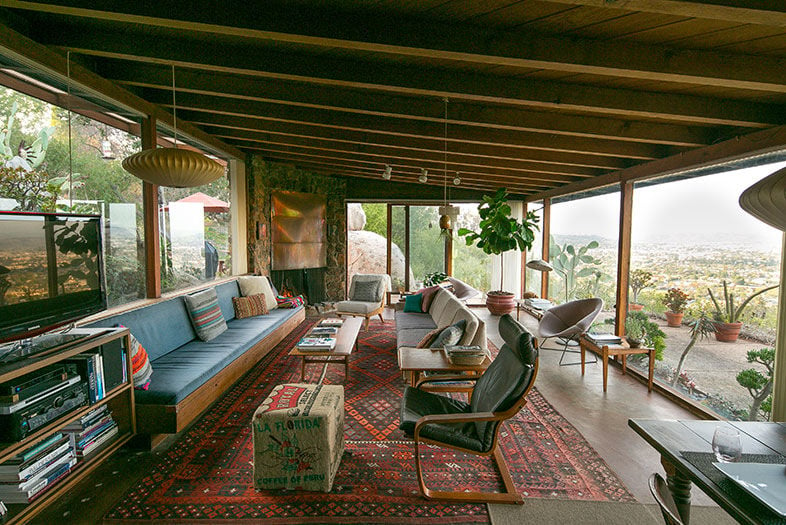 Social Setting
The couple arranged the living room as one long gathering space. A vintage sofa from Mid-Century on Park Boulevard faces a built-in sofa. A stone fireplace with a patina-perfect copper shield stands in the corner. Angela's architecture books, Joe's travel keepsakes, and stunning photographs taken by both of them are sprinkled throughout. A KPBS producer made the burlap ottoman with coffee sacks from Caffé Calabria.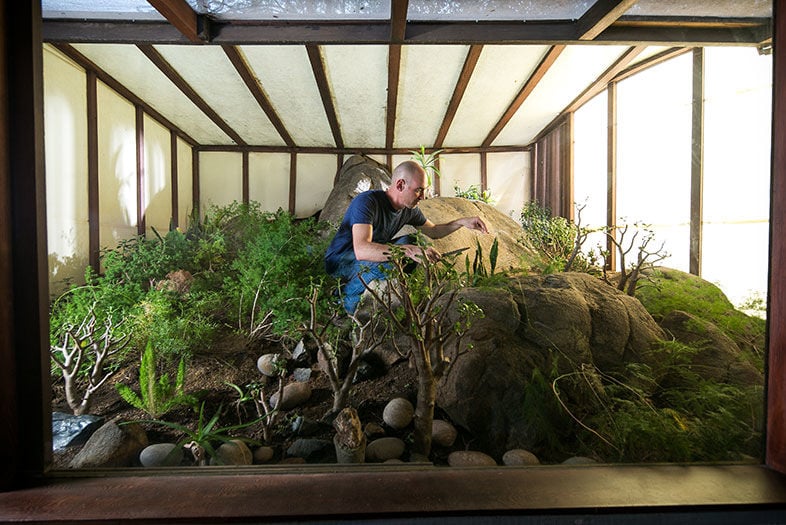 In-Home Horticulture
One of the property's coolest and most unique features is this large terrarium that runs along the hallway, leading to the bedrooms and bathrooms. At first, the couple planted all kinds of things, but a lot of it failed to thrive. Today it's filled with asparagus ferns, spider ferns, and jade. "We've had a tough time finding what will live in there," Angela's says. "It's a work in progress."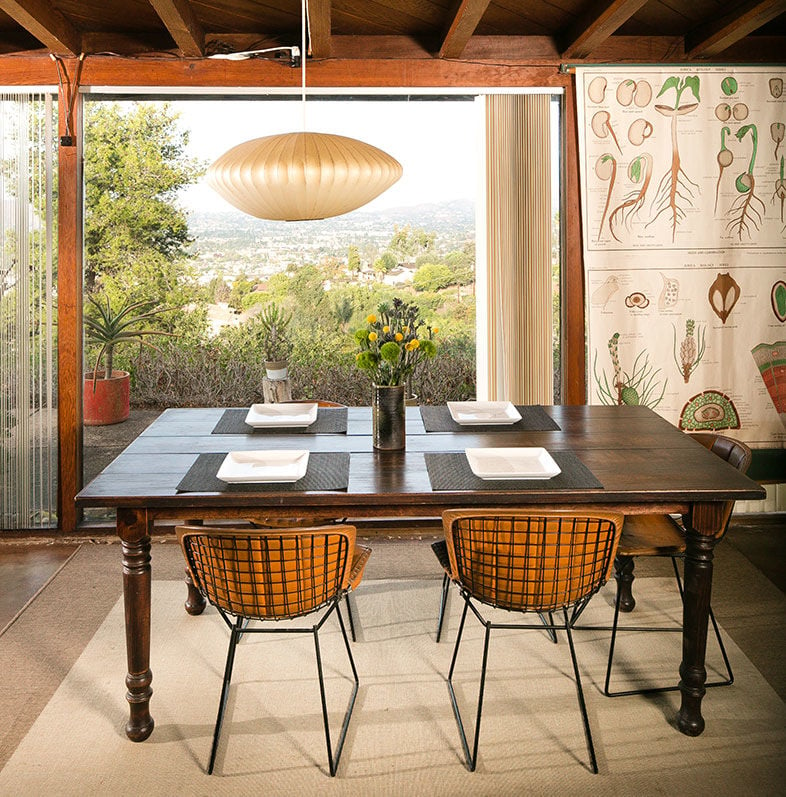 These Bertoia midcentury dining chairs and the bubble lamps over the table and built-in sofa are originals, and came with the house.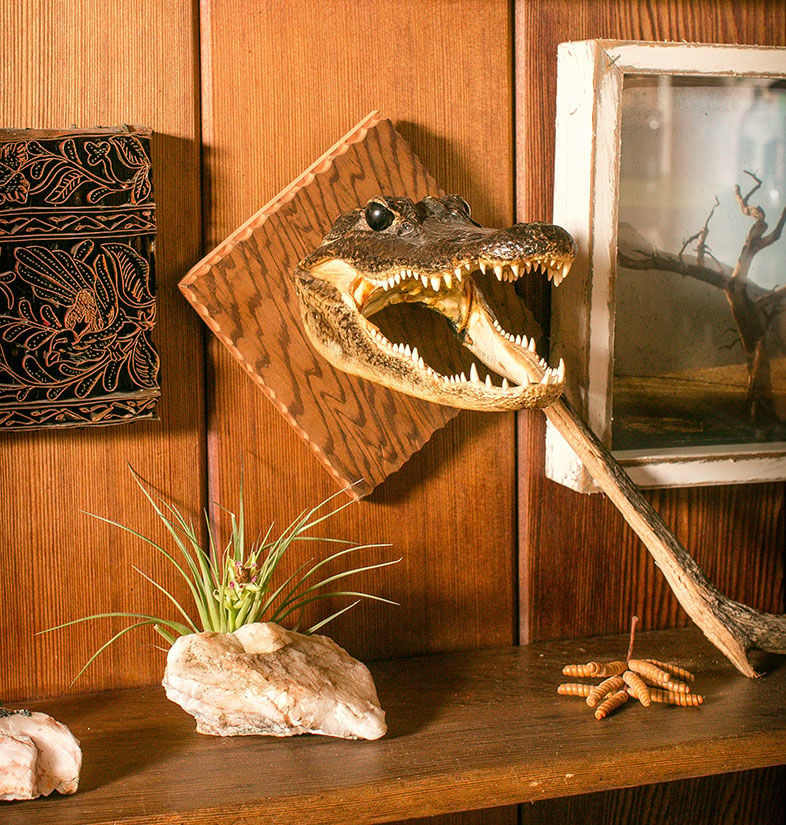 Snappy Style
This small mounted alligator head is part of a vignette of meaningful mementos in the kitchen. Angela laughs as she describes how Joe likes to collect things on his hikes and various excursions. Some of these souvenirs reappear later as birthday gifts. Hence, the alligator. "He always manages to get me jewelry," she says. "But then I get some weird things, too."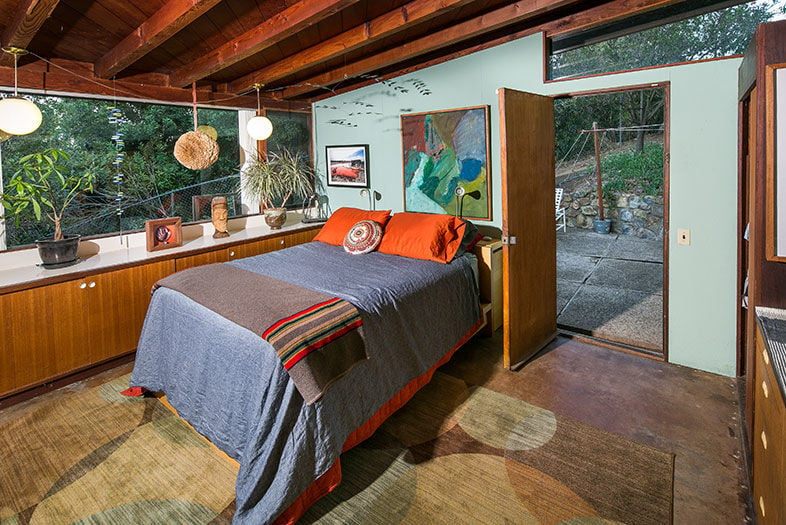 Rustic Slumber
"It was easy to move into the house, in so many ways," Angela says, referring to the home's clever and practical design. There are built-ins throughout, including a sofa in the living room and drawers and cabinets in the bedroom. Exposed wood beaming and paneling also run throughout, giving the space a log-cabin feel. Angela found the painting above the bed at ObjectsUSA, a local curator of all things midcentury. Joe says, "I've been so inspired by the imperfections of the house. It's polished, but with a notch."  (Pendleton blanket from Progress in South Park)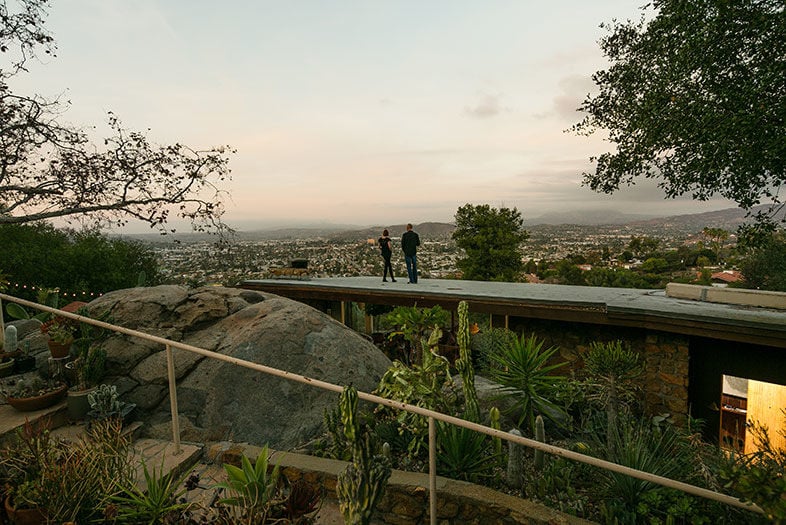 "Sometimes in the morning, the whole valley is covered in fog. It feels like you're living in the clouds."