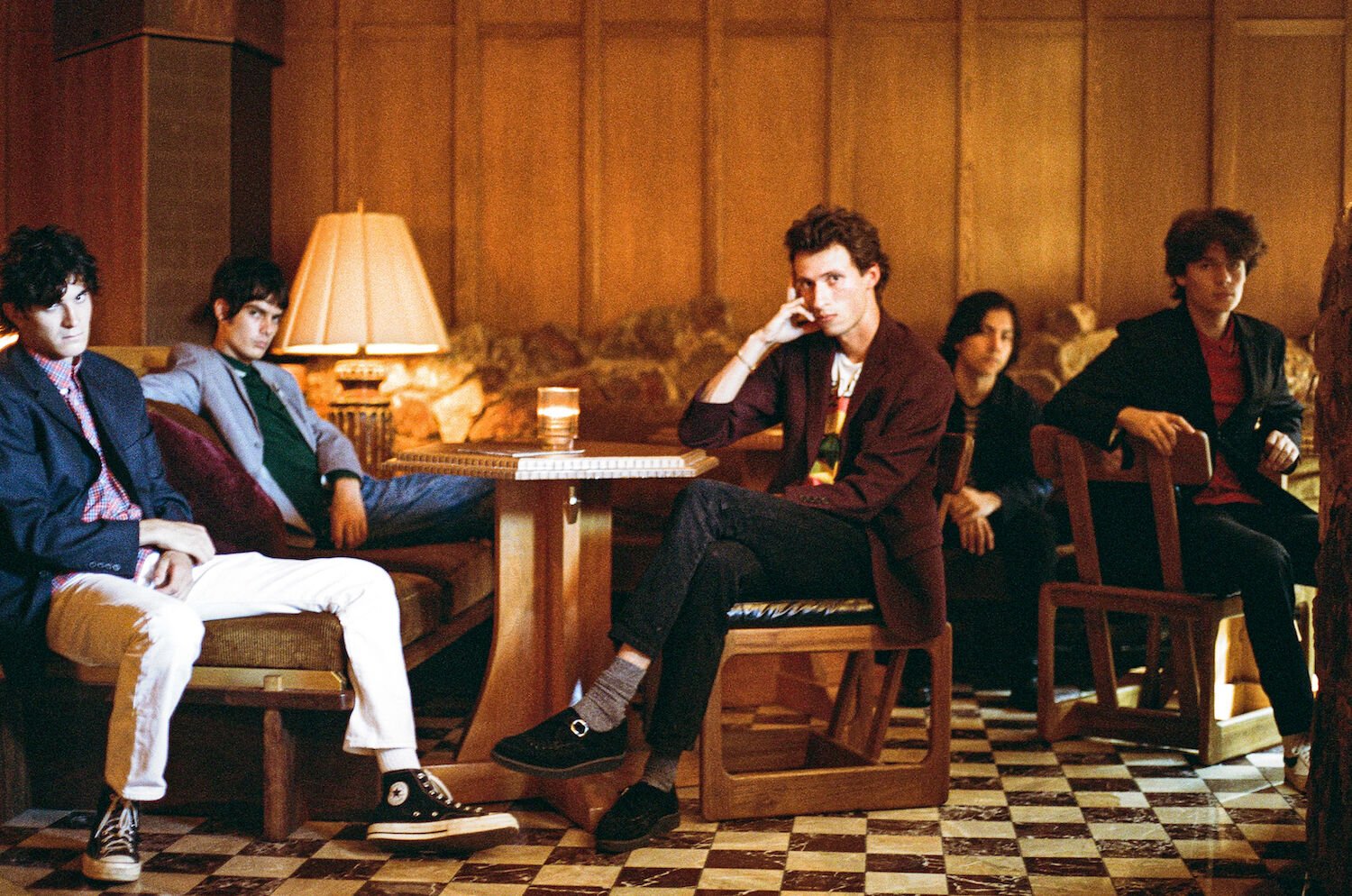 Photo Credit: Andrew Howard
We're sitting on the patio of Shakespeare Pub on an overcast, late afternoon. It looks more like Manchester than Mid-City San Diego."It's pretty fucking religious, you know? I mean, like, I live by it. It's all I ever think about," says a shades-laden, younger, more symmetrical version of Bobby Gillespie of Primal Scream. He takes a sip of his Guinness that's as black as his perfectly trimmed locks.This 23-year-old rock-siren-by-night and substitute-teacher-by-day is Jonah Paz, lead singer of Chula Vista's '60s-via-'90s, indie-rock five-piece Pleasure Pill. What's his denomination? Himself. His band. The goddamn redemption of rock and roll. 
This band thinks big, and their confidence only adds to their appeal, whether you like their music or not. (Either way, you'll still get it stuck in your head.) They're set to play the
Casbah on August 24
, and they just released a new single called "Not Giving Up," which is a jangly anthem that could easily be the band's mantra. It's a melody of casual coolness that belies how aggressively they want this band to succeed.Sitting next to Paz is lead guitarist, Luke Blake, bedecked in denim and pulling it off the way only an artist can. "We can't be bothered with whoever else is doing [things] in LA or New York," Blake says. "We're kind of just marching to the beat of our own drum, which I think is really beneficial for us in a way." Being from San Diego, rather than the more
saturated markets up north
, actually helps them stand out.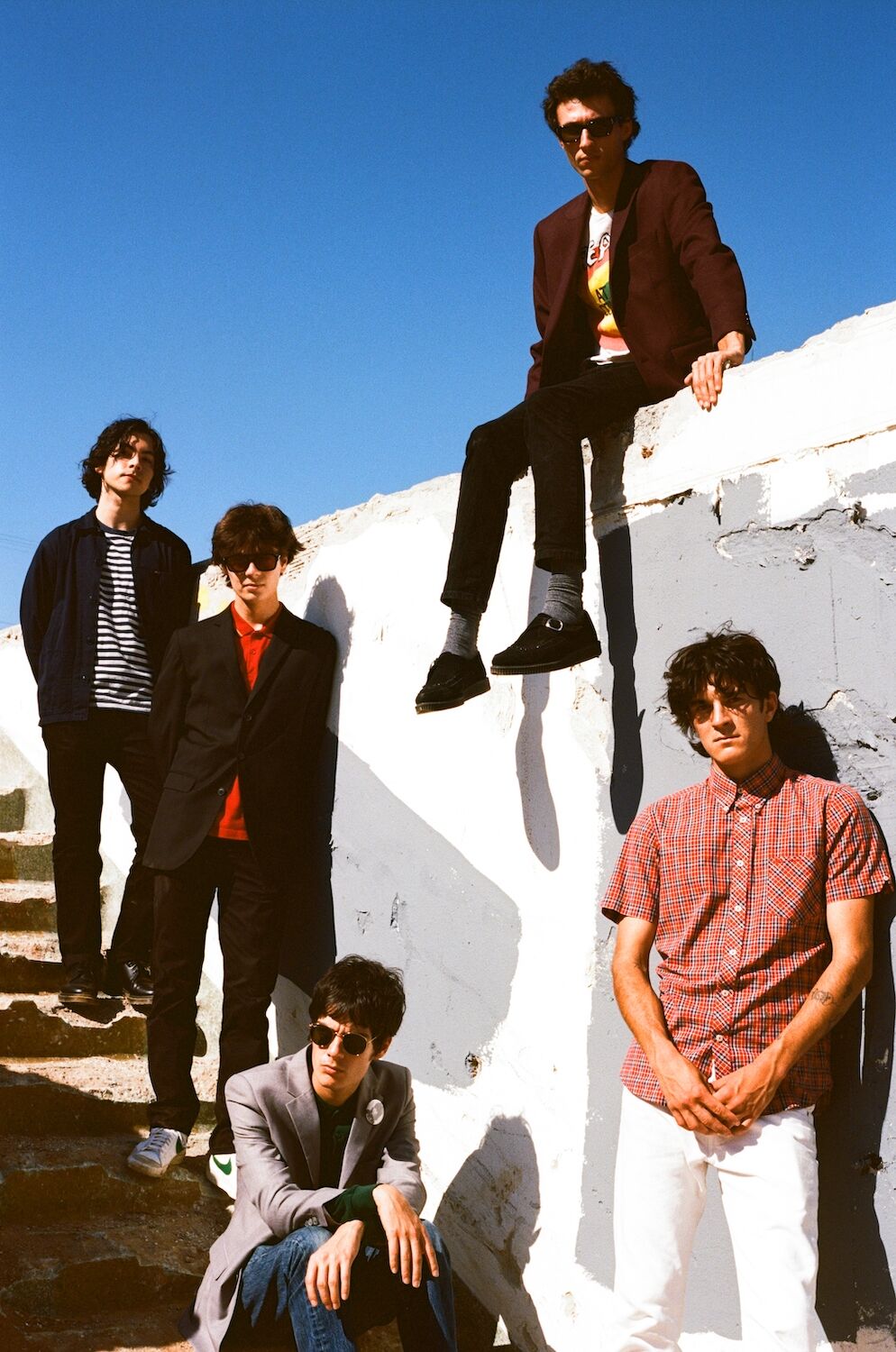 Photo Credit: Andrew Howard
Yet their own beat does have a familiar ring to it. The band's impish, nasally facsimile of my favorite Britpop familiars fuels a narcissistic nostalgia for my own early aughts glory days spent lusting in dark clubs, dancing out my 20-something strife to the likes of the Stone Roses, Pulp, and Blur."Rock and roll has its history and its traditions," Paz says, like a monk revering rituals of the past. "Obviously, [in our music], you're gonna hear some '60s and you're gonna hear some '90s and you're gonna hear some late '70s punk."At the fulcrum of parody and pop idol, Pleasure Pill look like extras who just hopped off their Vespas on the set of Quadrophenia. Their style is matched by their substance: They name-check Alan McGee's Creations Records roster as if every band on it were a household name, from the "wall of sound" fuzz of The Jesus and Mary Chain to the very obvious influence of Oasis and their crossover mega-appeal. They take equal joy in ripping off acid house acts like the Happy Mondays. Who doesn't love some maracas? (Bad people.)But that's not to say their brand of snarling, anthemic pop is derivative or unpatriotic. Call it honorific cribbing similar to what The Beatles did to Little Richard and what the brothers Gallagher did to Lennon-McCartney. With every new generation comes a chance to cannibalize your idols (or at least have the same haircuts). Thankfully, the members of Pleasure Pill have the musical chops to match their Gallagher crops. They can play their instruments—and the part of Gen Z rock and roll heroes, if their generation will have them.The band is comprised of Jonah and his younger brother Ethan, who plays rhythm guitar, rounded out by Blake on lead guitar and friends Ivan Delgado (bass) and Dom Friedly (drums). They've been slowly doling out singles since the pandemic era. Now, they have a set of fifteen songs that they recorded in LA in November. They will eventually release them as their debut record. Paz is angling for Oasis' Definitely Maybe status. "This has the potential to literally be, like, the biggest thing ever," Paz says.
Pleasure Pill is a welcome pastiche for the weary, seeking that new rock savior. Who's tired of always hearing "Seven Nation Army" at Petco Park? It's time to give these South Bay boys a chance.But many bands these days are at the mercy of numbers—of followers. Gone is the main pressure of moving units. Now, labels are focused on bands being their own mini-marketing team, complete with fully fleshed followings on Instagram and the dreaded TikTok, before ever getting signed.For reference, Pleasure Pill has 1,901 followers on Instagram, and its members couldn't care less. Perhaps that's why there's no groundswell of guitar groups making it big. Perhaps they're all old fashioned like Pleasure Pill, hoping their talent is enough for an advance."I think a band like Oasis or the Strokes or Nirvana, where they take over the whole fucking world and everyone can agree on [them], it's a folktale for our generation. I mean, it doesn't exist," Paz says. Clearly, the
modern music landscape
is wide enough for newcomers to find footholds to stardom, but will their ambition be enough? For now, it doesn't matter."You're not going to come from San Diego and, like, skyrocket," Paz admits. "It's gonna be fucking hard but, you know, we all believe in it enough to do it."Not giving up, indeed.