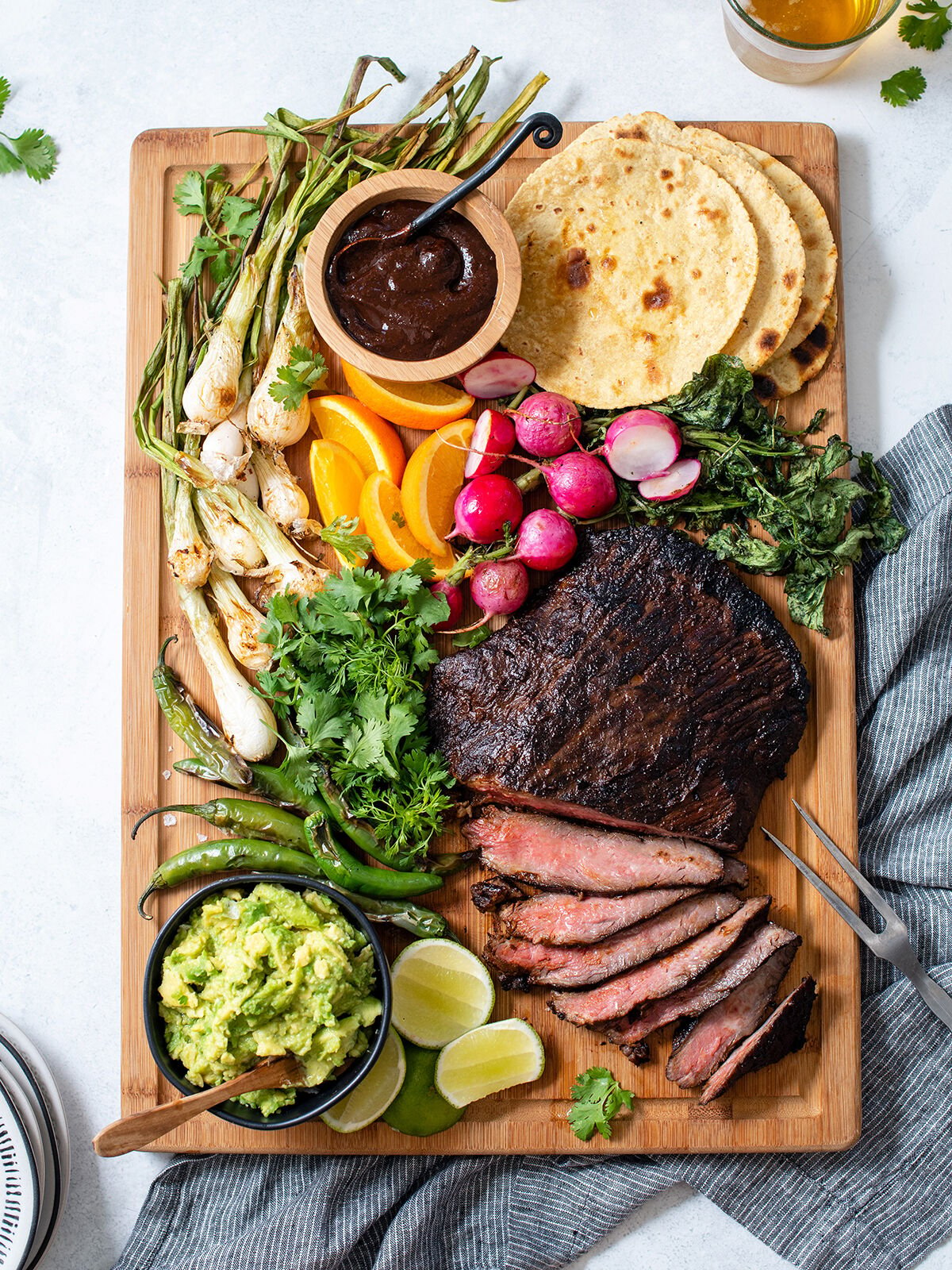 Anne Watson
Citrus and Soy Carne Asada
From Carlo Guardado, chef-owner of Small Town in Fallbrook. Before opening Small Town last year, Carlo had worked at Michelin-starred Taco María in Costa Mesa.
Marinade Directions
In a cast-iron pan or in the oven, lightly toast Part 1 ingredients. Then in a blender, combine Part 1 and Part 2 ingredients. Blend until completely smooth, but don't strain. Mix in peeled, chopped oranges.
Steak Directions
Marinate the steak overnight, or at least two hours. Before grilling, lightly season the steak with coarse kosher salt. Place the steak over medium-high heat and cook to desired temperature. As the steak is finishing on the grill add the onions, radishes, and serranos and char grill. Once the veggies are golden, remove from heat and place in a container. Chop the cilantro and add to the scooped and mashed avocado, and season with lime and salt. Use remaining marinade as salsa. Serve with tortillas and your favorite accompaniments, like smashed avocado with cilantro and lime, citrus and soy salsa, grilled spring onions, split radishes, whole grilled serrano chiles, picked cilantro, fresh lime and oranges.
Bonus Recipe!
Grilled Chicken Kebabs with Mint Greek Yogurt Dip
From Leyla Javadov, chef-owner of Cafe 21, which serves dishes inspired by Layla's home country of Azerbaijan.
Mix all ingredients together and marinate. Leave to rest for a couple hours prior to grilling.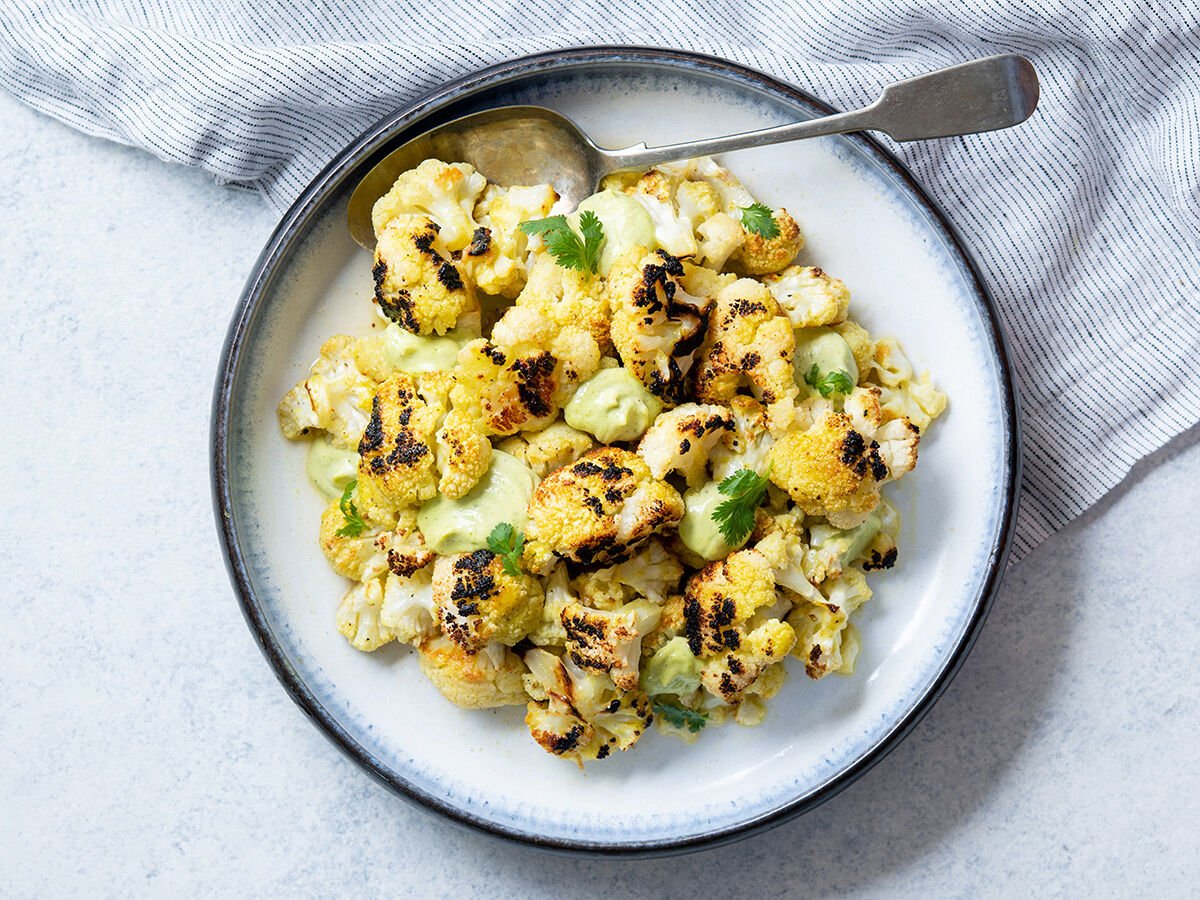 Anne Watson
Grilled Cauliflower
From chef Brad Wise of Trust Restaurant
Directions
To make the curry vinaigrette, combine all its ingredients except oil, then slowly add oil to emulsify. Do the same to make the serrano aioli. Separately, toss cauliflower in oil, salt, and pepper. Then grill the cauliflower until tender and charred. Once grilled, toss the cauliflower in the curry vinaigrette and serve with serrano aioli.
Bonus Recipe!
Carrot Cavatelli in Yogurt Sauce with Toasted Dukkah
From chef Christopher Gentile of Avant at Rancho Bernardo Inn
Serves 4
Pasta Directions
Mix all ingredients in a mixer with a dough hook. Without egg, the pasta structure is created from gluten built by working the dough. When the dough is smooth, roll into a ball and let rest for 3 to 4 minutes—we don't want a full rest on this dough, so it's still springy when we roll it. After the dough has rested, roll it into snakes about half an inch wide, then cut the snakes into half-inch segments. Using a pastry or dough scraper, smash the dough ball across a gnocchi board till almost flat. Then roll the bench scraper forward and the springy dough should curl past it. If you don't have a gnocchi board, you can use your thumbs or the back of a fork to make the grooves in the pasta. Boil these cavatelli in salted water for about 13 minutes or till tender.
Dish Directions
Add the onion and garlic to a pan and cook on low with olive oil. Once they become translucent, add the bell pepper. Cook over medium heat until the bell pepper becomes soft, then add the white wine. All the white wine to cook off the alcohol. Add the vegetable stock. Once the stock is reduced by three quarters, add the butter. Once the sauce is almost fully reduced and looks thick, remove from heat and add the yogurt. Finish with crushed red pepper and salt.
"To finish the dish I sprinkle some premade toasted dukkah on top. You can pick it up at almost any store, but I really like Trader Joe's dukkah," says Chef Gentile. "Then I top with cilantro. This dish is simple, healthy, and a real crowd pleaser."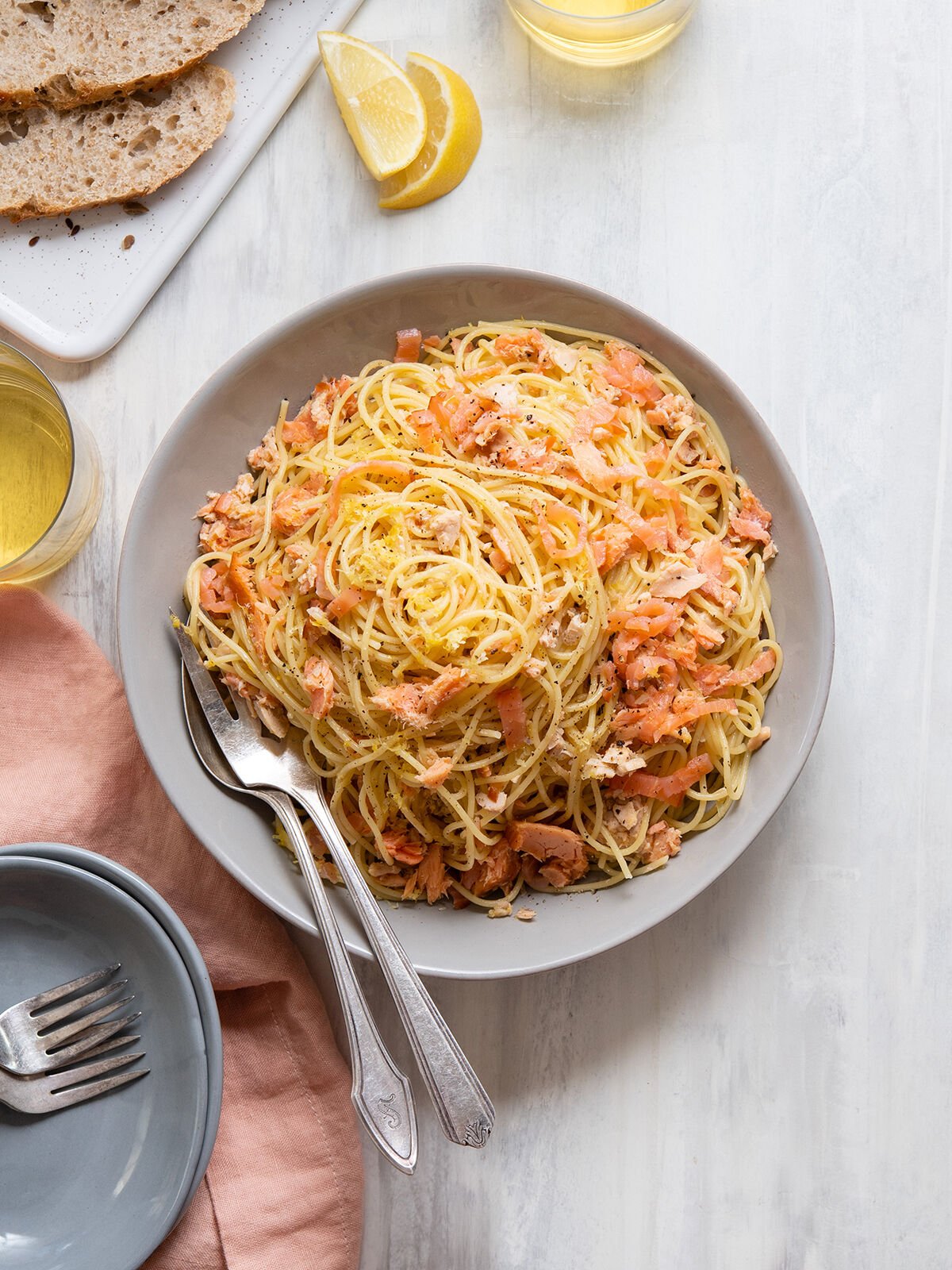 Anne Watson
Quick Salmon Pasta
From Pam Schwartz, general manager of Ranch 45 in Solana Beach. Pam gave us this recipe, which shows how to elevate canned salmon.
Bring a medium pot of water to a boil. Add 3 tablespoons salt. Add pasta, cook for 8–10 minutes or until al dente.
While pasta is cooking, heat a medium nonstick sauté pan over medium heat. Add 3 tablespoons olive oil. Add salmon and smoked salmon, toss.
Add juice of 1½ to 2 lemons, zest of half a lemon, salt, pepper, and 1 tablespoon olive oil. Cook till heated through.
Place pasta in a serving bowl, top with salmon. Serve with salad, your favorite crusty bread, and a bottle of Chablis.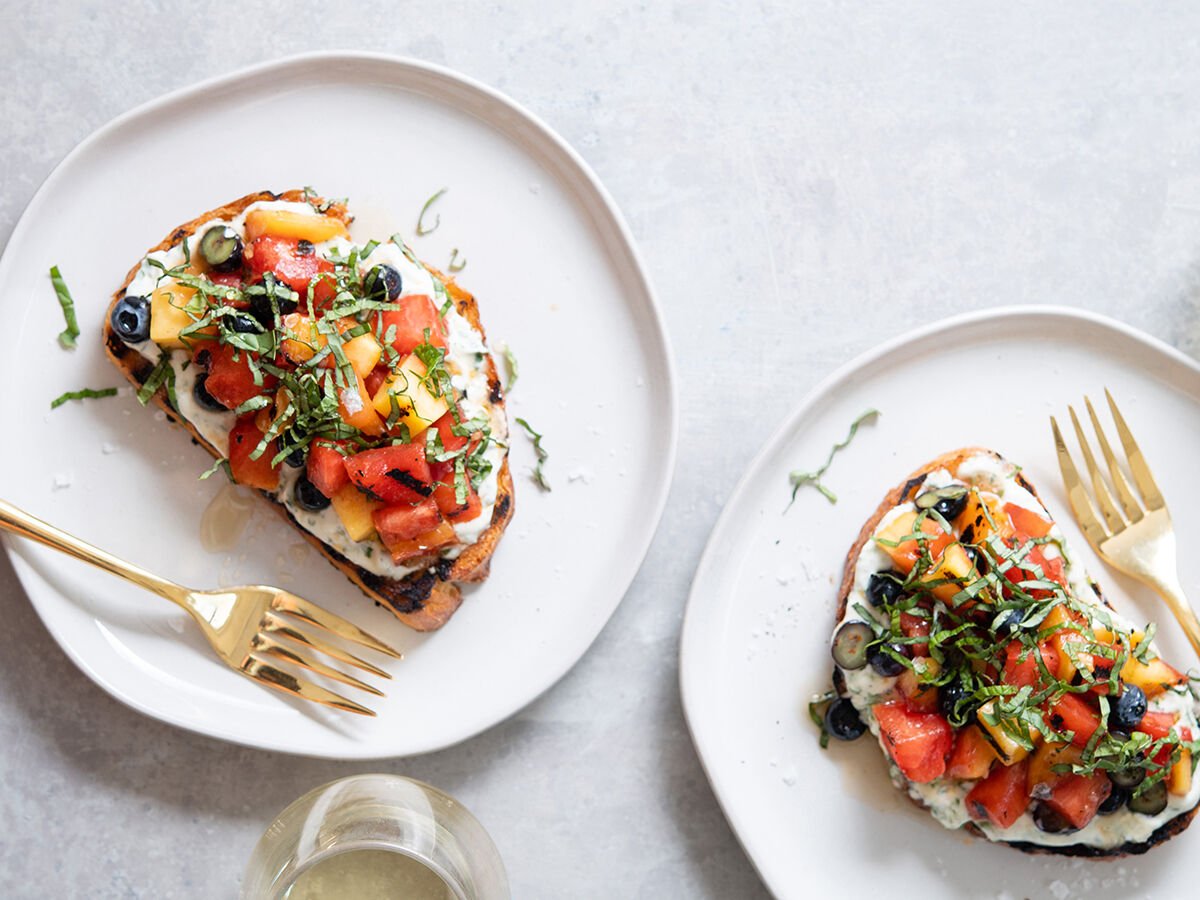 Anne Watson
Grilled Watermelon and Peach Bruschetta with Herbed Whipped Ricotta, Blueberries, and Honey
From Anne Watson, photographer and food stylist, Anne Watson Photography
Prepare your grill to medium heat. Cut the watermelon into ½-inch-thick triangular slices (rind on); slice the peaches in half and remove the pits. Brush each side of watermelon and peach slices with olive oil.
Grill the peaches by placing cut-side down first for 4–5 minutes, then flipping and grilling another 4–5 minutes until skins are charred. Grill the watermelon for 2–3 minutes per side until warmed through and grill marks appear. Set the grilled fruit aside to cool.
Place the ricotta, lemon zest, lemon juice, chopped garlic, parsley, oregano, thyme, and 3 tablespoons olive oil into a food processor and puree until smooth. Set aside, refrigerating briefly to help it set if possible.
Brush the bread slices generously with olive oil on both sides, and sprinkle with salt and pepper to taste. Grill the bread over medium heat, turning once, about 2 minutes per side until grill marks appear.
Remove the grilled watermelon's rind, then dice it and the peaches into 1-inch cubes and place them in a bowl together with the blueberries. Sprinkle with salt and pepper, drizzle with olive oil, and gently mix.
To compile your bruschetta: Spread each toast with a generous helping of herbed ricotta, top with the fruit mixture, drizzle with honey, garnish with mint and basil, and finish with a sprinkle of coarse sea salt and pepper to taste.
Bonus Recipe!
Salmon Cakes with Spicy Malt Aioli
From 619 Spirits in North Park
Gently scrape away the salmon meat from the attached bone. Combine salmon, egg, and all ingredients in a bowl and mix until you can form patties with the mixture. Form into half-inch patties. In a medium skillet, heat oil on medium heat until hot. Gently place the cakes and cook on each side for about three minutes or until golden brown.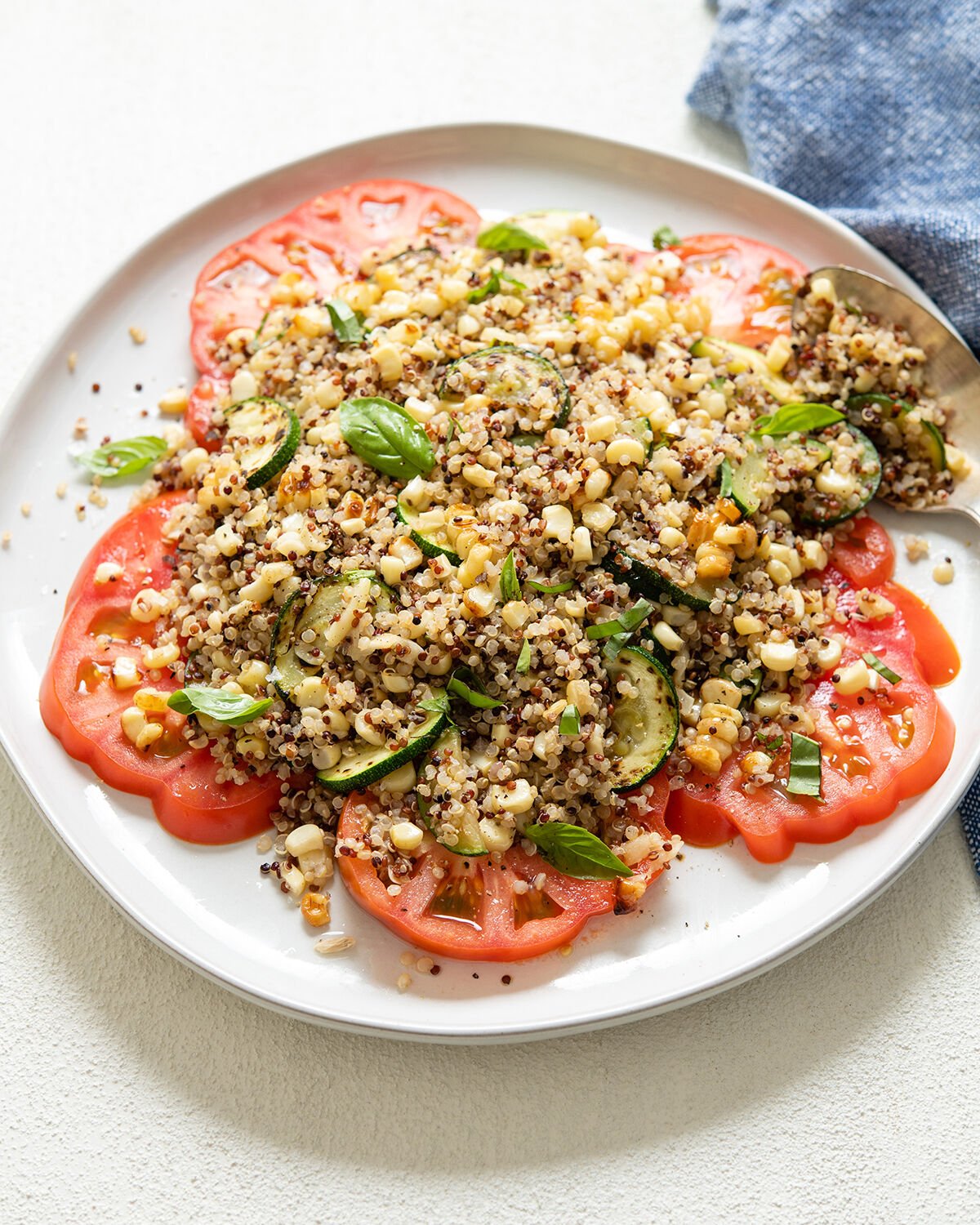 Anne Watson
Summer Quinoa Salad
From Monica Szepesy and son Niko Szepesy-Ortega, owners of Q'ero in Encinitas. Monica is now living in Peru; Niko has taken over operations of the restaurant.
Sauté zucchini in olive oil until golden brown. Add the corn. Add the garlic clove until browned, then remove. Add the cooked quinoa. Season with salt and pepper. Turn off heat. Add fresh basil.
Remove from heat, add a squeeze of fresh lemon juice if desired, and arrange on a plate over sliced heirloom tomatoes.
Bonus Recipe!
Socca
(A thin Italian bread made from chickpea flour)
From Roanna Canete, The Gluten Free Baking Co.
Heat oven to 450 F and place a cast-iron skillet inside for about 20 minutes. While skillet is heating, mix all ingredients in a blender or food processor.
Let the batter sit while the oven and skillet heat up. For the next steps, be attentive and hold the skillet with oven mits—it will be hot. Remove skillet from oven, add about a tablespoon of oil to it, and swirl it around. Pour the batter in and jiggle it around so it spreads and settles, using a spatula if necessary. Return skillet to the oven and bake at 450 for 25 minutes.
Remove skillet from oven and let sit for 2 minutes, then slice with a pizza cutter and remove in triangles. (It's difficult to remove without cutting it!) Or, if you'd like to use it as a pizza crust, return it straight back to the oven for a few minutes after loading it up!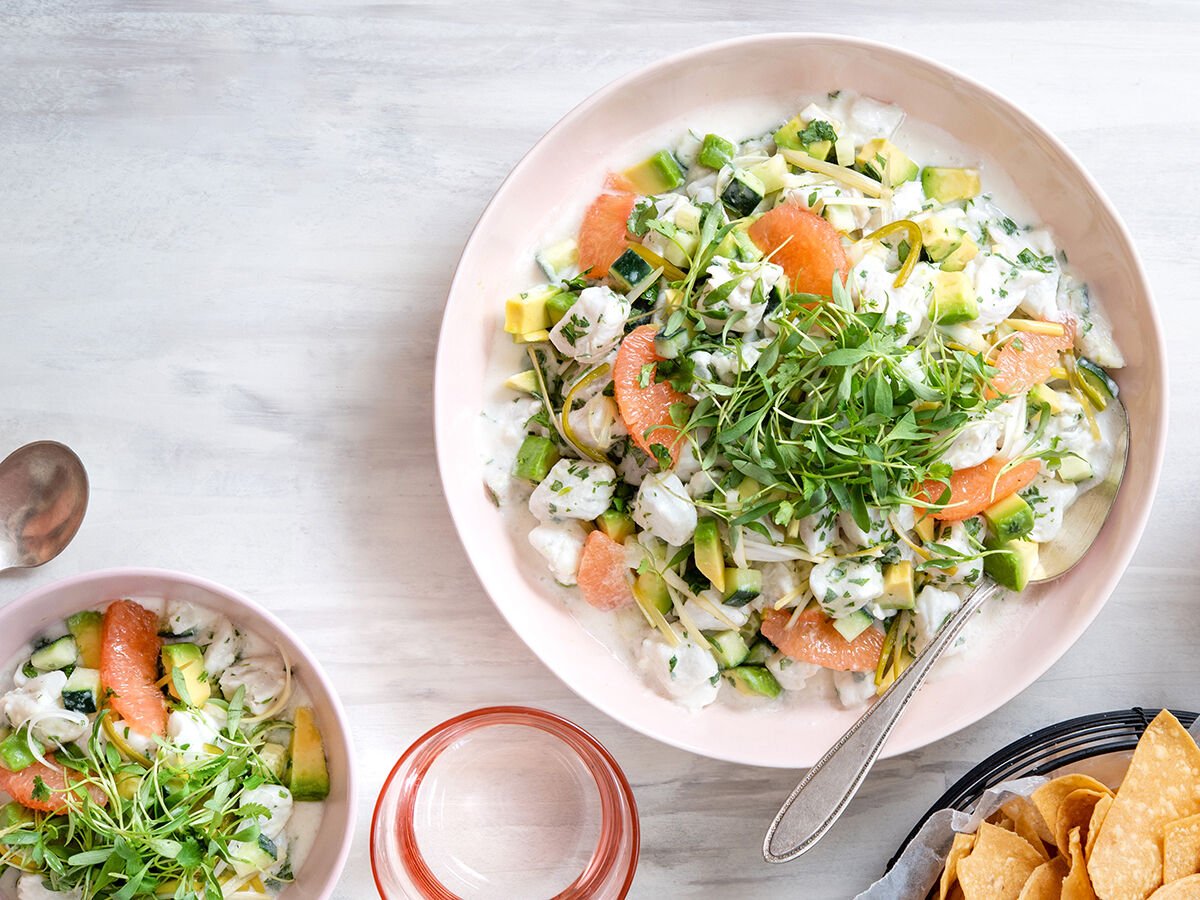 Anne Watson
Local Halibut Ceviche
From JoJo Ruiz, executive chef of Serea at Hotel del Coronado and Lionfish at Pendry Hotel. JoJo was recognized by the James Beard Foundation as a Smart Catch Leader for his restaurants' sustainable seafood practices.
Season the cubes of fish with salt and let sit while you prep the rest of the vegetables. Add the coconut milk and the juices to the fish. Let it marinate for 60 minutes. Check the cooked fish for seasoning and texture. Once the desired texture is reached, remove the liquid from the fish and save it. (The fish will overcook if you leave the liquid in.) Add the chopped cilantro, cucumber, and avocado—do not overmix and break the avocado.
Add the liquid back to the ceviche on pickup. Add garnishes and serve with chips.
Bonus Recipe!
Meyer Lemon and Blueberry Bundt Cake
By Holly Haines, @itsholly
Heat oven to 325 F. Prepare a 10–12 cup bundt pan with cooking spray. In a medium bowl, whisk together 2 cups of flour, baking powder, the vanilla pudding mix, and the salt. Set these dry ingredients aside.
In another bowl, use an electric hand or stand mixer to beat the butter until light and fluffy, about 2 minutes. Add the ricotta and beat 2 more minutes. Add the sugar and beat until the mixture becomes light and fluffy, about 3 more minutes. Add the lemon zest and, if desired, the lemon paste or oil. Beat in the eggs, adding one at a time and scraping down the bowl between each egg.
Mix in the dry ingredients at low speed until just combined, taking care not to overmix. Separately, toss the blueberries in the remaining 2 tablespoons of flour, then shake off excess flour and fold them into the batter.
Pour the batter into the pan and bake for 65–85 minutes (it takes as long as it takes), or until an inserted toothpick comes out clean. Let the cake cool a little in the pan while you make the syrup.