Whisknladle's Mussels
From Chef Ryan Johnston of Whisknladle Hospitality. The company's flagship La Jolla restaurant, Whisknladle Bistro, closed this summer after 12 years.
Serves 1
Tips for preparing the mussels:
Discard any mussel that is chipped, broken, or damaged in any way. Discard any mussel that is open—they should be tightly closed and stored in a cool spot. Just before cooking, soak the mussels in fresh water for about 20 minutes, causing them to filter water and expel sand. Remove the mussels from the water instead of pouring them through a strainer—the expelled sand should have sunk to the bottom of the bowl. If needed, use a small brush to clean off any additional sand or barnacles. Rinse the mussels under cool tap water and set aside. Dry with a towel before cooking. Remove any beards from the mussels (the bristly material sticking out from one side) by pulling down toward the hinge of the shell and outward. Cook the mussels the same day you purchase and prepare them.
Mussels Directions
In a large or medium frying pan, melt butter over low heat. Add the shallots, garlic, and bay leaf. Give it a quick stir to combine. Add the mussels and turn up the heat to medium. Add the wine and cover the pan. The mussels are cooked when they have opened, about 3–5 minutes. At that point, scoop out the mussels with a slotted spoon, leaving a bit of sauce in the pan. Add the aioli to the pan, and whisk over low heat until incorporated. Pour over the mussels and serve with your bread slices, ready for dipping.
Anne Watson
Cranberry Spiced Mule
From Cody Brashier, general manager of Charles + Dinorah, the restaurant at The Pearl Hotel in Point Loma
Serves 8
Fill a 64-ounce pitcher with ice. Add all ingredients, and top with ginger beer.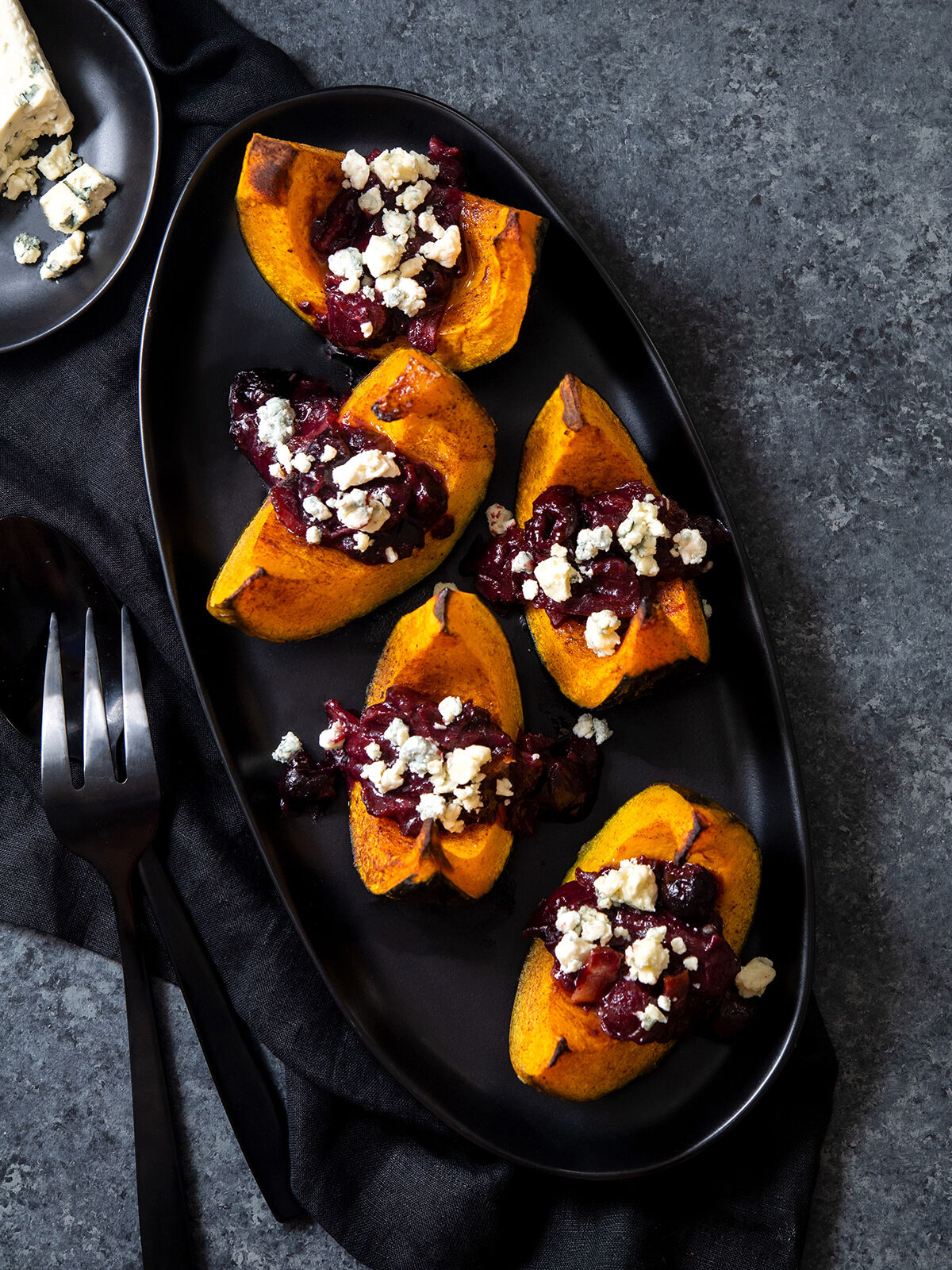 Anne Watson
Spiced, Roasted Maple Kabocha with Cherry Bacon Compote and Gorgonzola
From Hanna Tesfamichael, chef and owner of Hanna's Gourmet in Normal Heights. Hanna says this autumn side dish pairs perfectly with pork or chicken.
Serves 4
Heat oven to 375 degrees. Using a small knife, poke a few deep cuts into the squash. Loosely cover with foil and place the entire squash in the oven for 15 minutes or until soft to cut into. Let cool completely, then cut in half. Scoop out the seeds with a spoon and cut into 6 or 7 wedges. Liberally apply the oil and maple syrup to the surface of the squash wedges, then sprinkle with chopped butter, pumpkin spice, and salt and pepper. Place the wedges skin-side down on a baking sheet and put on the center rack of your oven. Bake for 35 minutes or until the surface becomes a golden brown color. Plate, spoon the compote on top, and sprinkle with Gorgonzola.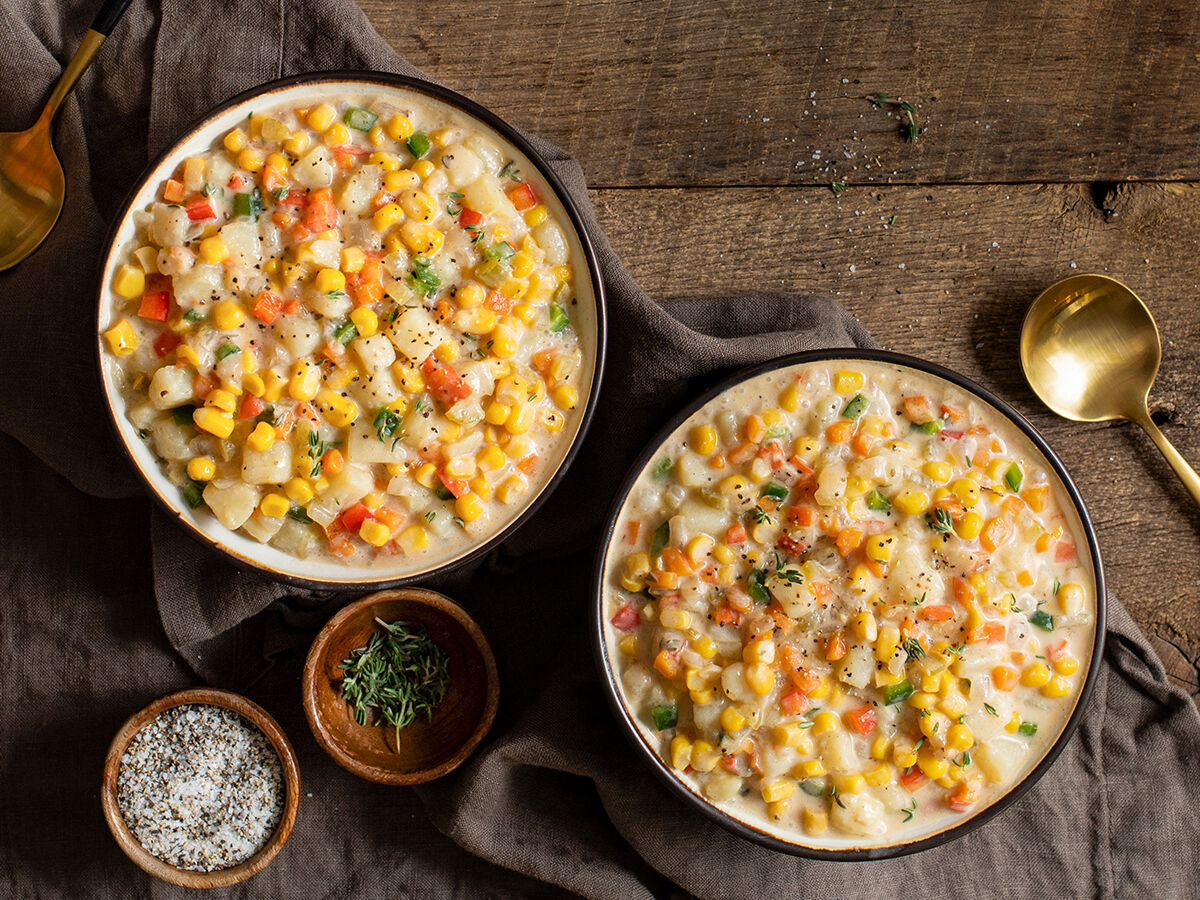 Anne Watson
Vegan Corn Chowder
From Chef Vincent Savignano, Mustangs & Burros at Estancia La Jolla
Yields approximately 13 cups
In a large pot, heat 1 tablespoon of olive oil and sauté the onion, garlic, celery, carrot, and peppers for 2–3 minutes, until they begin to soften. Stir in the ancho chile powder, cumin, paprika, and a little salt. Add the cans of corn with their juices, the water, and the coconut milk. Stir to mix thoroughly, bring up to a low boil for about 4 minutes. Add the potatoes and fresh thyme to the soup, bring back to a boil, then simmer for 15 minutes. Meanwhile, in a separate small bowl, mix the cornstarch with the water to create a slurry; it should be the thickness of heavy cream. Once the soup has simmered for the 15 minutes, return it to a boil and add the slurry, making sure to keep stirring until it begins to thicken (add enough slurry to achieve a thick chowder consistency). Simmer for 3 minutes, then remove from heat. Stir in the Tabasco, and add salt and pepper to taste.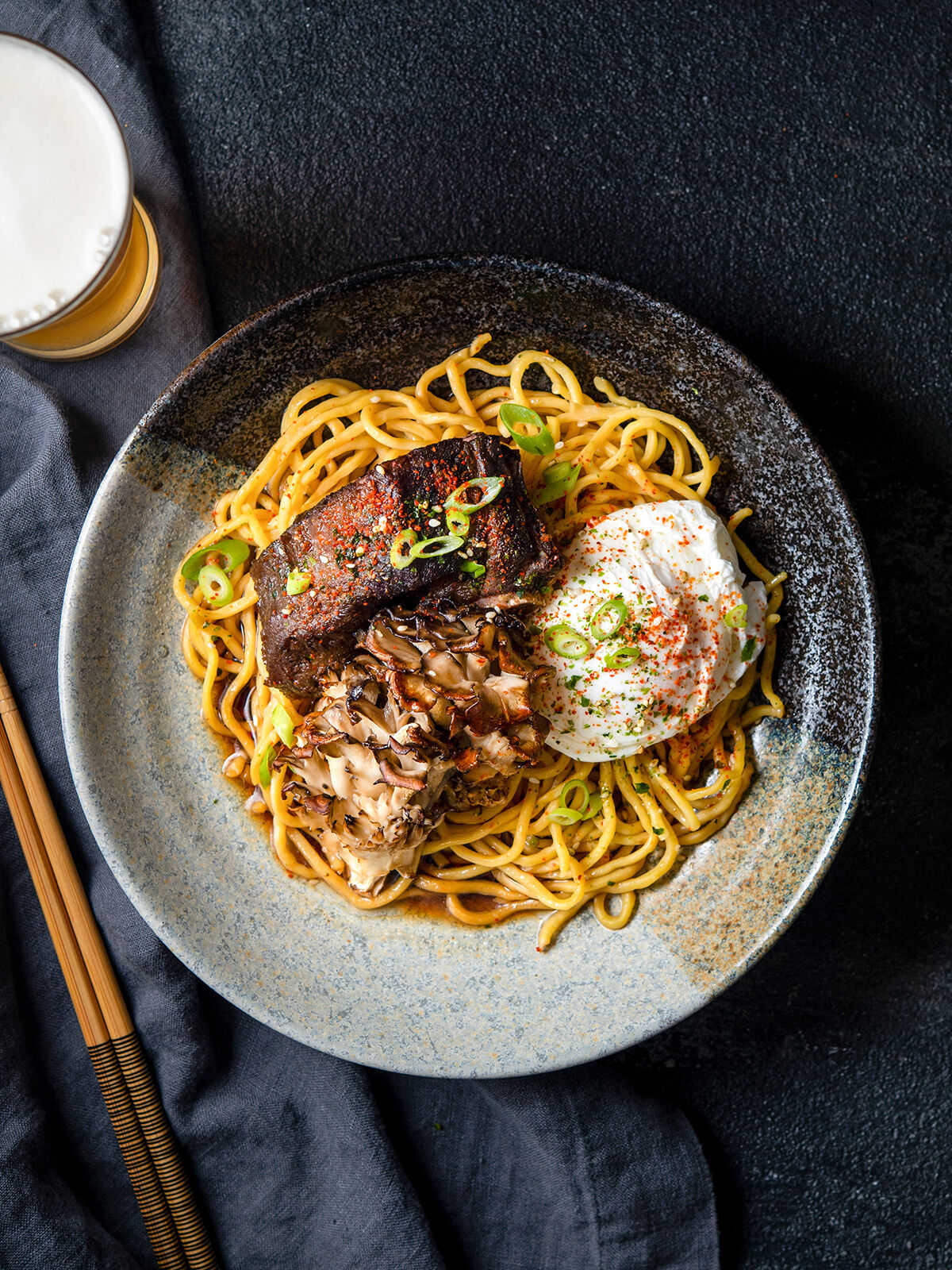 Anne Watson
Braised Beef Garlic Short-Rib Mazeman
From Keoni Simmons, executive chef at Jamul Casino. Keoni recently launched Loft 94, an eatery dedicated to ramen and other Asian noodle soups, and he developed this recipe for San Diego Magazine. Mazeman is a "brothless" ramen that features a sauce instead of a soup base, and is meant to showcase the toppings. The braised beef can be prepared ahead of time.
Serves 1
Braised, Shredded Beef Short Rib and Tare
Oven method:
Heat oven to 400 degrees. Mix all ingredients for braising liquid until sugar is dissolved. Place short ribs in a baking dish and pour braising liquid over, cover with foil and place in oven. Braise for 3 hours, then check to see if there's still liquid left—if not, add more water as needed. Continue braising for 2–3 more hours. Be sure to reserve some liquid to become the tare, for seasoning the noodles at serving time.
Sous vide method:
Place all ingredients in a pouch and cook in the sous vide for 12 hours at 150 degrees. Cut into 4 pieces when you're done. The meat should shred easily by hand. Reduce the braising liquid until it's glacé, and use it as the tare.
Garlic Chili Oil
Sauté the garlic and chili dry in a pan over medium heat for 5 minutes, stirring constantly. Then add the oil while stirring, increase to medium-high heat, and cook for 10 more minutes. Reduce heat to low and cook for 15 more minutes. Remove from heat and set aside for 15 minutes. Strain through a chinois.
Maitake Mushroom
Quarter the mushroom and toss it in rice bran oil, lay out on sheet pan and season with salt and pepper. Roast at 400 degrees for 15 minutes until it's brown on the edges.
Mazeman
Cook noodles according to package directions (boil about 4 minutes), then drain. Place the noodles in a serving bowl. Add the tare and chili oil, then top with the shredded braised short rib, mushroom, and egg. Dust with furikake and togarashi. Finish with bubu arare and green onion.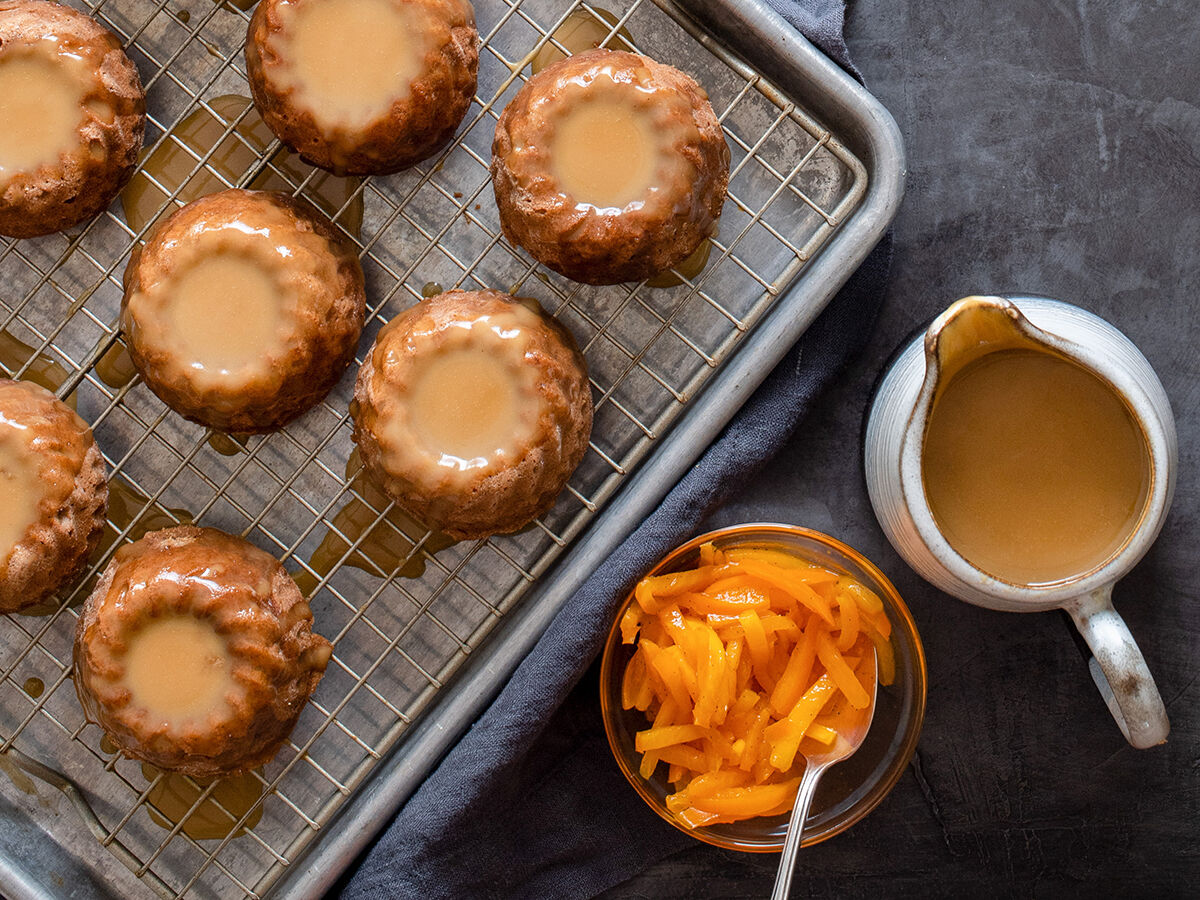 Anne Watson
Sticky Date and Piloncillo Cakes with Persimmon Salad
From chef Claudette Zepeda, Top Chef alum, James Beard Award nominee, and part of the 2020 class of Henry Crown Fellows. Piloncillo, or Mexican brown sugar, is unrefined cane sugar that doesn't have any additives. It's sold in solid cone form at Mexican grocers like Northgate Gonzalez Market and Pancho Villa's.
Makes 12 Muffin-Sized Cakes
Heat oven to 325 degrees. In a sauce pot, boil the water, dates, and piloncillo for 15–20 minutes. Add the baking soda and mix well, using the back of a spoon to mash if needed. Remove from heat. In a stand mixer with a paddle or medium bowl, cream the butter, sugar, and vanilla until light and fluffy. Add the eggs into the butter/sugar mixture one at a time until fully incorporated. Slowly add in the cooled date mixture and mix until combined, scraping the sides and bottom down as needed. Fold in the flour to the wet ingredients and pour into a buttered and floured cake pan, or individual bundt pans. Bake at 350 degrees for 18 minutes, then check for doneness and add 5–10 minutes as needed to bake thoroughly. Once the cakes are out, pour sticky sauce over the top to absorb, and persimmon salad to garnish.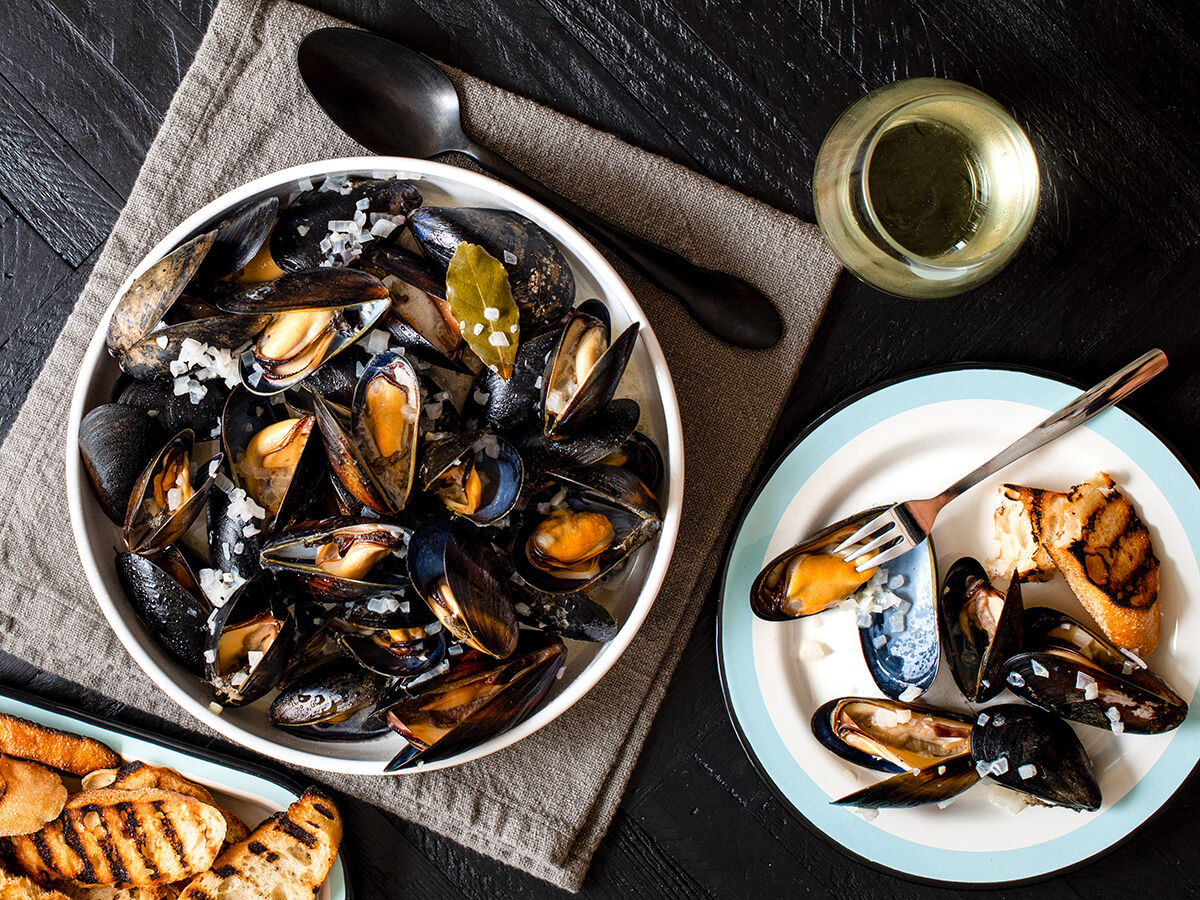 Anne Watson