Categories
Food & Drink | Shopping & Beauty | Health & Wellness | Arts & Culture | Kids & Pets
---
Food & Drink
New Restaurant
This modern Baja concept sports more than 80 varieties of tequila to wet your whistle. In the kitchen, Top Chef: All-Stars alum Angelo Sosa is whipping up items like Hawaiian ahi crudo ceviche and lobster guac. For a sweet treat, there's the unexpected (and brilliant) tequila flan with caramel, Manchego, and lime. And if you've got room after, head to the bar to indulge in those rarer spirit brands like Mezcal Vago, Tequila Ocho, and Centenario Añejo. ¡Salud!
569 South Coast Highway 101, Encinitas
Gluten-Free Breakfast
Seeking something gluten free before a day of hitting the beach? Nectarine Grove has breakfast tacos with grain-free tortillas, veggie pesto scrambles, and paleo French toast with orange-infused almond milk ricotta. To drink, there's kombucha on tap, charcoal lemonade, and coconut bone broth. Go back for lunch to feast on the famous plantain-crusted fried chicken, and feel good doing it—a portion of their annual profit goes to Feeding San Diego.
948 North Coast Highway 101, Encinitas
Custom Donut
The "build your own food" frenzy has a sweet new addition with this shop. Each warm vanilla cake donut comes fresh out of the fryer and is dipped in the icing and toppings of your choice. Try a melt-in-your-mouth combo like peanut butter, Oreos, and marshmallow drizzle. And if you really donut care about the calories, make your confection the foundation of an ice cream sundae.
1452 Encinitas Boulevard, Encinitas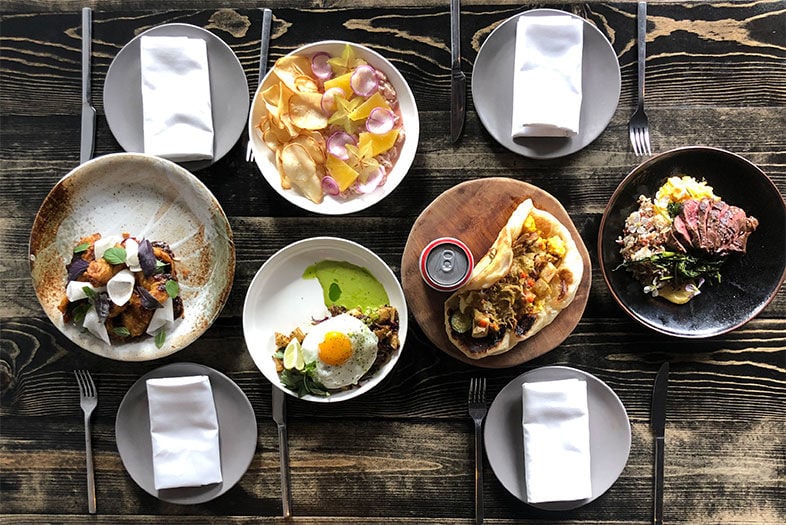 Dija Mara
Brunch
Mad culinary genius chef Ryan Costanza has redefined brunch with his wildly creative midday menu, a whirlwind of exotic Indonesian and Thai flavors. Start with the ceviche to share and, when craving something sweet with a twist, go for the mango tartine with fresh ricotta, lime, and Thai chili heat, or the sumptuous Kaya French toast, with brioche, coconut jam, and whipped cream. Savory fans can chow down on Thai sausage hash with pork sausage, patatas bravas, a fried egg and green curry hollandaise, or the addictive nasi goreng rice dish.
232 South Coast Highway, Oceanside
Gourmet Donut
The Costa Mesa–based bakery brought its creative confections to Del Mar Highlands Town Center early this year, and with it a menu that's got all the favorites—huckleberry, lemon and thyme, butter and salt. There's also a weekly gluten-friendly flavor, apple fritters on Fridays, and monthly specials from sweet to savory, like raspberry balsamic and butterscotch crunch. The malted salted cookie dough, designed in collaboration with Salt & Straw's head ice cream maker Tyler Malek, is rumored to return later this year, as well—get in line!
3435 Del Mar Heights Road, Del Mar
Hand Pies
This friendly neighborhood café and market in the Cedros Design District specializes in handcrafted comfort food, and its bestseller happens to be gluten-free. The hand pies are served fresh from the oven and made daily in two variations (served with a side salad or available a la carte): chicken pot pie, paired with sambol aioli, and a roasted curry farm veggie pie, with a side of seasonal chutney. Both are cocooned in warm, flaky crust and perfect with a cappuccino or passion iced tea. Delish.
346 South Cedros Avenue, Solana Beach
Afternoon Snack
Lonche is a thing and Chef Iole Revilla is serving it. The Peruvian tradition of a late-day mini meal gets a full menu at this spot by the owner of Panca. Sample meaty, vegan, or gluten-free versions of empanadas, tamales, pasteles, and sandwiches. Indulge in sweets like alfajores, toffee pecan truffles, or ice cream made with the tangy Andean fruit lucuma. To sip, there's bebidas from kombucha to agua fresca, espresso drinks, and more.
1904 South Coast Highway 101, Oceanside
Wood-Fired Cooking
From Local Tap House & Kitchen executive chef Daniel Pundik comes Exhale in Oceanside. Begin your experimental food journey with a "fire starter" like made-to-order guac, wood-oven-baked oysters, and wood-grilled delicata squash with smoked garlic crema. The mains and housemade tacos are served with blue corn tortillas and filled with everything from smoked brisket to cornhusk-wrapped wild scallops. Wash down your wood-fired feast with a craft cocktail like the tequila-forward Tell Me I'm Pretty.
236 South Coast Highway, Oceanside
This Coffee is Hot!
Cuppa with a View
Sure, they've been sprouting locations everywhere lately, but only Bird Rock Coffee Roasters' Del Mar outpost (left) has a complimentary view for your cuppa. Sip the single origins from El Salvador and Panama or blends from South America while overlooking Los Peñasquitos Lagoon, and pair them with a slice of classic avo toast to make the moment last a little longer.
2212 Carmel Valley Road, Del Mar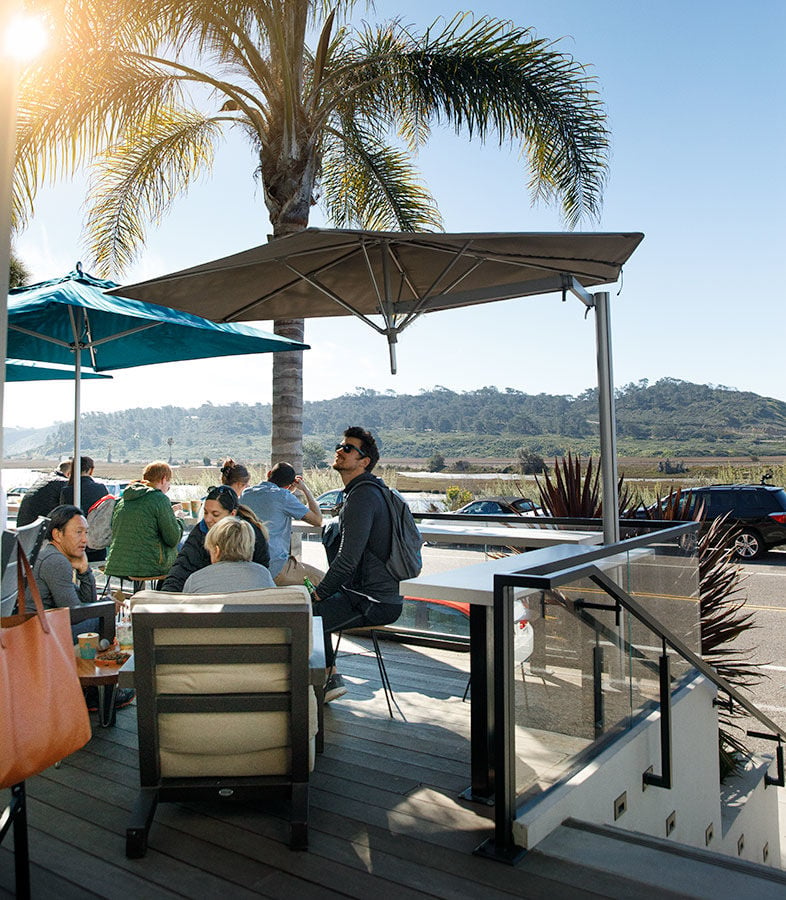 Bird Rock Coffee Roasters | Photo: Robert Benson
Coffee Expansion
There's nanoroasters, and then there's Steady State, whose first 250-square-foot location was in an alleyway. Thankfully, connoisseurs can sniff out a good cup in the unlikeliest of places, giving this Carlsbad operation a reason to upgrade to new digs in an office complex about a block away. Another way they're making use of the space? Public cupping classes every Thursday from 1–2 p.m.
2562 State Street, Carlsbad
New Cafe
This sleek, airy walkup by Trevor Mertens and Ryan Perry takes Bump from pop-up to permanent, offering customers the no-fuss menu of organic pour-over and cold brew they first served from a coffee truck at Pipes Beach and at local farmers' markets. Decked out with custom woodwork and furniture by Suha Designs, the new digs (below) also boast small-batch juices and nut-milk shakes by Cardiff Juice, breakfast empanadas from Empanada Kitchen, and Mush overnight oats.
126 Aberdeen Drive, Cardiff
Asian Fusion
Chinese meets Korean cuisine just up the way from Moonlight Beach at Chiko, which comes to us from DC (where it was also a James Beard semifinalist for Best New Restaurant in 2018). Chefs Danny Lee and Scott Drewno are serving up items like soy-glazed chopped brisket and "orange-ish" chicken. There's something for the wee ones, too: a kids' platter of tempura chicken bites and steamed rice with butter. Still hungry? Try the blood orange sorbet with lemongrass-infused basil seeds for dessert.
101 North Coast Highway 101, Encinitas
Izakaya
Kai Ola delivers on its name as an informal Japanese sushi bar with a West Coast vibe. The menu—curated by head chef Lane Manriki (Kaisen Sushi) and a sous-chef, David Kim, who trained under Iron Chef Masaharu Morimoto—has classic options like tuna sashimi and fresh salmon, plus creative rolls and specials. Try the Delicious Roll, with spicy tuna, cucumber, and avocado, topped with seared scallops, truffle oil, spicy ponzu, and smelt egg caviar.
918 North Coast Highway, Leucadia
Pizza
Arguably the best pizza in San Diego is also the best pizza in NoCo. Buona Forchetta opened its third location in Encinitas in October, with a menu essentially carbon-copied from its South Park flagship—so North County dwellers needn't bear the commute anymore. As is customary to all of its locations, the pizzeria brought along its "star player," a gilded pizza oven made in Naples. This one's name is Isabella. Che buono!
250 North Coast Highway 101, Encinitas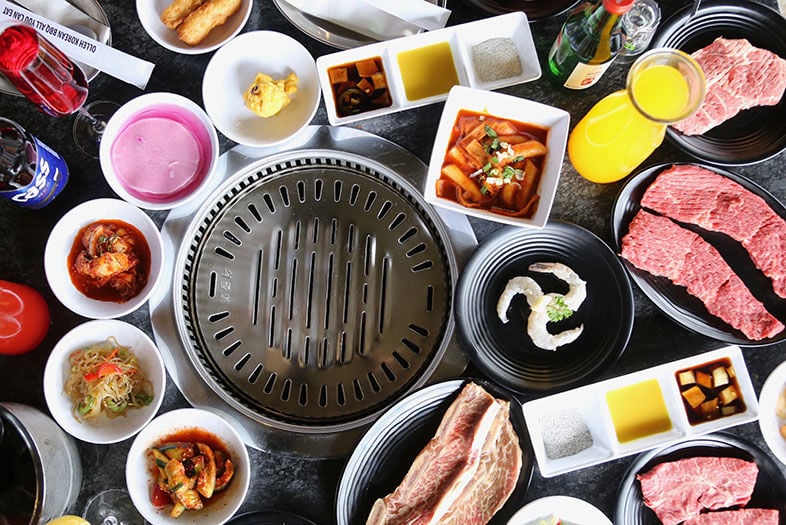 Olleh Korean BBQ
All-You-Can-Eat
The name means "come over" in Korean—and it's a call hungry Rancho Bernardo residents have been heeding ever since Olleh opened in The New Mercado Shopping Center in December. As if the "we meat again" neon sign weren't a dead giveaway, the newest venture by Heesun Cha and Yong Chi (Bing Haus, Cross Street Chicken & Beer) is a hip, 5,000-square-foot temple to grill-it-yourself dining. They offer lunch and dinner centered on house-marinated proteins for the grill built into each table, served with rice and at least 12 refillable banchan (side dishes). Feast well but in moderation, or expect to pay full price for leftovers—a common practice at all-you-can-eat Korean barbecues.
11828 Rancho Bernardo Road, Rancho Bernardo
Dinner Party
Jen Phillips is revving up sleepy Fallbrook with her salon-like farm dinners for up to 40 people. The quarterly affairs celebrate San Diego's bounty with dining under the stars, live music, wine and kombucha pairings, and craft cocktails. Most importantly, it's front-row access to compelling chefs like Derrick Fox (MasterChef alum) or Jason McLeod (Ironside, Born & Raised) who serve deli­cacies like Gracey Lane Farm snails as escargot vol-au-vent and oysters with passion fruit straight from the garden. Cheers to that—and seconds please!
2111 Gracey Lane, Fallbrook
Sushi
The latest venture from sushi chef Eric Lee (ex–Blue Ocean, Ototo), Umami opened in the new North City development near CSU San Marcos last year, offering specialty sushi rolls, poke bowls, ramen, bento boxes, bao buns, and more. Expect the sushi rolls to be large, but the prices relatively low. Look for unique rolls like the baked crawfish, spicy lemon, and fried tofu, or try a "sushi muffin" composed of two rice balls stuffed with seaweed, imitation crab, and masago, and topped with salmon, black tobiko (fish roe), and edible flowers.
251 North City Drive, San Marcos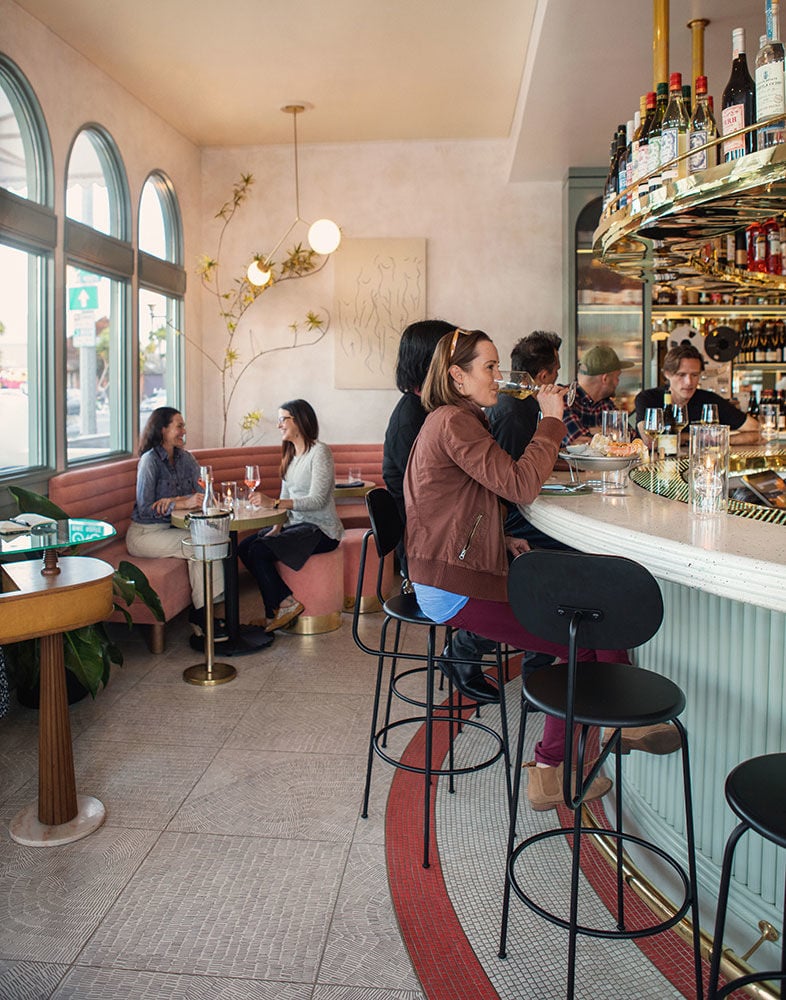 Jeune et Jolie | Photo: Becca Batista
Decor
When there's no possible way to replicate something good, sometimes the best decision is to head in a totally new direction. Enter Jeune et Jolie. Following their first wildly successful concept, Campfire, owner John Resnick and executive chef Andrew Bachelier took the restaurant interior design revolution to a new level. Opened in December, the 2,000-square-foot space, designed by Los Angeles firm Bells + Whistles (Campfire, Starlite Lounge) is equal parts modern French (like the cuisine) and art deco sexy, complete with velvet booths, brass accents, and bold artwork. And the name? Besides translating to "young and beautiful," it's also an homage to Resnick's and Bachelier's daughters Elsie June and Margot Jolie, respectively. It doesn't get more charming than that.
2659 State Street, Carlsbad
Beef
Calling all conscientious carnivores! Pam Schwartz is here for you. Cuts sold at her butcher shop and fast-casual eatery are sourced exclusively from Brandt Beef, a SoCal producer of certified all-natural, antibiotic-free meat. Sides include smoked cheddar and bacon mac 'n' cheese, lemon and herb potato salad, and wild rice, quinoa, and amaranth pilaf. Schwartz also hopes to level-up appreciation of all parts bovine with cooking classes, demonstrations, and themed take-home dinners. Holy cow.
512 Via de la Valle, Solana Beach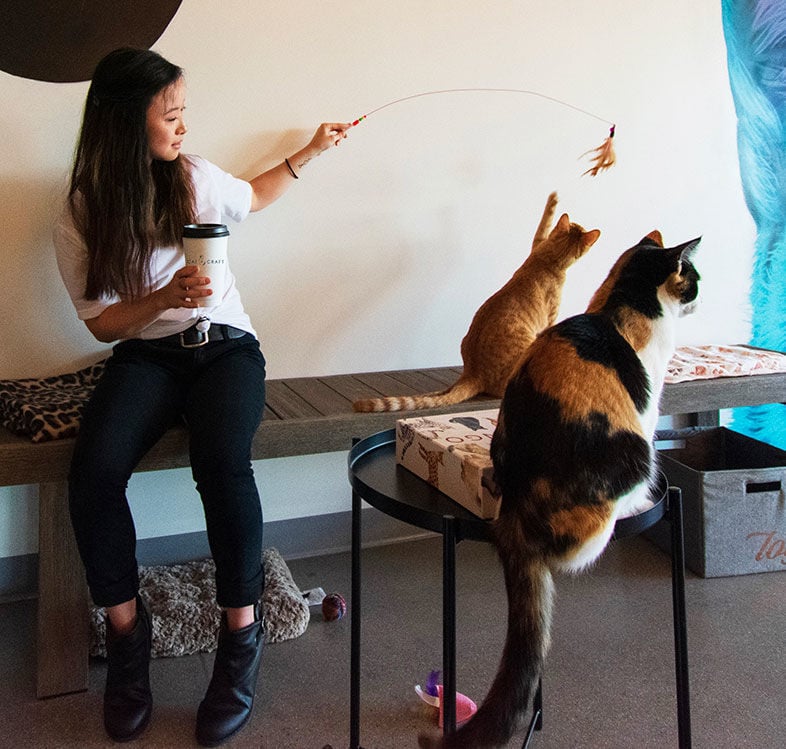 Cat & Craft
Cafe Amenity
North County's first cat café has "Purr-over" coffees from Manzanita Roasting Company to sip, and "Catprese" toast and Hazel & Jade pastries to nosh, while you canoodle with adoptable kitties from rescue organization Love Your Feral Felines. (Married owners Andrew and Caroline Vaught hope to rehome 500 cats in the café's first year.) A glass viewing wall separates the café and the cage-free cat lounge, where you can reserve a one-hour session to pet and play with them.
3211 Business Park Drive, Vista
Catered Event Space
This new farmhouse-chic event space accommodates seated dinners of up to 40 guests and cocktail parties up to 60, catered by Harvest Kitchen. The grub's organic and available in paleo, vegan, and gluten-free menus, and there's bar packages. But the best part? All-night, loud-as-you-like partying unhindered by neighbors—gotta love Vista for that!
1495 Poinsettia Avenue, Vista
Collaboration
Since when did school get so sweet? Middle school teacher Rachel Flores's students aced their project last May, when they brainstormed candy bar flavors and packaging ideas, surveyed their school, charted the data, and even tested a recipe in science class. Then Michael Antonorsi of Carlsbad's Chuao Chocolatier got wind and invited them to his factory to blend the kids' product with their own to make MintFully Brownie—and will soon distribute it nationally. A+ for collaboration!
Fresh Fast Food
Get your daily allotment of veggies at this fast-casual chain, with custom Mediterranean salads, grain bowls, and pita wraps. The portions are plentiful and the flavors are zesty—think spicy lamb meatballs, harissa, pickled banana peppers, roasted seasonal vegetables, and Sriracha Greek yogurt dressing. Find the perfect accompaniment in seasonal housemade juices such as beet lemonade or pineapple apple mint.
1042 North El Camino Real, Encinitas; One Paseo, Carmel Valley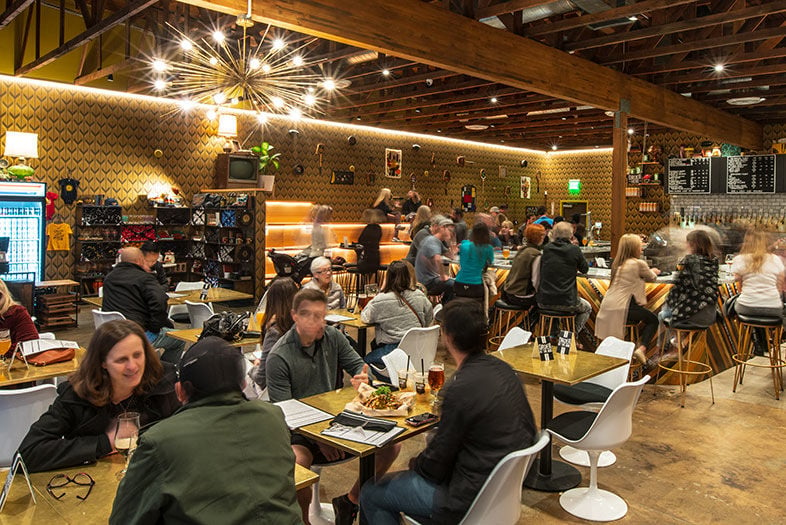 Far West Lounge | Photo: Sam Wells
Plant-Based Brewpub
It's not just Modern Times' newest tasting room. It's also the brewery's only San Diego outpost to serve food, offering a small menu of plant-based dishes like Beyond Meat burgers and bratwursts, chilaquiles, and kimchi elote. (Since Modern Times founder and CEO Jacob McKean is vegan, he's made it a point that everything the brewpub serves be vegan too—including the beer and coffee.) But don't think their beloved brews have gone by the wayside; there are still 30 on tap to choose from.
470 South Coast Highway 101, Encinitas
Bowls
Everbowl's hearty, made-to-order bowls are packed with way more than just acai, and they're popping up all over the county, including in Encinitas, Escondido, Oceanside, and Poway, to name a few. Choose from predesigned favorites like the Hawaiian, topped with kiwi, pineapple, and coconut, or the Notso Green (can't even taste the spinach). Feeling more adventurous? Build your own, starting with a base of either acai, pitaya, acerola, or graviola, and choose from six liquids (like cashew milk or coconut water), then load up on the toppings. With over 25 fruits, seeds, and drizzles to choose from, there's something for everyone.
Multiple locations
Alt-Milk Shake
Morgan Brown, Hannah Van Veen, and Jessi Goralski achieved such mastery in the art of making almond and cashew milks for their place of work—Bump Coffee—that their bosses encouraged them to think bigger. So, the trio recruited their friend and fellow nut-milk guru Rylee Owens to launch their own small-batch brand of bottled breakfast shakes featuring Bump Coffee cold brew. The grab-and-go items are available at their day job.
126 Aberdeen Drive, Cardiff
Happy Hour
Westin Carlsbad Resort & Spa's newly rebranded upscale dining option serves contemporary California cuisine coupled with crystal-clear views of the Pacific. The restaurant offers daily deals in the bar and lounge areas from 4 to 6 p.m., including cocktails for $2 off, $4 well drinks, $6 house wines, and half-priced appetizers. But Wednesday from 4 to 9 p.m. is our favorite time to swing by, when 20/Twenty hosts a progressive happy hour with draft cocktails—like the lemon-basil snakebite martini that rotates seasonally—starting at $4 and increasing by $1 each hour. Bottoms up!
5480 Grand Pacific Drive, Carlsbad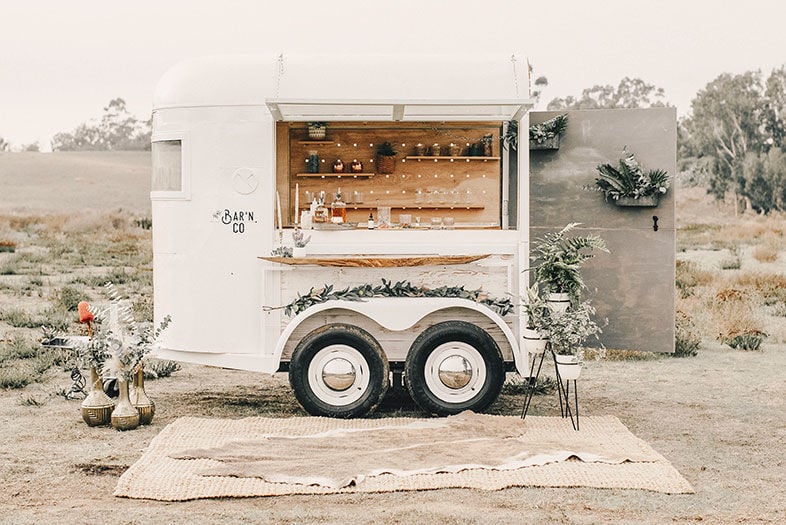 Bar'n Co
Mobile Bar
Encinitas residents Caroline Green and Andy Wood gutted a 1982 horse trailer to its frame and transformed it into a head-turning dry bar available for events. After they literally raised the roof, the 12-by-7-foot space now features a reclaimed barn door, whitewashed wood paneling, and a hexagon-tile backsplash. It can be hauled to many locations and gussied up inside and out per a client's theme. Packages include "The Stable," just beer and wine; "Giddyup," which adds two custom cocktails; and "No Horse'ing Around," which includes a fully stocked bar and two licensed tenders for it.
Sherry Selection
Any restaurant can put together a wine menu. But how many of them curate a sherry list? Clara upstages the rest, with varietals like Pedro Ximénez San Emilio and Dry Amontillado Los Arcos. Order the fortified vinos on their own in three-ounce pours or try them in a craft cocktail (the Iron Maiden marries a Manzanilla sherry with mint, cucumber, and lime).
300 Carlsbad Village Drive, Carlsbad
Kombucha Delivery
Solana Beach couple JP and Kate Franklin just made getting this gut-friendly fermented elixir easier with their weekly home delivery service. Chilled growlers of spicy ginger, kid-friendly raspberry lemonade, or apple turmeric ginger kombucha arrive at your doorstep as though from a modern-day milkman. Not ready to go all in? You can find their bottled booch at Crust, Ranch 45, and Pizza Port, too.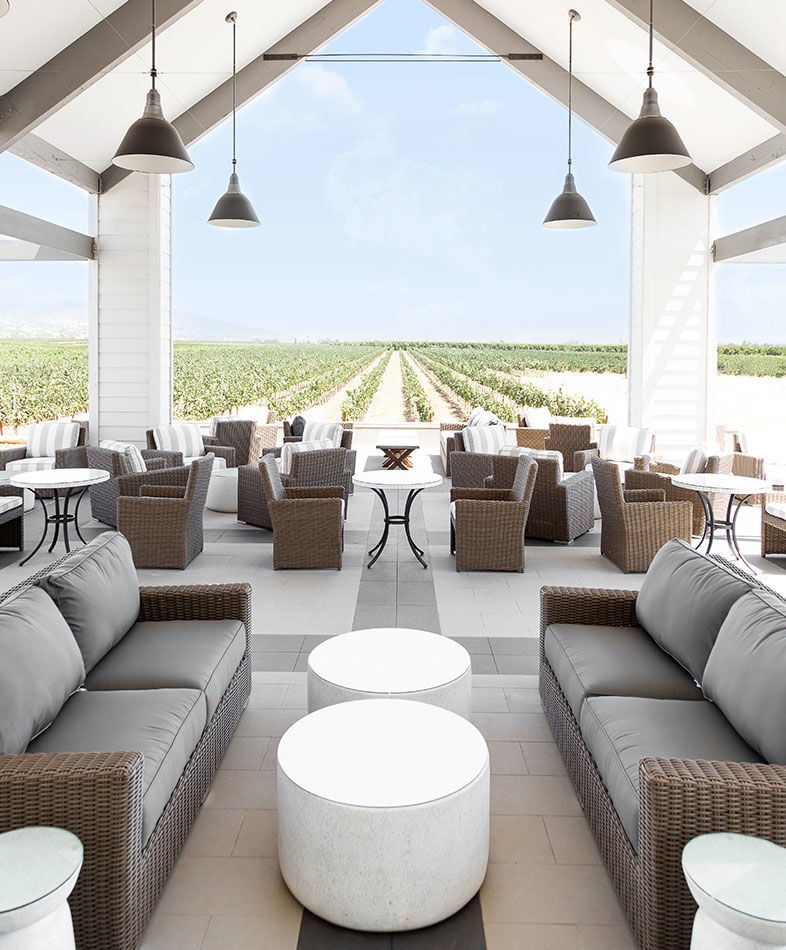 BOTTAIA Winery
Winery Experience
Technically it's in Riverside County, but we're happy to claim it. Temecula's newest winery got our attention when it opened last fall, situated on the other side of a 300-acre estate it shares with sister winery Ponte, and it's the only one in Temecula Wine Country that has a wine blending lab as part of its main offerings. Opening this month are a pool, a café, and a cocktail bar (buy a guest pass or rent a cabana for the day, complete with lounge chairs, shower, and more). Vino and vitamin D? Yes, please!
35601 Rancho California Road, Temecula
---
Shopping & Beauty
High-End Retail
The interior designer opened up her first retail space and design studio last year, housing antiques collected during her travels (for instance, a Paul McCobb bar cart). Then there's bespoke collections created specifically for her: Grecian-inspired ceramics by La Jolla artist Joe Skoby, table lamps designed by Carol Leskanic in New York, coffee table trays by Erik Gustafson in Chicago, and mirrors by James Kendall Higgins.
16903 Avenida de Acacias, Rancho Santa Fe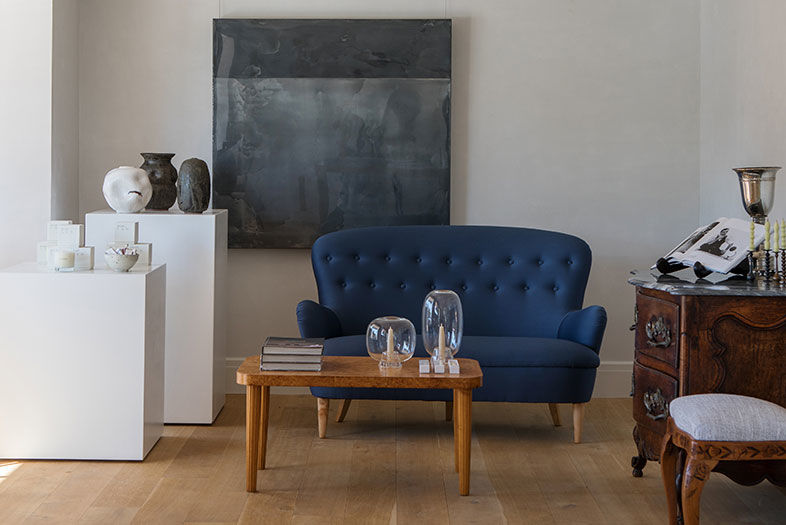 Amy Meier | Photo: Becca Batista
DIY Accessory
Encinitas mom Lindsy Richards designed and patented these adjustable leather-and-elastic headbands and corsages for use as the base of flower crowns. Gather your own blooms and arrange as you please.
Brand that Gives Back
Surfing photographer Jack English and his daughter, Eden, launched Sea of Seven from their Encinitas garage with giving back in mind—for every product sold they donate a tee to a homeless person. They sell surfer chic tees for him, her, and kids, as well as prints. Shopping never felt so good.
Sustainable Fashion
Sustainable and ethical—that's the standard for the threads to hang on the racks at this airy brick-and-mortar. Opened by Audrey Latsko last year, Ineffably stocks only fair-trade organic goods that'll withstand a lifetime of wear. There's even seed paper price tags to ensure nothing goes to waste. Plant it, grow it, enjoy it. It's a retail cycle that keeps on giving.
2650 Via de la Valle, Del Mar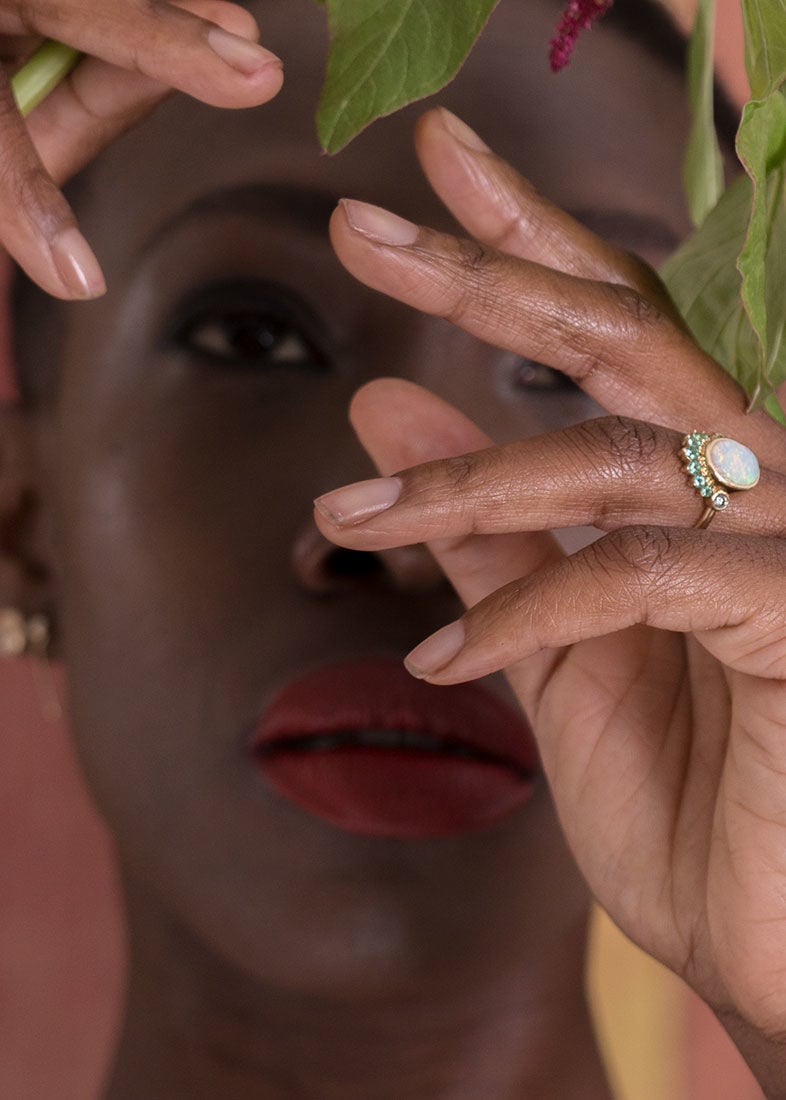 Marrow Fine | Photo: Jesse Chamberlin Marble
Jewelry Line
Jillian Sassone has been handcrafting head-turning gemstone settings and gilded masterpieces from Solana Beach for years. But her "Dreaming of Marrakesh" line, dropped last summer, has given us unprecedented bling envy. Inspired by Morocco's iconic faded and intricately patterned tiles, the collection includes those stackable pieces Sassone is so known for, as well as standalone statements like Moon Signet Rings—choose one that reflects the moon's phase during a special moment—and the Opal Headdress Ring (pictured), which is based on the first piece she ever made, using her late grandmother's heirloom opal.
One Paseo, Carmel Valley
Handmade Goods
Heidi Ledger took over what had been storage space for her husband's surf shop, Atacama, to set up a storefront for her online business selling women's accessories, art, and home wares. It's her latest step in building an environmentally conscious business that provides dignified employment opportunities to artisans around the world, including refugees resettled in San Diego. She also donates 10 percent of all sales to Circle of Health International, a nonprofit that supports organizations serving women and children. Follow @threadspun to stay in the know about future pop-ups, like one May 4–12 at Atacama Surf Shop.
1114 North Coast Highway 101, Encinitas
Shopping Destination
With 40-some tenants opening on a rolling basis, it's too soon to say just how much we'll love Carmel Valley's new shopping concept. Still, here are the local retailers we're glad to see moving in and the stylish and tasty newcomers we can't wait to meet.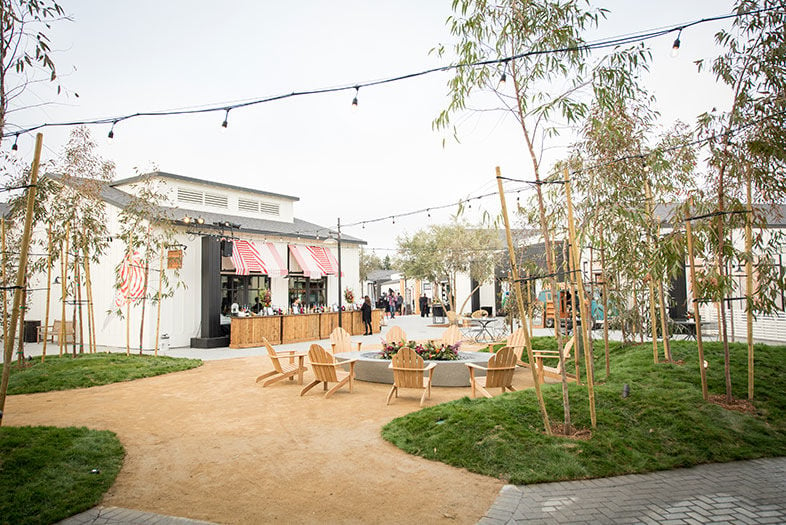 With a vibe akin to the country marts in Malibu or Santa Barbara, it makes sense that the 96,000-square-foot One Paseo has recruited some brands from those haughtier areas to drive home its concept. Take the laid-back Whiskey & Leather and the edgier West of Camden boutiques out of Santa Barbara and Huntington Beach, respectively, plus cool-kid patterns from Faherty and, for children's threads, Nathan West, which also houses a vintage barbershop in the back for the wee ones.
But it's the local makers expanding into their second brick-and-mortars that we're most excited about: Encinitas swimwear shop Blackbook Bikini and North Park clean beauty boutique Shop Good, respectively. Then there's the boho-chic Van De Vort and beloved plant and gift emporium Pigment moving into third locations after their seconds in Liberty Station.
As for the grub, check out San Diego favorites like Tender Greens, Parakeet Cafe, and Sweetfin Poke, or the more upscale Newport Beach transplants Ways & Means Oyster House and grab-and-go stop The Butchery. Any complaints about the calorie-packed Shake Shack and Salt & Straw can be left at the door of BodyRok, SoulCycle, or Vibe Flow Yoga.
Follow up your workout with some pampering at cürBAR, Drybar, or The Color Counter, and you'll never want to leave. Beginning in July, some San Diegans won't have to—that's when One Paseo's residential development opens. As they say, if you build it, they will come!
12860 El Camino Real, Carmel Valley
Custom-Made Knives
Leucadia-based father-son duo Scott and Anthony Wing adorn their Damascus steel and Swedish stainless blades with equally sharp-looking handles, made from fabric-and-resin Micarta, elk antlers, and koa, sapele, and sycamore wood. They're perfect for fishing and just as handy in the kitchen or workshop. Choose between an eight-inch chef knife, a fillet knife, a two-inch kiridashi and bottle opener (dubbed the "Beeradashi"), or other styles. Each piece is handmade to your liking, so expect to wait up to six months.
Barbershop
Wylie Avinion's passion for barbering goes beyond giving fresh trims; it's a dedication to clients and community. He's partnered with Streets of Hope San Diego to give free haircuts to homeless people. At his newly minted Ivy League Barber Academy in San Marcos, Avinion teaches up-and-comers to not only act as entrepreneurs of their own brands, but that their craft—when done with care—can remind someone of their worth. Appointments are highly recommended.
555 West Country Club Lane, Escondido; 12145 Alta Carmel Court, Rancho Bernardo
Eco-Friendly Beauty
You won't see a plastic vessel in sight at this boutique. Grab a glass jar or bottle and fill up on health-conscious bath and home products like plant-based laundry detergents, Himalayan sea salt, baby wash, and lotions, with the option to customize the scents with pure essential oils. You can make your own shampoo, too.
1012 South Coast Highway, Oceanside
Men's Denim
The new releases haven't stopped since Lone Flag uprooted from Del Mar to Encinitas last year, but what's caught our eye is their new Coast Denim line. The style is minimal and lightweight—to fit a SoCal lifestyle—and the fabric dyed in Los Angeles before the Lone Flag crew often puts its own spin on it. Consider the Moonlight Wash, where they dipped a batch of jeans in the ocean at Moonlight Beach and hung them out to dry, so each pair has a distinct distress from the salt and sun. So SoCal, indeed.
1057 South Coast Highway 101, Encinitas
CBD Facial
This holistic hideaway is more than thatched bungalows housing inimitable healers. Inside there's cupping, acupuncture, medical intuitive sessions and, our favorite, organic facials. Their CBD Revival Facial harnesses the power of Leef Organics CBD as a free-radical fighter and antioxidant. As you lie on a crystal-embedded infrared mat, your therapist massages the oil into your face with a chilled rose quartz roller to boost collagen and rejuvenate your skin and spirit.
775 North Vulcan Avenue, Encinitas
---
Health & Wellness
Health Retreat
Hit "reset" in style and luxury with a new retreat at Rancho Valencia. Their Wellness Collective, in partnership with San Diego's Lifewellness Institute, focuses on epigenetics and "generating positive gene expression." Make those genes smile again with a customizable itinerary involving a combo of fitness, massages, special menus, and workshops. The revamped program allows for more flexibility and increasingly in-depth workshops on topics such as sugar addiction, the inflammatory lifestyle, and adolescent mental health.
5921 Valencia Circle, Rancho Santa Fe
Back-to-Nature Program
In many parts of North County, our neighbors are coyotes and snakes. This center, headed up by Rancho Coastal Humane Society, is teaching residents how to coexist and support our wild neighbors with fun educational events, like a "baby shower" to collect gifts and donations for their growing pack, and a spring camp for kids (April 1–5 and 8–12).
2380 Camino Vida Roble, Carlsbad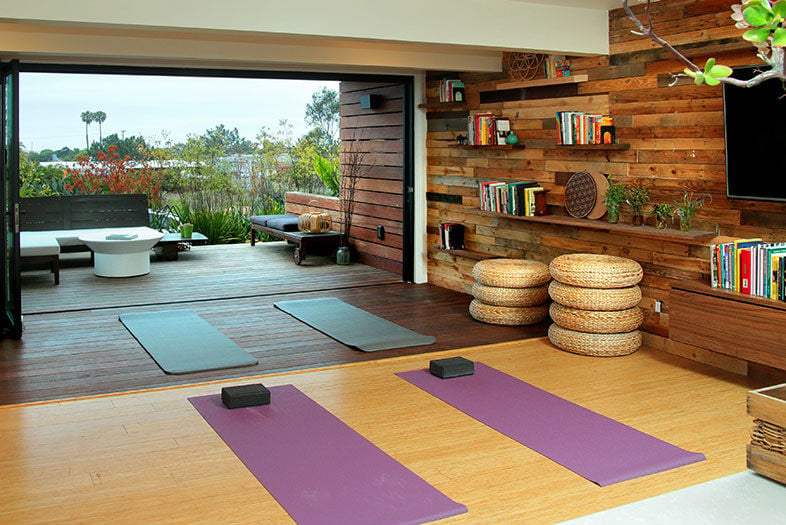 Inn at Moonlight Beach
R&R Destination
A perfect staycation for a wellness weekend, this recently renovated Encinitas inn wins props for being the first building in America to adhere to the WELL Building Standard (even beyond LEED certification). The five-room modern retreat has all the right touches, from meditation nooks with gurgling fountains to biodynamic gardens for morning tea, sound therapy machines for dreamy sleep, deep soaking tubs, in-room aromatherapy, opportunities to harvest the herb and flower gardens for aromatic satchel making, and healthy organic breakfasts delivered to your door. Juice cleanse and ayurvedic wellness and relaxation packages are available too.
105 North Vulcan, Encinitas
Bike Showroom
Italy's most elite and elegant bicycles have a new US headquarters in, of all places, Solana Beach. Peruse the sleek wheels, which run from $2K to $20K, and even step outside to demo your favorite. Keep an eye out for events with drop-ins from pro cyclists—2018 Tour de France winner Geraint Thomas has popped in. (Pinarello is, after all, the preferred choice of Tour de France champs.) But think gallery, not retail, as none of the bikes are for sale here. They'll send you to one of their authorized retailers for a custom fit.
238 North Cedros Avenue, Solana Beach
Skatepark
Rather than having your little shredders "crooked grind" your flowerbeds into dust, check this out: The designer and builder of Street League Skateboarding courses (your kids will know what that means) just opened an indoor facility. Equal parts skate park and Olympic training center, it features competition-environment fixtures like time clocks and judging stands. Whether they're beginners or budding pros, skaters can take lessons from legends and prepare to take the podium one day. Get ready to negotiate those energy drink contracts!
1410 Vantage Court, Vista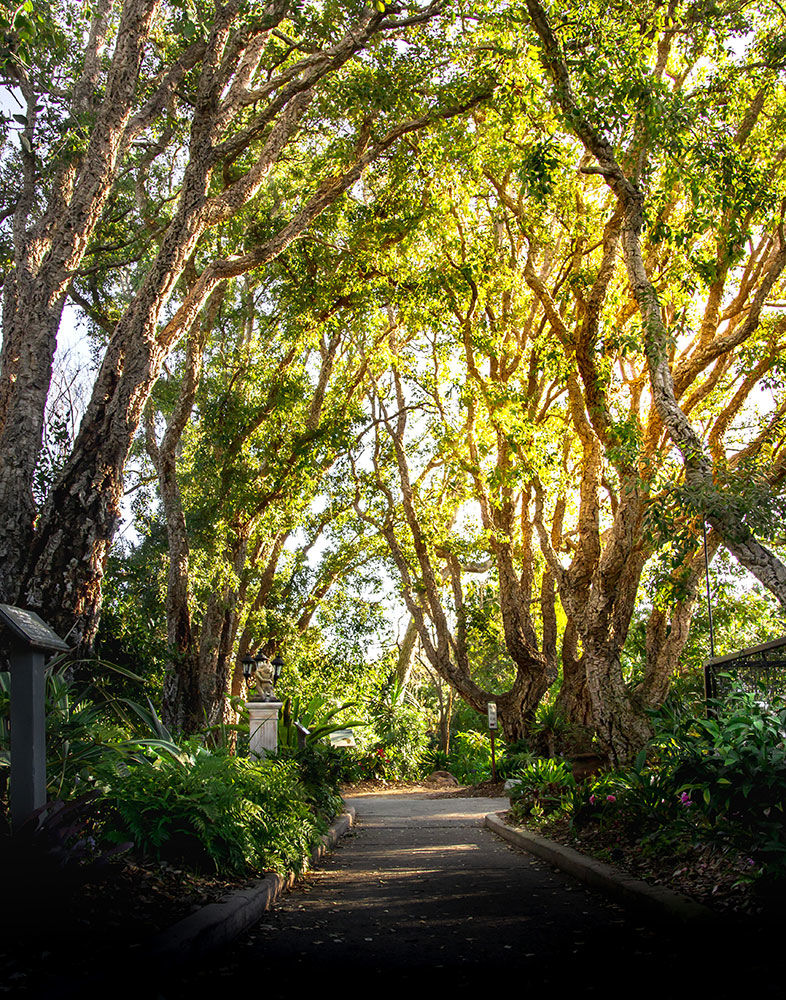 San Diego Botanic Garden | Photo: Rachel Cobb
Wellness Workshop
Keep your clothes on; it's not what it sounds like. The San Diego Botanic Garden jumped on this meditative trend last year with the help of instructor Rhana Kozak, who's trained in shinrin-yoku, the Japanese therapy of nature bathing. The two-hour course, typically held on Sunday mornings, is meant to help participants mindfully tap into their senses and soak up nature's ambient cures. The immersion happens in two individual 20-minute walks, and ends with tea brewed with botanicals straight from the herb garden, followed by a savasana in the bamboo garden that's as relaxing as it sounds.
230 Quail Gardens Drive, Encinitas
Cycling Studio
When you're over trying to find parking for SparkCycle or need a break from hearing the SoulCycle instructors on their inspirational pedestal, there's a new cycling studio in town. Carlsbad native Lena Rakijian opened Verve in January after recruiting two of her former fellow spin instructors from Boston. Their most popular class is VerveCycle, a 45-to-75-minute session that combines high-intensity intervals and upper body strength training for a no-nonsense, satisfying workout.
2630 Del Mar Heights Road, Del Mar
---
Arts & Culture
Museum Partnership
Just as schools are cutting arts programs left and right, Carlsbad's Museum of Making Music is meeting needs with fun, unexpected programming and partnerships. Just last year they introduced a totally immersive music program for San Pasqual Academy foster teens interested in music as a possible career. Other MoMM programs put instruments in the hands of seniors or provide museum access to students living below the poverty line. Upcoming concerts include Grammy winner Daniel Ho Trio (April 6), Irish music from the Seamus Egan Project (April 13), and "chamberfolk" band Harpeth Rising (April 20).
5790 Armada Drive, Carlsbad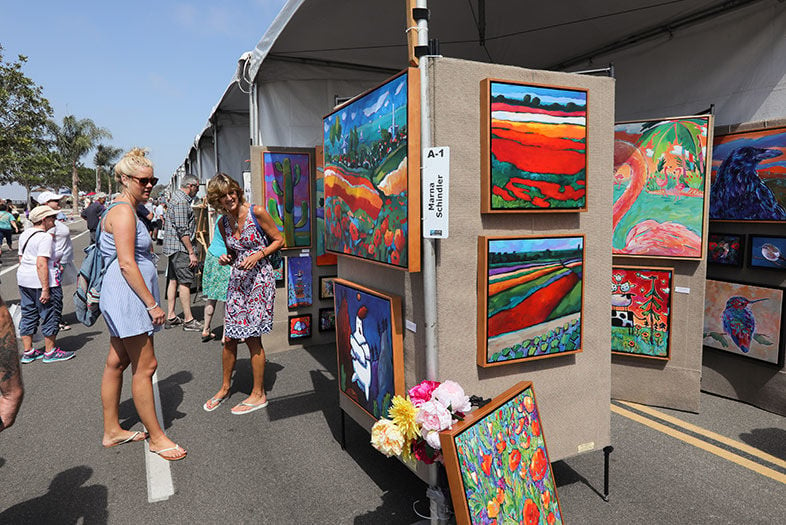 ArtWalk Carlsbad
Art Event
Launched last year by Little Italy's Mission Federal ArtWalk, ArtWalk Carlsbad is positively kaleidoscopic, with more than 200 artists displaying and selling their work September 21–22. In a nod to the defunct Carlsbad ArtSplash event, chalk artists bring Armada Drive to vibrant life—coloring surfaces in turquoise, tangerine, silver, and more glowing hues.
Armada Drive, Carlsbad
Street Artist
You know his work if you've been to Moto Deli—the mural Arriba, Abajo y de Lado a Lado ("up, down, and side to side") has been tempting patio patrons to pause for selfies ever since its completion in 2017. But that just scratches the surface of how this Carlsbad-based artist has muralized North County in his upbeat style (pictured), inspired by the Mesoamerican tradition of his Honduran roots and the street art he absorbed as a New Yorker in the mid-'80s. His Free Beans Project is a treasure hunt in which he leaves a numbered set of paintings—each one a Warhol-like can of beans—in public places for people to find and keep. Follow @wherehaveyoubeans to see where they'll show up next.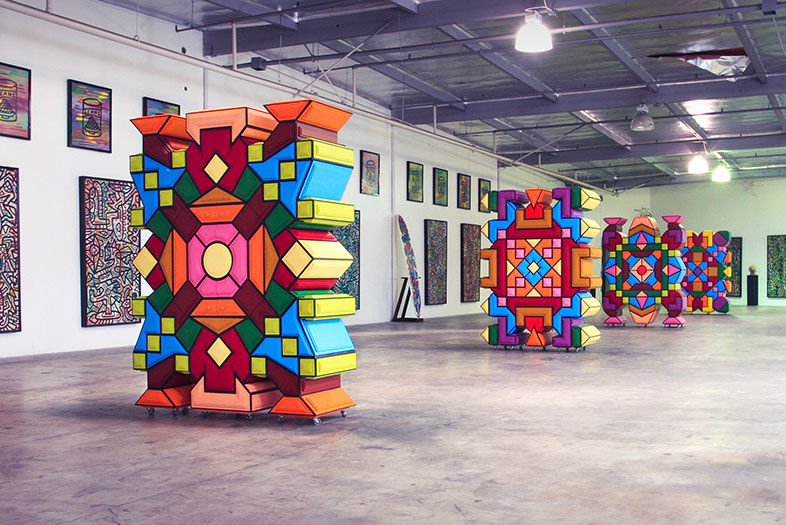 Santos Orellana
Play Festival
If you like theater and beer, this New Village Arts festival is definitely up your alley. The Final Draft New Play Festival gives local playwrights and breweries shared spotlight in a weekend-long event every January that includes readings of new plays, workshops, and panel discussions. It concludes with the Final Draft Party, where audience members can mingle and enjoy craft beers. Cheers to drama celebrated right!
2787 State Street, Carlsbad
Artsy Date Night
The city of Oceanside is heating up, and its very own OMA is right there with it. They added their popular Music at the Museum series to various First Friday Art Walks—April 5 features live music and dance performances on the terrace and lobby. The best part? Free admission from 5 to 8, but you're welcome to stay until 10, and there's a cash bar. It's the artful alternative to a night at the pub.
704 Pier View Way, Oceanside
---
Kids & Pets
Family Bazaar
This new pop-up for families and foodies sprawls through Flower Hill Promenade with food trucks, live music, free crafts for kids, and educational experiences from local museums. Parents can enjoy beer gardens and vendors selling jewelry, reclaimed wood art, pottery, hand-poured candles, European shoes, and more. See it the second Sunday of each month, starting in May.
2720 Via de la Valle, Del Mar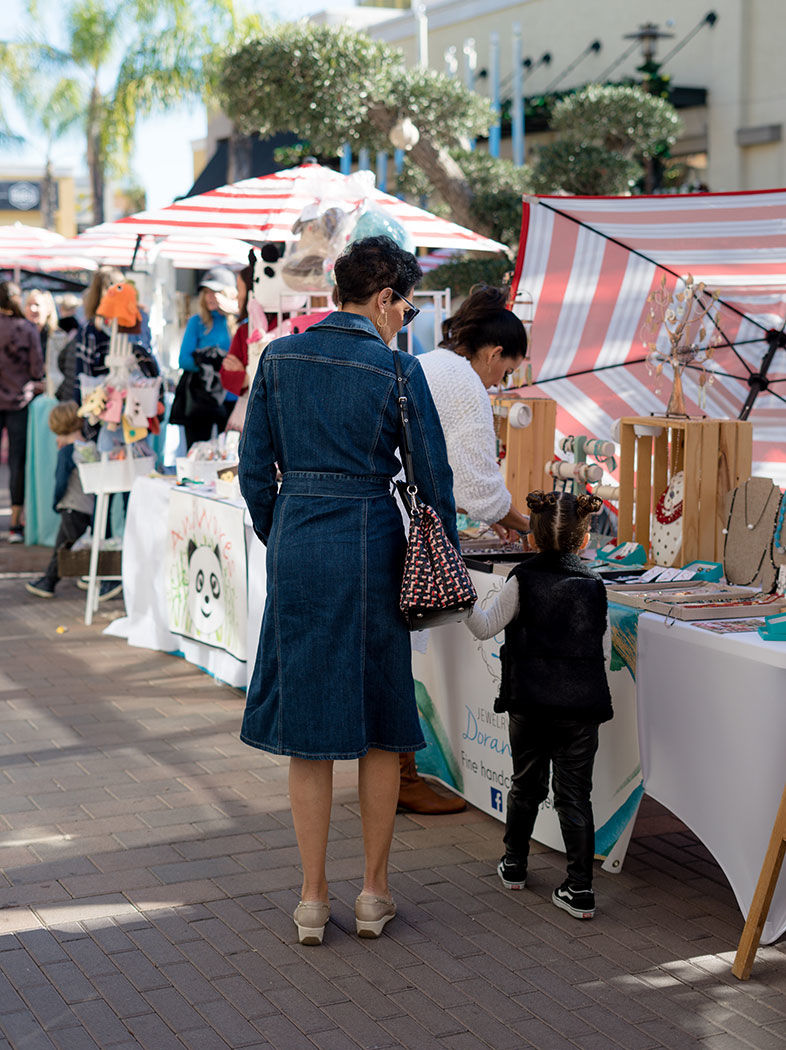 Flower Hills' Feast + Craft Artisan Market
CoWorking Space for Parents
You can make every day "bring your kid to work day" at this new coworking space. It's a godsend for parents who work remotely and need more than naptime to get the job done. You'll find a nursing lounge, Wi-Fi, private desks, communal workspaces, and a quiet room for conference calls. Children are cared for by professionals in a connected room outfitted with a baby zone, reading corner, train table, art zone, and more. All this and the chance to socialize and collaborate with other grown-ups? Sold.
7740 El Camino Real, Carlsbad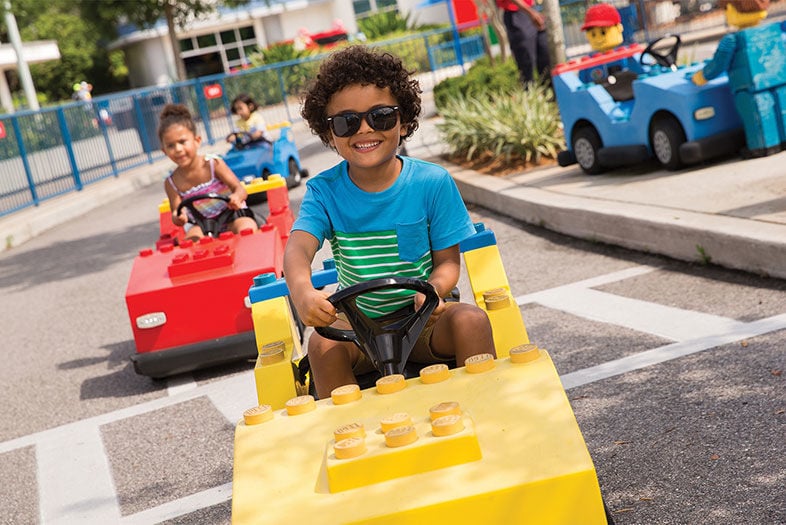 Legoland
Birthday Perk
"Free" and "Lego" aren't usually seen together, but all year, in honor of Legoland turning 20, kids 12 and younger get into the park for free on their birthday (proof of birth date required). Once inside, they can watch the new short Lego City 4D—Officer in Pursuit or take a spin on the recently opened Lego City Deep Sea Adventure submarine ride.
One Legoland Drive, Carlsbad
Baby Programming
This birth center and boutique has long been a hub for new moms in Vista. It assists with everything prenatal and postpartum, including breastfeeding advice and support, car seat checks, and more. The infant and toddler art classes are the newest educational programs, but the most popular remain Baby & Me Yoga, Toddler & Me Yoga, and GroovaRu, a baby-wearing dance class. This month, snag free samples at the seventh annual BabyFest, April 28 at Westin Carlsbad Resort & Spa.
1948 Via Centre, Vista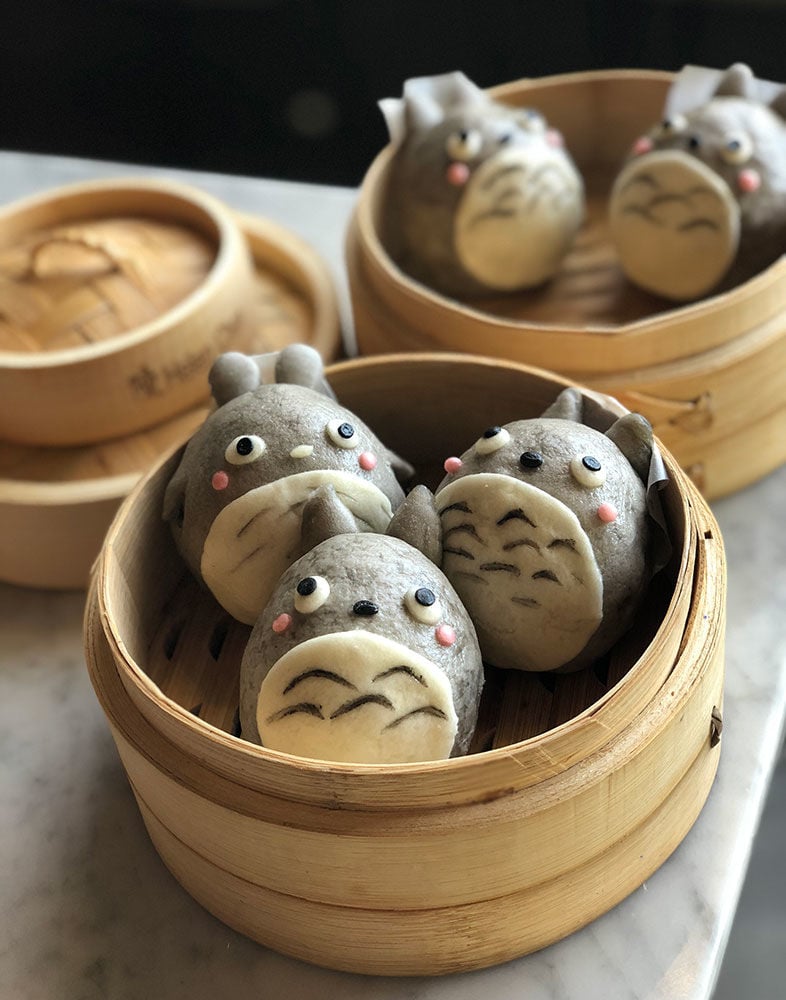 Harumama
Kids' Dish
Expand your picky eater's palate with this Asian restaurant's adorable steamed bao buns that look like cartoon pandas, bunnies, cats, and other creatures. The cloud-soft buns envelop fillings such as pork, purple potato and, for dessert, Nutella or red beans. Each order comes with two buns, which are nestled inside a steamer basket that kids can open just like a present.
2958 Madison Street, Carlsbad
Kiddie Coachella
If your kiddo is over the park playdate or library storytime routine, they'll love this fun and festive event, which takes place the first Monday of the month at the San Dieguito Heritage Museum. When kids aren't dancing and singing along to children's band headliner Hullabaloo, there are activities like face painting and crafts. Meanwhile, parents can check out the booths where family-friendly vendors sell their wares.
450 Quail Gardens Drive, Encinitas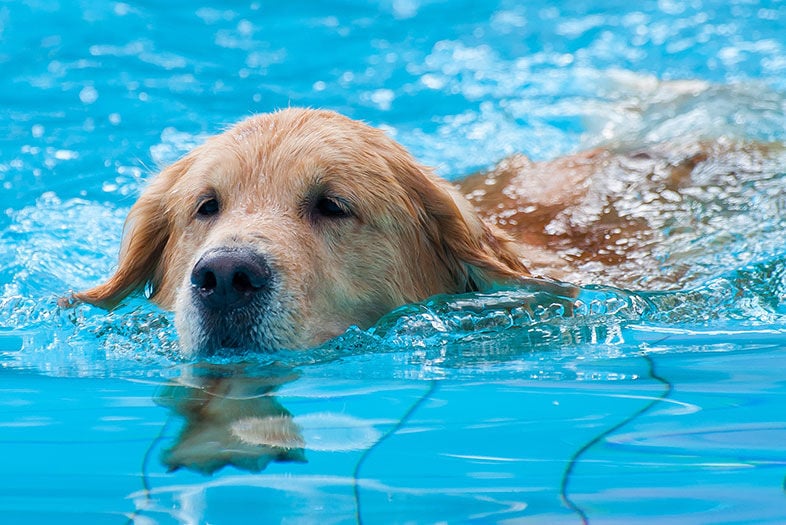 Dr. Grey's Play & Stay
Dog-Sitter
This veterinarian-run home boarding and doggie daycare is more like a boutique hotel for your fur baby. Pampered pooches can sleep on dog beds in themed rooms—like Hollywoof, Safari, and Beatles & Bowsers—watch widescreen TVs, and leap into a swimming pool. There are spacious yards for private or group play, and bonus: They're equipped with doggy cams, so you can watch Fido frolic from afar. An extension of Carmel Mountain Ranch Veterinary Hospital, Dr. Grey's Play & Stay will provide medical care, facilitate special diets in the dogs' dedicated kitchen, and even bathe your hound for free with a 24-hour stay.
San Pasquale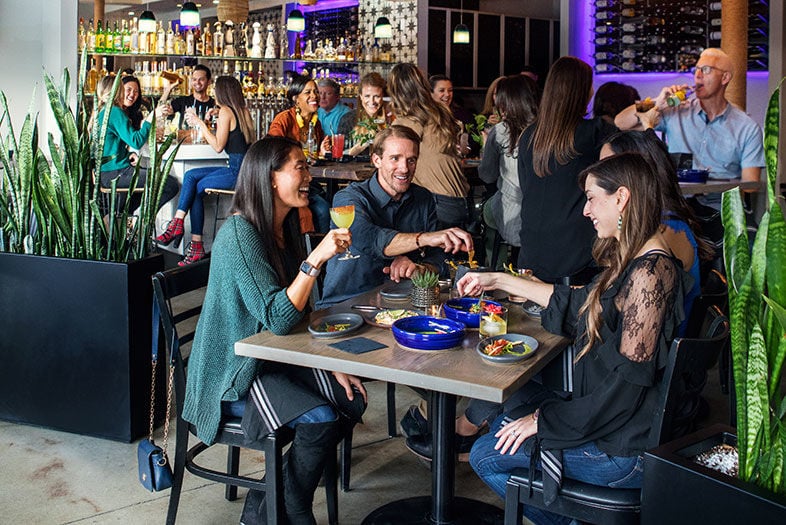 Death by Tequila | Photo: Becca Batista