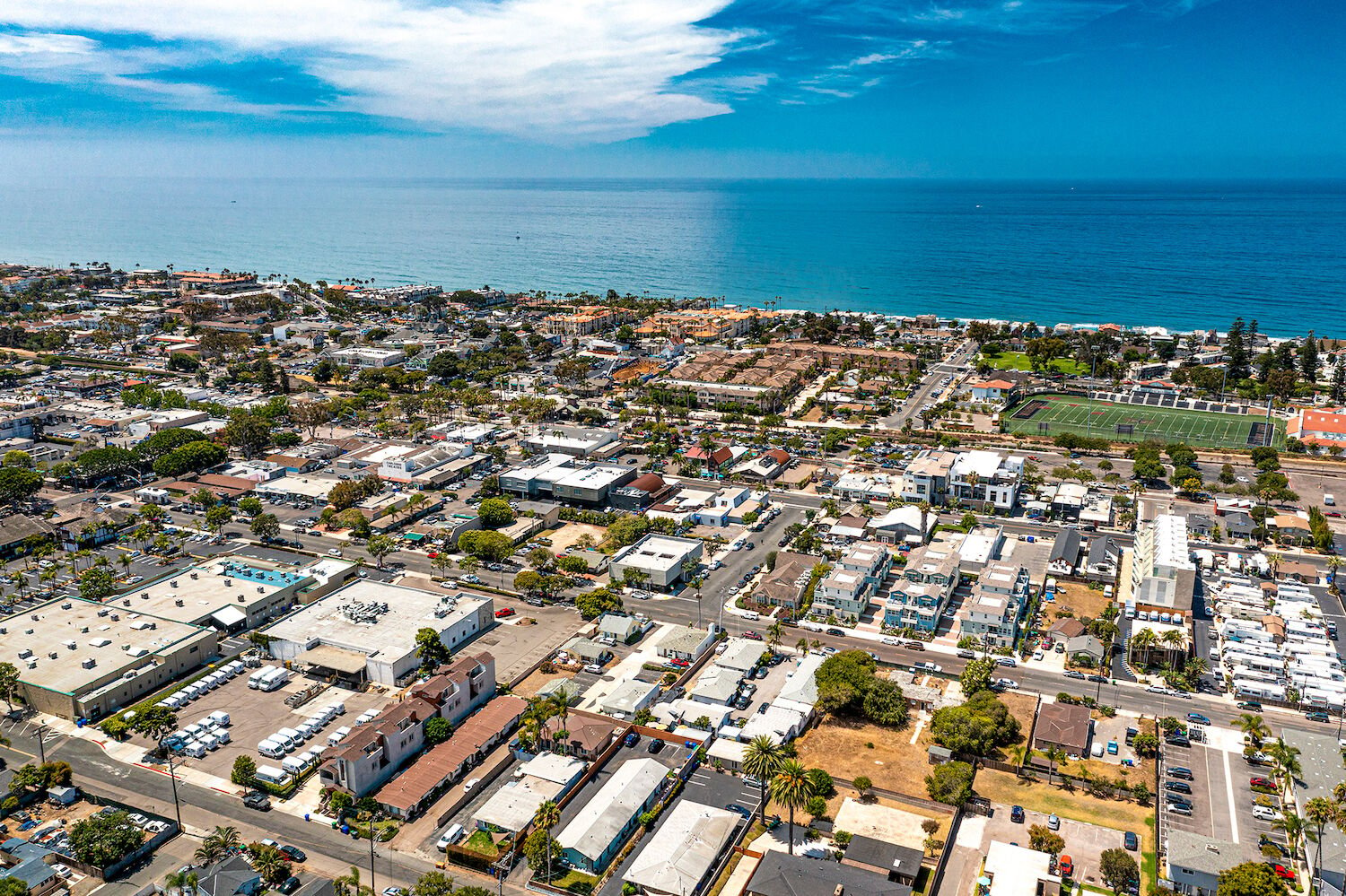 Courtesy of Carlsbad Village
Having garnered national acclaim for its alkaline water, it seems fitting that Carlsbad Village is now a wellspring of development, too.
Innovative architecture, biotech start-ups, and unparalleled walkability to shops, restaurants, and other attractions have collectively transformed Carlsbad Village into a sleeper hit of pedestrian hubs—something notable for car-centric North County.
Transplants from the Bay Area to the Midwest are migrating to the coastal city between Oceanside and Leucadia for more than beachy proximity alone. Unlike the downtowns of, say, Encinitas or Solana Beach, Carlsbad boasts an extremely walkable gridded network of widely spaced streets, offering developers—and developments—more room to scale and play.
The walkable timeline starts in 2016, when Cardiff-based architect Brett Farrow teamed up with Chris Miller, the visionary Vuori co-founder and former pro skateboarder, to transform an old garage and former home of the Dragmaster into a mixed-use project. It houses Campfire—restaurateur John Resnick's Carlsbad debut—still burning brightly alongside tenants Baba Coffee and Carruth Cellars.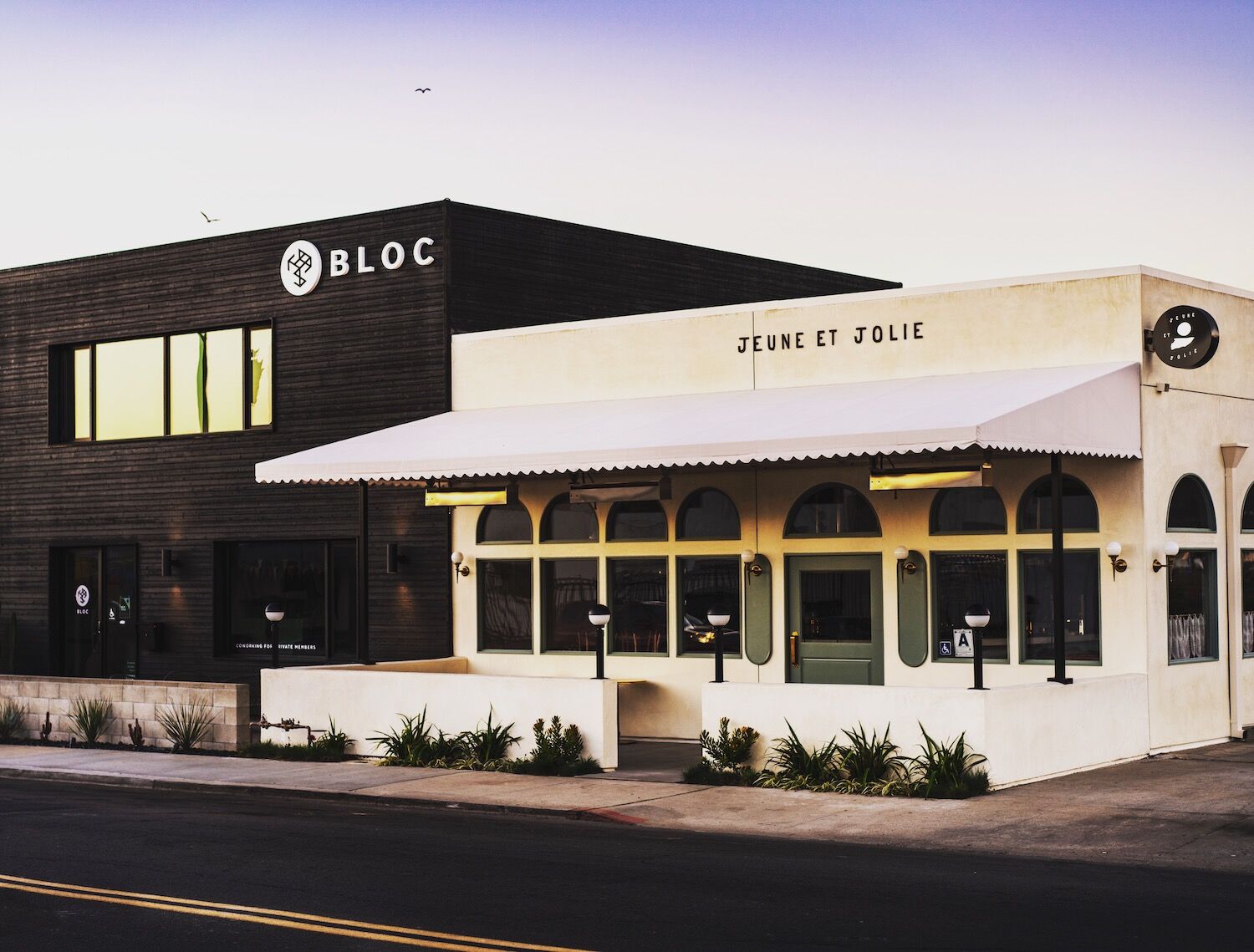 Courtesy of Fabric
In 2018, Resnick teamed up with local development firm, Fabric, for a ballyhooed follow-up, the vintage-luxe Jeune et Jolie just one block north as a part of a mixed-use project. The French-tinged SoCal fare earned its star in the 2021 Michelin Guide California and has since become a calling card for the culinary scene.
Today, cups runneth over. A new wave of design is underway for players, old and new. For Farrow, there's Laguna Row, featuring 13 residences perched on the southerly edge of the Buena Vista Lagoon. Meanwhile, Resnick has a dual concept yet to break ground that will feature Wildland, an all-day neighborhood cafe, and Lilo, a fine dining experience. There's talk of a Japanese garden, too. Add a drumroll for local namestay, Fabric, too: It has created a tapestry with seven projects in a four-block radius.
"There's still lots of blank canvas here," says managing principal Brendan Foote as he ambles along State Street. "The topography here orients itself toward the ocean."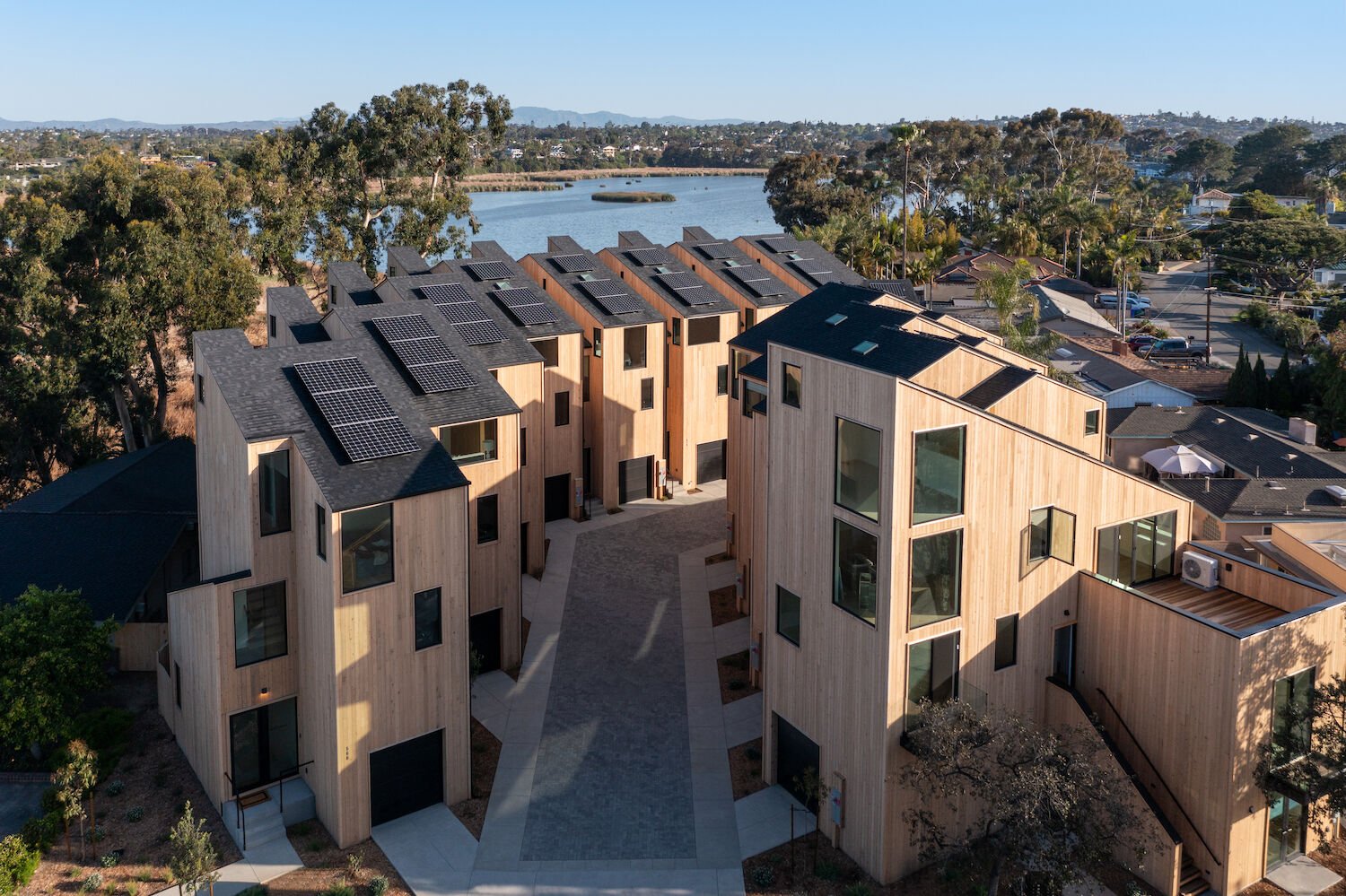 Courtesy of Brett Farrow
Behind Fabric's alluring mixed-use façades, the group has carved out serious achievements in Oceanside, Carlsbad, and Little Italy. The urban infill development and redevelopment company has punctuated its portfolio with adaptive reuse, architectural integrity, and innovative design that prioritizes community.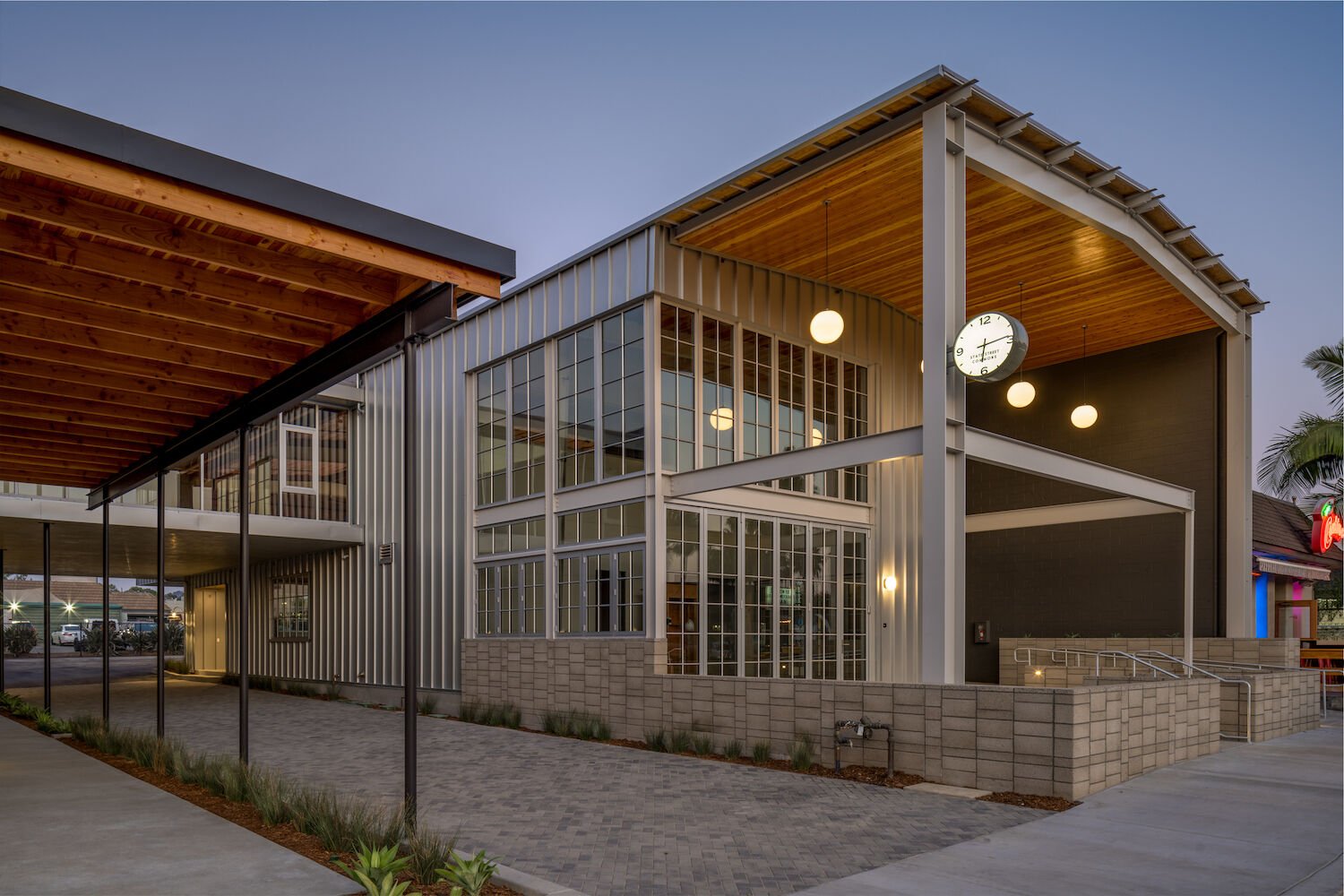 Courtesy of Fabric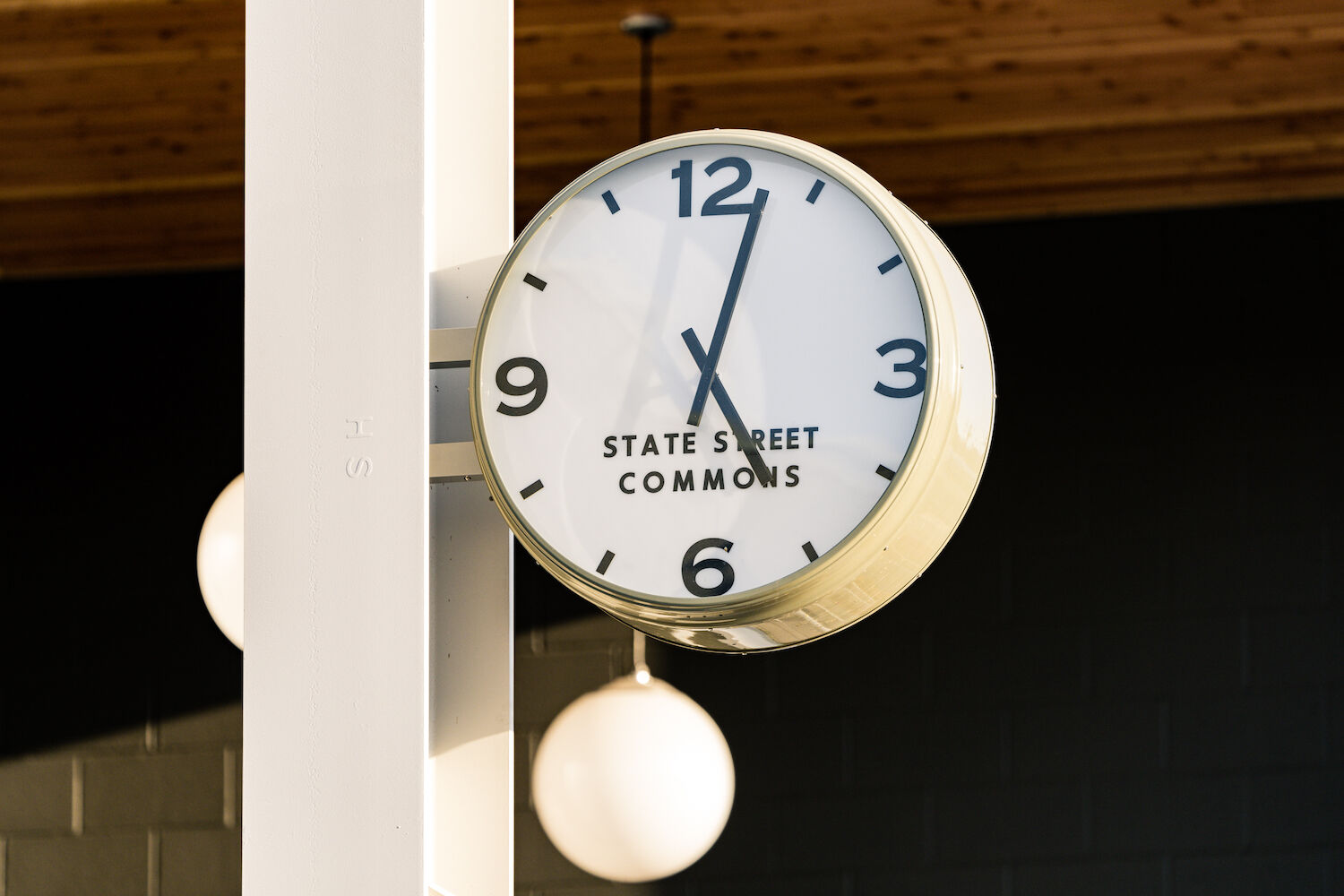 Courtesy of Fabric
Take State Street Commons, which transformed the decrepit antique mall into a vibrant project that houses Lofty Coffee, Nick's, Pure Taco, Pacific Sotheby's, and Warner Bros. Games. There's a buzz from sunrise to sunset. Out front, an old-school clock keeps time for the nearby train station where the group is one of three finalists vying for the redevelopment of North County Transit District's Carlsbad Village Coaster station in partnership with Sea Breeze Properties.
"We are finding ways to develop what the neighborhood needs," says Foote.
Over on Roosevelt, he points out two forthcoming mixed-use projects underway. The live-work-play Roosevelt—located next to Resnick's double vision—includes offices, retail, and 17 apartments anchored by a plaza. And the live-work Beech House is inspired by an East Coast Montauk surf style.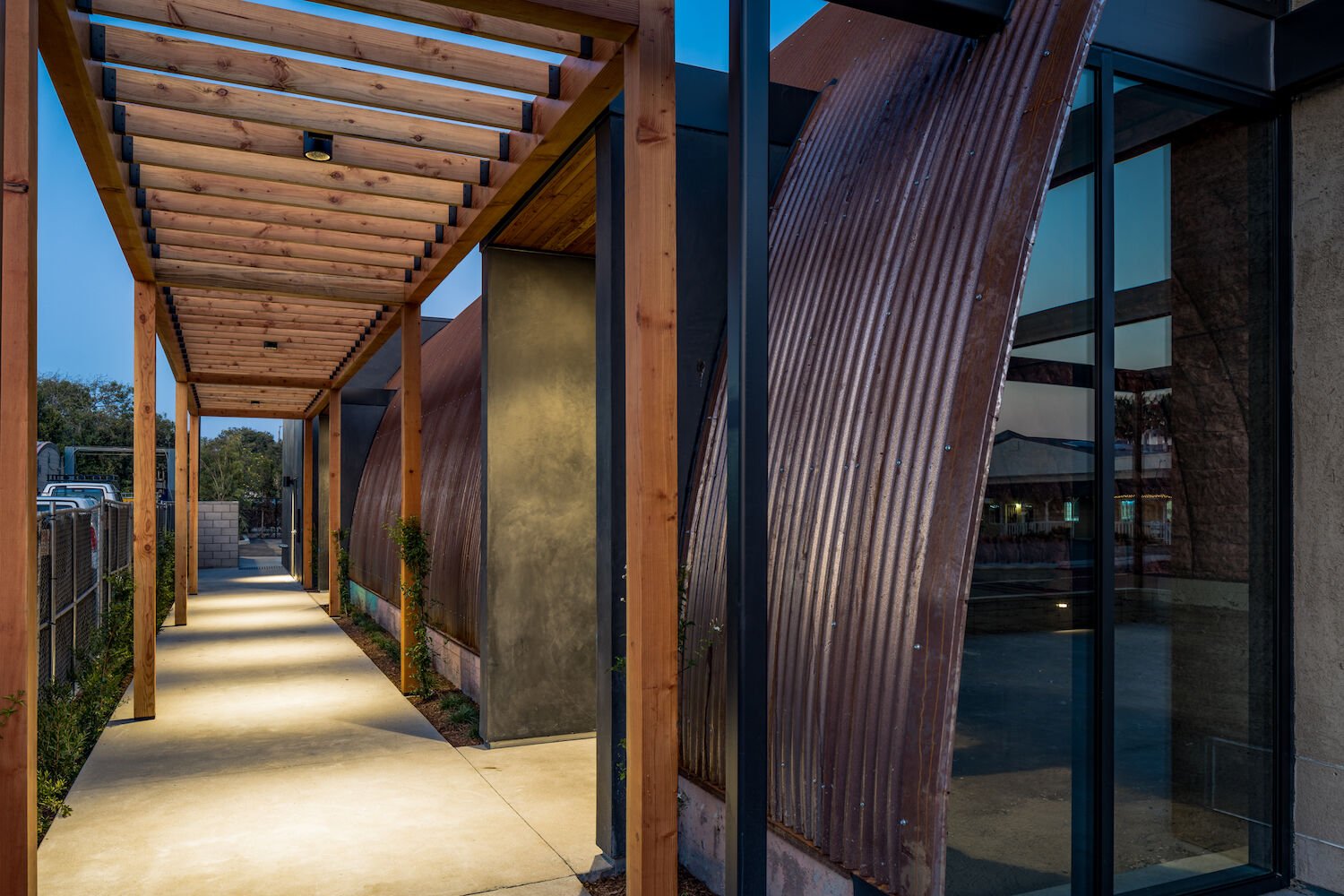 Courtesy of Fabric
There's an easy familiarity to Fabric's projects. Instead of cookie-cutter, buildings are designed to reflect the soul and identity of the location through a new-era lens. Take the HQ for TYRA Biosciences, which feels more residential than clinical with its rough-hewn wood exterior sourced from an Oregon grain silo. In January, construction began on the HQ expansion next door with an additional 9,500 square feet of creative office and lab space.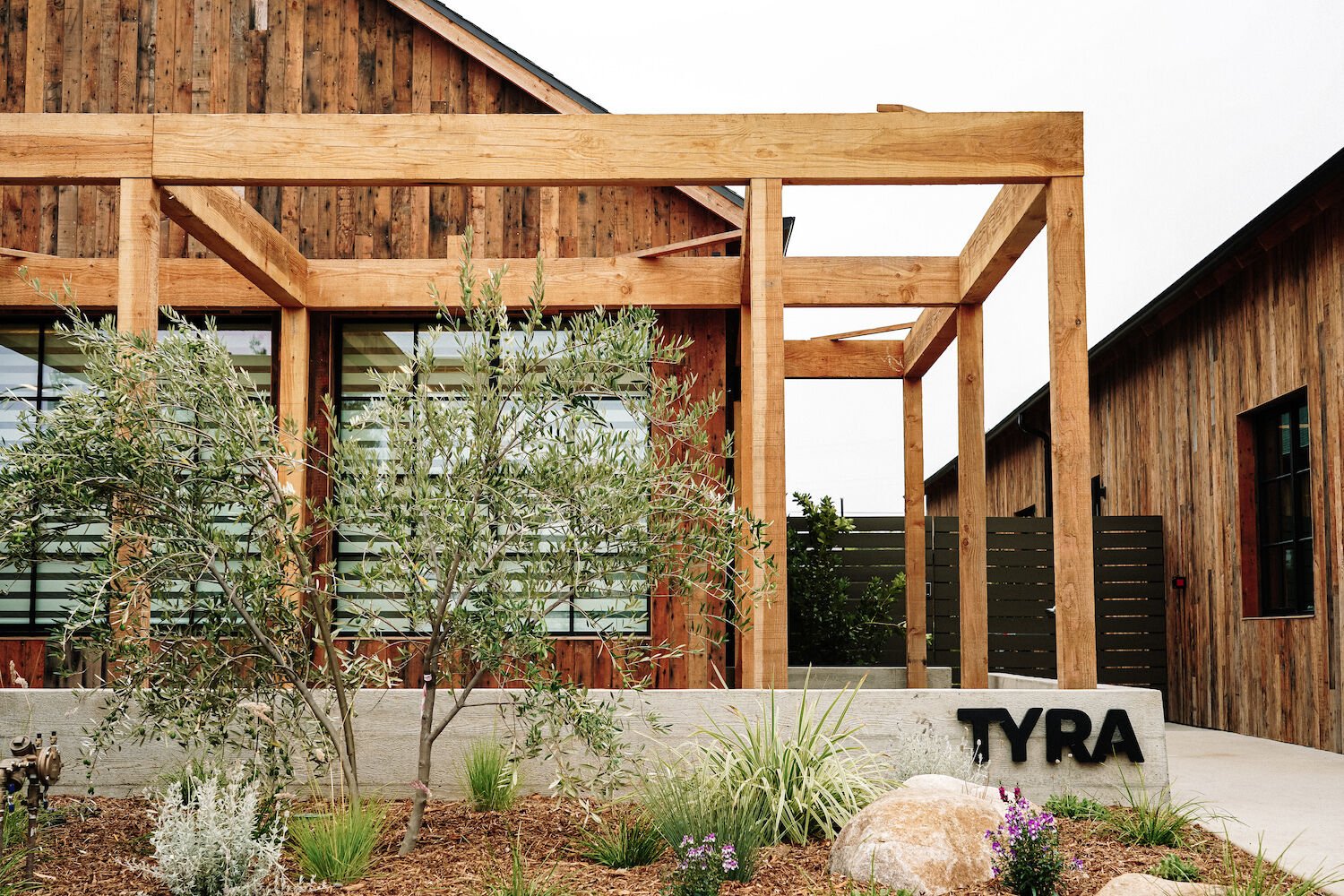 Courtesy of Fabric
In 2021, Carlsbad's economy grew by $1 billion to $14.6 billion, second only to the City of San Diego, according to a report presented to the City Council. In addition, the city's seven miles of beaches attract over 3.5 million visitors annually, supporting over 6,300 brick-and-mortar businesses. San Diego Start-Up Week chose to kick off its 10th annual event here, with Fabric playing host in its own Carlsbad HQ—an old car wash. The more polished office space? That's The Reserve, Fabric's 17,000-square-foot commercial office building located near the lagoon.
The Reserve is in good company with Laguna Row. Recently earning headlines in the international design magazine, Dezeen, Farrow's project is a study in organic architecture with distinctive exterior symmetry giving way to interior diversity with five different floor plans. Farrow says he called upon Sonoma County's Sea Ranch for his dramatic use of cedar.
"I chose the materials for a reason," says Farrow, standing on a rooftop deck. "Cedar will age and arrive at its final color—a deep silver gray that will achieve that moody beachiness."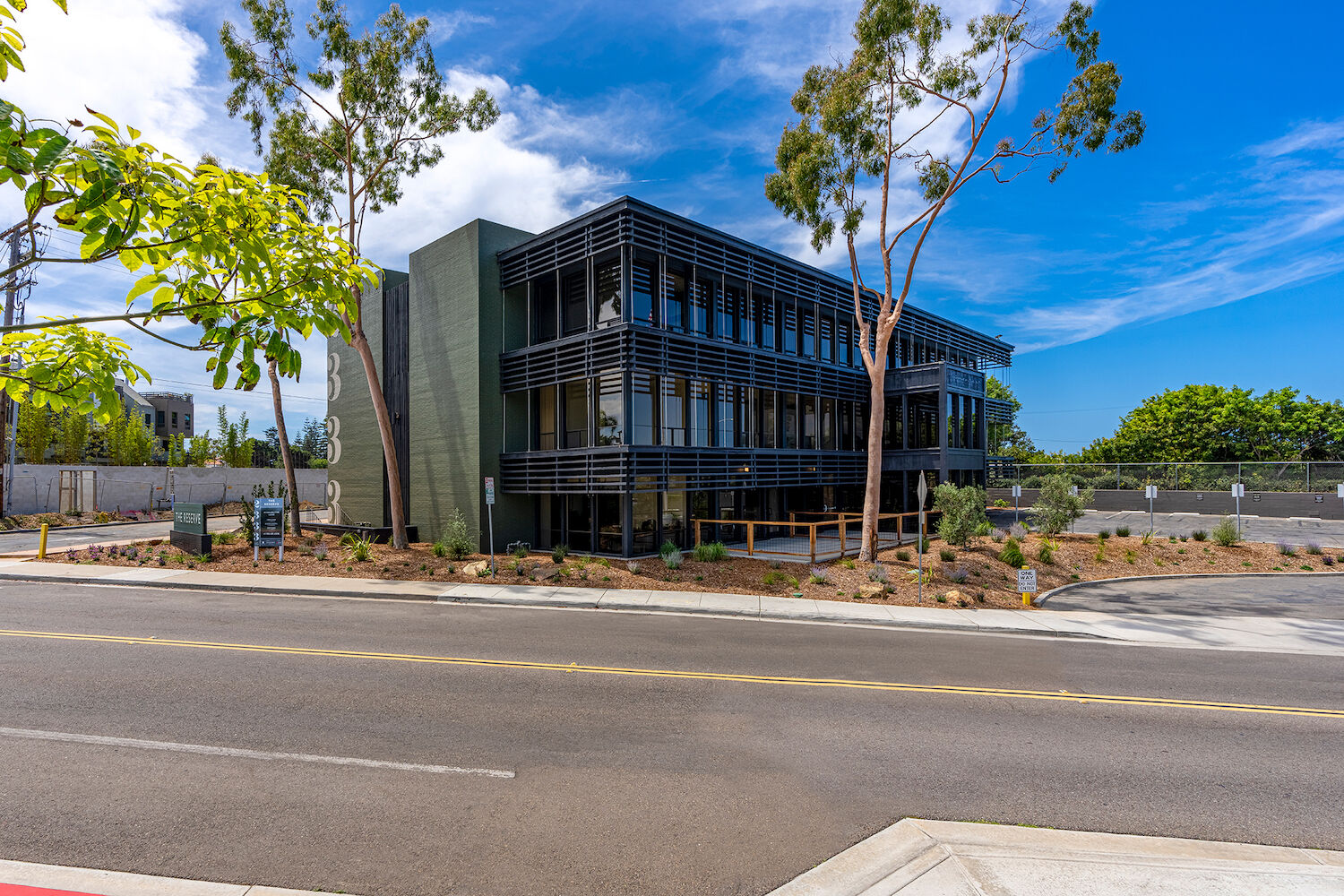 Courtesy of Fabric
As both the architect and developer, Farrow was able to maximize the lot (former home to an old medical building) and methodically tap into the lagoon's natural beauty throughout the design with unfolding decks and surprise-and-delight views chiseled into unexpected rooms.
"This site presented a unique opportunity to offer a private life facing onto nature while also offering a very public, urban lifestyle with restaurants, mass transit, and the beach all within walking distance," he said.
Next up? Environmentalists celebrated the December news that a generous $3 million donation to the Buena Vista Audubon Society will transform the 220 acres of lagoon from freshwater to a native saltwater habitat. The saltwater option would reinvigorate the lagoon, killing off invading vegetation and adding more species of fish and birds while reducing problems with mosquitoes and flooding.
On State Street, the award-winning Safdie Rabines is getting in on the action. The new saw-toothed Seaglass consists of eight breezy townhomes featuring elevators, garages, double decks, and ocean views.
"Carlsbad surprised us with its urban village feel," says founding partner Taal Safdie. "The train is very much part of the city activity here."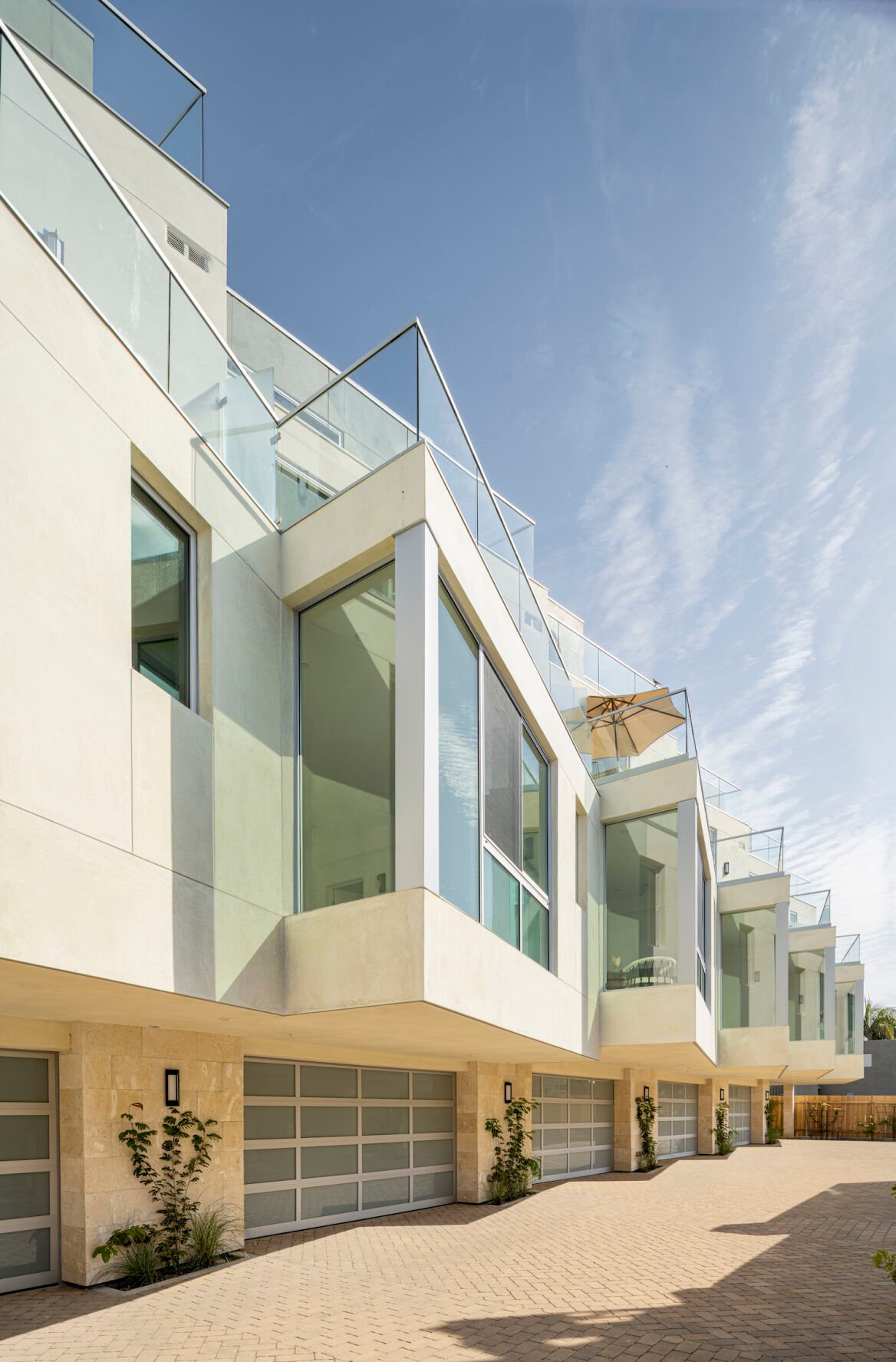 Courtesy of Safdie Rabines
As such, the architects created floor plans that tapped into the street energy, connecting residents to the village action—not separating them from it. That philosophy also strongly influences the NTCD station development proposal, where they teamed up with Fabric.
Located in the heart of Carlsbad Village, the station draws hundreds of thousands of riders annually. Redevelopment could accommodate more than 300 residential units and offers the potential for some 40,000 square feet of commercial space while providing parking for transit riders, residents, and patrons. The other two finalists are Sea Breeze Properties run by father-and-son developers Gary Levitt and Darren Levitt, who brought North City to San Marcos, and Holland and Raintree.
The new Carlsbadians, according to architect Mark Benjamin, are from New York, Colorado, Chicago, Germany, and the Bay Area. At least that's the tenant mix between his two multi-family luxury lofts, the LEED gold-certified Railyard, and the new Townhouse. They're attracted to the accessibility and proximity to both the train and the beach.
"The big bonus here is connectivity," says the Rancho Santa Fe-based architect. "It's inevitable that Carlsbad will be the next Manhattan Beach."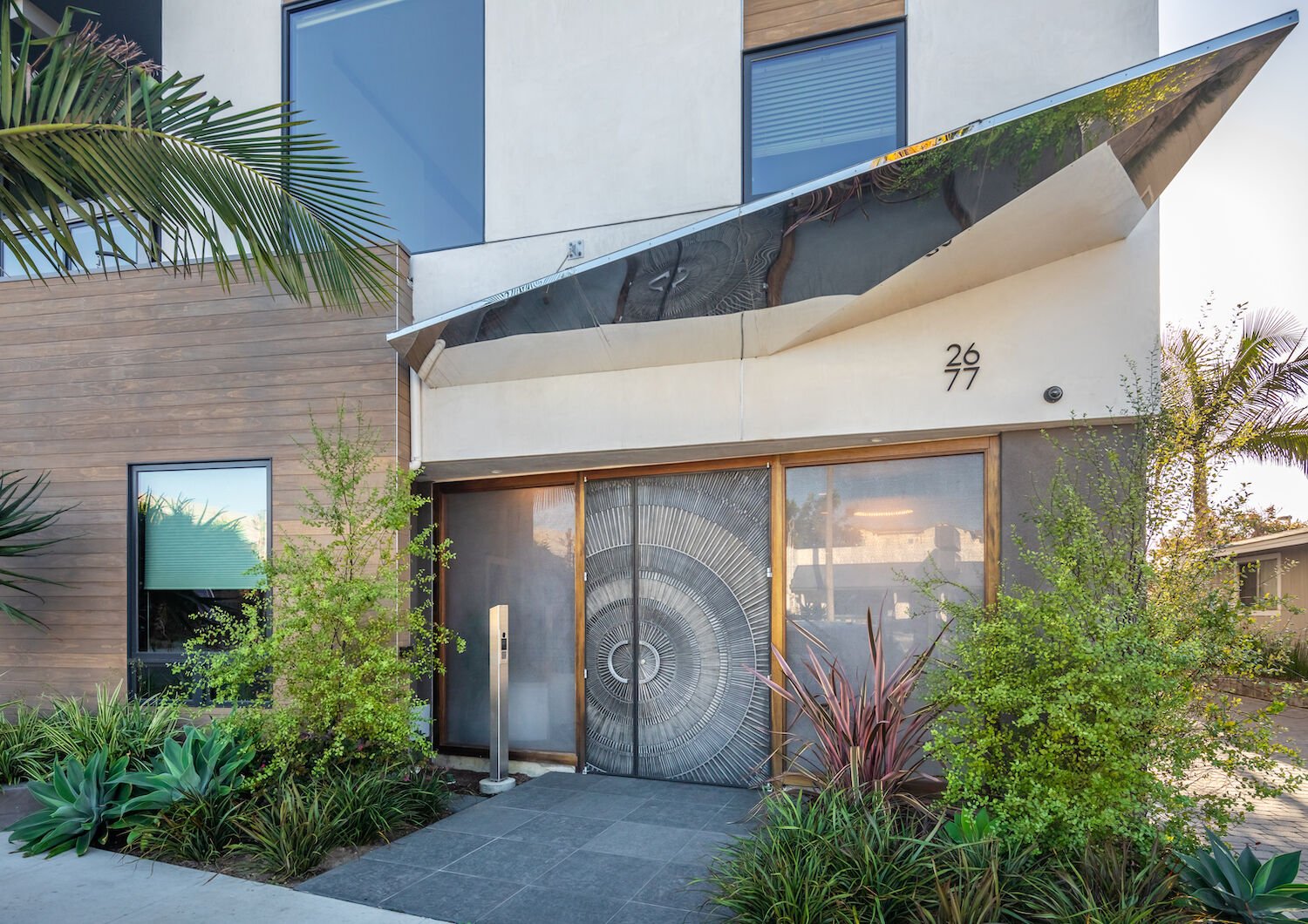 Courtesy of Archipelago Development
Until then, the artful metal doors outside Townhouse, custom-made by Forms+Surfaces, will remain a prized local selfie spot.
"We had a band doing an album cover out front one day," says Benjamin.
Consider it the new postcard.