In honor of this month's annual Best of San Diego feature, I decided to give my picks south of the border. In no particular order:
Best Market
The some 80 tienditas that make up Mercado Hidalgo, at Sanchez Taboada and Independencia, peddle exotics from every corner of the Mexican republic—most of them impossible to find north of the border, like yaca, noni, guanabana, chapulines, and huitlacoche. The place is a piñata paradise, too.
Best Surf Taco
El Mazateño on Tecnologico won a blue ribbon at the 2013 L.A. Street Food Fest for its crunchy octopus taco, but definitely not to be missed is the spicy shrimp and chicharron de pargo Perron combo.
Best Turf Taco
On the end of the string of taquerias that make up Las Ahumaderas (aka Taco Alley), just off Agua Caliente on Guillermo Prieto, Tacos Los Paisas shoves a tostada topped with melted cheese into your typical taco—here in asada, adobada, chorizo, tripa, lengua, and cabeza varieties—and calls it a samurai. You'll want to eat at least a dozen.
Best Dessert
More than 80 varieties of ice cream await at Tepoznieves, a rare chain of artisan ice cream located at Sanchez Taboada and Francisco Sarabia and named after the Aztec god Tepoztecatl. The flavors range from the tried and true (chocolate, caramel, cherry) to tastebud-arousingly bizarre (rose petal with honey and butter cream, fig with mezcal).
Best Torta
At Jalisco and Agua Caliente, Tortas Washmobile's namesake carwash may be long gone, but the meaty fumes from this small but legendary sandwich cart have kept folks flocking since 1964.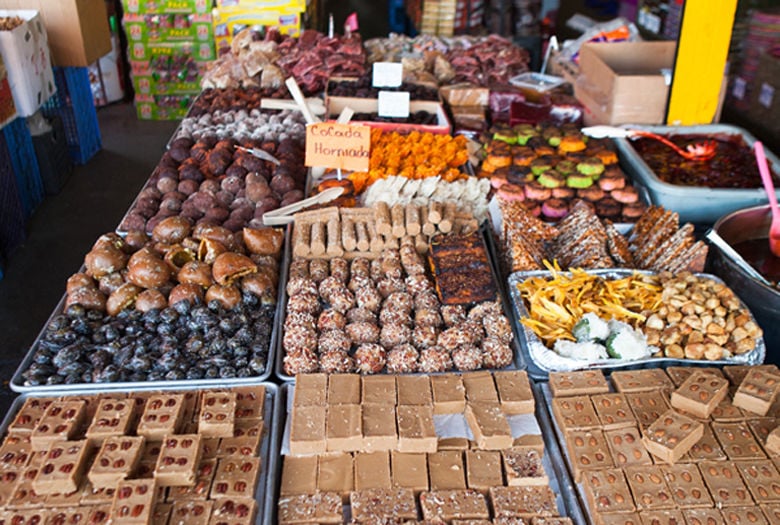 Mercado Hidalgo | Photo by Luis Garcia