Mission Hills used to be the place to get great karaoke (The Lamplighter). You wanted a thriving restaurant scene with multiple options, you had to shimmy over to Hillcrest or head downhill to Little Italy. That's officially not the case today with the opening of The Patio on Goldfinch—joining Brooklyn Girl, The Red Door, The Wellington and Lefty's Pizzeria as standouts within a couple block radius.
The original Patio in Pacific Beach—lead by owner Gina Champion-Cain and chef John Medall—was a breakout success in taking over the beloved Lamont Street Grill.
Their second act—which takes over the long-abandoned construction started by restaurateur Philippe Beltran (who's since joined the Cohn Restaurant Group)—is real modern, real eco, real nifty. Designed by Lahaina Architects, guests walk into the open-air front room (just like P.B.) with a fireplace. At the long bar on the right, GM and certified catador Chris Simmons, formery of Rancho Valencia's Pony Room, will focus on tequila (over 60 varieties) and barrel-aged cocktails. Certified cicerone Kelly Legan will curate the fancy beer.
But everyone is naturally drawn to the huge, gorgeous plant wall in the back of the room, designed by The Patio's on-staff decorator Bea Arrues.
The plant wall is libidinously lush. It looks like vegetarian taxidermy, as if Champion-Cain and Ted Nugent went down to Brazil, shot the rainforest and had it stuffed. Plant walls are now the modern version of 1970s fern bars. They add oxygen and life to all the strikingly dead-dead-dead design materials that are en vogue these days (concrete, steel, barn wood). There's another plant wall on the al fresco patio.
Patio ownership is going for LEED Platinum certification with the restaurant (as eco-friendly as you can get), but should at least hit LEED Gold.
They've got a cheese "cave" here (a glass box full of wondrously stinky fromage, aging and become better cheeses right before your eyes) that local mongers Venissimo are helping curate. In about a month, they'll also open their retail concept called Front Porch around the corner. It'll serve all sorts of gourmet foodstuff, plus some to-go lunch and dessert options from chef Medall.
The Patio's citywide domination seems imminent. Sources say they'll open another retail-heavy concept soon at Liberty Station (a wine-centric thing at the former Sol Market spot). And one person close to them says they're "already moving on from Liberty Station—they're two concepts down the road," including a potential new Patio in North County.
While waiting for your Patio colonization, please enjoy the first known good photos in the universe of POG.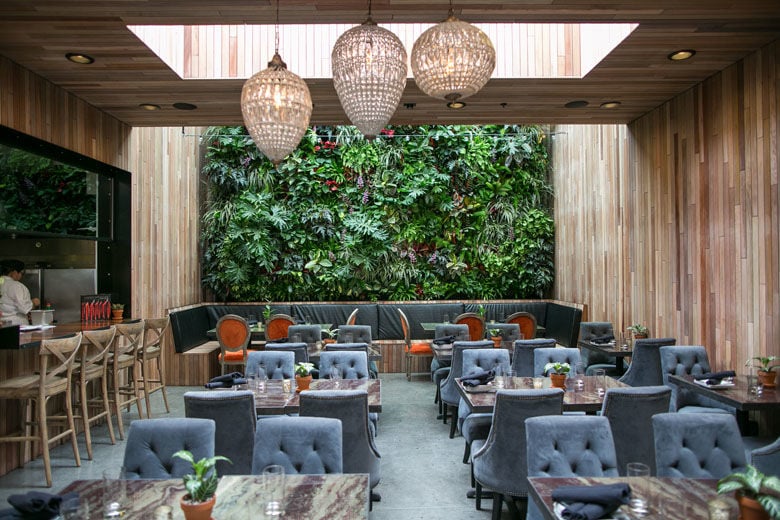 Sam Wells (samwellsphoto.com)