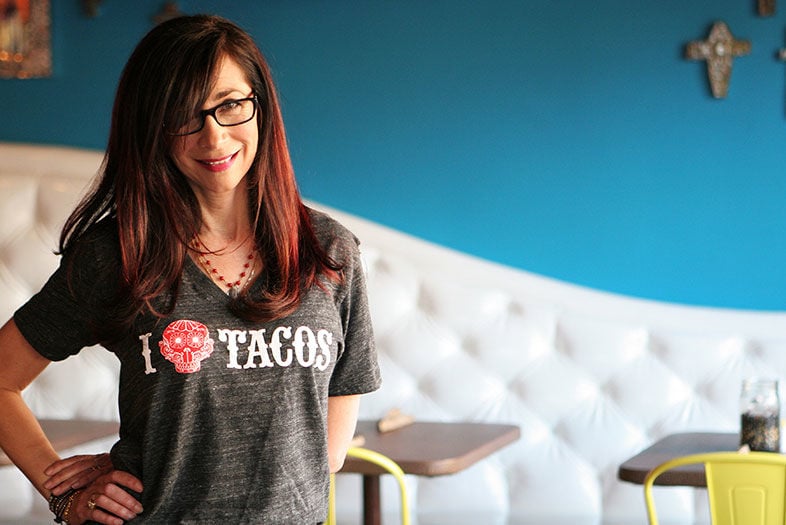 Longevity isn't the restaurant industry's strong suit, but Isabel Cruz has been going nearly 30 years strong in San Diego. The chef-restaurateur opened The Mission in 1990, followed soon after by Barrio Star and Isabel's Cantina, earning a rabid fan base for her cinnamon French toast and grain bowls in the process. That flair for simple, healthy food with a South of the Border twist is the focus of her latest cookbook, The Latin Table, out this month.
"I wanted simple recipes with approachable ingredients," she says. "The most exotic thing is Szechuan peppercorns—and you can get those on Amazon."
Cruz pulled from her own Puerto Rican heritage for many of the recipes. "A lot of the culture is about feeding and nurturing and gathering. When you're cooking Latin food, it doesn't have to be overly complicated, and the food is still very good. It's about enjoying the cooking."
Here, Cruz shares her recipe for breakfast nachos, a seemingly simple platter that goes next-level thanks to her homemade sauces. "You could have everything ready to go except the eggs, and it's so easy to put together in the morning. Add some hibiscus mimosas, and you got a party."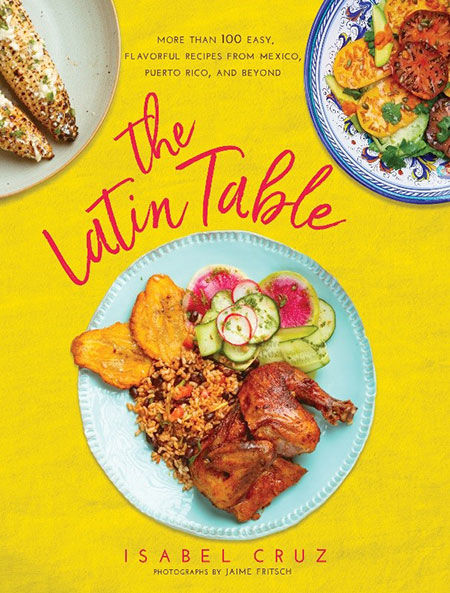 Breakfast Nachos
6 eggs
1 large bag restaurant-style tortilla chips
2 cups shredded Jack cheese, more as desired
Oil to coat pan
Isabel Sauce (recipe below)
Easy Crema (recipe below)
Pickled red onions (recipe below)
½ cup tomatoes, chopped
½ cup cilantro
1–2 thinly sliced jalapeños (optional)
Black beans, optional as a side, but highly recommended (recipe below)
Preheat oven 350°F.
Crack eggs in a large bowl, whisk, and set aside while you put the chips in the oven. On a large, ovenproof platter, place a layer of tortilla chips, follow with a generous sprinkling of cheese, and repeat. (Bacon lovers, sprinkle a half pound of extra-crispy chopped bacon over the cheese.)
Place in oven and bake for 10 minutes or until cheese is gooey and melted. While nachos are baking, coat a large pan with oil, heat to medium, and scramble eggs.
When nachos are finished cooking, remove from oven, and set on heatproof surface. To plate, place scrambled eggs over nachos, drizzle with crema and Isabel Sauce, and sprinkle red onions, tomato, cilantro, and jalapeños. Serve as soon as possible with black beans on the side, if desired.
Isabel Sauce
Makes 2 ½ cups
½ cup chipotle chilies with adobo sauce, roughly chopped
½ cup red jalapeños or Fresno chilies, stemmed, chopped
¼ cup yellow onion, chopped
2 garlic cloves, chopped
½ cup and 2 tablespoons white vinegar
¼ cup white sugar
2 Roma tomatoes, chopped
Salt
Purée first seven ingredients together. Salt to taste. This sauce keeps refrigerated for up to three days.
Easy Crema
1 clove garlic, minced
½ teaspoon salt
3 tablespoons lime juice
1 cup thick sour cream
Mash garlic with a spoon then sprinkle with about ½ teaspoon salt. Mash some more, add lime juice, and give it a quick stir. Add sour cream, mix to combine. Easy Crema keeps refrigerated for up to two days.
Pickled Onion
1 cup white vinegar
1 tablespoon sugar
1 tablespoon salt
1 large red onion, sliced
½ small red beet, peeled and cut into a few pieces
Whisk first three ingredients together with ½ cup water. In a small saucepan, heat until mixture simmers and sugar has melted, then remove from heat. Place onion and beet pieces in a clean mason jar and pour in vinegar mixture. Let cool, cover. Store in the refrigerator. Pickled onions should last a few weeks. I think they taste best the first week; at my house they usually never make it past that.
Black Beans
3 tablespoons olive oil
1 Spanish onion, diced (1 cup)
5 cloves garlic, peeled and minced
2 bay leaves
2 tablespoons cumin powder
2 tablespoons oregano
2 tablespoons chili powder
1 tablespoon dried sweet basil
1 pound dried black beans, picked over and rinsed
Heat the olive oil in a heavy-bottomed pot over a medium-high flame. Add the onion and garlic and cook until soft and translucent, about 3 minutes.
Add the bay leaves, cumin, oregano, chili powder, and basil. Stir to combine and cook one minute more. Add the beans and 10 cups of water. Bring to a boil, and then reduce heat to maintain a simmer. There should always be at least ½ inch of water above the beans, so add more if necessary.
Cook the beans until tender and creamy (2 to 2½ hours). Taste them to determine when they're done and, based on personal preference, how thick or soupy they should be.
Or try these if you're strapped for time:
Quick Black Beans
2 tablespoons olive oil
1 yellow onion, diced (1 cup)
5 cloves garlic, peeled and minced
1 tablespoon cumin
1 tablespoon chili powder
2 (14–16 ounce) cans of black beans, rinsed in a colander
2 bay leaves
1 teaspoon dried oregano
1 teaspoon dried sweet basil
1 teaspoon salt
Heat the olive oil in a stock pot over a medium flame until hot. Add the onion and garlic. Cook until soft and translucent, about three minutes. Add cumin and chili powder, stir to combine, and cook for two minutes more. Add the canned beans and 2 cups of water, bay leaves, oregano, sweet basil, and salt. Bring to a simmer and cook until the beans are thoroughly heated, four to five minutes.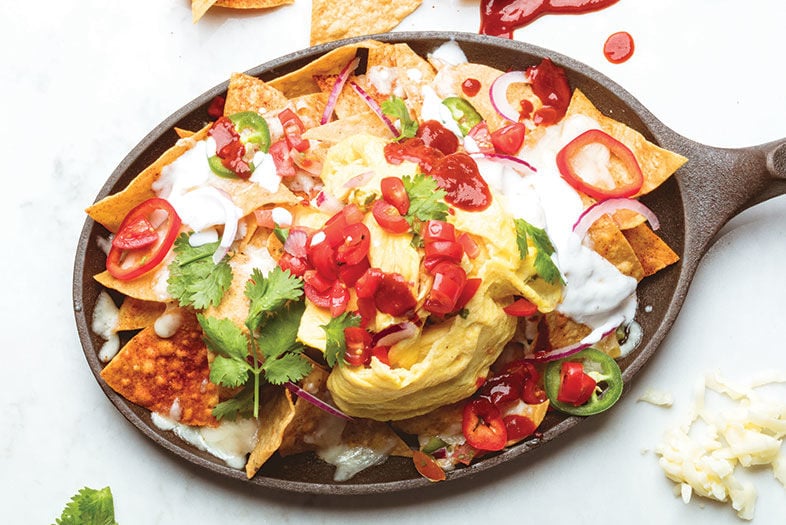 Photo: Jaime Fritsch