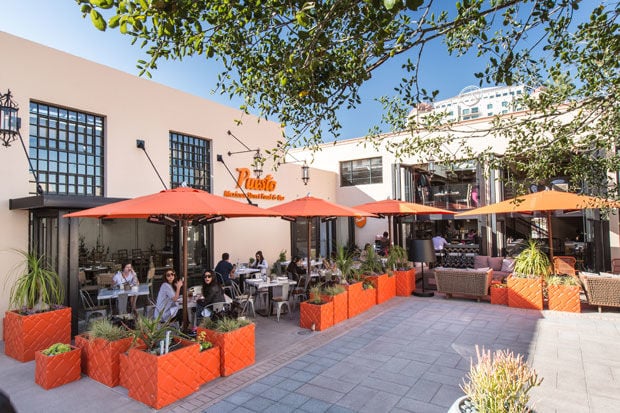 Puesto
PUESTO
The headquarters
789 West Harbor Drive, downtown
eatpuesto.com
TROY'S PICKS
Ceviche verde
Zucchini and cactus taco
Buñuelo ice cream sandwich
Forget Bitcoins. They just confuse. Tacos are the future.
I realized this when the owners of farm-to-taco joint Puesto announced they were signing on for downtown's shiniest new retail development. Then they hired top L.A. designer Thomas Schoos, who made Searsucker and Herringbone such a pretty eye feast. For a taco joint? Seemed like hiring Ernst & Young to oversee the financial future of your hot dog stand.
Puesto started with a modest, albeit nice, brick storefront in La Jolla. There, two Mexican-American brothers, Eric and Alan Adler (plus a likely investor or 12), brought slow-food ethos to street tacos. They had great branding, a sort of Pinkberry for the al pastor set. Their chef, Luis Gonzalez, was a family friend. Success seemed theirs for the taking.
At The Headquarters in downtown, they've become something so much more. The focus is still tacos—your choice of three for $11. But Puesto HQ is a glass-and-steel box of Mexican-American modernism, a place where top-notch cocktails and the beautiful people drinking them are every bit as much of the experience. There's nothing wrong with that, especially since the indoor-outdoor ambiance has Mexico City sex appeal. It's like dining inside one of those picture cubes from the 1970s—a giant one, with people better-looking and more fashionable than mom and dad.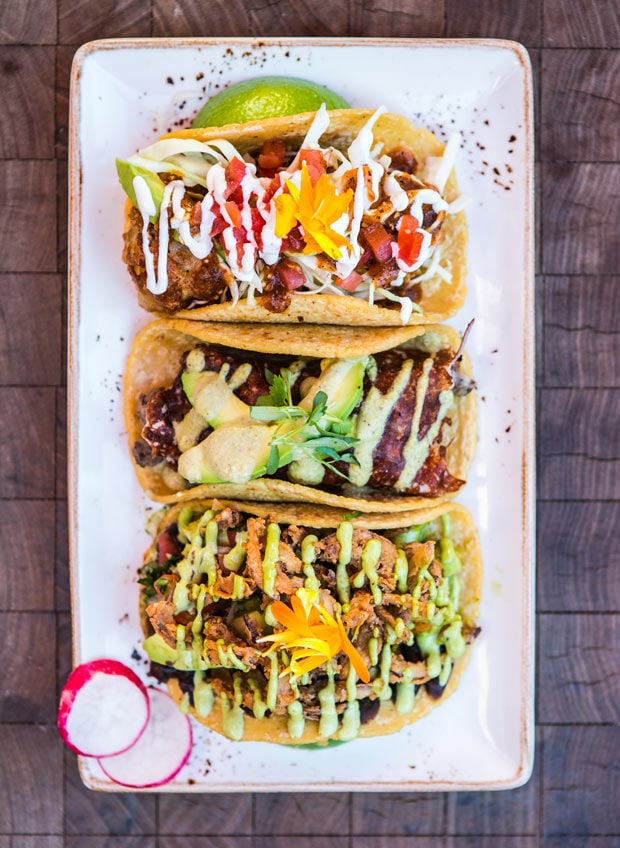 Puesto taco trio
The Headquarters, while nice in a beige-khaki pants sort of way, needed a stunner like Puesto. LikeVenice,the charm of the historical police headquarters came from the fact that it was falling apart. I understand the need to spackle some cracks, but property owners Terramar really cleaned up. They smoothed out every edge. It now looks less like a historical, plein-air marketplace and more like a mall. Which it is, of course. I just thought it'd be a cooler-looking mall. Maybe one that retained some of the old criminal ghost-story spirit. In the original plans, the courtyard was supposed to be a huge focal point, with patios in front of all the retailers, live music, teeming life. Right now, it just seems like an empty dance floor during the first 20 minutes of prom.
All the life is at Puesto. Designer Schoos has a thing for wiring and cords, which hang and dangle all over the place, suggesting a dangerously lax approach to electricity or a latent S&M fetish. The L-shaped kitchen is encased in glass. The cooks are on exhibit, and their absolutely essential cleanliness seems on point.
We start with guacamole, notably with a nice spritz of grapefruit juice in addition to the traditional lime. It's served fridge-cold, which seems a mistake when you're making it all in-house. The appeal of housemade guacamole is that warm, room-temp freshness. Warmth opens the doors on food's flavor. I stop my bitching, give it a few minutes, and it's fine.
The best thing on the menu might be the ceviche verde. Served in hollowed- out cucumbers, mahi mahi is marinated in lime juice, serrano, tomatillos, and cilantros, then topped with avocado. The cucumbers are too thick to really eat, but who gives a damn.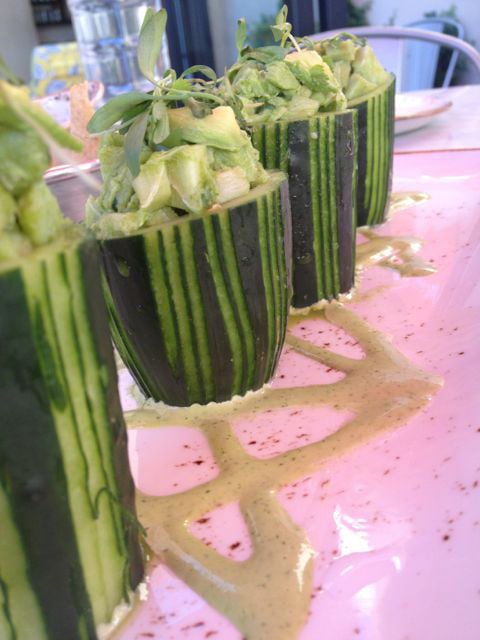 Ceviche verde
For a taco joint, Puesto is above average. The tortillas are handmade. Same with the salsa. The produce is either local or kinda local (Mexico). The biggest success is the zucchini and cactus taco, with squash blossoms boiled with caramelized onion, epazote, and serrano chiles, wrapped in crispy melted cheese and topped with salsa verde. It just bursts with wet flavor, without tearing the taco apart. The crispy cheese—browned, caramelized, and full of sin, wrapped around the main protein—is a Puesto trademark because it's excellent. That said, I wish I had been informed of the option to order un-crisped melted cheese or even no cheese. The cheese-crisp tends to not only make many of the tacos taste similar, but also masks the fresh, vibrant produce that Puesto obviously buys. Maybe that's why I love the lobster taco with crème de cilantro, black bean sauce, avo, red onions, and jalapeño pico salsa. Less successful is a cochinita pibil—pork slowly roasted with ancho chiles. Mine arrives with just a hunk of pork and no toppings (the menu promised pickled red onions and tomatillo roja, which the fatty pork needed).
For main entrees, I try the bandera de mole, with Mary's chicken breast stewed in three housemade mole sauces (black mole, almond mole, and green mole). All three are very tasty, with the almond an especially pleasant surprise with all of its sweet nut fat. With the chicken shredded, it's mostly just three soft mounds to stuff into hot, fresh-made tortillas. By the time I eat the barbacoa short ribs—also a really tasty pile of soft meat—I'm starting to crave solid food. Texture should be reconsidered a bit. That may be why the filet mignon a la Mexicana is our favorite. Filet is a tasteless cut of meat, which Puesto solves by tossing in roasted tomato salsa with Serrano peppers, onion, and cilantro.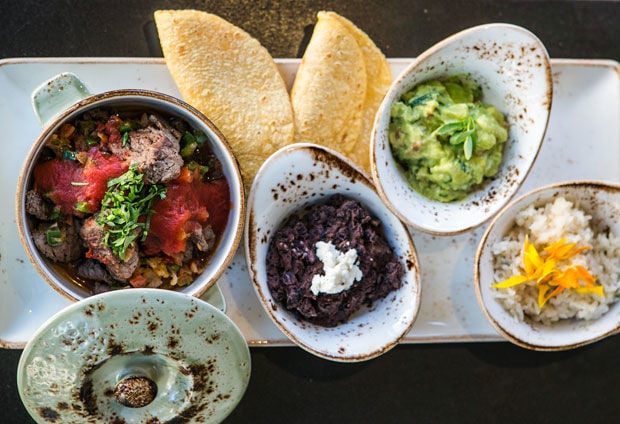 Filet mignon a la Mexicana
On the patio or at the bar are the best seats in the house. Top San Diego cocktail team Queen-Conner-Ward Collective designed a stellar menu. For a refresher, try the La Verdad, with cactus agua fresca, tequila blanco, and lemon. To waterboard your regrets, the fantastic Desperado is the call, with mescal, Carpano Antica (one of the world's top vermouths), dry Curaçao, and walnut bitters. It's like a bilingual Old Fashioned with a hefty mescal kick.
When the group decision has been made to live in the fat-and-happy moment, order the buñuelo ice cream sandwich—one of the best things I've ever put in my mouth. A collaboration with downtown's fancy donut champs, Donut Bar, it's vanilla ice cream between two warm, crispy cinnamon- sugar tortilla rounds and covered in coconut-chocolate ganache. You could share it, but you'll regret it. The frozen horchata is also delicious.
At the end of the day, Puesto's food is solid. They use top-notch slow food ingredients, occasionally knock it out of the park (I miss thee, buñuelo), make great cocktails, and have created a truly inspiring place to hang out in the otherwise tepid retail environment.
The mighty taco has never had it so good.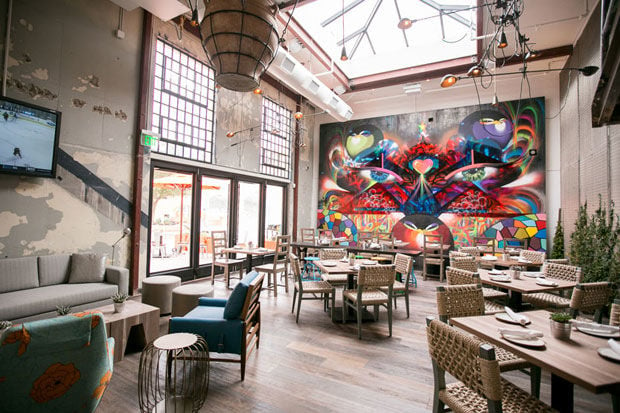 Puesto interior