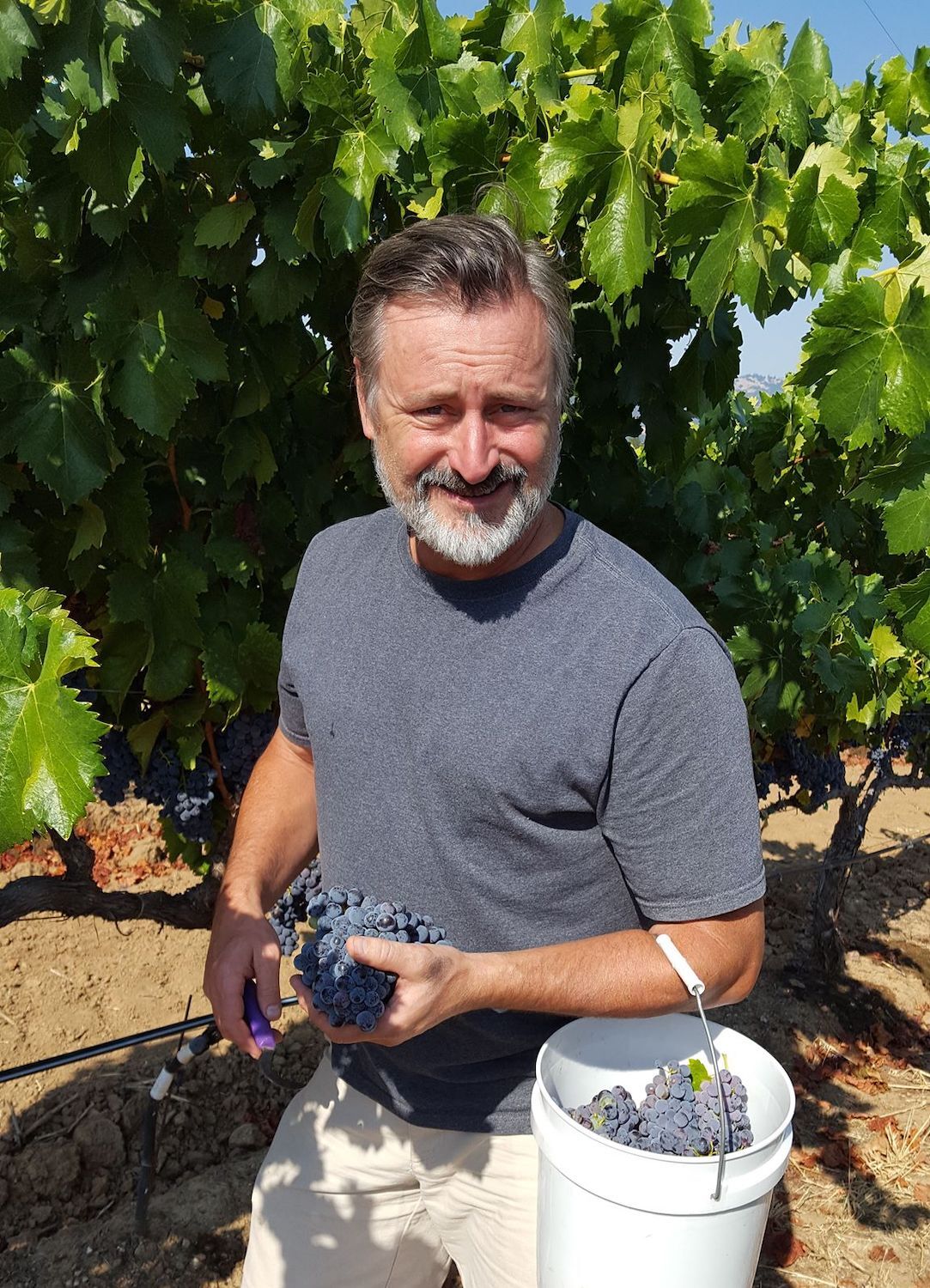 Courtesy of Skylark Wine Company
Skylark Wine Company was never supposed to exist. John Lancaster and Robert Perkins were doing great as the manager and sommelier, respectively, at Boulevard in San Francisco. The famous farm-to-table pioneer was even awarded the Best Restaurant in America by the James Beard Foundation. Wine was just supposed to be a little passion project, a couple of restaurant guys who loved vino making a barrel or two just for kicks.
Now, the duo own are heading into their 19th harvest. Theirs is a boutique operation, making Rhône-style reds, Provence-style rosés, and pinot blanc at a total of around 5,000 cases per year (a winery can produce up to 49,999 cases annually and still be considered "small").
Perkins was born and raised in Coronado, and he's coming home for the Del Mar Wine + Food Festival to pour his wines and engage with the community that produced him. Festivals like this are the only opportunities to taste Skylark Wines outside of restaurants, so we rang Perkins to ask him a few questions about winemaking, DMWFF, and the extreme circumstances under which he'd consider making a chardonnay.
What is winemaking like, especially if you were to analogize it to somebody who's never done it.
I'm a painter, and I think about blending trails in that respect, in having that palette of barrels. And how a little of [one wine in the blend] can go a long way. And, say a little of this makes it really nice—well, doubling that doesn't necessarily assist it. From a color palette to a barrel palette, I think they're very similar in how you approach it. I also agree it's probably like [being] a chef, in the sense of how you combine things. What is it that you're going for? Are you going for a one-note wonder? Or are you going for layers and nuances?
To come from the restaurant floor to winemaking seems so intimidating. How did you navigate all the variables with that first barrel or the first vintage? When did you feel like you got a sense of what you were doing?
We certainly had a number of angels on our shoulders. There were people around we could lean on [to ask] how to negotiate contracts, where to find our barrels, [and] how to set up insurance, compliance, and record-keeping and all that. When it came to oenology, we paid through the nose to lab-test the wines in the beginning years. The pinot blanc and the syrah were both challenging wines.
We made a lot of mistakes that first year that we quickly changed in 2006, both in how we handled it and how we communicated. It was John and I together, and in those days, one of us was at the winery, and the other had to be on the floor of the restaurant, so we were rarely side by side. There was a lot of phone communication, and it was a learning curve, without a doubt. I'm still learning.
You've said that you make wines that you like to drink, but do you ever find yourself at a point where you think maybe the best thing for particular wine would be to push it away from your personal taste? Does that make sense?
Well, a little. So, we worked with chardonnay. In the beginning, we were steadfast that we were not going to work with chardonnay. And a gentleman, Alex McGregor [of Saracina Vineyards], kind of held our hand. He goes, "Look at this vineyard; look at this fruit; look at this price. This is a no brainer." So we decided, okay, if we're going to do a chardonnay, we're going to do it in a Mâcon style.
This was early on, back [in] 2006. So we did it: stainless steel, no malolactic fermentation, four months on lees, and we gained some really nice press behind it. We were really breaking that California mold [of buttery, rich chardonnays]. So, I guess we were following our passion. You see a lot of [unoaked chardonnays] now, but back then, there weren't many.
Do you make it back to San Diego much?
I do! My family still lives on Coronado. They own the hardware store. I get back at least two or three times a year. When my parents were still alive, it was more often, but still—I'm coming down for the Coronado Beer & Wine Festival two weeks after Del Mar Wine + Food Festival, so I'll get some good family time.
How has the wine scene changed down here since you started out?
It's definitely changed. When I first started being a salesman of our own wines, it was very chocolate-and-vanilla. It was like it had to be chardonnay or cabernet for me to even get in the door. Or it was a corporate list.
How does it feel to pour wines back home?
Oh, it's fantastic. I love it. For the longest time, I wanted my flag in San Diego so bad. Those were the chocolate-and-vanilla days. When I would get an account or two in Coronado, in the beginning, it was thrilling. You know, my mother could go order it.
And my mother was so funny. A little side story: [At] every restaurant she went to, she'd ask if they had Skylark, all the while knowing they didn't have it.
Early guerilla marketing?
It became this thing! It was so embarrassing. And, whether I was there or not, I just knew she was doing that. Then, one day she was at C-Level on the water, and they had our syrah on the list. It was, you know, $75. She asks about it, like she always did, and they go, "Yes, we have it; it's right here." She sees the price and says, "Oh no, I won't pay that." I go, "Mom, pony up and buy the bottle!"Catch Skylark Wine Company at the Del Mar Wine + Food Festival's Grand Tasting on September 9 & 10. Get your tickets here.