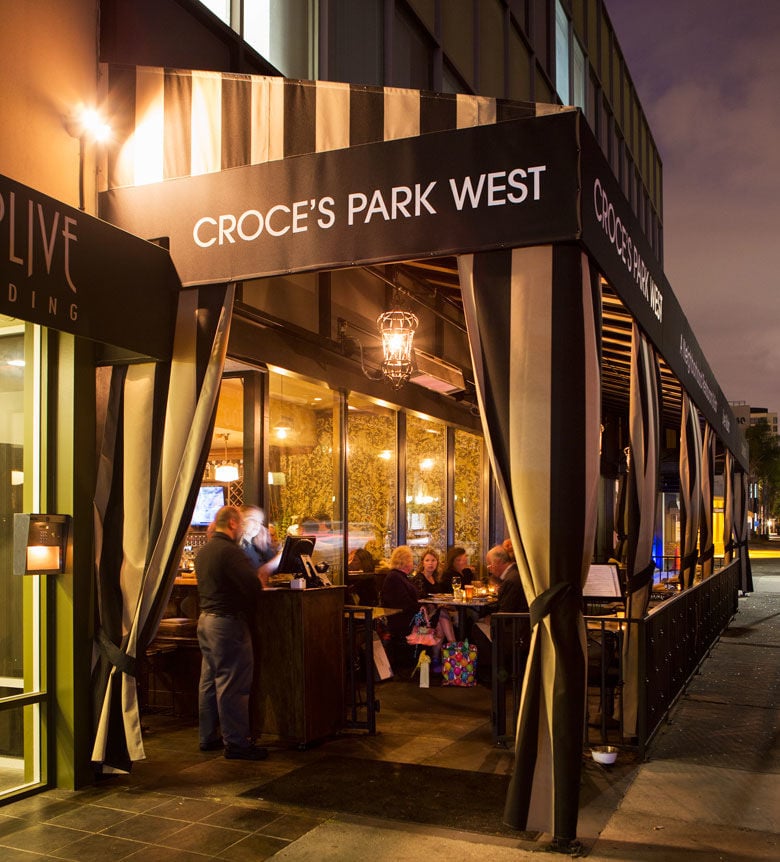 Croce's Park West
2760 Fifth Avenue, Bankers Hill
TROY'S PICKS
Ahi poke
Roasted chicken
Mushroom bruschetta
Moving hurts. There's physical strain (This couch is heavy), financial strain (Two Men and A Wad Of Your Cash Move You), and emotional strain (That old house was where little Alistair said his first curse word). If it's voluntary, the promise of new horizons keeps you going. But being forcibly removed turns an already loathsome experience into an ordeal. Boxes filled with resentment are heavier.
By all accounts, Croce's felt forced out of downtown. Ingrid Croce claimed the occasional teeth-rattling music of the basement nightclub below (at that point, The Pussycat Dolls—now Coyote Ugly) was driving diners away from her white-tablecloth piano restaurant. Plus, some Pussycat employees hung outside Croce's in itsy bitsy teeny-weeny attire. The landlord seemed to say Oh, lighten up—the basement had always been a nightclub of some sort.
Meanwhile, Ingrid and her husband, Jimmy Rock, had been maneuvering to buy Avenue 5 in Bankers Hill. They'd intended it to be an expansion. But when downtown lease negotiations fell apart, Croce's pulled out of the Gaslamp.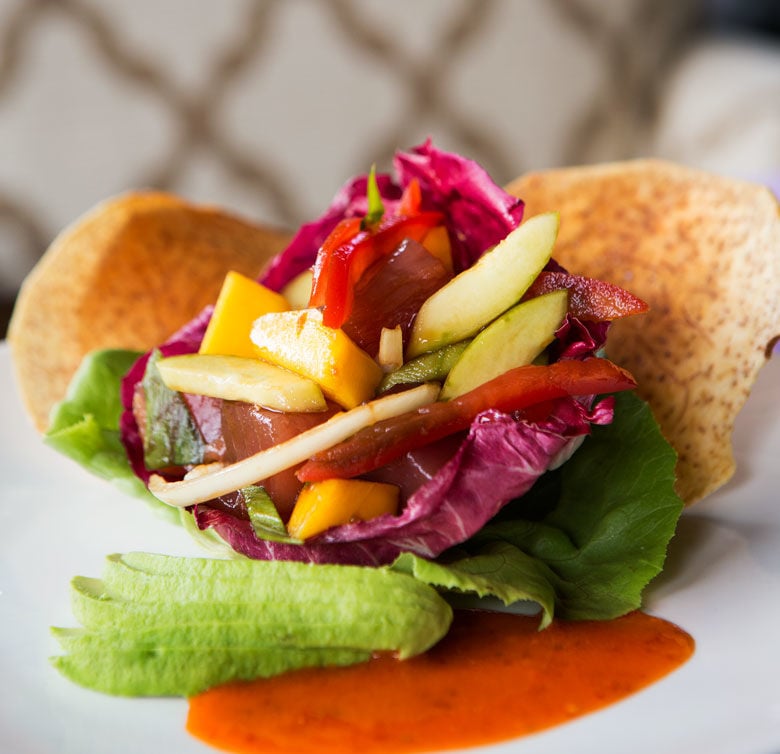 Poke with mango, green onions, and ginger in sambal vinaigrette
This wasn't small news. In the '70s, Ingrid and her first husband—legendary folk singer Jim Croce—moved to San Diego from Philly. They expected to find a happening downtown scene. Instead, they found a great place to get mugged, drugged, and marginalized. The Gaslamp was home to the strung-out and kicked-out. Still, Jim pointed to the spot on Fifth Avenue and F Street and said that was where they should open a place of their own.
A week later, Jim Croce died in a plane crash. Ingrid spent the next 10 years in music litigation. Then she received a notice that the spot Jim had pointed to was for lease. She took it as divine notification and opened Croce's in his honor. The dainty folk singer gal had the guts to build something nice among the pre- and post-incarceration crowd. For nearly 30 years, Croce's stood as an icon of a crucial turning point in downtown's development. It wasn't the vanguard of cuisine; Nirvana didn't play there. It was classic, it was timeless, and now it's gone.
Croce should send her former landlord a thank-you note. On a Friday night, Croce's Park West—located on the bottom floor of an office building at Fifth and Olive in Bankers Hill—is jammed. It's a mostly older crowd, but not soporific or age-pigeonholed by any means. Fact is, while Croce may have been content in the Gaslamp for 30 years, most of her friends and clientele weren't. The Gaslamp is—and probably always will be—kryptonite for locals over the age of 30. The parking headache, the tourist-gouging price points, the brash peacocking spectacle of club life. It's as if Croce's longtime friends have been waiting for this to happen.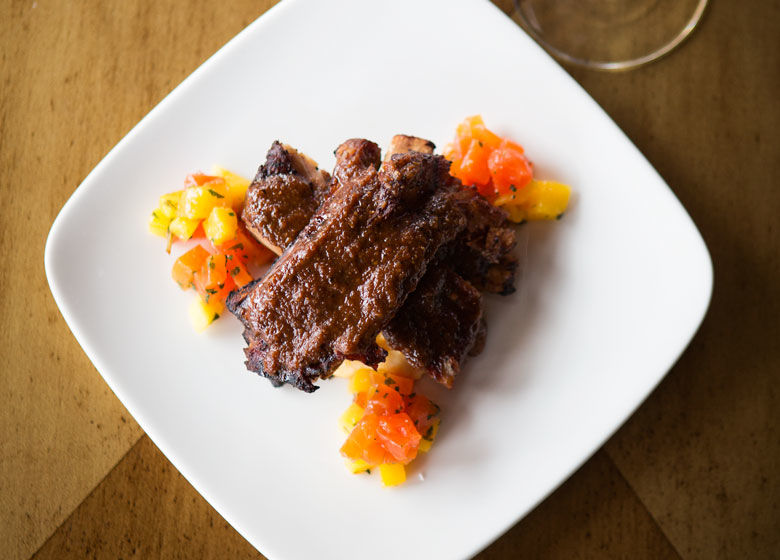 Jamaican jerk baby back ribs
A 50-something woman next to us is dressed like Zandra Rhodes, with the wizened, unfazeable presence of a New York art scene dowager. Over wine, she tells a friend how much she misses smoking cigarettes. Another stylish older woman in a statement red Gael Greene hat holds her phone in the air, trying to use an app to figure out who the jazz artist is on the speakers. Croce's Park West is where diners care enough to Shazam jazz. A three-piece jazz trio sets up in the large back room—the former home of the drag queen cabaret Lips.
Croce was able to bring all of her staff from the original location, and it shows. The valets (in vests) and hostesses have the easy rapport of a well-functioning family. Inside, it's all dark wood floors, brass tabletops, a 1930s-style wooden bar that spans 60 feet. There are oil paintings—a woman in outdoor recline, a Latin guitarist. Both seem to have misplaced their pants. The entrance lounge is one long, dark leather banquet. There are dark-stained, heavily lacquered wooden booths. It has the nicely aged, well-oiled feel of a grandfather's leather cocktail chair. In the back room, there's a shrine to Jim Croce, patron saint of musicians in the room (who play Wednesdays through Sundays).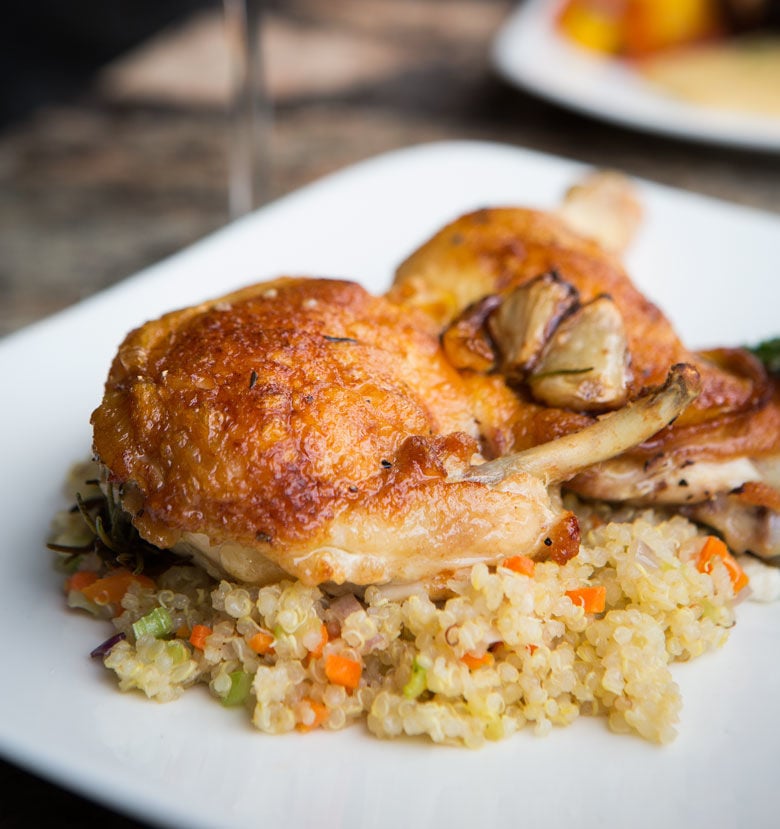 Perfectly roasted chicken
We try two cocktails. A cilantro-cucumber with lychee juice and lime is well-balanced, a little spa treatment for your mouth. The Smokey Local, on the other hand—Woodford Reserve bourbon, lemon juice, agave syrup, and Lagavulin 16-year Islay Scotch rinse—is a hammer, with Scotch's aggro punch atop bourbon's Kentucky wallop, and not enough agave syrup. If it's meant as a challenge to my manhood, I politely withdraw from the competition.
"I attempt to call the bluff on the menu's 'perfectly roasted chicken' only to discover it is a perfectly roasted chicken."
For appetizers, the flavor that chef James Clark gets from his mushrooms in the bruschetta is remarkably good, and it's not all from the truffle oil. I'm not sure how I feel about the lobster-"scented" risotto with edamame. Indeed, the whiff of lobster is significant. But the "scent" of lobster is like the "notion" of sex. A titillating evocation, unfulfilled.
Clams come swimming in an excellent harissa broth, thicker than most. If the kitchen had properly purged the clams, it would've been smiles all around. But all of a sudden I'm seven years old on the beach at La Jolla Shores, eating sand. But the poke with mango, green onions, and ginger in sambal vinaigrette is delicious, the Indonesian chili paste giving the mellow cubes of fruit and meat the spark they need.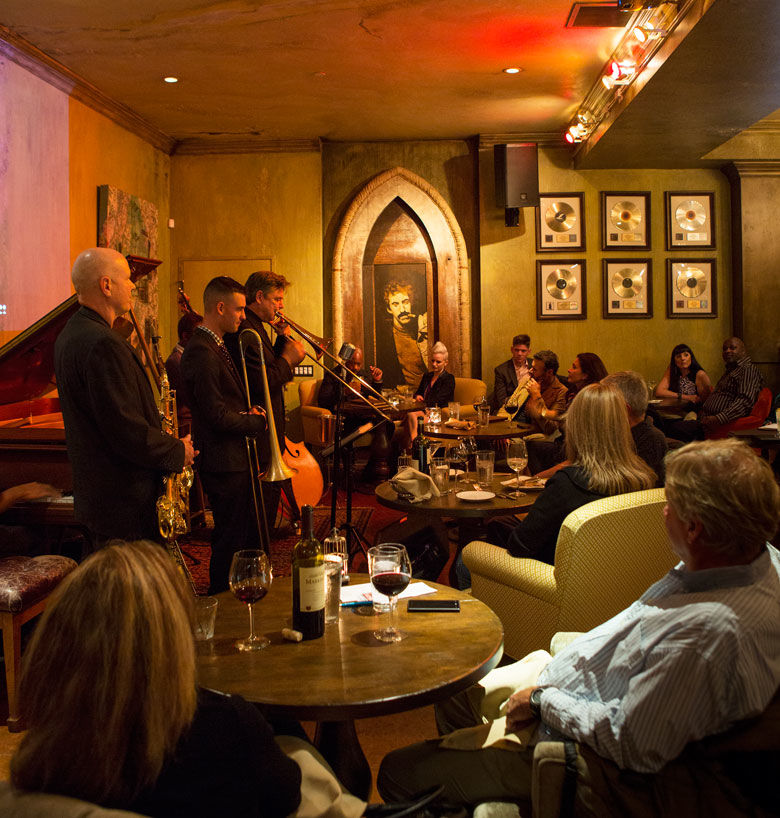 Live jazz under the gaze of Jim Croce
All entrees come in full- or half-sized portions—a great service to small-platers and price-conscious regulars. I'm not sure I've ever seen a restaurant sear quite as well as Croce's. I attempt to call the bluff on the menu's "perfectly roasted chicken" only to discover it is a perfectly roasted chicken. Golden brown, almost crackable, and yet still with a moist interior, over a quinoa pilaf and kale salad in a lemon vinaigrette. The skin on the duck confit, too, is wondrously crisped next to cherries whose tart has been tempered by a soak in Pinot Noir. Both the duck and the chicken have excellent, deeply developed flavors. Absolute wins. I'm not sure the kitchen is as comfortable with swimmers. The sear on the sea bass is, again, perfect. But the crispy pancetta is over-rendered, nearly burnt, and the "broken mushroom vinaigrette" is hardened and refrigerated to the plate. Since the fish depends on its supporting cast for the flavor development, it's left in the cold. And the tuna poivre is almost shocking in its execution—covered in a thick epidermis of pepper that looks and tastes like it might be a quarter of an inch thick. It's nearly pepper-spray tuna.
Ordering right, you can have a very good meal at Croce's. Regardless, it already feels like a sophisticated neighborhood favorite. At least on the nights I'm there, it's packed with generations of music and food lovers. More alive than Croce's Gaslamp had been in a long time. A different kind of alive. A calmer, less Gaslamp-y alive. But alive nonetheless. As if Croce's real home has been here for quite a while, waiting for Ingrid to realize.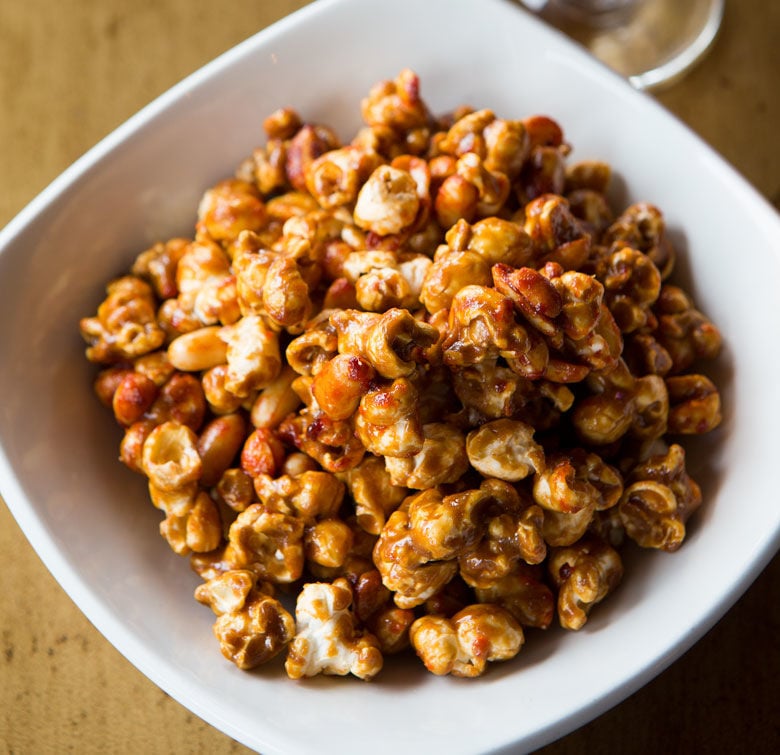 Spicy cracker jacks
Spicy cracker jacks