Pizzeria Mozza
789 West Harbor Drive, downtown
pizzeriamozza.com
Troy's Picks
Meatballs al forno
Ricotta-and-egg raviolo
Butterscotch budino
If I give you a glass of water and tell you this is a glass of water, you will not be disappointed. If I tell you this is a glass of water from a rainforest, you might be a little disappointed. If I tell you this is drinkable holy water, this is going to end in tears.
Hype is a hard-earned cancer. First, a good reputation is built through relentless work, talent, and that special something. Then hyperbole begins, its inflammatory disorder reversible only by corporate acquisition or e.coli. A really good pizza becomes one of the best pizzas in the city, in the country—until, finally, that pizza is the doughy hovercraft upon which downtrodden peoples are freed from the tyranny of Chain Pie. Food enthusiasts make pilgrimages to meccas, only to find a disc of bread with tomato sauce and cheese. Nice, but not nearly the spackle to fill their gaping soul chasms like everyone said.
Humans will always fail their legends. Mozza's hype started in 2006 with iconic pastry chef/baker Nancy Silverton. After creating L.A.'s beloved restaurant Campanile, she founded the world-famous La Brea Bakery (which she and her partners sold in 2001 for $55 million). She tragically lost everything in the Madoff scandal in 2008, but even that historic Ponzi scheme couldn't keep Silverton from success. With Mozza, she and partners Mario Batali and Joe Bastianich gave birth to a misshapen, personal-sized, wood-fired pizza with world-class crust, fresh mozzarella, and fancy toppings (charcuterie of all sorts, anchovies, leeks, etc.). Getting a table in the tiny joint was best achieved through dark arts.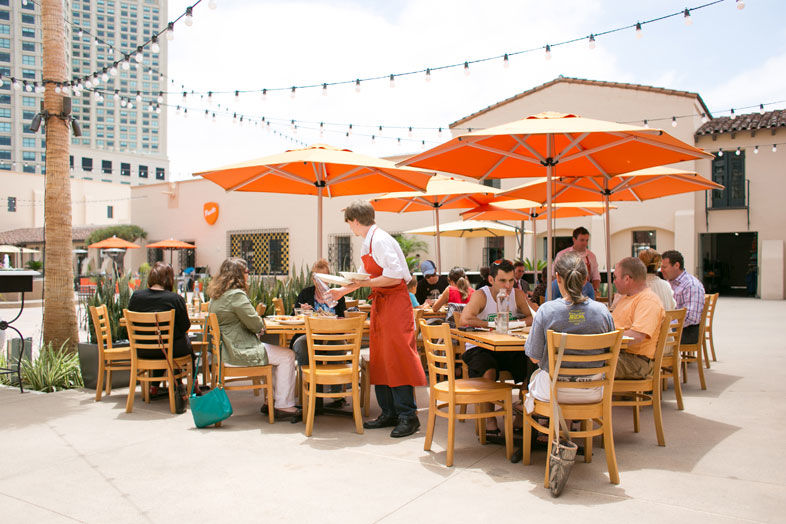 Jacqueline Campbell 2013
After doubling down with the more formal Osteria Mozza, the executive chef of both restaurants, Matt Molina, was given a James Beard Award in 2012. Last month, Silverton herself was awarded the massive Beard distinction of Outstanding Chef.
So when Pizzeria Mozza was announced as the anchor tenant for the new Headquarters project in downtown San Diego—just their fourth location in nine years—hype was instantaneous. The fact that Mozza doesn't do public relations helps mitigate it. Somewhat.
Every Mozza location has the same décor: blonde woods, unadorned orange walls, and light fixtures that appear plastic. It makes Pottery Barn look like the wacky avant-garde. It's so Spartan and weirdly '80s that I almost find myself appreciating it as an artistic statement, or punk rock, or both. For the best view, sit in front of the twin wood-burning ovens.
The good news is that Mozza's food is largely as excellent as advertised. Silverton's pizza is easily among the area's top options. The crust is crispy and denser than most (buckwheat is rumored to be a key ingredient), the fresh mozzarella is very good, and the sauce is balanced with sweet and acid. The toppings (including Batali's father's famous charcuterie) are some of the most sought-after foodstuffs in the world. Since Mozza's breakout in 2006, SoCal has seen an explosion of gourmet wood-fired pies (San Diego has Buona Forchetta, Pizzeria Bruno, Caffe Calabria, etc.). Even with vastly improved competitors, Silverton's pizza ranks high.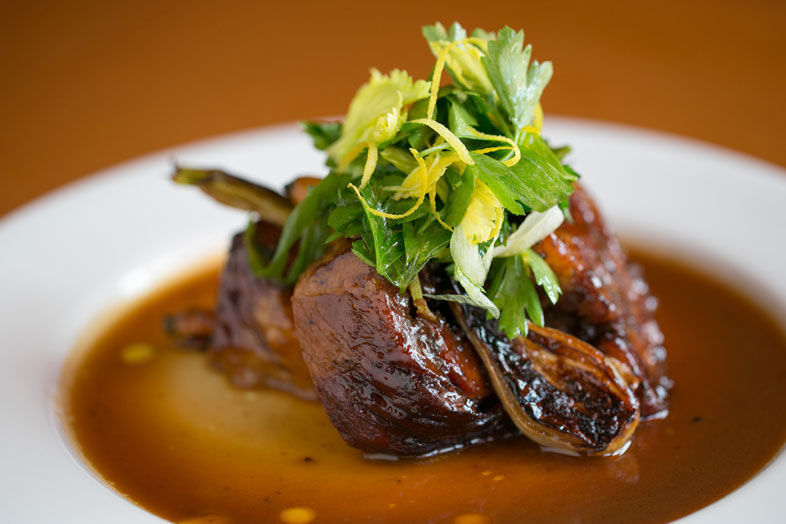 Glazed Over: Veal Stracotto
Glazed Over: Veal Stracotto
The antipasti of grilled asparagus is delicious, with brown butter and burrata acting as an infinitely more flavorful "fat replacement" for, say, an aioli. Silverton's meatballs al forno (made of veal and pork) live up to their acclaim, dripping with herbal-carnivore flavor and served in a simple tomato sauce alongside the tastiest piece of grilled semolina toast I've possibly ever had. The roasted carrots in a bold cumin vinaigrette and ceci (chickpeas) are another standout. The octopus, too, is grilled perfectly, with a crisp skin and tender meat over a simple bed of celery, potatoes, and lemon. About the only "miss" we find on the starters menu are overcooked arancine (fried rice balls).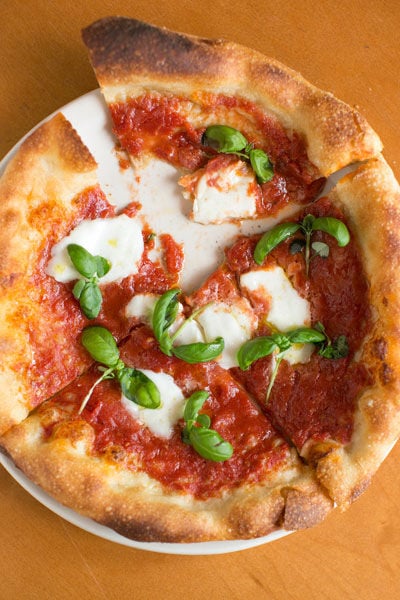 Jacqueline Campbell 2013
Unlike L.A., the San Diego location serves a few of Osteria Mozza's entrees. The menu changes daily, but we're able to try Silverton's excellent veal stracotto—phenomenally tender in a well-caramelized, tomato-based glaze. We're not so wild about the beef tagliata under a mountain of arugula; even dressed with an 18-year balsamic vinegar, it has an almost commercial steak sauce flavor (like a funkier A1). But what it lacks, the ricotta-and-egg raviolo in brown butter makes up for in spades. This is what decadence should taste like.
That single raviolo is $18—about $4 per bite. So, yes, Mozza is not cheap. The only options for the all-Italian wine list are by the bottle or demi-carafe (about a glass and a half), so a taste of wine starts at $10 and goes up. But looking for budget gourmet from two James Beard Award winners and Mario Batali isn't a terribly rational endeavor. At $10 to $18, their pizza prices are on par with most gourmet pies.
Here's the bad news. Over three visits—aside from one excellent server at our last supper—hospitality at Mozza is comically confrontational, slow, aloof, and disjointed.
I call during business hours on a Monday to make a reservation for an early dinner. The automated phone system dumps me into hold mode, assuring someone will tend to my needs shortly. No one does. Not a big deal. I hang up and try again. Same recorded-message abyss. I call back 20 minutes later. Same. Two hours later, same. I may be a Luddite for not using OpenTable, but people still use phones and Mozza has one. We decide to risk it and make the 20-minute drive.
When we arrive, a woman asks if I have a reservation. "No," I respond. "I tried calling but no one answered. It happened four times. It would just send me to—"
She cuts me off, clearly uninterested in my tale of automated greeting woes. "Strange," she says, annoyed. "We're in the process of hiring a new hostess, but one of us should've answered the phone." Without apology, she brusquely ushers us to an open table on the edge of the dining room. Despite open tables and a light crowd, we're made to feel lucky, and burdensome.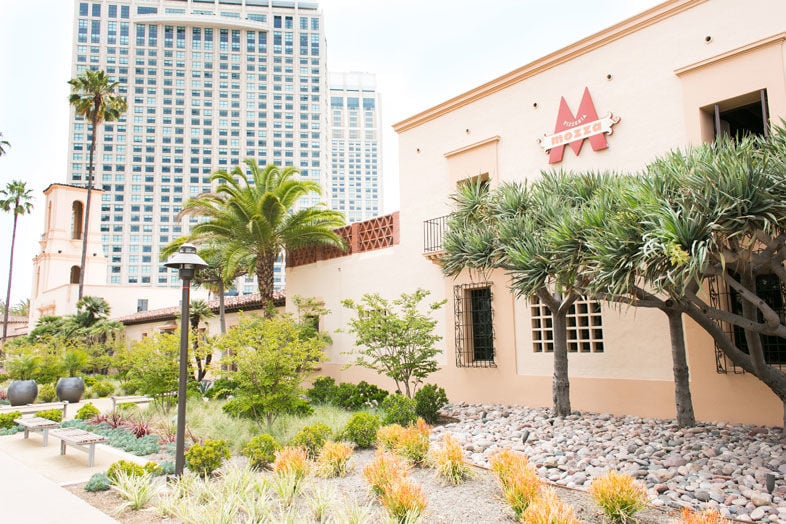 Jacqueline Campbell 2013
At the end of our meal, I realize I've made a mistake in not splitting our bill into two checks. I apologize to our server, and ask if a void is possible. She steps to the front desk to ask the poor woman I previously burdened with my phone woes. She replies with a loud, aggravated sigh that's audible for anyone within a 12-foot radius (we're seated six feet away). Though we've rung up nearly $200 and remained fully clothed during dinner service, she's decided to loudly shame-sigh us.
This experience just makes previous, forgivable missteps less forgivable. On our very first visit, when asked for a flavor note or two about a specific beer, our server replied, "I don't know, but people seem to like it." During our second visit, we sit on the patio that faces the courtyard of The Headquarters. A heat spell has just ended, and the temp has dropped sharply. Everyone is bundling up, huddling over warm food. We flag a server to see if one of the heat lamps might be allowed to fulfill its destiny. He replies, "Uh, I dunno. I'll have to ask my manager—I don't think there's any propane in them."
I can't imagine a time when "I dunno" is an appropriate sentence in restaurant service, unless immediately followed by "I'll figure something out" or "Let me get on that." Ten minutes later, we inquire of the manager's decision regarding our fate. Twenty minutes later, a lamp is heated. Nearby diners smile appreciatively, on the verge of a standing ovation.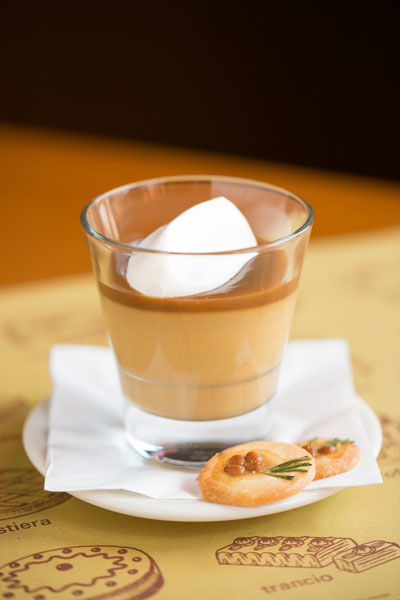 Jacqueline Campbell 2013
This is starting to feel like bullying, so I won't mention other small hospitality fails. I usually don't point out bad service, because everyone has bad days. Plus, you know, humans. But our service is so unhelpful that it unfortunately becomes the story of an otherwise very good restaurant and addition to San Diego's food scene. When I ask an industry friend who's a regular at the downtown location, he says "The food is fantastic, but there are some systemic service issues." To aggravate the problems, Mozza also has a strict "no outside food" policy (reportedly even for birthday cakes).
That begs the question: Why in god's name would you ever bring a dessert into Mozza, home to the legendary butterscotch budino? With caramel sauce and rosemary-pine nut cookies, the pudding has a breathtakingly deep butterscotch flavor, which is cut nicely with salt and whipped crème fraiche. It is as perfect as a dessert can be. Stick a birthday candle in it and save yourself a reprimand.
Service is fixable. Silverton, Batali, and Bastianich are world-class restaurateurs, so expect improvements. However, Mozza has been open for six months. Basic issues like answering phones and remedial politeness and problem-solving—even outright we'll-make-it-happen hospitality—should be de rigueur by now.
When it is, Mozza will come pretty damn close to living up to the hype.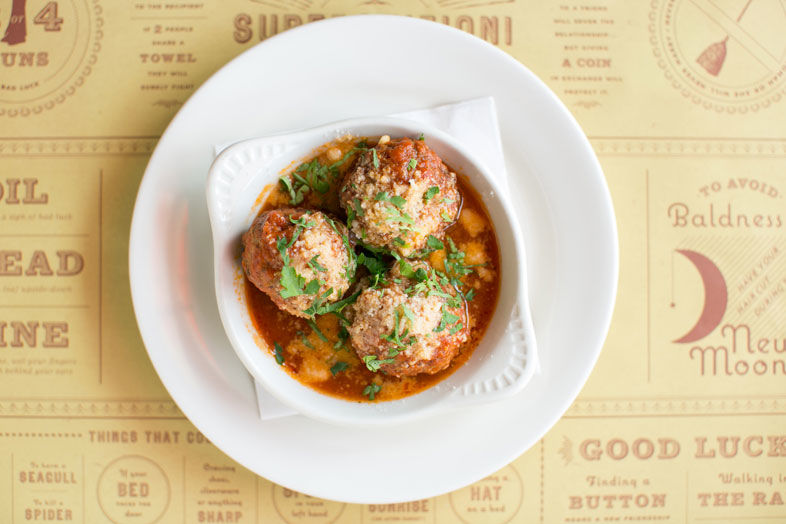 Not Your Grandma's Meatballs al forno