Courtesy of Louisiana Purchase
It's cold out—well, cold for us San Diegans at least (ignore us, Idaho). And with 5 p.m. feeling more like 10 p.m. these days, all we really want are holiday lights outside, cozy blankets inside, reality TV and comfort food to fill our evenings with.
So, we looked to none other than Louisiana Purchase for the goods on what to make to warm up our bones this winter. Their suggestion? Chef Quinnton "Q" Austin's Uptown Sink Gumbo.
The New Orleans native marinates the charm and character of his hometown into every item on the menu, creating diverse Cajun flavors and creole tastes—with his chef Q twist.
"The background of the Uptown Kitchen Sink Gumbo is taking a little bit from everyone I've been around that made great gumbos, bouncing from house to house on Sunday and being a taste tester," says chef Q.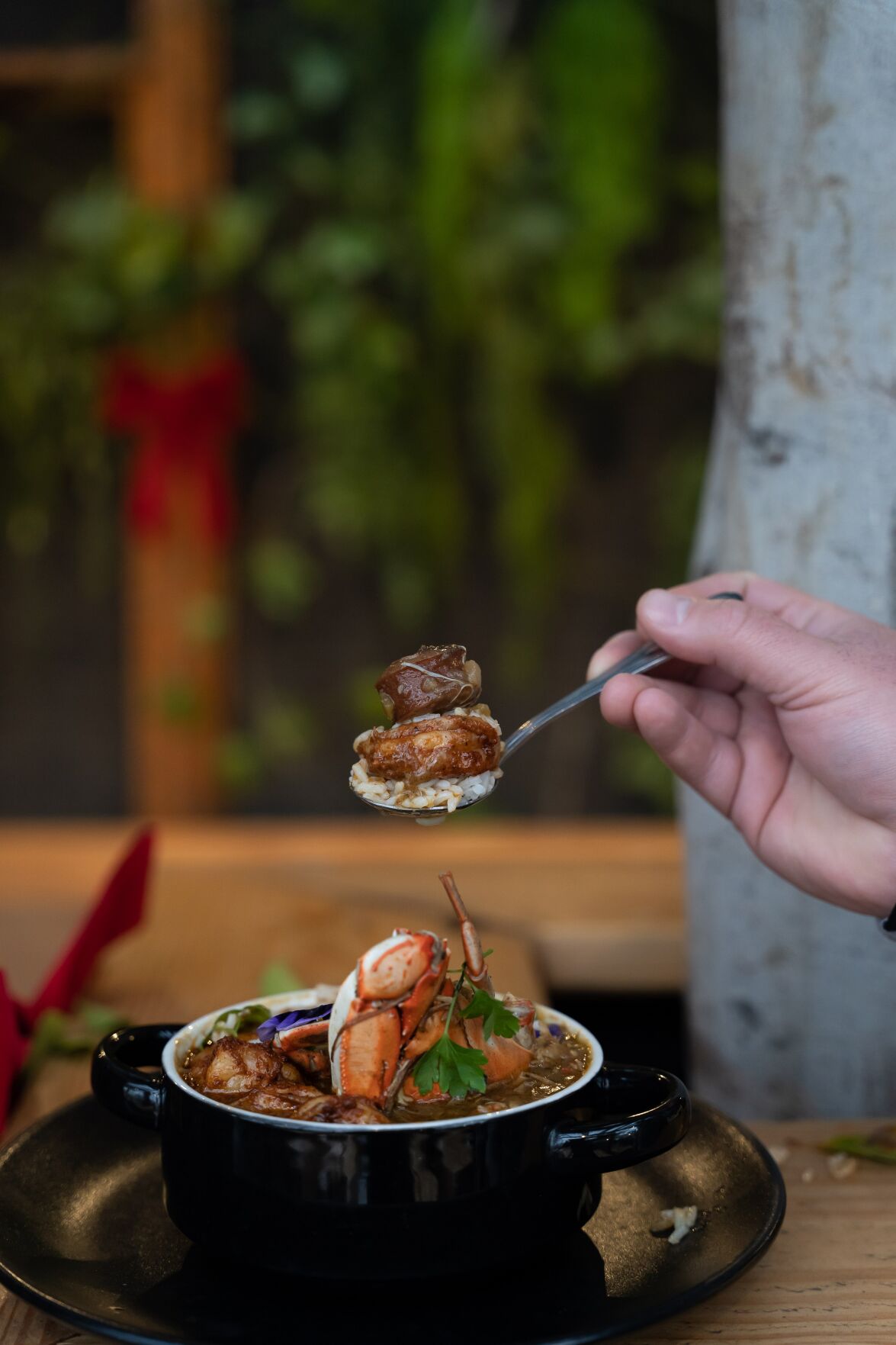 Courtesy of Louisiana Purchase
There are many different kinds of gumbos and choosing your flavors means you get to pick your party. Chef Q likes to use chicken stock, onion, celery, file, garlic, herbs, and proteins such as andouille sausage. Though he notes it's hard to find in San Diego.
But the real trick to a good gumbo is the roux, which is equal parts fat to flour, and should be dark brown and silky. For the kitchen sink, you'll want to throw it all in—go ahead, get crazy.
Chef Q goes with roasted chicken, shrimp, crawfish, and blue crab. "Yes, California people, blue crab," he says. "Don't put snow crab in a Louisiana person's gumbo."
Finally, don't forget the spices. Don't mess with Louisiana's spices. To make Chef Q's Gumbo at home, follow the recipe below:
Louisiana Purchases' Uptown Sink Gumbo 
Ingredients
Lite vegetable oil
1 lb diced onion
1 lb diced celery
2 cups garlic
3 tbsp thyme
2 tbsp oregano
3 lb sausage
½ cup file
Garlic powder (to taste)
Onion powder (to taste)
Cayenne pepper (to taste)
Creole seasoning (to taste)
12 bay leaves
Brown roux
3 gallons chicken or seafood stock
5 blue crabs
2 lbs roasted chicken
3 lbs shrimp
3 lb crawfish tails
3 lb crab meat
Instructions
Sweat down your onions, celery, and garlic then add your ½ cup of file

Season with garlic powder, onion powder, cayenne pepper, and creole seasoning to taste and add your bay leaves, brown roux, three gallons of chicken or seafood stock, and blue crabs.

Allow this to come to a simmer, then add your roasted chicken and shrimp. Take it up to a boil then reduce again to a simmer.

Once all of your flavors come together, taste and season more to your liking.

Add your crawfish tails and crab meat at the very end and cook for only a few minutes till done.