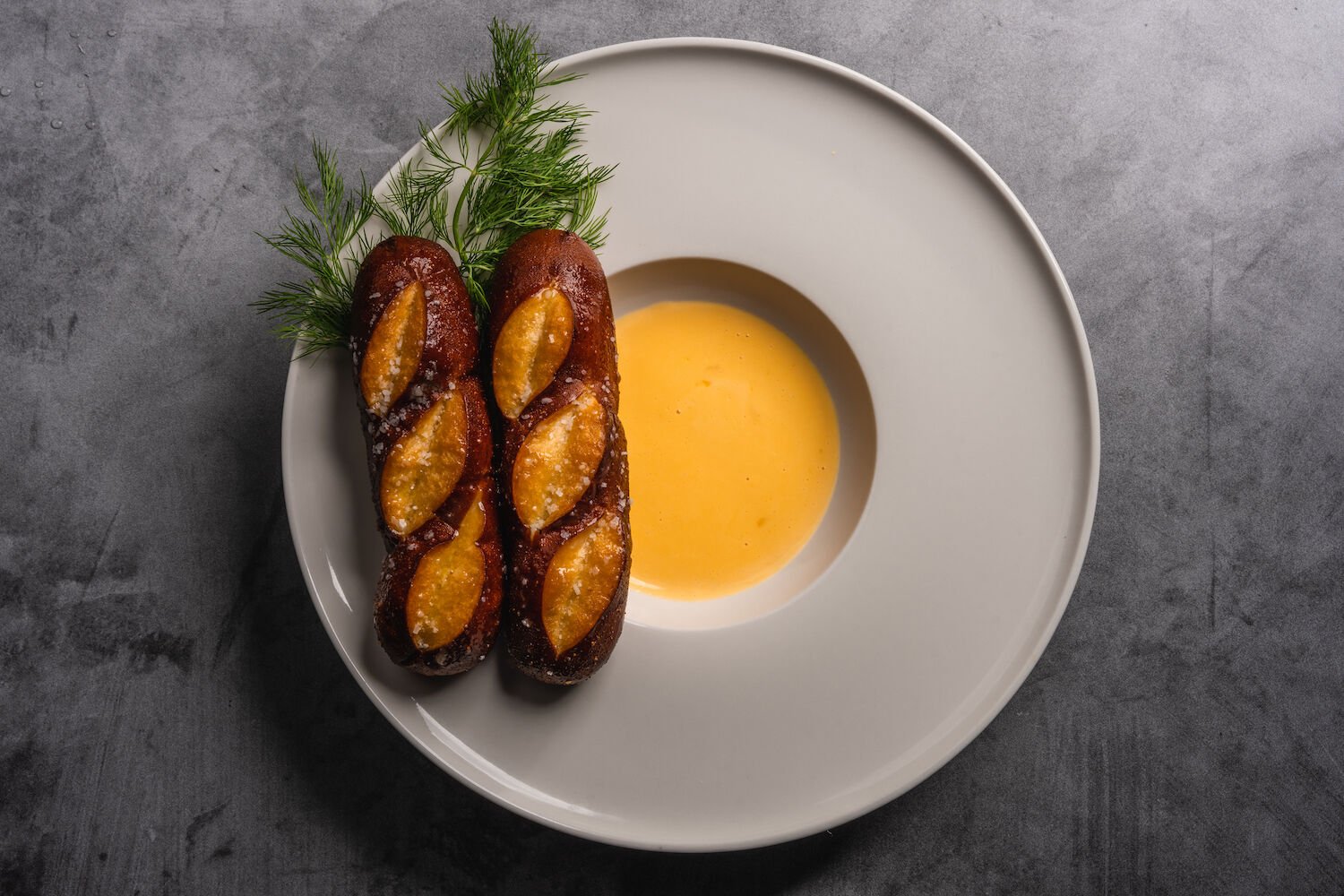 Credit: James Tran
This past summer, Ballast Point Brewing appointed chef Tommy Dimella as its culinary director overseeing all of the brewer's kitchen operations. Since taking the reins, Dimella has crafted a globally inspired menu paired with pub favorites to complement the flavor profiles of the brand's beers.
On his menus, guests can find everything from whipped goat cheese to 12-hour smoked pork shoulder, buttermilk fried chicken sandwiches, and a patron favorite: Sculpin beer cheese sauce. Developed in conjunction with Ballast's flagship West Coast IPA and expert brewers, the sauce is served alongside pretzel breadsticks in their Little Italy and Miramar tasting rooms.
"It's so satisfying to make," says Dimella. "Melted smooth and creamy cheese is always fun to play with. The technique of making this sauce goes back to a classic French Mornay sauce."
One of five foundational French mother sauces, French Mornay sauce is a variation on béchamel sauce and includes flour as a base, butter, milk, eggs, freshly grated parmesan and gruyere to produce a creamy, white sauce.
Creamy and refined, Dimella's beer cheese sauce is incredibly versatile and decadent. "This sauce can be used in a variety of dishes, especially for a grown-up version of mac-n-cheese," says Dimella.
To make chef Tommy Dimella's Sculpin beer cheese sauce at home, follow the steps below:
Sculpin Beer Cheese sauce
Ingredients 
4 tablespoons unsalted butter
1/4 cup all-purpose flour
1 cup Ballast Point Sculpin IPA
1 1/2 cups half & half
1 teaspoon Dijon mustard
1 teaspoon Worcestershire sauce
1/4 teaspoon garlic powder
Scant 1/2 teaspoon salt
1/4 teaspoon cayenne pepper
1 cup shredded Cheddar cheese
Instructions
1). Melt the butter in a medium saucepan over medium heat. Add the flour and whisk until the flour is completely absorbed. Continue cooking, whisking constantly, for 1 minute.
2). While whisking constantly, slowly pour in the beer and half & half. Whisk in the mustard, Worcestershire sauce, garlic powder, salt, and cayenne pepper. Bring the mixture to a boil, whisking constantly, then reduce to a simmer and continue cooking, whisking frequently, until thickened enough to coat the back of a spoon, about 3 minutes.
3). With the heat on low, add the cheeses a handful at a time, whisking between each addition, until the cheese is fully melted before adding more. Taste and adjust seasoning, if necessary. Transfer the dip to a serving bowl and sprinkle with fresh chives, if using. Serve immediately.