Take up some tequila and join in la vida loca with El Henry and his gang on the streets of Aztlan City, formerly San Diego.
El Henry is a modern adaptation of Shakespeare's Henry IV, Part I, set in the year 2045, when Hispanics and Chicanos are the primary occupants of what used to be California. El Henry has chosen to spend his time with thieves and booze guzzlers, most notably the portly El Fausto, and wants little to do with the lifestyle of his father, El Hank. El Hank is the leader of all the barrios and faces a threat to his street kingdom by El Tomas and his son El Bravo. It is this threat that brings El Henry back to his family to fight for its control in Aztlan.
A Without Walls Production by the La Jolla Playhouse, in collaboration with the San Diego Rep, the play is performed onsite and outside at SILO in the Makers Quarter downtown. The show caters well to the local crowd, with many laughs coming from location-specific humor.
Playwright Herbert Siguenza, who also performs as Fausto, brings his signature style to the Shakespearean tale with modernized dialogue that combines Spanish and English slang.
Lakin Valdez stars as El Henry and faces a mano-a-mano fight with his real-life hermano, Kinan Valdez, who portrays the role of El Bravo. The brothers are sons of acclaimed writer and director Luis Valdez, known best for his play Zoot Suit and the film La Bamba.
El Henry runs through June 29. Tickets can be purchased at lajollaplayouse.org.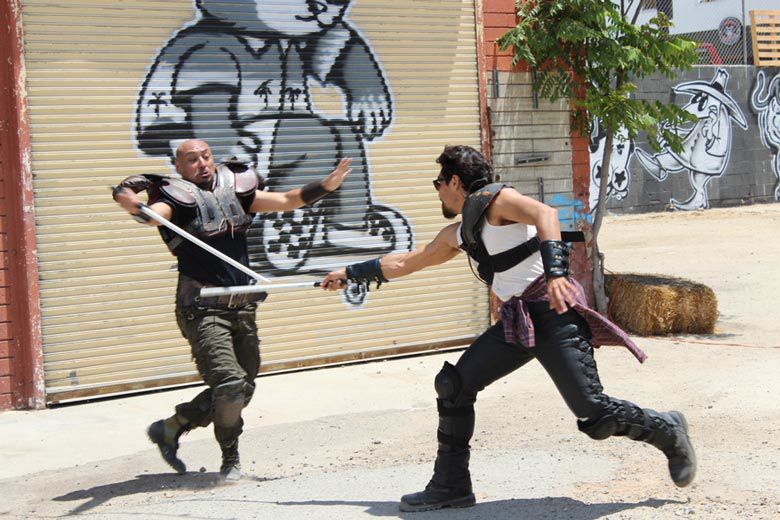 La Jolla Playhouse