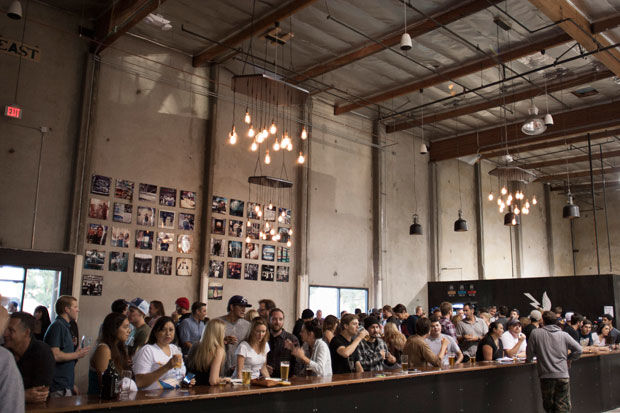 Saint Archer tasting room
Saint Archer Brewing launched last April, one of many craft beer upstarts in the Miramar/Mira Mesa area of San Diego. In less than eight months, it has collected more than 20,000 followers on Instagram. That's slightly less than industry icon Stone Brewing (30K), but more than Sierra Nevada (15K) and Ballast Point (5K). Now the company has raised $3 million to double its output and expand its distribution into Los Angeles.
"We have standing orders for 50 states," says CEO Josh Landan. "We just can't make enough beer."
How'd the folks at Saint Archer do it? First, they hired two of the top brewmasters in the country—Yiga Miyashiro (ex-Pizza Port) and Kim Lutz (ex-Maui Brewing). Then they made 14 of the raddest dudes alive (and one woman) owners of the company. Saint Archer's ownership includes: pro skaters like Mikey Taylor and Paul Rodriguez, surfers Taylor Knox and Josh Kerr, industry photogs and filmmakers Jeff Johnson and Atiba Jefferson—the list goes on and on.
Surfing and skating are two of the most idealized professional sports on the planet, full of shirtless global explorers, career beach bums, trespassing punks with superhuman physical skills. People want a glimpse into their lives. They want to be where they are, wear what they wear, drink what they drink.
Saint Archer is the portal into those lives—during happy hour.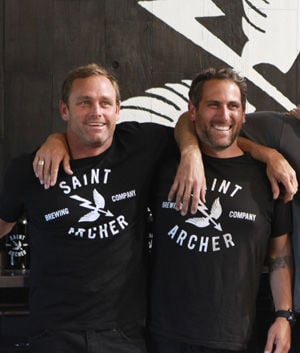 Taylor Knox, Josh Landan
Companies like Nike, Patagonia, Red Bull, and DC Shoes pay these icons millions of dollars a year to use their products. Pacifico beer recently hired surf filmmaker Taylor Steele for its ad campaign with the slogan: "Discovered in Baja, Imported by Surfers."
But with Saint Archer, it's different. Like the popular Girl Skateboards brand, the athletes actually own Saint Archer. They don't even get free beer out of the deal ("Even I buy it in the store," says Landan). Rather than being given free product and equity to be a face of the brand, many of Saint Archer's star athletes put their own money into the startup.
"The most important thing to all of us is having good beer," says Mikey Taylor, on a cell phone from somewhere in Malibu. "You can market a product, but you're only going to get so far if your product sucks. We thought, 'If we could have a good product and market our lifestyle along with it, we might do pretty well.'"
Saint Archer provides access to that lifestyle. And, as proxy, has become the official craft beer of the surf-skate world.
It wasn't an inorganic process for Landan, who hatched the idea with Taylor at the Holiday Inn in downtown San Diego four years ago. There was no cold-calling. Landan is a respected filmmaker in the surf-skate world. Before Saint Archer, he ran a management company with his friend Pat Magnarella. Magnarella managed bands (Green Day and Goo Goo Dolls, to name a few) and Landan managed his pro surfer friends like Knox and Mick Fanning.
"I always wanted to do a company with my friends," he says. "Coming from action sports, we helped give birth to all of these multimillion-dollar brands—from Quicksilver to energy drinks. Why had there never been a craft beer that's come from us?"
There's the big thing about beer: Unlike skate shoes or wetsuits, most of America has a use for it.
"The companies that influenced us were the ones who were rider-owned and -operated," explains Landan. "People love brands that they connect to. Like Michael Jordan's brand. You connect with Quicksilver athletes, but you know they pay them. But if I'm at Saint Archer and Taylor Knox pours me a beer and says, 'Hey, thanks for drinking this. I own it'—well, just as a fan I'd say, 'Holy shit, Taylor Knox owns a beer? I'll never drink anything else.'"
This one-on-one interaction happens at Saint Archer's Ambassador Events, where the athletes work the bar and interact with fans. They also interact on Instagram and social media. Saint Archer's first photo on Instagram was of Taylor Knox in a Saint Archer trucker hat. It received 66 likes. A recent photo of skater Mike Mo Capaldi drinking a Saint Archer reeled in 1,506 "likes." Taylor estimates that, across all social media, Saint Archer's celebrity owners reach about five or six million people.
"We just doubled our capacity in six months," says Landan. "Every milestone we made, we tripled it. There was a photo we put on Instagram of Eric Koston barbecuing and we got 700 new followers in two hours. Crazy."
Greg Koch, CEO of Stone Brewing Co. (which distributes Saint Archer from Santa Barbara to the Mexican border), puts it pretty succinctly. He says, simply, that they make a quality beer. Then? "Amass international fame for your prowess in extreme sports."