This episode is sponsored by the SoNo Fest & Chili Cook-Off. The annual street festival returns to 32nd and Thorn streets between South Park and North Park on Sunday, December 2 with 40 of the city's best restaurants competing in the ultimate #chilismackdown. There will also be a craft beer garden, food trucks, live music, and a kid's fest. The best part? All proceeds go to the McKinley School Foundation.
This week we're back at Fernside, the new South Park cocktail bar and eatery from Christian Siglin (Bracero, The Grass Skirt, Cutwater Spirits), Shane Gerde (UnderBelly, Cutwater Spirits), and Adam Cook (Bluefoot Bar & Lounge) and also one of the participating restaurants in this year's SoNo Fest & Chili Cook-Off.
In Hot Plates, we're talking about more ramen coming to Hillcrest, Fashion Valley's North Italia restaurant led by former Waypoint Public Executive Chef Rich Sweeney, a new mezcal bar that's landed in Old Town, and awhiskey slash steakhouse spot coming to Gaslamp next year.
Our guest is Alicia Bell, the District Executive Chef of Palomar Health and winner of the People's Choice Award at our Top Doctors party. The San Diego native and classically trained chef tells us about going from "cooking for rich people" to cooking in hospitals, how her mother's cancer diagnosis changed her career path, and why she wants people to eat at a hospital for lunch. Plus, she gives us the scoop on the award-winning tacos—and shares the recipe below!
In Two People/$50, we're recommending Cucina Urbana, Carnitas' Snack Shack, Tacos el Gordo, and The Cork and Craft.
Subscribe to the Happy Half Hour on iTunes or Google Play, or listen below.
Superfood Street Tacos
Makes 5 tacos
Mushroom Carnitas
½ pound of raw King Oyster mushrooms
½ onion, sliced
3 garlic cloves, roughly chopped
1 chipotle chiles in adobo
3 tablespoons of miso paste
1 tbsp. fresh turmeric, minced
¼ tsp. salt
½ tsp. pepper
½ cup of orange juice
Zest of ½ orange
½ cup of lemon juice
Zest of ½ lemon
2 quarts of low-sodium vegetable broth
Preheat oven to 350°F.
Shred the king oyster mushrooms in a food processor using the large shredding attachment.
Sauté the onion, garlic, chipotle peppers, miso paste, turmeric, salt, and pepper for about 5 minutes or until fragrant.
Add in the mushrooms and sauté for 10 minutes.
Add in the orange juice, lime juice, lemon juice, and vegetable broth. Bring to a boil and reduce to a simmer.
Allow to simmer 20–30 minutes. Alternatively put all of the above ingredients in a crock pot for 2 hours.
Once braised, place the mushrooms on a parchment lined baking sheet and roast in the oven for 15 minutes to dry them out.
When ready to serve, sauté the mushrooms in a pan for a carnitas-like texture.
Cilantro lime crema
1 cup raw blanched almonds, soaked overnight
1 avocado
½ cup water
Juice of 1 lime (roughly ¼ cup)
¼ cup cilantro
¼ tsp. onion powder
¼ tsp. salt
1 clove garlic optional
1 cup micro cilantro
In a high powered blender (i.e. Vitamix) add the almonds and water in batches. Blend until completely smooth. Transfer to a bowl.
In a food processor, add in the avocado and the rest of the ingredients and blend until smooth.
Fold the almond crema with the avocado mixture. Set aside.
Cotija "cheese"
12 oz. white beans
¼ cup nutritional yeast
Juice of 1 lime (roughly ¼ cup)
¼ tsp. salt
Preheat oven to 350°F.
Place all of the ingredients into the food processor and pulse a few times until ingredients are combined but not completely smooth.
Spread out a thin layer onto a parchment lined baking sheet and put in the oven for 10 minutes or until dry and crumbles. Allow to cool and then crumble.
Pickled Onion
1 red onion, thinly sliced
2 cups red wine vinegar
Place sliced red onions in a bowl and soak in red wine vinegar for at least 1 hour.
To Assemble
Warm five corn tortillas. Place the mushrooms down first, then top with the cilantro lime crema, garnish with cotija "cheese," pickled onions, and cilantro for garnish.
Recent Episodes
For all previous episodes, click here.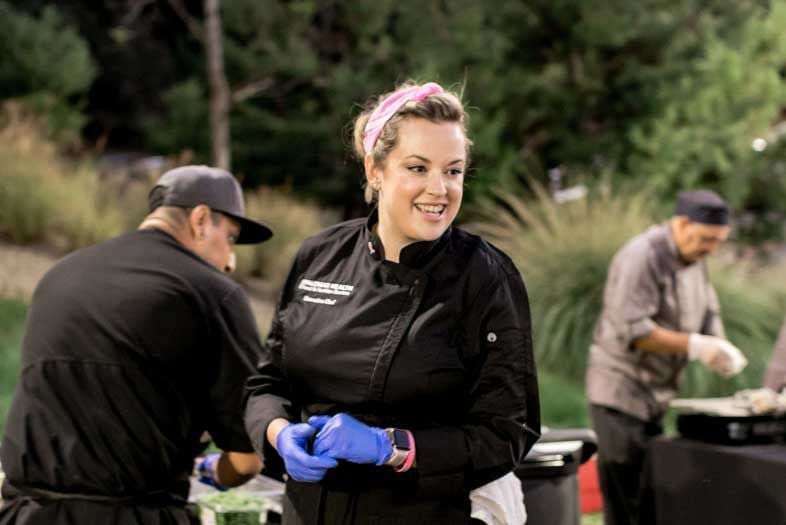 Chef Alicia Bell | Photo: Kambria Fischer