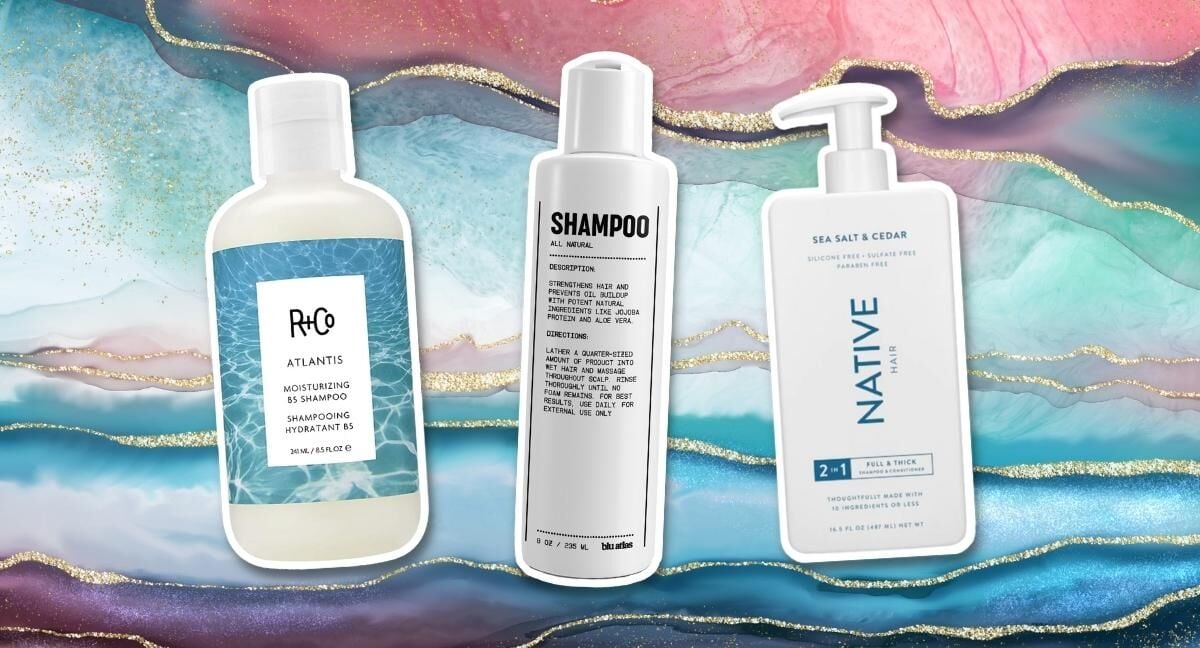 Sponsored content provided by Machines Agency
---
Why wash with a plain old fragrance-free shampoo when you can use a product that makes your hair smell amazing? A shampoo with an expertly created scent profile can transform your hair, leaving it smelling fresh and irresistible all day long.
There are a ton of options out on the market, but you don't need to waste your time strolling down the drugstore aisles trying to find the shampoo that works best for you. Below, we've created a comprehensive list of the absolute best-smelling shampoos for men in 2023. Get ready to take your routine to the next level—you're about to have the best smelling hair of your life.
What to Look for in a Men's Shampoo
You're here because you're looking for a shampoo that will make your hair smell incredible. However, while the scent is important, it's just as vital that you pick a formula that works for your hair.
First things first: you'll want a shampoo that cleans your hair. Sure, it sounds obvious, but if you want to keep your hair smelling fresh, you can't just mask it with scent. You need to find a shampoo that removes excess oil, product buildup, odor-causing bacteria, dirt—all the things that keep your hair from smelling its best.
We recommend seeking out a science-backed, nature-derived formula. Some of the most powerful and potent hair and skincare ingredients already exist in nature. Companies have perfected the process of working these ingredients into their formulas so that their products offer the best results possible.
Shampoos that contain natural ingredients are typically gentler on the hair and scalp, still delivering the results you need. These formulas are also free of unnecessary filler ingredients that don't directly serve the needs of your hair. There are a ton of powerful natural ingredients in shampoo formulas, but some of the best include aloe leaf juice, shea butter, tea tree oil, jojoba oil, argan oil, coconut oil, and honey.
Ingredients to Avoid
We recommend choosing a great smelling shampoo that is free of sulfates, which are detergents that wash away dirt, oil, and debris. While sulfates can effectively clean, these ingredients are also known for being harsh on the hair and skin. They can end up causing dryness and irritation when used regularly.
Thankfully, there are plenty of sulfate-free shampoos on the market that use alternative cleansers that don't damage hair. Options include coconut-derived sodium methyl cocoyl taurate and sodium cocoyl glycinate as well as lauryl glucoside. These types of ingredients allow you to wash your hair without needing to worry about any long-term negative effects.
There are also a variety of ingredients that may be harmful to not only our health but to the environment. This includes parabens and phthalates. To best care for your hair and overall health—and the earth—we recommend seeking out paraben- and phthalate-free formulas.
Picking a Shampoo that Works for You
Another thing to keep in mind when looking for a new shampoo is that you'll want a formula that targets your specific hair needs. There are plenty of highly effective formulas that work for all hair types—you'll find many excellent options on this list. However, you should also keep your hair and skin in mind so that you can find a product that will work great for you.
If you have dry hair, you'll want a shampoo featuring hydrating ingredients that give your locks the extra moisture that they crave. If you're dealing with some hair thinning, you might want a product that boosts thickness and fights against hair loss. Keep your unique needs in mind as you search for your perfect match.
Now for the best smelling shampoos for men.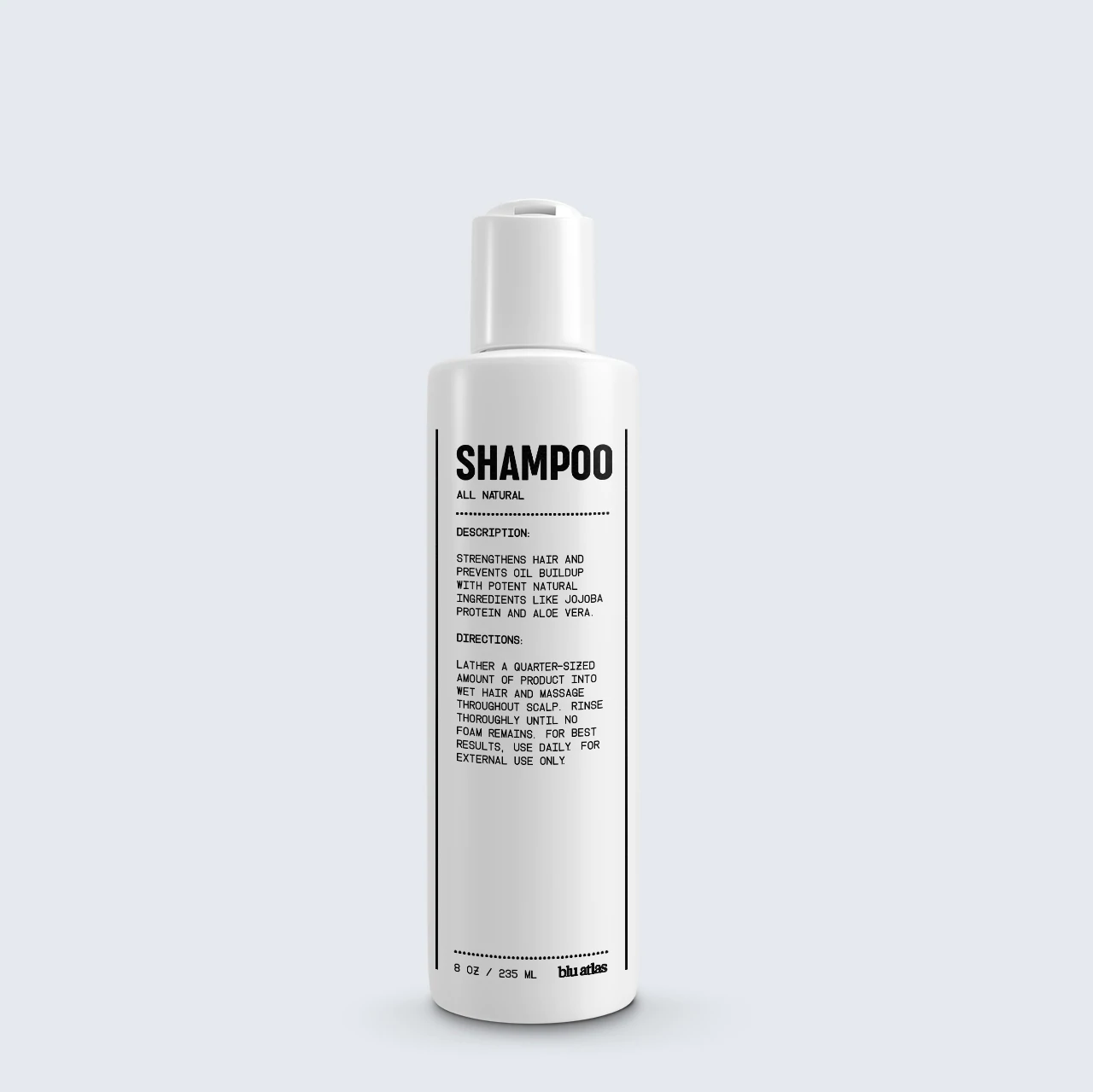 Every modern man needs to have the premium grooming company Blu Atlas on his radar. The company crafts potent formulas featuring science-backed natural ingredients that deliver impressive results. If you're looking for a shampoo that smells just as great as it works, you'll want to try the Blu Atlas Shampoo. Bonus: the dermatologist-tested formula is suitable for all hair types and is free of sulfates, parabens, and phthalates. It is also 100% vegan and natural.
This shampoo uses the power of natural fragrances to create a fresh and woodsy scent profile. Blu Atlas' Shampoo relieves your strands—and your senses— with notes of patchouli, bergamot, clary sage, lavender, and oakmoss. Since the formula is free of synthetic fragrances, you don't need to worry about it causing any irritation to the skin.
The Blu Atlas Shampoo smells incredible, but more importantly, it works. It features ingredients that nourish, hydrate, and strengthen the hair while gently washing away dirt and impurities. This includes jojoba oil and vitamins A, D, and E. Jojoba oil has similar properties to the natural oil found in our skin, which means it penetrates to nourish the hair and scalp, moisturizing and strengthening your strands. The formula also contains anti-inflammatory aloe barbadensis leaf juice, which is packed with vitamins and amino acids. Aloe strengthens the hair while soothing the skin and also works as a natural moisturizer.
Now, let's talk about the cleaning power. This sulfate-free shampoo uses plant-derived surfactants to cleanse the hair, including sodium methyl cocoyl taurate. This mild surfactant works the formula into a creamy foam that cleanses and refreshes the hair and skin without causing any irritation or dryness.
2. R+Co Atlantis Moisturizing B5 Shampoo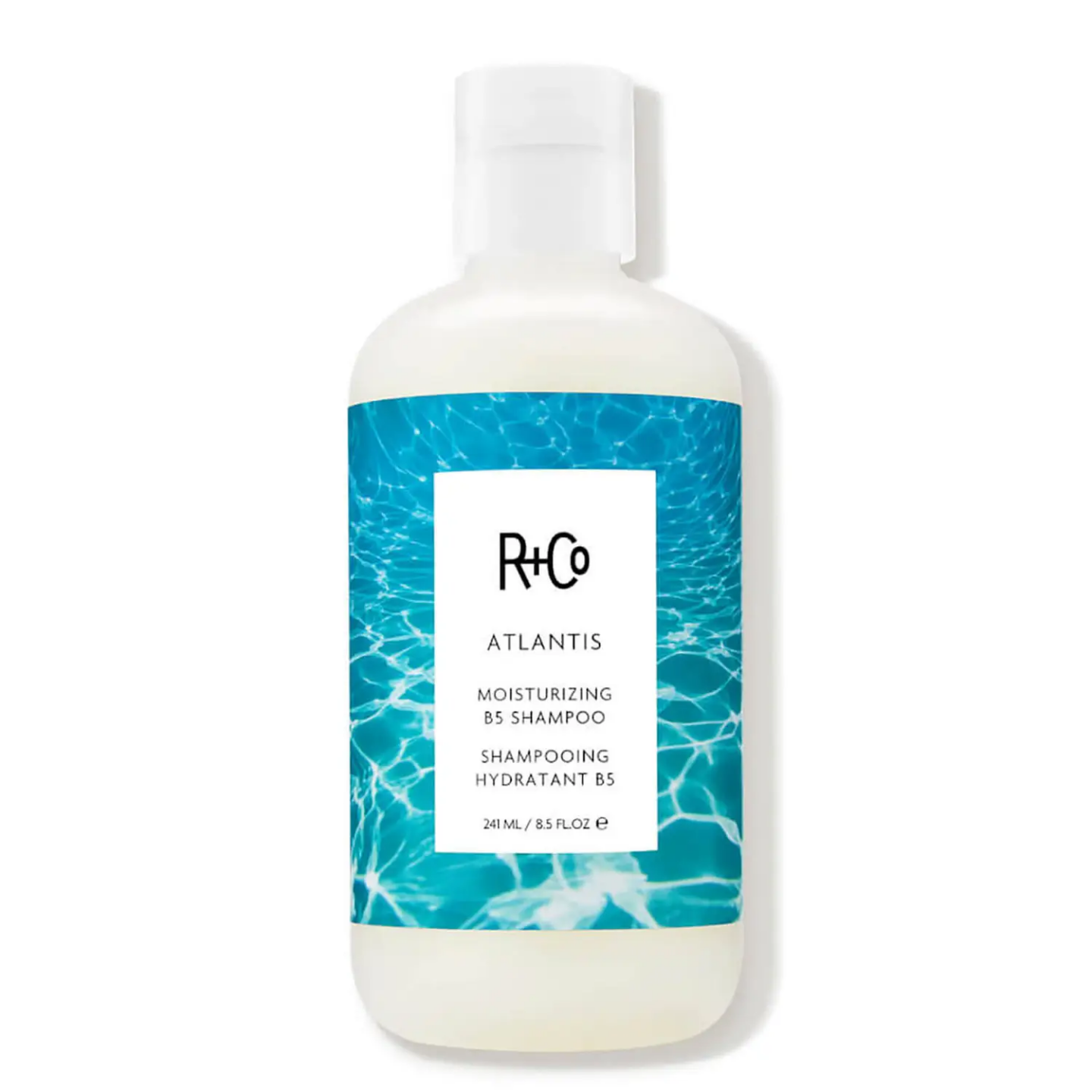 Haircare company R+Co's collective of industry leaders aren't afraid to bend the rules and think outside the box to make great formulas. The brand focuses on creating highly effective, forward-thinking products with sophisticated fragrances that are suitable for both men and women. One of the company's best smelling shampoos is the Atlantis Moisturizing B5 Shampoo. This deeply hydrating shampoo has a spirited and fresh scent profile. You'll bathe in notes of bergamot, wild fig, cedarwood, tonka beans, cyclamen, and lotus flower.
This R+Co shampoo is a great choice for men with dry hair looking to infuse some life into their locks. It features pro-vitamin B5, which penetrates the hair and traps moisture for intense hydration and shine. It also contains prickly pear stem extract, which is rich in antioxidants, minerals, and vitamin E. This plant extract nourishes the hair and scalp while balancing pH levels and improving hydration.
The shampoo features nettle extract, which boosts shine and controls frizz while hydrating the hair and skin. This extract also strengthens the hair shafts and follicles, helping to prevent breakage. Vegetable proteins join the nettle extract to strengthen the hair, while glycerin works alongside this powerful blend of ingredients to boost the hair's moisture levels, improving the health of dry strands. This formula is vegan and cruelty-free and made without parabens, sulfates, mineral oil, or petrolatum.
3. Native Full & Thick 2-in-1 Shampoo & Conditioner, Sea Salt and Cedar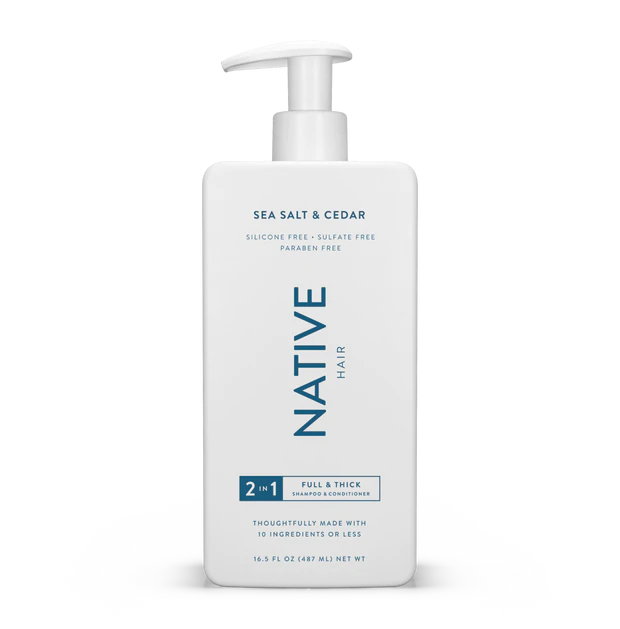 Native emerged on the market as a natural, aluminum-free deodorant company that sold its popular products in a range of excellent scents. The personal care company has since expanded its offerings and has now entered the world of hair care. For men looking for a multi-purpose product to simplify their showering routine, check out the company's Full & Thick 2-in-1 Shampoo & Conditioner, which is free of sulfates, parabens, silicones, and dyes.
First, let's talk about the scent. This shampoo and conditioner comes in Sea Salt & Cedar, which will remind you of a crisp day by the ocean. This fresh and masculine scent features notes of woody cedar, which are joined with the scent of refreshing sea salt.
The Full & Thick 2-in-1 Shampoo & Conditioner uses 10 impactful, thoughtfully chosen ingredients that cleanse and soften while promoting more voluminous hair. Conditioners derived from plant oils work to soften and moisturize the hair while amino acids provide strengthening properties. Citric acid also helps balance the pH levels of the shampoo and conditioner. To keep the formula fresh, food-grade salt is added to the formula to act as a preservative.
If you're not looking for a thickening boost, Native also offers a variety of other shampoo formulas in irresistible scents. Another multi-tasking product option is the Scalp Refreshing 2-in-1 Shampoo & Conditioner, which comes in the energizing and fresh Eucalyptus & Mint scent. You can also check out the Daily Clean Shampoo, which comes in the spicy and woodsy Citrus & Herbal Musk fragrance, or the Volumizing Shampoo, which is offered in crisp and clean Cucumber & Mint.
4. Floyd's 99 Barbershop Classic Shampoo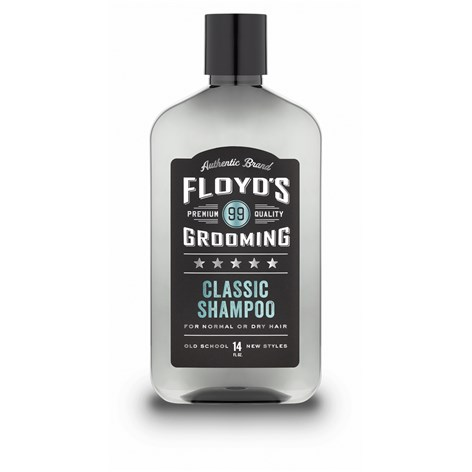 Floyd's 99 has old-school barbershops all across the US, but even if you don't live close to one of the locations, you can bring the expertise of the hair care company to your home with the Classic Shampoo. This daily shampoo is specifically made for normal and dry hair and is packed with ingredients that nourish the hair and scalp.
Many consider Floyd's 99 Barbershop Classic Shampoo to be one of the absolute best-smelling shampoos for men. It uses the company's exclusive scent blend: Black Walnut and Cedar. This clean, masculine scent invigorates the senses as you lather up. It lingers on your hair, leaving you feeling (and smelling) fresh all day long.
This shampoo is free of sulfates or parabens and works into a rich lather that washes away debris. While incredibly thorough, the lightweight formula will not strip your hair of its natural oils. It's effective yet mild and is even safe enough to use on color-treated hair.
The Classic Shampoo contains moringa oil, an anti-inflammatory oil that is packed with oleic acid, omega-3s, and other fatty acids. Moringa oil soothes the skin while also locking moisture into the hair and scalp. It protects the hair against stressors and improves manageability while boosting shine. Another key oil you'll find in this daily shampoo is jojoba oil. This oil nourishes the hair and scalp while boosting moisture for optimal hair health and growth. Additionally, this shampoo contains an antioxidant-rich vitamin complex, which protects the hair and scalp against pollutants and other environmental aggressors that can cause damage.
5. Oribe Signature Shampoo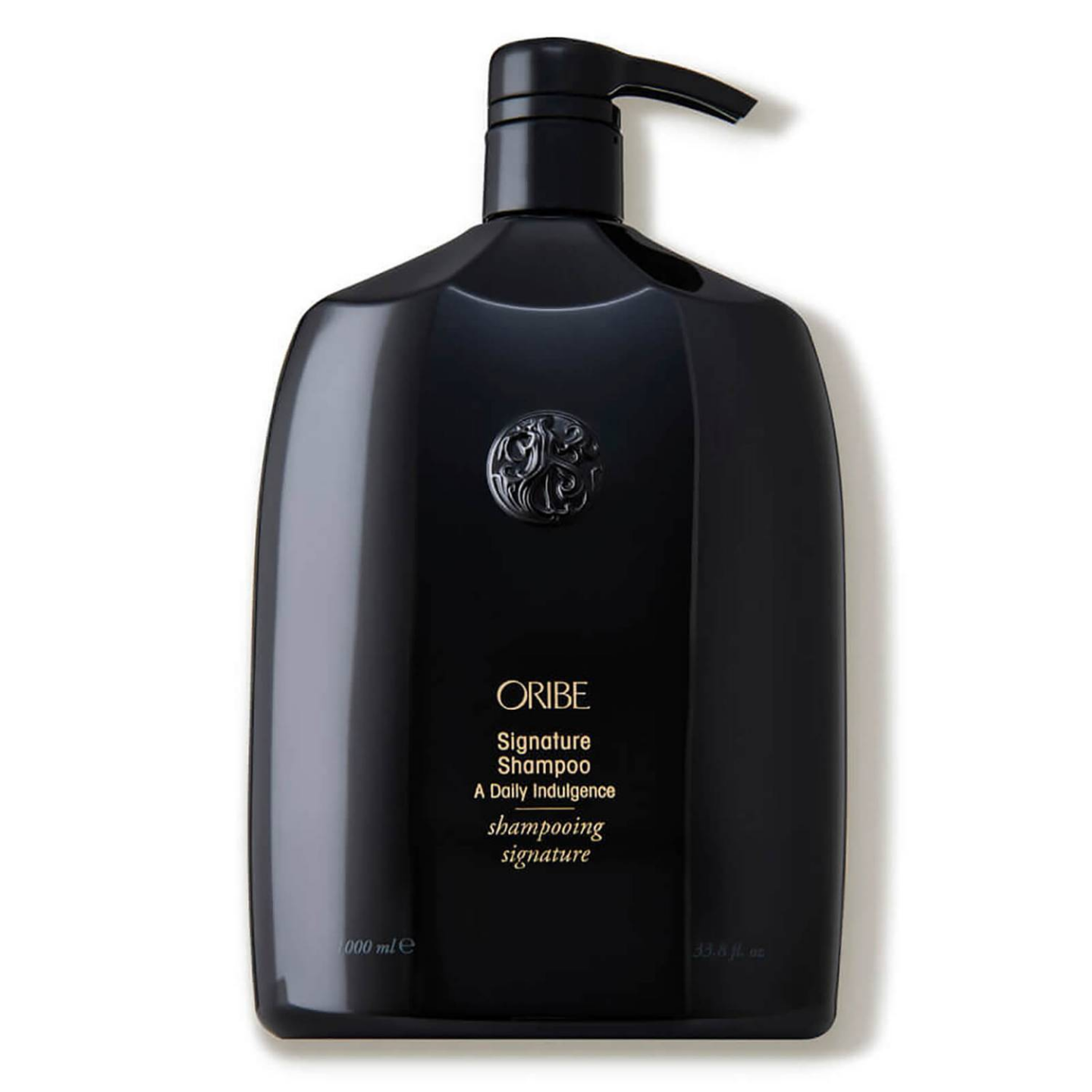 If you want to add some serious luxury to your showering routine and don't mind spending a little extra cash for it, you have to try the Signature Shampoo from Oribe. The award-winning, hairstylist-founded premium haircare company creates unique formulas with innovative ingredients that deliver impressive results for optimal hair and scalp health.
Oribe partnered with a French fragrance house to create the intoxicating scent of The Signature Shampoo. It features notes of Calabrian bergamot, sandalwood, and jasmine, which create a bright and fresh scent that will transport you to the sunny French Riviera. This shampoo is perfect for every man who wants to enjoy the scents of the summer all year long.
This unique fragrance is something to talk about, but we should also go over the formula. The Oribe Signature Shampoo gently cleanses without stripping away the hair's natural oils. It also boosts shine, repairs damage, and protects the hair. This luxury formula contains the company's signature complex—a blend of watermelon, lychee, and edelweiss flower. These ingredients defend the hair against damaging oxidative stress, environmental aggressors, and photoaging while preventing the deterioration of keratin—the hair's protein.
The formula also contains vegetable-derived humectants, which give the hair extra shine without making it feel heavy or greasy. Ginger root extract and hydrolyzed vegetable protein work to soften and strengthen the hair, improving its ability to protect itself against aggressors.
The Oribe Signature Shampoo is free of parabens, sulfates, and mineral oil and is vegan and cruelty-free. It's also suitable for all hair types, including hair that is color-treated.
6. Molton Brown Balancing Shampoo with Coriander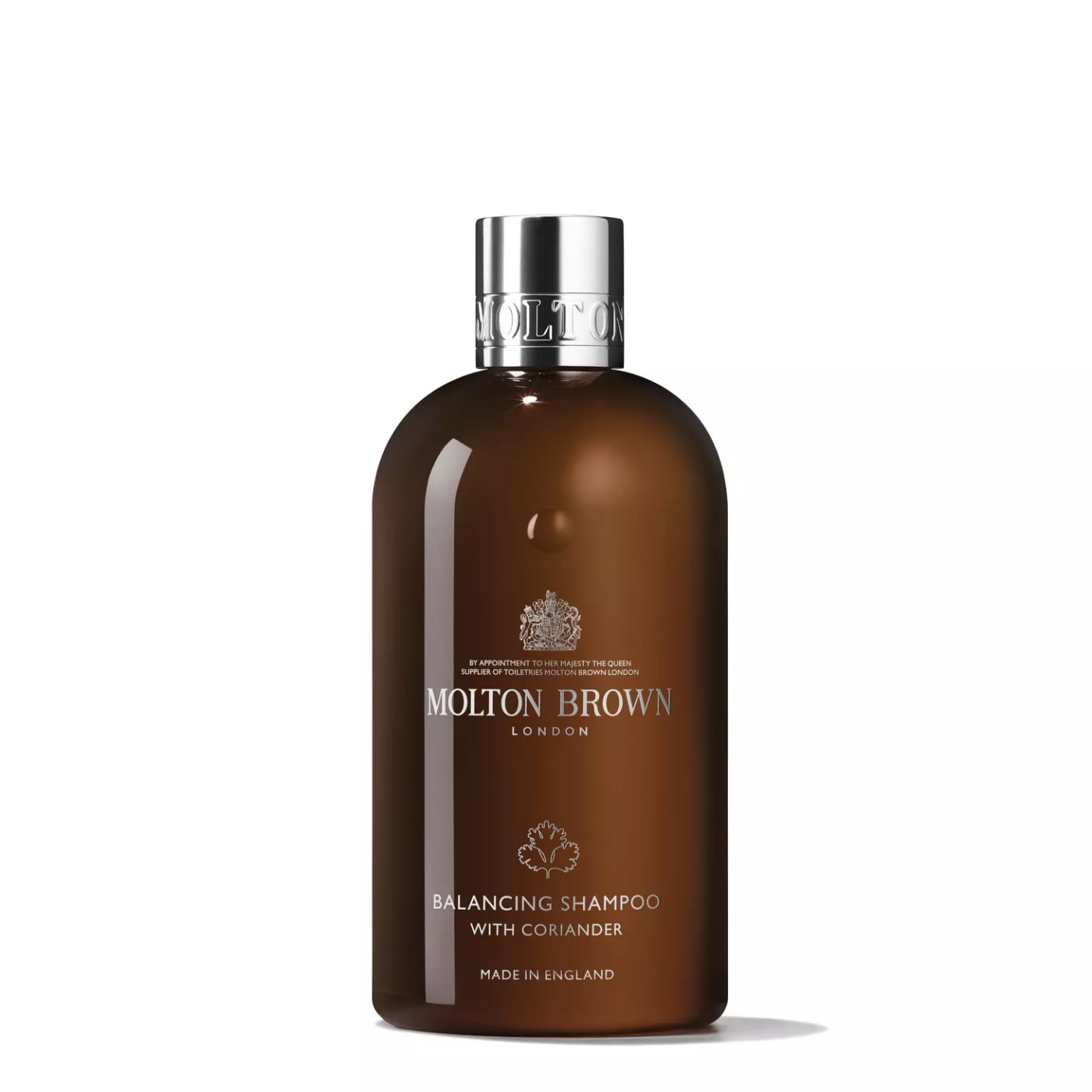 Molton Brown is a London-based premium personal care company that specializes in tantalizing and unique fragrances. The company brings its fragrance expertise into all of the products it offers, including its shampoos.
The Balancing Shampoo with Coriander has an enticing citrusy and woodsy scent that will make you look forward to your next shower. It has uplifting top notes of bergamot, grapefruit, and mandarin, mixing with heart notes of coriander, lavender, and rosemary. It is grounded by woodsy base notes of vetiver, musk, and sandalwood.
This men's shampoo from Molton Brown refreshes oily hair, so it's an excellent choice for any man struggling with greasy locks. It cleanses away excess oil without stripping the scalp of its natural moisture. Extract from the leaves of coriander—which is grown hydroponically in London's underground tunnels—nourishes and balances the hair and skin. The formula also contains zinc PCA, a powerful ingredient that keeps sebum production in check to prevent the buildup of excess oil—which means you can say goodbye to greasy hair.
At the same time, panthenol works to lock moisture into the hair for better shine while also strengthening the hair to defend against breakage. The Molton Brown Balancing Shampoo with Coriander is vegan and cruelty-free and made without parabens, phthalates, or silicones.
7. Scotch Porter Hydrating Hair Wash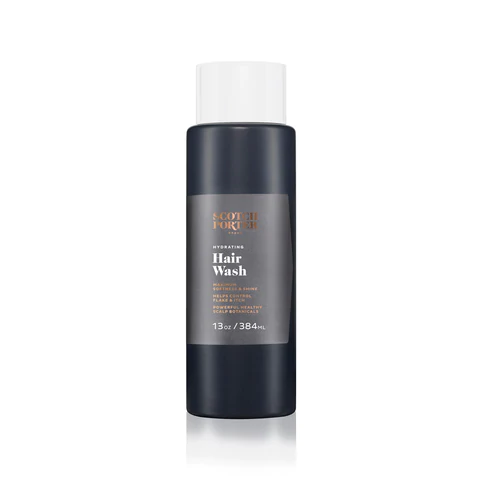 Men's grooming company Scotch Porter crafts affordable, highly effective products that are powered by natural ingredients, and free from harmful chemicals. The Scotch Porter Hydrating Hair Wash works to cleanse, hydrate, and refresh the hair while promoting a healthy and comfortable scalp.
This shampoo delivers some impressive results, but it's the scent that makes it stand out. So let's talk about it. This masculine, sophisticated, herbaceous shampoo has top notes of eucalyptus, lemon, bergamot, and cardamom, which are blended with heart notes of geranium, lavender, and muguet.
The base notes feature amber, patchouli, cedarwood, tonka, and musk. This complex and rich scent will linger on your hair until you are ready for your next shower. If you want to bolster the scent of this shampoo, you can also try out the company's Nourish & Repair Hair Conditioner, which comes in the same scent.
Now that we've talked about the scent, let's dive into how this shampoo performs. This formula is free of sulfates, parabens, phthalates, mineral oils, and synthetic colors and is also vegan and cruelty-free. It contains white willow bark extract, which gently exfoliates the scalp, working to remove buildup, excess oil, and dead skin cells on the skin to refresh and detoxify.
This extract clears the way for the other potent ingredients in the shampoo to dive in deep and improve overall hair and skin health. Hydrolyzed kale protein—which is packed with vitamins A, C, and E—nourishes, strengthens, and protects the hair and scalp. Antioxidant-rich horsetail extract also provides extra protection while improving scalp circulation, which enhances the health of hair follicles and boosts hair growth. This natural extract also defends against dandruff-related symptoms.
Nettle extract—which is rich in minerals like silica—improves hair growth while adding shine. This shampoo also contains panthenol and glycerin, which strengthen the hair and lock in moisture, as well as soothing and naturally moisturizing aloe barbadensis leaf juice.
8. V76 by Vaughn Hydrating Shampoo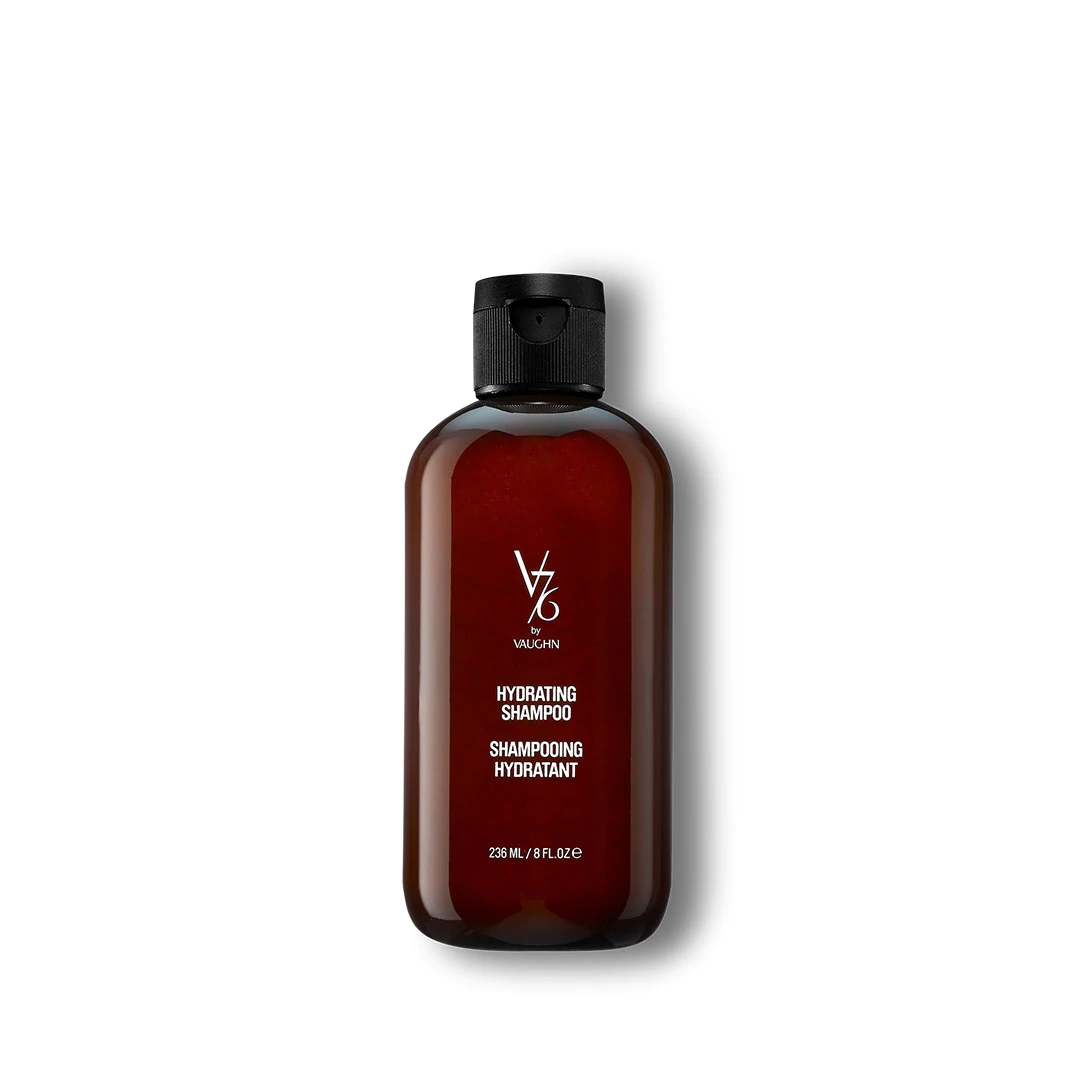 V76 by Vaughn was created by a leader in the men's grooming world who sought to offer must-have products that target a variety of different needs. The company's Hydrating Shampoo gives overworked, dry hair the moisture and care that it desperately craves—and it smells just as good as it works.
This shampoo is infused with the company's Blue Cedar fragrance, which is also found in a variety of other V76 by Vaughn grooming products. This soothing and woodsy scent features notes of nutmeg, coconut milk, violet, peach, moss, leather accord, and blue cedar tree. It has a classic masculine scent profile with a touch of elegance.
The V76 by Vaughn Hydrating Shampoo uses vitamin and mineral-rich, American-sourced ingredients and is free of sulfates, parabens, petroleum, or mineral oil. This thirst-quenching vegan and cruelty-free shampoo features almond butter to hydrate the hair and scalp while boosting elasticity. Antioxidant-rich vitamin E nourishes and protects the hair and also improves shine. Anti-inflammatory and antibacterial chamomile flower extract stimulates the hair follicles, calms irritation, and refreshes the skin while sage leaf extract enriches and protects the hair.
The impressive ingredient list doesn't stop there. This shampoo contains moisturizing and soothing aloe as well as glycerin and panthenol, which strengthen and improve the hair's ability to retain moisture. A variety of amino acids,including proline, alanine, and glycine, further protect and strengthen while witch hazel refreshes and soothes the skin.
9. Kick Active Tea Tree Shampoo for Men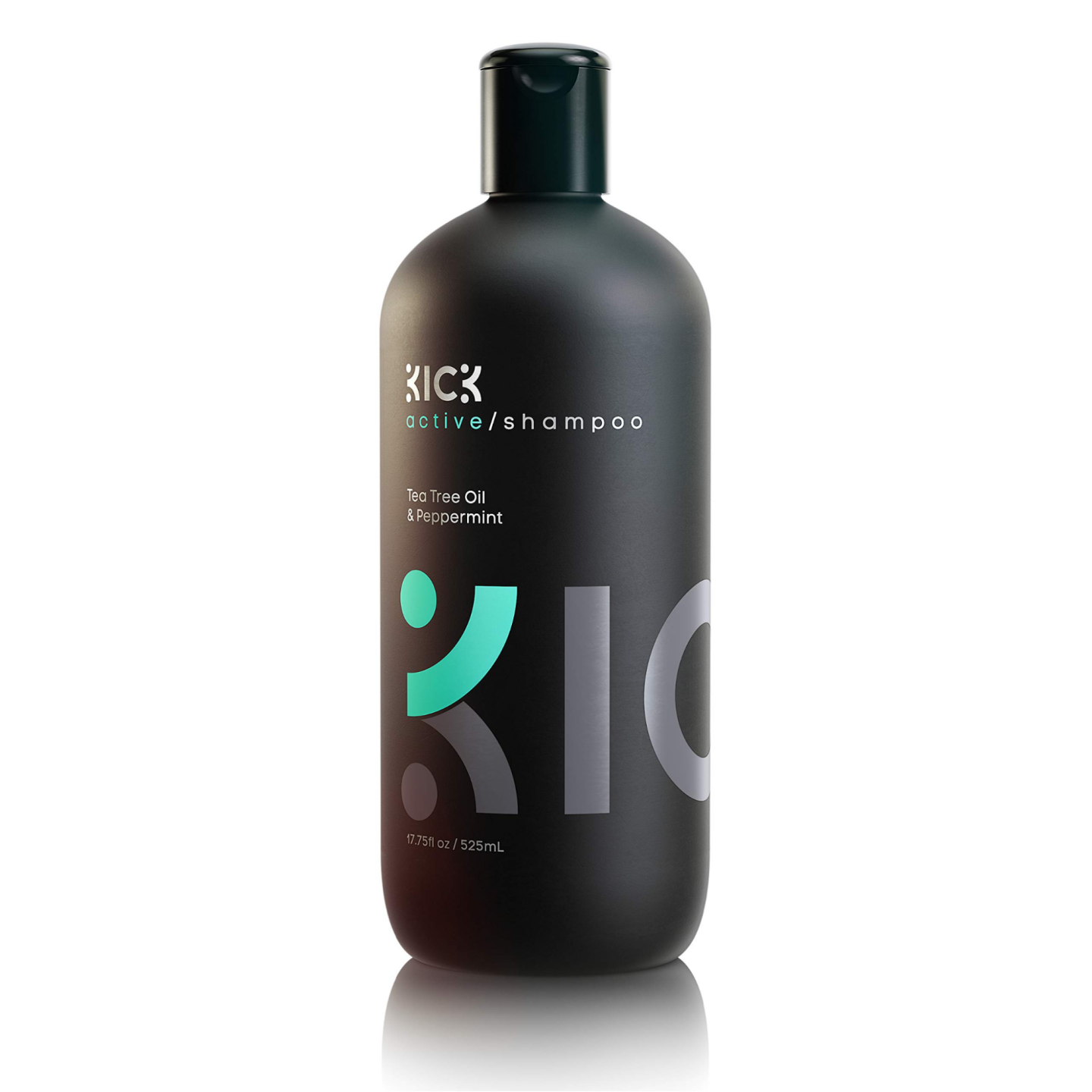 If you are looking for an invigorating and energizing shampoo, you'll want to try this option from Kick Active—a company dedicated to creating high-quality hair care products for men and women with active lifestyles. The Kick Active Tea Tree Shampoo combines 11 potent botanical ingredients that balance the skin, cut down on itchiness and irritation for a more comfortable scalp, moisturize, and promote fuller, thicker hair. It cuts through sweat, bacteria, and debris without causing any irritation or dryness on the scalp or hair.
This nature-forward shampoo relies on many of these active botanicals to create a refreshing, cool scent. Some of the key fragrant ingredients in this shampoo include tea tree oil, peppermint oil, lavender, eucalyptus, and rosemary. Your hair will be left smelling zingy and fresh all day long.
These natural ingredients don't just contribute to the scent—they also provide impressive benefits. Tea tree oil soothes itchiness and irritation while removing excess oil and buildup and fighting dandruff. Peppermint oil improves circulation to the scalp to promote the growth of strong and healthy hair. Lavender and eucalyptus calm the skin, fight against hair loss, boost shine, and improve overall hair health while rosemary encourages hair growth.
While these multi-tasking botanical ingredients improve hair health and add a fresh scent to this shampoo, other natural ingredients work to refresh and nourish. Aloe vera soothes the skin and moisturizes while fighting against dandruff, and lemongrass strengthens the hair follicles for improved hair strength. Witch hazel minimizes frizz while clarifying and calming the skin. The Kick Active Tea Tree Shampoo is free of sulfates, parabens, and other harsh chemicals and is also cruelty-free and safe for color-treated hair.
10. Duke Cannon News Anchor 2-in-1 Hair Wash, Cedarwood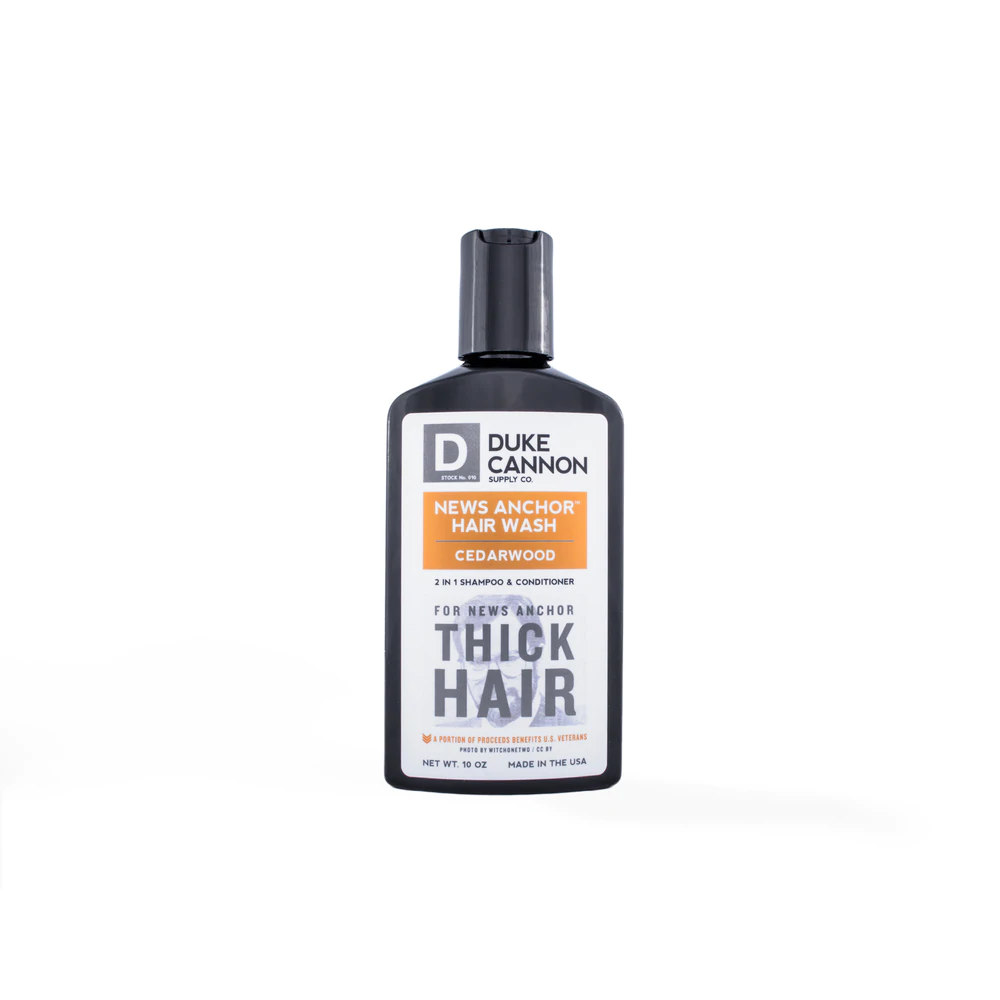 Men's personal care company Duke Cannon is famous for creating hair and body care products with masculine and rich fragrances. One of the best smelling shampoos that the company offers is the News Anchor 2-in-1 Hair Wash in the scent of cedarwood. This rich and earthy fragrance is perfect for any man who likes to spend his free time in the great outdoors. It combines notes of cedar with calming sandalwood and warm spices.
The paraben-free Duke Cannon News Anchor 2-in-1 Hair Wash uses ingredients that strengthen and hydrate the hair while washing away dirt and grime. It contains hydrolyzed rice and barley proteins to strengthen the hair to prevent breakage and hair loss. Larch tree extract works alongside these proteins to deeply hydrate the hair so that it is manageable and healthy. The formula also contains tea tree oil to soothe the skin while fighting bacteria and removing buildup. Menthol provides a cooling, tingling sensation that will energize you as you lather up.
While this cedarwood-scented shampoo is a favorite among customers, Duke Cannon also offers a variety of other scent options for any man—regardless of preference. You can check out the other 2-in-1 Hair Wash product, which is offered in a refreshing Tea Tree scent. Just like the Cedarwood option, this formula contains menthol for an invigorating clean with an uplifting scent. You can also try the company's shampoo pucks, which come in Gold Rush Fever, Field Mint, and Barrel Char No. 004.