The cannabinoid industry is evolving at an unprecedented rate. Leading brands are continually developing fresh products to satisfy their customers and set themselves apart from the crowd in what has become a saturated market.
One of the latest offerings to hit the shelves is THCA flower. It looks, tastes, and feels like regular cannabis but instead comes from legal hemp plants.
This article explains where to buy the best THCA flower online. But first, let's explore why THCA is becoming so popular.
What Is THCA?
THCA is a cannabinoid, one of the myriad active compounds produced by cannabis plants, including hemp. Its full name is tetrahydrocannabinolic acid, and it is closely related to tetrahydrocannabinol, better known as THC.
Most people have heard of THC as it is the primary intoxicating chemical in marijuana. Conversely, THCA does not have mind-altering effects. However, it does have some potential benefits, including anti-inflammatory and neuroprotective properties. 
Moreover, when THCA is heated (for example, by smoking or vaping), it converts into THC. Therefore, many people are now viewing THCA flower from legal hemp plants as a more accessible alternative to weed.
The Difference Between THC and THCA
In terms of chemistry, THC and THCA differ by just a few atoms. THC's molecular formula is C21H30O2, whereas THCA's is C22H30O4. As you can see, THCA has an additional carbon atom and two additional oxygen atoms. These form the basis for what is known as a carboxyl (COOH) group. 
When THCA is exposed to heat, the carboxyl group is removed, leaving behind regular THC and carbon dioxide. This reaction is known as decarboxylation, and it occurs automatically when someone smokes or vapes dry herb. However, when creating cannabis edibles, it is necessary to decarboxylate the buds separately first. This is because, when it comes to the effects of THC vs. THCA, only the former is psychoactive.
The other key difference is that THCA is now widely available, even in some states without medical or recreational cannabis laws. Although a few states have moved to ban THCA flower, it is still on sale in the majority of places. Let's look at how to choose the best product to suit your needs.
How to Choose the Best THCA Flower
Buying THCA flower online is preferable to brick-and-mortar stores for several reasons. The most obvious of these is convenience. You can order your favorite strain and have it delivered discreetly to your door in just a couple of days.
You will also find more variety online and be able to take your time researching each brand to see whether it meets your needs. You can browse strains and view lab reports to confirm that each item contains a decent level of THCA and does not exceed the legal THC limit of 0.3%.
However, the vast range of brands and products to choose from can make the experience overwhelming for some. That's why we have done the hard work for you and created this list of the best THCA flower suppliers around. Read on to see who came out on top.
Best THCA Flower: Our Top 5
If you are on a quest to find the best THCA flower online, you will have plenty of avenues to explore. If you would prefer to cruise through the sea of options with minimal effort, here are what we consider the top five brands:
1. Premium Jane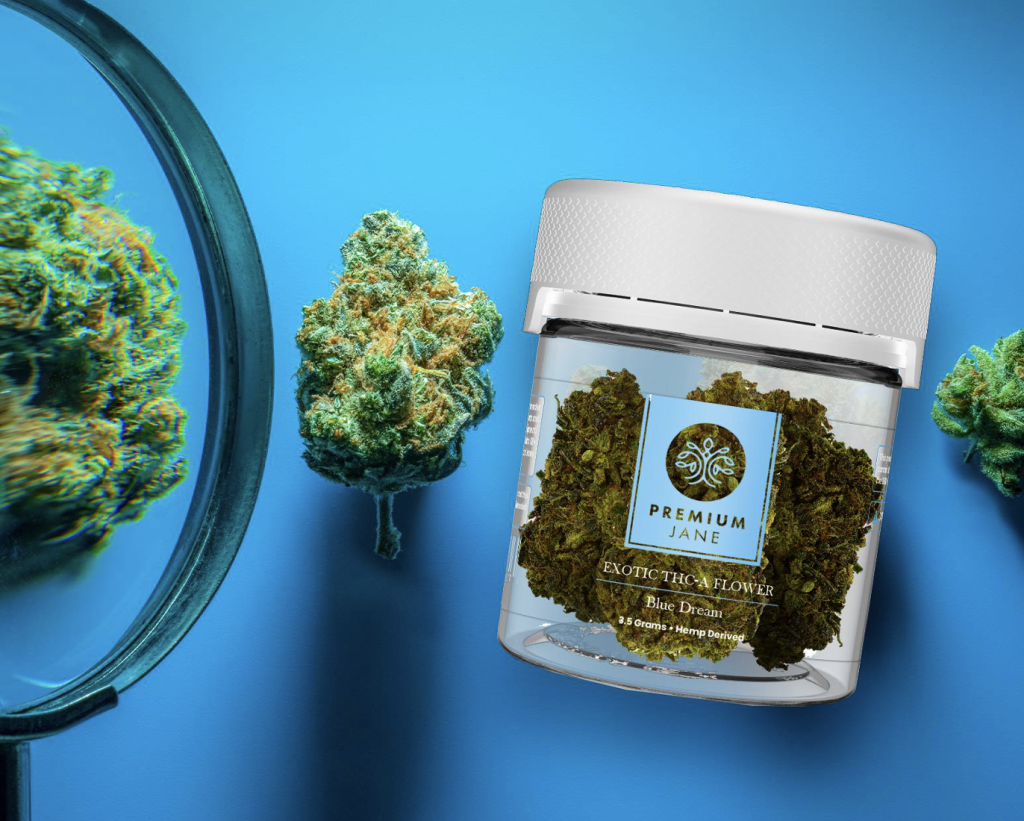 Premium Jane is well-known for selling top-quality CBD products and has recently expanded its range to include other cannabinoids. THCA flower is the latest addition, and it promises to be just as good as the brand's other offerings.
The company has kicked off its THCA venture with some classic strains, such as OG Kush, Purple Haze, and Blue Dream. Each one is lab-tested for potency and purity and contains around 27% THCA, making it one of the stronger products on the market.
Another thing we appreciate about Premium Jane is the amount of information it includes on its website, without being overly "salesy." With a new product like THCA, customers are bound to have questions and Premium Jane has covered all bases with its FAQ.
For these reasons, we have awarded our number one best THCA flower vendor slot to Premium Jane. Follow the link above to their easy-to-navigate site to find the perfect product for you. 
2. Secret Nature
Secret Nature's website makes the lofty claim that its THCA flower is "just as good as products found in medical dispensaries." We would normally be skeptical about such a bold statement, but everything we have seen from the brand leads us to believe it's true.
Secret Nature sells a selection of vapes and pre-rolls, but the star of the show is its THCA flower. It is available in over 20 varieties (although, at the time of writing, a few were out of stock), and they start from just $30 per 3.5g.
The products are organic, slow-cured, and hand-manicured for top-shelf quality. They are also third-party lab tested, although the results are a little challenging to find, being nestled right at the bottom of the page.
We think Secret Nature is truly worthy of the number 2 slot on our best THCA flower list. Visit the official Secret Nature site to see what they have on offer. 
3. Elyxr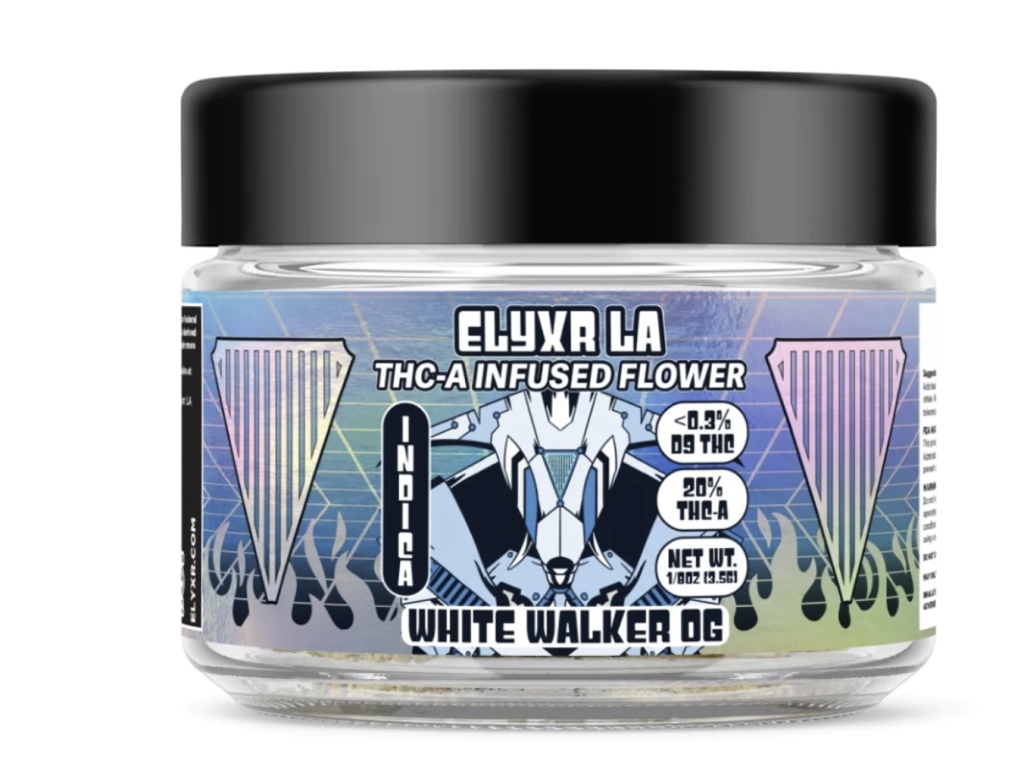 Elyxr is a bit of an outlier as it does not sell THCA flower as such. What it does offer is its THCA Diamond Dabs, a product containing a massive 99% THCA.
The product can be dabbed using a traditional rig or added to vapes or joints for an extra kick. We love the versatility of this product, as well as its potency. However, it is certainly one to approach with caution as it definitely packs a punch.
The dabs are available with the terpene profiles of several popular strains, including Lemon Jack, Platinum Cookies, and Blueberry OG. They come in packs containing 1g, 5g, 25g, or 100g and offer fantastic value as you only need to use a tiny amount each time.
The ingredients list is minimal, consisting of just THCA oil and cannabis-derived terpenes. Plus, the brand provides lab reports proving its dabs are pure and potent – the latest one shows a generous THCA content of 98.8%.
If you are a seasoned user looking for a powerful product, head over to the Elyxr site and check out their range. 
4. Diamond CBD
Diamond has been a frontrunner in the CBD industry for years and is now turning its hand to THCA products. It sells a range of vapes and gummies containing the cannabinoid, sometimes alongside other popular compounds like delta-8.
It currently has just one THCA flower option, a Papaya Indica THCA pre-roll. At 17%, it isn't the most potent product on the market, but it is very affordable and is a great option for anyone wanting to try THCA for the first time without making too much of an investment.
The brand includes lab reports for all its products, and there is an incredible variety to choose from on the website. We also love that there is plenty of information on THCA and what to expect when using it, something that many other sites are lacking.
Whether you want a great value product to experiment with or are looking for a unique selection that will have you coming back for more, check out the Diamond CBD website. You won't be disappointed!
5. Delta Extrax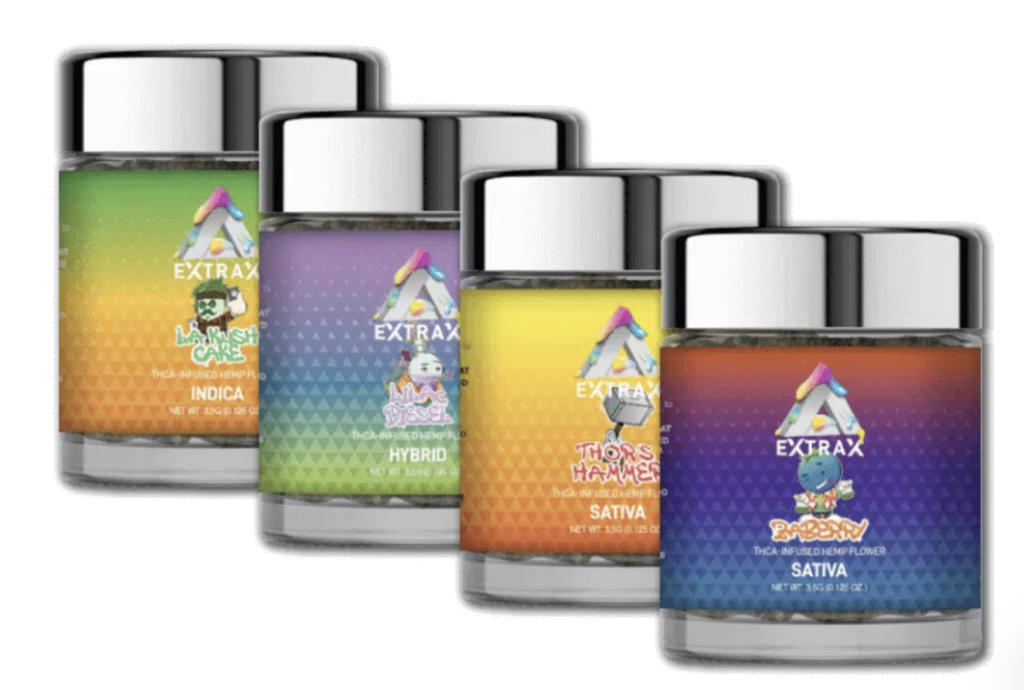 Delta Extrax offers THCA flower with a difference. It is infused with a variety of other cannabinoids, including CBD, CBD kief, delta-8, and THCP alongside THCA. This may not be a product for purists, but it does promise an unforgettable experience!
The lab reports show that it contains a generous 33.95% cannabinoids in total, making it one of the stronger products on the market. However, the addition of CBD means it is less likely to overwhelm than those containing THC alone.
There are a few different flavors to choose from, including LA Kush Cake, Lilac Diesel, Thor's Hammer, and Zaberry. The brand also offers a range of other THCA products, including vapes and gummies.
If you are looking for a blend of cannabinoids in one product, Delta Extrax could be for you. Head over to their site and see their entire range for yourself. 
What Are the Benefits of High THCA Flower?
There is little research on THCA's benefits, but they are likely to be similar to those of regular THC since they are so closely related.
Some of THC's best-known therapeutic effects include relieving chronic pain, spasticity, and chemotherapy-related nausea and vomiting. It may also help with a wide variety of other physical and psychological conditions. 
People also enjoy THC recreationally, and when decarboxylated, THCA has similar effects. However, it has the added benefit of being more widely available, as it comes from legal hemp plants. Therefore, it is a great alternative to THC products for consumers in areas without medical or adult-use cannabis laws.
Final Thoughts on the Best THCA Flower
THCA hemp flower is a brand-new product that is set to revolutionize the cannabinoid industry. It offers an experience much like that of regular marijuana but without the legal complications.
However, when buying THCA flower, it is essential to choose a brand with safe and effective products. The best way to guarantee this is to consider their reputation and history, as well as features like lab testing.
In our round-up, Premium Jane was a clear winner, followed closely by Secret Nature, Elyxr, Diamond CBD, and Delta Extrax. Stick with one of these brands, and you won't go far wrong. Whichever you choose, go low and slow with dosing until you know how the product affects you, and always use THCA responsibly.