As laid back as Palm Springs is, the area is always hopping with activities. Indeed, the city is currently abuzz as it undergoes a redevelopment. On the horizon are new hotels, including Arrive and Kimpton's Hotel Palomar, along with the debut of restaurants such as Dish Creative Cuisine and Sandfish Sushi & Whiskey Bar, not to mention shopping upgrades via a renovation of Desert Fashion Plaza.
Also new to the scene is Palm Springs Art Museum's Architecture and Design Center, the Edwards Harris Pavilion. Its November 9 opening also kicks off An Eloquent Modernist: E. Stewart Williams, featuring designs by the architect behind the 1961-built structure that now houses the museum.
Among seasonal events not to be missed is the annual Palm Springs Festival of Lights Parade on December 6, with Real Housewives of Beverly Hills star Lisa Vanderpump serving as grand marshal. Next up, on December 11, is the yearly Walking Tour of the Inns. Free maps and flashlights for the self-guided tour are provided at the Palm Springs Art Museum at 101 Museum Way. The route encompasses myriad historic and mid-century hotels and inns. Some to catch: Casa Cody, Old Ranch Inn, Orbit In, Korakia Pensione, and Calla Lily Inn.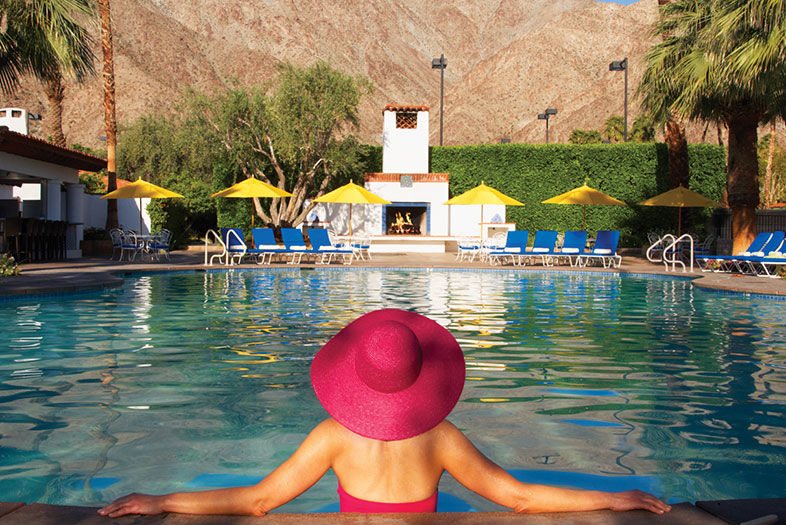 La Quinta Resort
La Quinta Resort
Golf, art, and the great outdoors are just some of the lures of La Quinta. And where better to host the PGA Tour's Humana Challenge Golf Tournament than the city Robb Report named as the "Best Place to Live for Golf"? From January 19 through 25, 156 golf pros descend upon the Arnold Palmer Private Course at PGA West (host course), the Jack Nicklaus Private Course at PGA West, and La Quinta Country Club. Inspired by the action? Visitors have plenty of choices for honing their own skills on the fairways of La Quinta's 20 golf courses.
The area's perfect weather is also why art can be found outside museum walls in La Quinta. Not only does the city have a robust Art in Public Places program, it hosts the renowned La Quinta Arts Festival, ranked the #1 Fine Art Festival and #1 Fine Craft Festival in the nation by Art Fair SourceBook. In its 33rd year, the festival will take place March 5–8 on La Quinta Civic Center Campus.
Swept away by the landscape? There's year-round hiking, biking, and outdoor recreation in La Quinta, which has been dubbed Coachella Valley's "Fit City." Treks recently rated in the top five by Sunset magazine: La Quinta Cove's 2.5-mile, Boo Hoff Trail's 7.5-mile, and Bear Creek Oasis' 2.4-mile one-way hikes.
Moving into the new year with a multimillion-dollar restoration, La Quinta Resort & Club, A Waldorf Astoria Resort, has complemented its classic status with modern facelifts to its 620 guest casitas. Veritable homes away from home, the Smith & Firestone–designed accommodations reflect desert hues with upgraded fireplaces and amenities. A definite lure: the Starlight Casita patios, where new fire features and patio furniture share a backdrop of the Santa Rosa Mountains.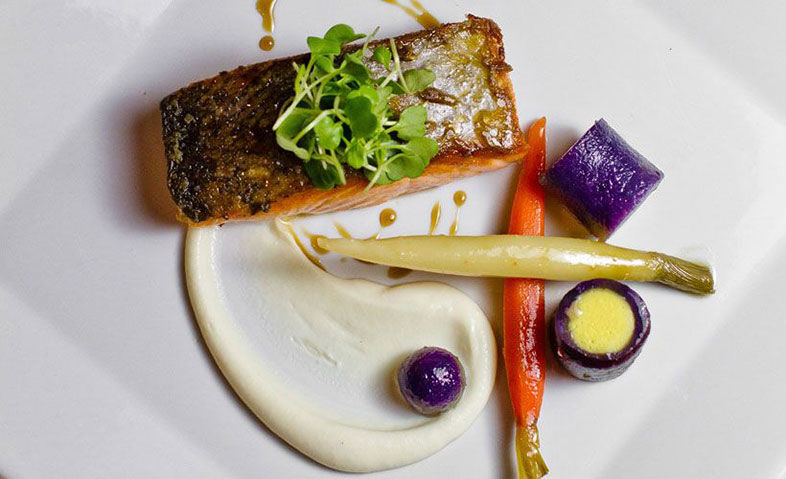 Dish Creative Cuisine
Dish Creative Cuisine
Following on the casitas' heels are redesigns of the 98 villas, suites, main lobby, and public spaces. Getting its due as well is the 1926-established resort's pool experience. The 41 pools and hot spas will receive new decking, contemporary shade structures, and water temperature regulators.
La Quinta's 45 acres of desert landscape, lush with added bougainvillea, roses, and citrus trees, are ready for reveling in. Also taking advantage of the flora is Spa La Quinta, with an artisanal product line and spa treatments that make use of indigenous ingredients. Scrubs, bath salts, creams, and oils using citrus from the property are made in conjunction with the Utah-based company Salt of the Earth.
Just right for partaking in these potions are the La Quinta Signature Smash and Junior Spa Citrus Fruit Punch Scrub treatments. Where best to recline afterward? In a courtyard replete with Celestial Showers, fireplace, outdoor fountain, and cooling mist system. Adding ambience, as always: the brilliant rays of the desert sun.