Food Fests
Plan your trip around one of Hawai'i's amazing food festivals, each a unique celebration of fresh local ingredients and island culture. The eighth annual Hawai'i Food & Wine Festival, running from October 6 through 28 on Maui, Hawai'i Island, and O'ahu, features more than 100 internationally renowned master chefs, culinary personalities, plus wine and spirits producers. Dinners, tastings, demos, and excursions offer dishes highlighting Hawai'i's local produce, seafood, beef, and poultry, while proceeds support local sustainability, and cultural and educational programs.
Hawai'i's oldest culinary festival, the Kona Coffee Cultural Festival, runs November 9 through 18 on Hawai'i Island. It celebrates the nearly 200-year history of this legendary harvest with art, music, food, and cultural events.
Head to historic Hanapēpē for the Kaua'i Chocolate & Coffee Festival, which takes place October 19 and 20. This street fair features samplings, educational displays and workshops, farm tours, entertainment, and activities for kids.
To Market
The infinite variety of offerings from Hawai'i's farms, waters, and food-makers is on display at colorful farmers markets. Go early, grab fresh coffee, and "talk story" with farmers, fishermen, and artisanal food producers. Mingle with locals, hear live music, pick up island-made gifts, and shop for a picnic lunch to enjoy at the beach.
On O'ahu, KCC Farmers Market, minutes from Waikīkī on the slopes of Diamond Head, is open Saturdays from 7:30 to 11 a.m. and Tuesdays 4 to 7 p.m.; Kaua'i Community Market at Kaua'i Community College in Puhi is open Saturdays from 9:30 a.m. to 1 p.m.; Maku'u Farmers Market in Puna on Hawai'i Island is open Sundays from 8 a.m. to 2 p.m.; and Maui's Upcountry Farmers Market, off Highway 37 at Kulamalu Town Center, is open Saturdays from 7 to 11 a.m.
Ono-Licious Eats
New eateries and dining experiences pop up all the time, reflecting Hawai'i's dynamic restaurant scene and inventive chefs. Our Place Kaua'i in Kapa'a creates gorgeous and delicious vegan dishes with Kaua'i-only ingredients and is committed to a sustainable business model.
On Maui, Chef Roy Yamaguchi opened Humble Market Kitchen, a name inspired by his grandfather's value of humility. The menu features dishes rooted in Hawai'i's plantation days prepared with innovative flavors and twists on island classics.
In Waikīkī, Sundays and mimosas go hand-in-hand at Mahina Brunch, the new poolside experience from Chef Ed Kenney's Mahina & Sun's celebrated restaurant at Surfjack Hotel & Swim Club.
O'ahu's massive (and the world's largest) open-air shopping center just welcomed an exciting new foodie destination, Lanai @ Ala Moana Center, where you can enjoy some local favorites and eateries new to Hawai'i, like Ahi & Vegetable, BRUG, Mahaloha Burger, and Sobaya.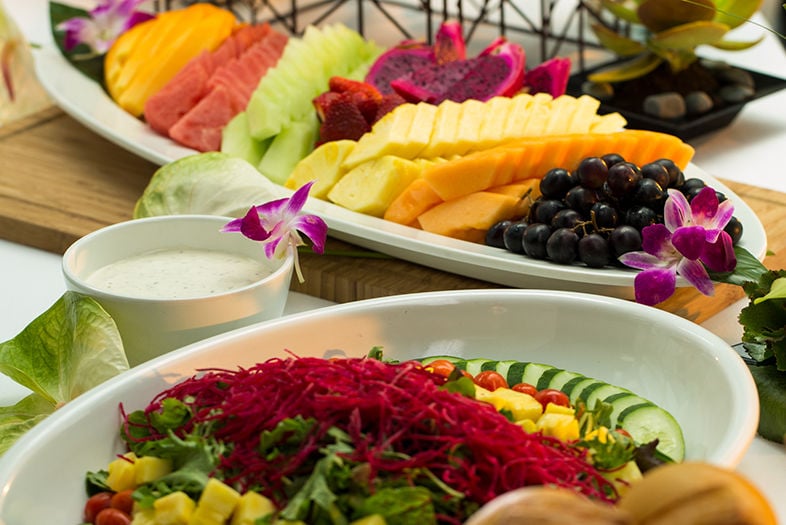 Island Brews
Kohola Brewery (Maui), Big Island Brewhaus (Hawai'i Island), and Honolulu Beerworks (O'ahu) are among Hawai'i's ever-growing collection of craft breweries serving beer brewed on the premises and great food.
Farm Fresh
Visit Surfing Goat Dairy, award-winning cheesemakers located in Upcountry Maui on the slopes of Haleakalā. You can take the 3:30 p.m. Evening Chores & Milking tour and then drive to the volcano summit for an epic sunset.
On O'ahu's North Shore, don't miss Na Mea Kupono Taro Farm, where you'll learn all about this beloved ancestral crop and the Hawaiian concept of aloha 'āina (love for the land). Work in the loi (taro pond), sample taro products, and even enjoy hula, Hawaiian song, storytelling, crafts, and games.
On Kaua'i, the Chocolate Farm Tour at Steelgrass Farm will teach you everything you need to know about branch-to-bar chocolate production and includes tastings of fresh tropical fruits and farm-produced chocolate and honey.