The Salk Institute is exploring the overlap between the art of cooking and the science of nutrition in an inaugural wellness event that's certain to please palates: "The Art & Science of Cuisine."
Guests will have the opportunity to meet some of San Diego's most talented and freshest-thinking chefs—and sample their recipes at tasting stations.
Ready to dish are: Nathan Coulon, renowned executive chef of True Food Kitchen; Isabel Cruz, innovative cookbook author and owner of Isabel's Cantina and Barrio Star; Deborah Szekely, wellness advocate and co-founder of the iconic Rancho La Puerta and Golden Door spas; and Su-Mei Yu, owner of popular Saffron restaurant and host of TV's Savor San Diego.
Creative mixologists from San Diego's Snake Oil Cocktail Company will also be present, using seasonal ingredients to serve custom-blended drinks.
As a complement to the evening's fare, Salk scientists will share of-the-moment, data-based research on how dietary changes can stave off illness and prolong a vibrant lifestyle. Guests can even learn how these in-the-know researchers have changed their own habits for healthful living.
"The Art & Science of Cuisine" is an event designed to inform, to inspire and to usher in a new year of wellness for you and your family.
Salk Institute
10010 N Torrey Pines Rd
La Jolla, CA 92037
January 22, 2014
6:00 – 8:00 p.m.
Tickets are $100, visit here to purchase.
Photos courtesy of the Salk Institute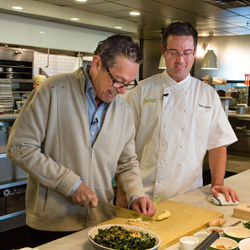 Joe Belcovson