Sure, you come to Hawai'i for the warm embrace of tropical sunshine, for the cerulean sea, for the clean air, for the lovely view from that hike or the thrill of catching a wave on your rented longboard. But it gets dark early in the islands, and after a nice meal you might find yourself wondering how to pack some culture into those evening hours. We've got the solution.
Hawai'i, it turns out, is a mecca for cinema. And we're not talking typical multiplex fare. What sets Hawai'i apart is its vibrant film-festival scene, offering hard-to-find films, world premieres, and other cinematic gems to light up your Hawaiian nights.
HIFF
The granddaddy of all the island fests is the Hawai'i International Film Festival, run by executive director Robert Lambeth and curated by globe-trotting programmer extraordinaire Anderson Le. HIFF unspools its 34th installment over 10 days this fall, bringing to O'ahu more than 200 films from around the globe, but especially from Asia. Le spends much of his time bounding from festival to festival throughout Asia in search of films that might never otherwise get a showing in the States.
Hawai'i's demographics and geographic position equidistant from Asia and the mainland U.S. make it the natural venue for such a meeting of cultures, but it's hard not to be amazed at the sheer diversity of films on display, from meditative Japanese dramas to Korean horror films to an unknown zero-budgeter from an obscure island nation. Every year, HIFF also features a Made-in-Hawai'i program, highlighting the year's locally produced features and short films.
HIFF is very popular with locals, and the ticket lines stretch to the street at the Dole Cannery Theaters, the downtown multiplex that has hosted HIFF for the past decade. But there's always something to see. It's the magic of this festival that if you can't grab a seat for the latest Zhang Yimou epic, you might find yourself unexpectedly transported to another part of the world by a tiny film you would never otherwise have encountered. It's an alluring proposition—enough so that, until he passed away in 2013, Roger Ebert hardly ever missed a year.
What: The 34th annual Hawaii International Film Festival
Where: Regal Dole Cannery 18, Honolulu (with a scaled-down reprise on the Big Island and Kaua'i)
When: October 30–November 9, 2014 (November 13–16 on the neighbor islands)
Maui Film Festival
If HIFF is the overachiever in Hawai'i's festival 'ohana, the Maui Film Festival is the beautiful sibling that attracts attention effortlessly. Unfolding mostly outdoors in splendid Wailea on Maui's Gold Coast, the Maui Film Festival offers an eclectic collection of films from the U.S., Europe and elsewhere, with an informal penchant for crowd-pleasers, environmental-themed docs, and surf films.
At the festival's signature screen, the Celestial Cinema, local indies unspool on equal terms with Hollywood rom-coms, and large crowds take it all in under starry skies on a gorgeous grassy hillside. For an outdoor venue, projection and sound are top-notch. The only thing that gets in the way of enjoying the movie is the distraction of the sparkling night sky.
Maui has little trouble enticing celebrities to hop a jet to accept an award and a few days in paradise, so the star quotient is higher than at any other Hawai'i festival. This year, attendees rubbed elbows with Evan Rachel Wood, Emma Roberts, and Twelve Years A Slave's Oscar-winning Lupita Nyong'o. Previous-year honorees include William Hurt, Elizabeth Banks, Willie Nelson, Jake Gyllenhaal, Jessica Chastain, and  Clint Eastwood.
Festival founder Barry Rivers wisely knew that with such a glorious environment, popcorn wouldn't be enough. So the Maui Film Festival happens in conjunction with Taste of Wailea, where Hawai'i's top chefs—including Alan Wong, Bev Gannon, and Peter Merriman—bring culinary sophistication to the green slopes of Haleakala. Festival attendees sample sophisticated fare on white-clothed tables while the sun sets over Kaho'olawe.
What: The 16th annual Maui Film Festival
Where: Wailea, Maui, and the Maui Arts & Cultural Center in Kahului
When: June 2015 (dates TBA at time of publication)
Big Island Film Festival
Cinematically, the Big Island Film Festival is the younger brother to HIFF and Maui. Like Maui, BIFF favors screenings under the stars, in this case at the Fairmont Orchid Resort in Kohala. Screening about 50 films each year, BIFF shows a selection of the year's international, independent offerings, with a special emphasis on Hawai'i–Pacific cinema.
Not as star-studded as Maui or as comprehensive as HIFF, BIFF's charm is its ruggedly independent spirit, which includes keeping the cost of attendance low. Throughout the five-day program, there are many free screenings and opportunities to mingle with sun-struck filmmakers from around the world. Celebrating its 10th year in 2015, the Big Island Film Festival has a low-key, friendly vibe all its own.
What: The 10th annual Big Island Film Festival
Where: The Fairmont Orchid, Kohala, Hawai'i
When: May 21–25, 2015
Lana'i Film Festival
You'll have to wait till 2016 to attend the new documentary film festival announced by Lana'i's billionaire landlord, Larry Ellison, but in the meantime, the pineapple isle offers up a locally grown film and music festival every year in February, a jolt of culture and celebration for an island with a population of only 3,000.
Organized by Maui impresario Ken Burgmaier—who also hosts a festival in Hana and, when possible, an event on Moloka'i—the Lana'i Film Festival takes place at the Four Seasons Lodge at Koele in February.
What: The Lana'i Film Festival
Where: The Lodge at Koele, Lana'i
When: February 9–10, 2015
Kaua'i
If you find yourself on the Garden Isle in November, keep your eyes peeled for the traveling version of the Hawai'i International Film Festival, which brings the most popular selections from the October festival on O'ahu to the Garden Isle.
When: November 13–16, 2014
Moloka'i
On Moloka'i, filmgoing options are limited. Keep your fingers crossed for the return of the Moloka'i Film Festival. In the meantime, consider renting the historical epic Moloka'i, starring David Wenham, Peter O'Toole, and Kris Kristofferson, examining the island's history.
Specialty Fests
Film is going strong on O'ahu, with a wide range of specialty cinema catering to the island's larger population. The Honolulu Rainbow Film Festival brings the best of LGBT-themed films to the Doris Duke Theater at the Honolulu Museum of Art. In conjunction with HIFF, Eurocinema Hawai'i brings the Continent to the islands each year, functioning as sort of a festival-within-a-festival, turning the focus to Europe as HIFF dominates in the Asian cinema realm. In any given year, O'ahu may be host to a Jewish Film Festival, CinemaItaliano, and a homegrown short film festival created by and for Hawai'i-based filmmakers, called 'Ohina.
While surf and sun are certainly the raisons d'etre of a Hawaiian vacation, the sounds and lights of the silver screen can provide more points of entry to the rich mix of cultures that makes Hawai'i more than just another
tropical destination.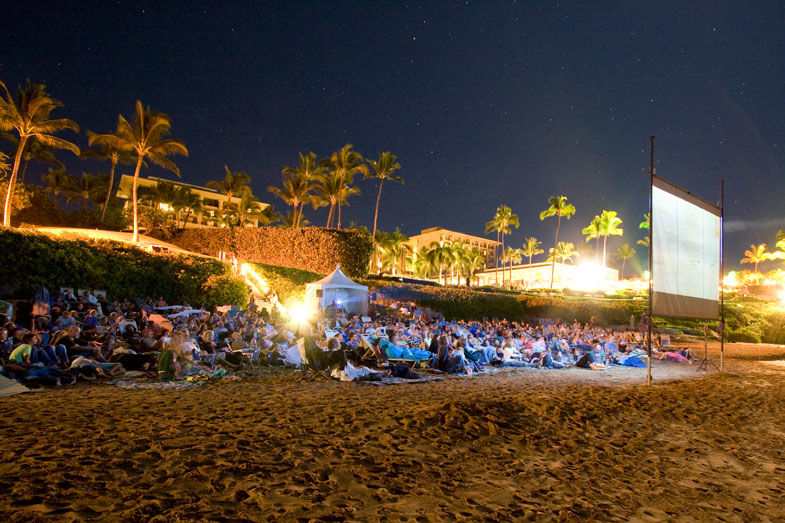 unknown