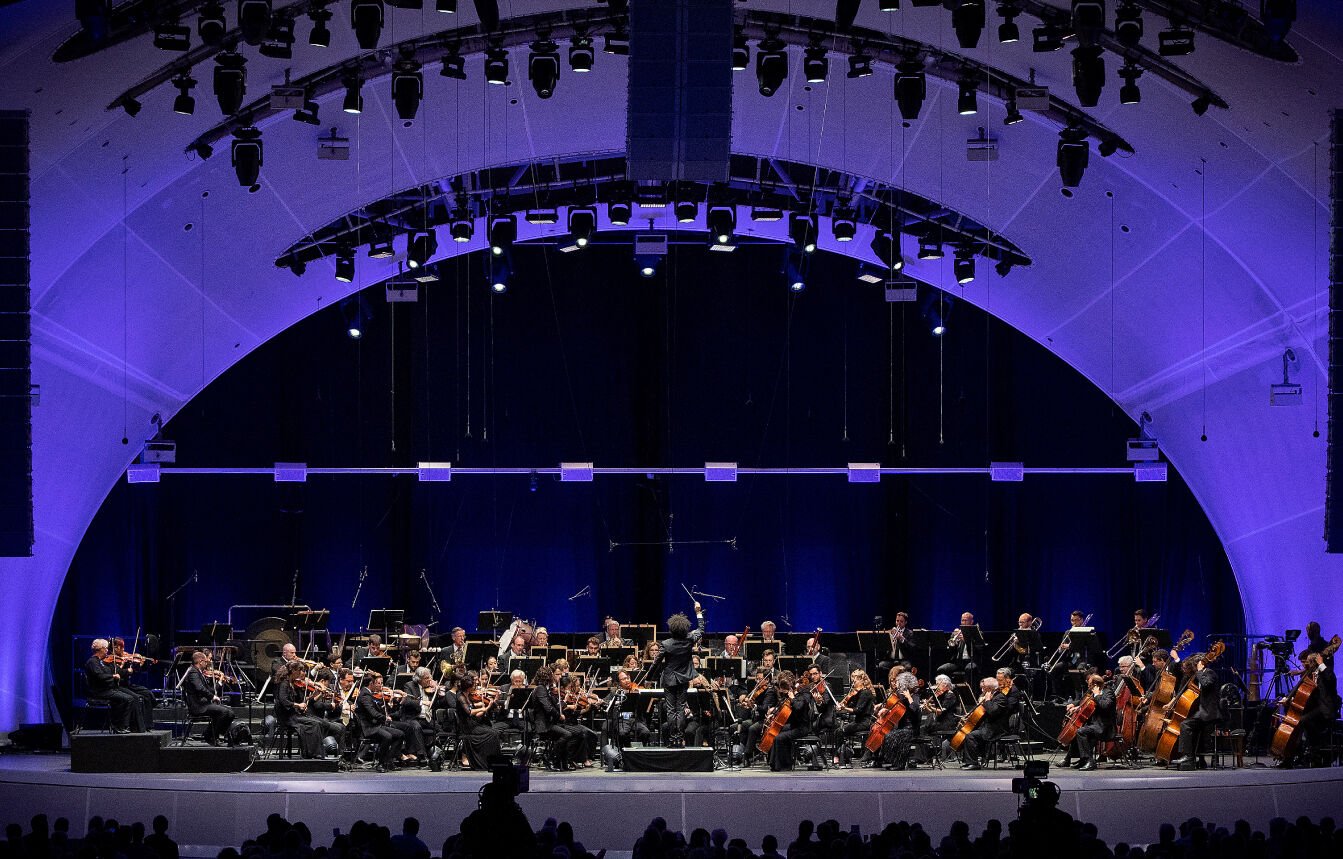 Courtesy of The Rady Shell at Jacobs Park
August 2-6
Tiki Oasis
Exploring anything and everything Tiki-themed, this massive annual event at Town and Country Resort is the largest Tiki event in the world. Prepare for five nights and four days of live music, pool lounging, fashion shows and more. Plus, there will be a weekend tiki marketplace with more than 150 unique artists and vendors, along with art exhibits and plenty of tropical cocktails. There are several ticket options with single and multi-day tickets still available, plus the Tiki marketplace will be free and open to the public. | 500 Hotel Circle North, Mission Valley
August 3
Danny Elfman From Boingo to Batman to Big Mess and Beyond!
Acclaimed film composer Danny Elfman, the award-winning musician known for scoring cinematic classics like The Nightmare Before Christmas to the iconic television theme for The Simpsons, will be performing at North Island Credit Union Amphitheater this Thursday. Elfman will be joined by his band along with the orchestra and choir who joined him for his 2022 performance at Coachella. Elfman's tunes will be paired with movie visuals on the big screen to immerse audiences in his symphonic movie magic. | 2050 Entertainment Circle, Chula Vista
August 4
Beethoven by the Bay
Beethoven by the Bay takes place on August 4 this year. The annual concert at the Rady Shell at Jacobs Park is led by the San Diego Symphony Orchestra who will be performing music from the legendary composer Ludwig van Beethoven during a night on the bay. This Friday, the symphony, led by conductor Johann Stuckenbruck, will play Beethoven's Piano Concerto No. 4 joined by soloist Eric Lu, along with "Symphony No. 3 Eroica" and "Overture to Fidelio" in this classical performance on the coast. | 222 Marina Park Way, Embarcadero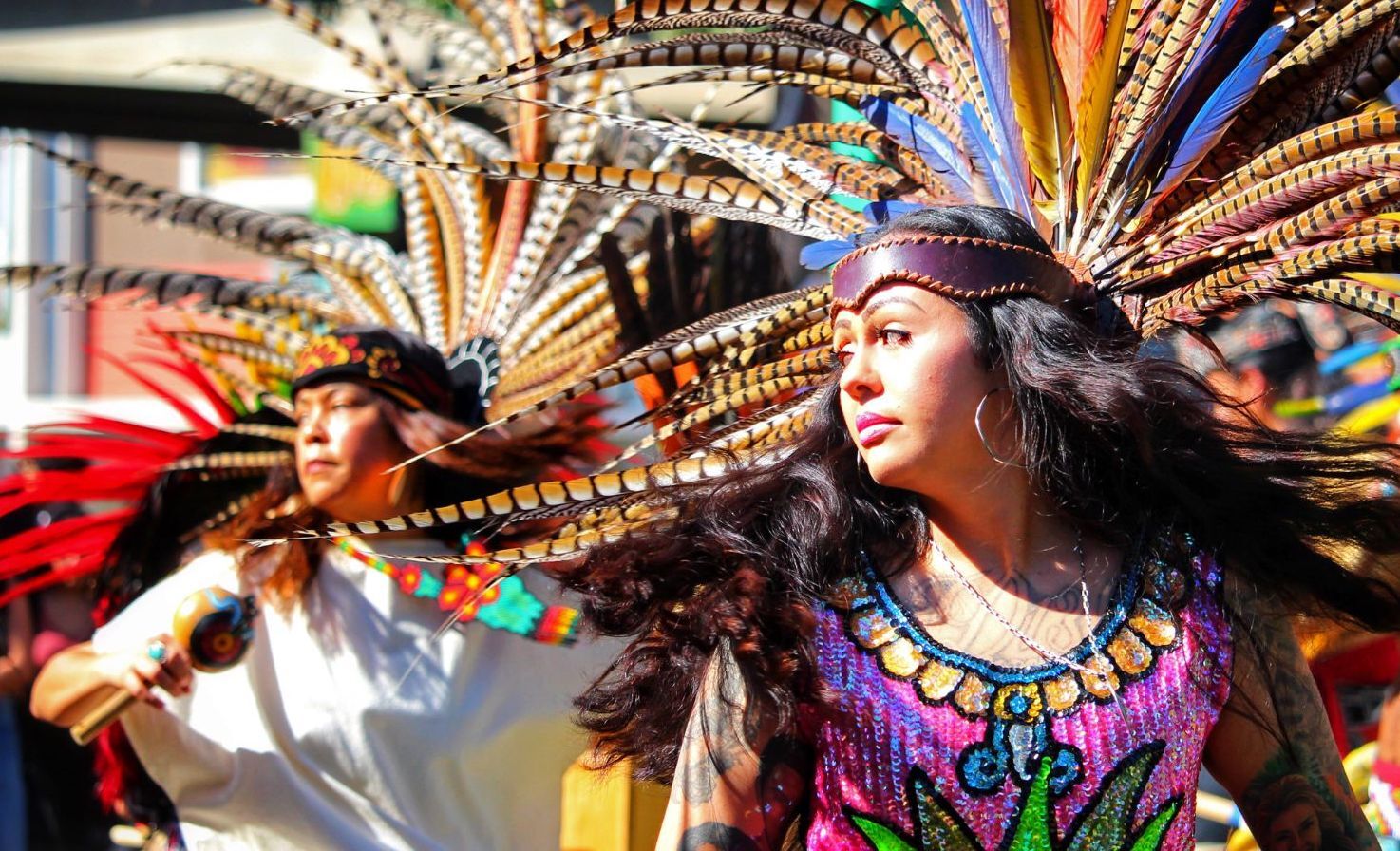 Courtesy of Latin American Festival
August 4-6
Latin American Festival & Mata Ortiz Pottery Market – 2023
Old Town market Bazaar del Mundo Shops will host three days of folk art, food and entertainment during its annual Latin American Festival and Mata Ortiz Pottery Market this Friday through Sunday. The marketplace will be showcasing ancestral Mata Ortiz pottery, artisan jewelry, Mexican clothing and textiles and a performance from Latin American folk band TINKU. Plus, several artists hailing from Mexico, Guatemala, Ecuador and throughout Latin America will have their folk art on display along with wood carving, textile weaving and painting demonstrations on display from the visiting artists. | 4133 Taylor Street, Old Town
My Yard Live Beer Co. 4 Year Anniversary Soiree!
A community spot that's part brewery, restaurant and venue all wrapped-up in one, My Yard Live Beer Co. will be celebrating its 4th anniversary with a special soiree that includes a full slate of weekend events. The fun begins Friday night with two dueling pianos events at 5:30 p.m. and 7:30 p.m. followed by a performance from North County band FreeMartin from 6 p.m. to 9 p.m. The festivities will finish off Sunday with live music all afternoon long plus a cornhole tournament and a new beer release from 4DUDESBREW. There will be food and drink specials all weekend long, and reservations are recommended for Friday and Saturday's events. | 288 Rancheros Drive, San Marcos
August 5
Mesa Agrícola Kaiseki Dinner Ft. Chef Reese Murakami
At Vino Carta Solana Beach, Chef Juan Gonzalez of Mesa Agrícola will team up with Chef Reese Murakami on a Japanese kaiseki seven-course dinner menu. This meal will feature local seafood and summer produce with a seasonal menu that boasts scallop, as well as street corn, stone fruit mole and much more. The dinner costs $120 per person plus tax, plus optional wine pairings are available for an additional cost of $40+ per person. There will be one seating at 6 p.m. and reservations are required. | 437 Highway 101, Solana Beach
August 5-6
Heiva San Diego
Heiva San Diego celebrates its 13th year as this Tahitian community celebration honors the cultural connection between French Polynesia and the United States. This Saturday and Sunday at the Junior Seau Oceanside Pier Amphitheater, the festival will include a beauty pageant, music and dance performances, fashion shows and more. General admission tickets are $15 per night. | 301 The Strand North, Oceanside
ArtWalk at Liberty Station
Over 175 artists from across the United States and Mexico will be showcasing their work at ArtWalk including paintings, photography, ceramic, jewelry, and sculptures on display at Ingram Plaza this weekend. In addition to the beautiful artwork up for sale, there will be food, wine, beer, live entertainment, and interactive art activities at this free event at Liberty Station. | 2751 Dewey Road, Point Loma
Bleached Festival
Bleached, the two-day music festival from CRSSD Festival and Tight Knit at Waterfront Park has an exciting lineup that features BADBADNOTGOOD, Leon Bridges, PinkPantheress, Ethel Cain, Joji, Omar Apollo, Yves Tumor and more. Both single and multi-day ticket options are still available with two-day general sale tickets on sale for $175 and single-day tickets for Saturday or Sunday selling for $95. | 1600 Pacific Highway, Downtown
The Hobos Circus
San Diego mime artist Jerry Hager and local musician Jason Berman will star in this two-person show that combines live music with theatrical miming at The Vine Arts Village. Inspired by silent film stars, circus performers, and based on the life of hobos during the Great Depression, The Hobos Circus follows Willie, a traveling hobo who aspired to be a circus clown and is visited by a friendly ghost named Ring who inspires him to strive for a happier life. There will be one show held Saturday and two shows on Sunday, tickets are $21 each performance. | 12540 Oaks North Drive, Rancho Bernardo
August 5-6
Always…Patsy Cline
This tribute to country music legend Patsy Cline will highlight the singer's greatest hits from her short-lived career along with her unlikely friendship with a loyal fan, which grew ever stronger until Cline's tragic death in 1963. The musical will feature several talented local musicians including an all-female band bringing Cline's musical catalog to life. There will be a total of six shows, two on August 5 and 6, and two on August 12 and 13 at Portuguese Hall. Tickets can be purchased for $25, with a portion of ticket sales being donated to local community organization Cabrillo Civic Club #16. | 2818 Avenida De Portugal, Roseville