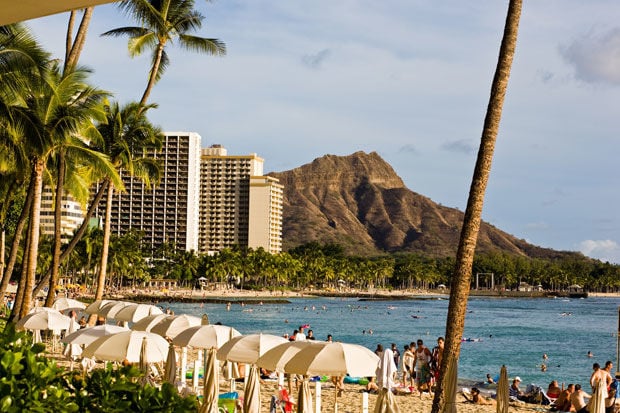 This month in Honolulu
83°/68°
Hawaii International Film Festival
April 5–11
Waikiki
SPAM® Jam
 April 27
Stay
The 353-room Modern Honolulu, at the start of Waikiki Beach, awent through a major renovation in 2010—the resulting aesthetic is minimalist meets beach bungalow. Starkly white rooms with dark wood shutters (many with views of the harbor) are a serene oasis, while common areas like the newly revamped Study Bar are fun for people watching. There are two gorgeous pools—the Sunrise Pool and the adults-only Sunset Pool, surrounded by sand. The Modern is also home to a Morimoto restaurant (President Obama has been spotted here), and don't forget to check out the hotel gift shop. Filled with artsy items like Areaware piggy banks, local jewelry, and Tori Praver swimwear, it's unlike any hotel gift shop we've seen.
Eat & Drink
Chef Jesse Cruz of San Diego's UnderBelly has taken his menu west with Lucky Belly, in Honolulu's newly revitalized Chinatown. Expect amazing Japanese ramen in a deliciously rich pork-based broth (a two-day process) and high-end culinary presentation. But while the presentation is high-end, the prices—such as $7 for delicate oxtail dumplings—are not. The artsy enclave of Kaka'ako, in an industrial area just outside the heart of downtown, is worth a trip for two fantastic restaurants. Taste is a pop-up concept where local chefs and food carts rotate through—one day it could be crêpes, the next, gourmet musubi (rice topped with local fish or poke and wrapped in nori). Popular local Vietnamese food cart The Pig and the Lady's late-night noodle bar, in the space every other Saturday night, is a must-try. Around the corner, surfers fill the picnic tables at casually hip The Whole Ox Butcher and Deli for a 21-day dry-aged burger made with grass-fed beef from a ranch on Kauai (for just $9, you can add foie gras). Ask anyone and they'll tell you the one thing missing from Honolulu's dining scene is great Mexican food. Texas-born chef Quinten Frye is trying to change that at his restaurant,  Salt Bar and Kitchen, with dishes like the curried venison sope. Don't forget to try the bar's Mexican Martini, a sweet and savory mixture of tequila, elderflower, fresh lime, and olive. For the island's best beer selection and creative cocktails, in-the-know locals head to indoor beer garden-inspired Pint + Jigger. The Smoking Gun— tequila, blood orange, fresh lilikoi, and smoked macadamia nut simple syrup—was named Hawaii's Best Margarita in 2011. In Honolulu's Ala Moana shopping center lies one of the most exclusive and pricey restaurants in the world. Newly opened Vintage Cave is the brainchild of Japanese developer Takeshi Sekiguchi. With just 32 seats a night, snagging a table in the catacomb-like space is challenging but not impossible. The young chef, Chris Kajioka, is on a mission to make this the French Laundry of Hawaii—dishes like smoked brioche topped with caviar from the Caspian sea, maple gel, and marcona almond dust will make you a believer. The restaurant's art collection, which includes an 18-piece Picasso, will make you feel like you're dining in a museum. Tasting menus $295 per person.
Do
Tobacco heiress Doris Duke's jaw-dropping estate, Shangri La, opened to visitors within the last 10 years. The property, overlooking the Pacific Ocean and Diamond Head, is a shrine to Islamic art and architecture. A tour highlight is an ornate tiled wall hanging dating back to the 13th century, called a mihrab, for which Duke reportedly outbid the Met, at a price of $150,000. Tickets must be booked in advance through the Honolulu Museum of Art. The 1.6-mile (round trip) Diamond Head Summit Trail is steep, but you'll be rewarded with a glimpse into the volcanic crater's military history and a postcard-perfect view of the southeastern O'ahu shoreline. The trailhead is adjacent to Diamond Head State Monument parking lot.