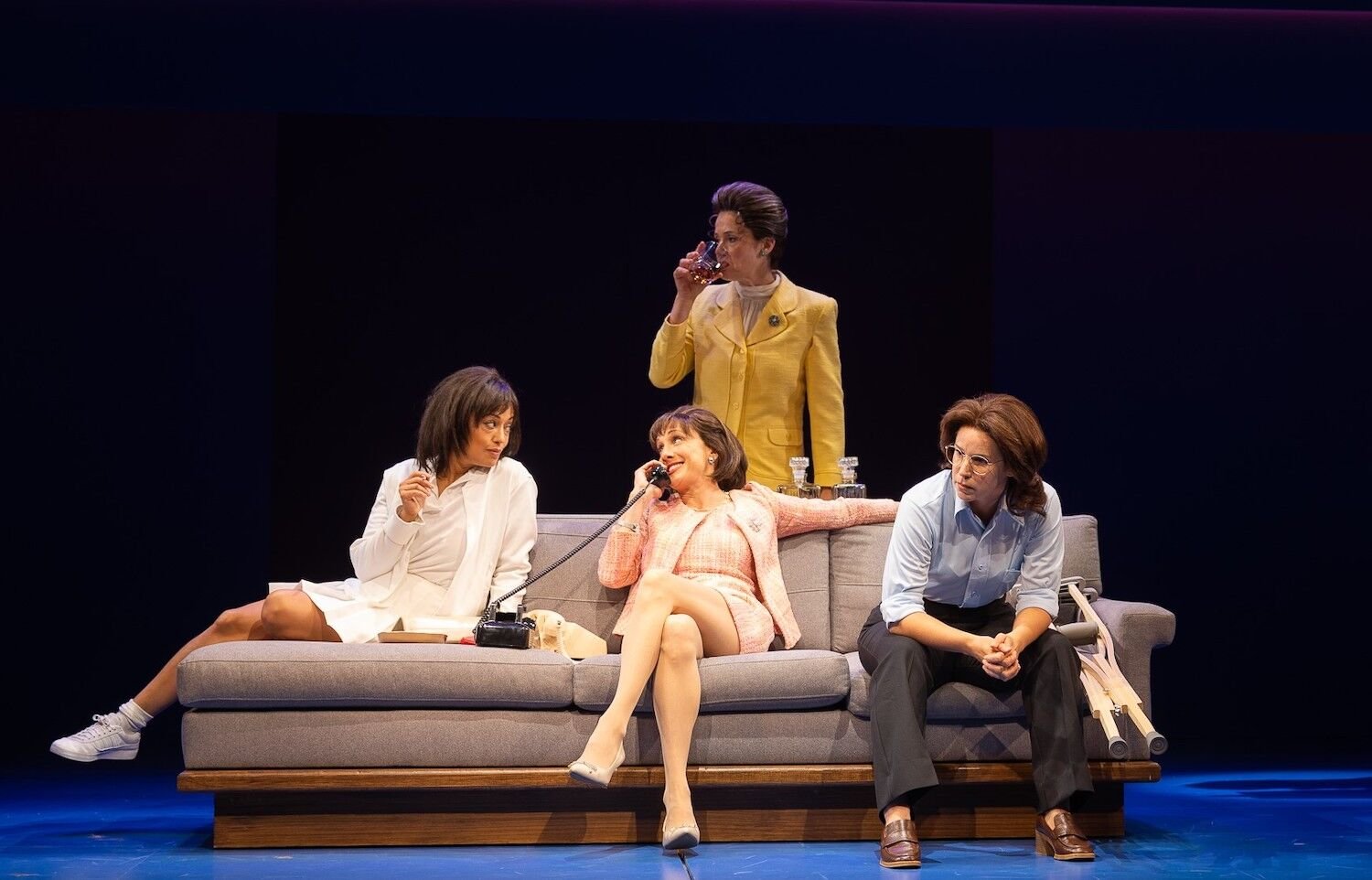 Courtesy of La Jolla Playhouse
In the La Jolla Playhouse's Mandell Weiss Theatre, the beep of an answering machine heralds a voice: "This is Billie Jean King." The tennis icon's prerecorded message to audiences, requesting silenced cell phones and thanking them for their attendance, isn't her only contribution to the world premiere of Anna Deavere Smith's Love All. The activist offered interviews and insight as Smith shaped her sweeping chronicle of King's battle for gender equality within her sport.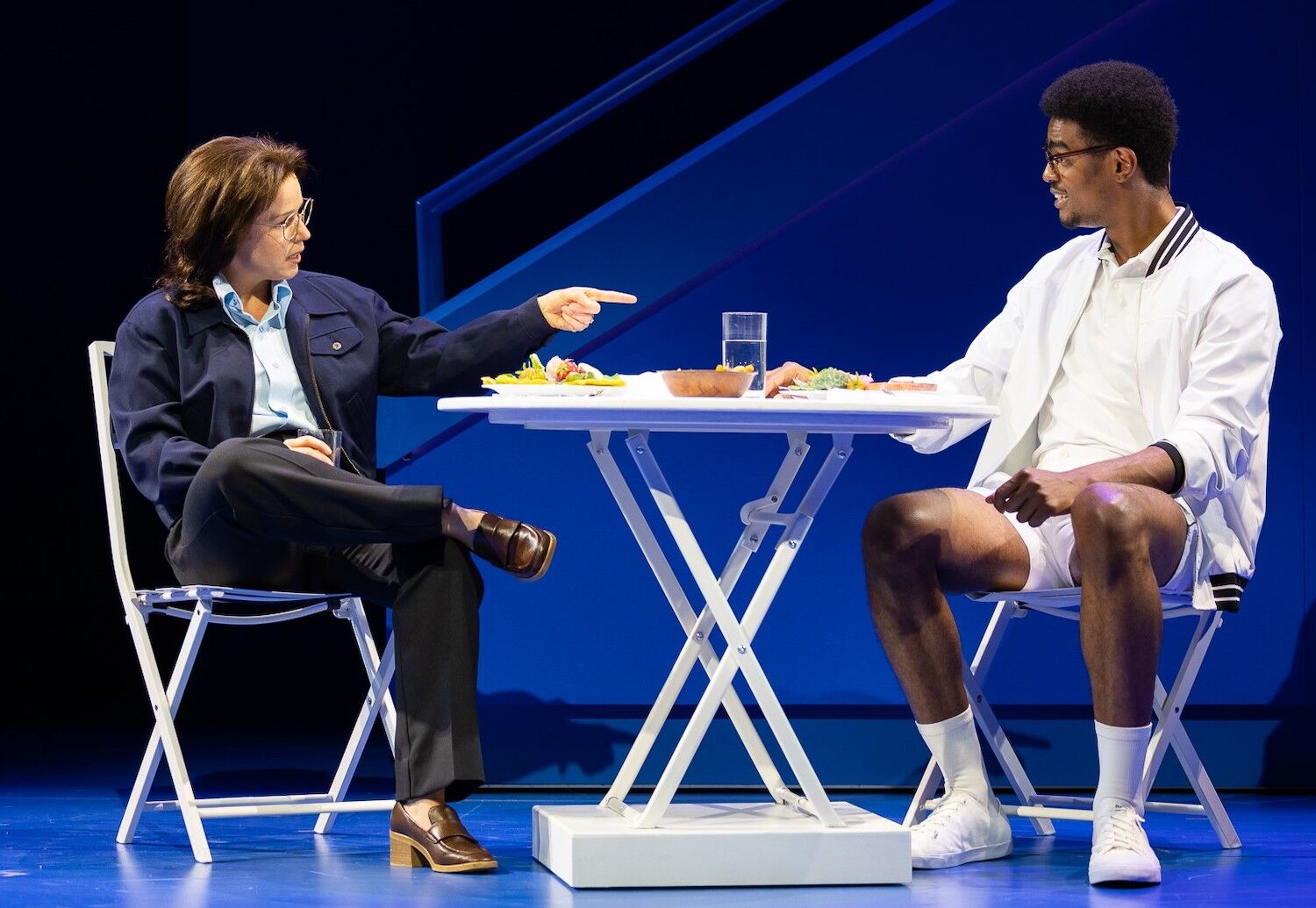 Courtesy of La Jolla Playhouse
Courtesy of La Jolla Playhouse
Known for verbatim theater productions like 1992's interview-driven Fires in the Mirror, Smith follows her documentarian impulse in Love All. Taking place amid a minimalist, blue-tinted set, the play is quick-paced, flashing through key scenes in King's life. Broadway veteran Chilina Kennedy appears as an 11-year-old King, being banned from her tennis club's photo because she is wearing shorts and not a skirt. A few moments later, she's in college, kissing a girl for the first time—then smooching her future husband, Larry King (John Kroft). Year and place markers on the overhead screens help orient audience members.The action deliberately resolves just before King's famous match against Bobby Riggs. That choice, says director Marc Bruni, "recenters [the story] around King and not around a man."Smith layers King's story with the major sociopolitical events and movements of the 1960s and '70s—battles that feel bleakly relevant today. When the psychiatrist who approves King's 1971 abortion declares his hope that soon women will be able to make decisions about their own bodies, rueful laughter ripples through the audience.The occasional downfall of the play's rich contextualization is that the characters can seem overly prescient about their place in history. In contrast to the more reserved figure drawn in the 2017 film Battle of the Sexes, Smith and Kennedy's King is a spunky firebrand, hungrily and endlessly envisioning the next success. Nevertheless, Love All never falls into the trap of framing King as a kind of lone-wolf Jeanne D'Arc of tennis. Instead, Smith is careful to emphasize "the power of collective action," as Bruni puts it.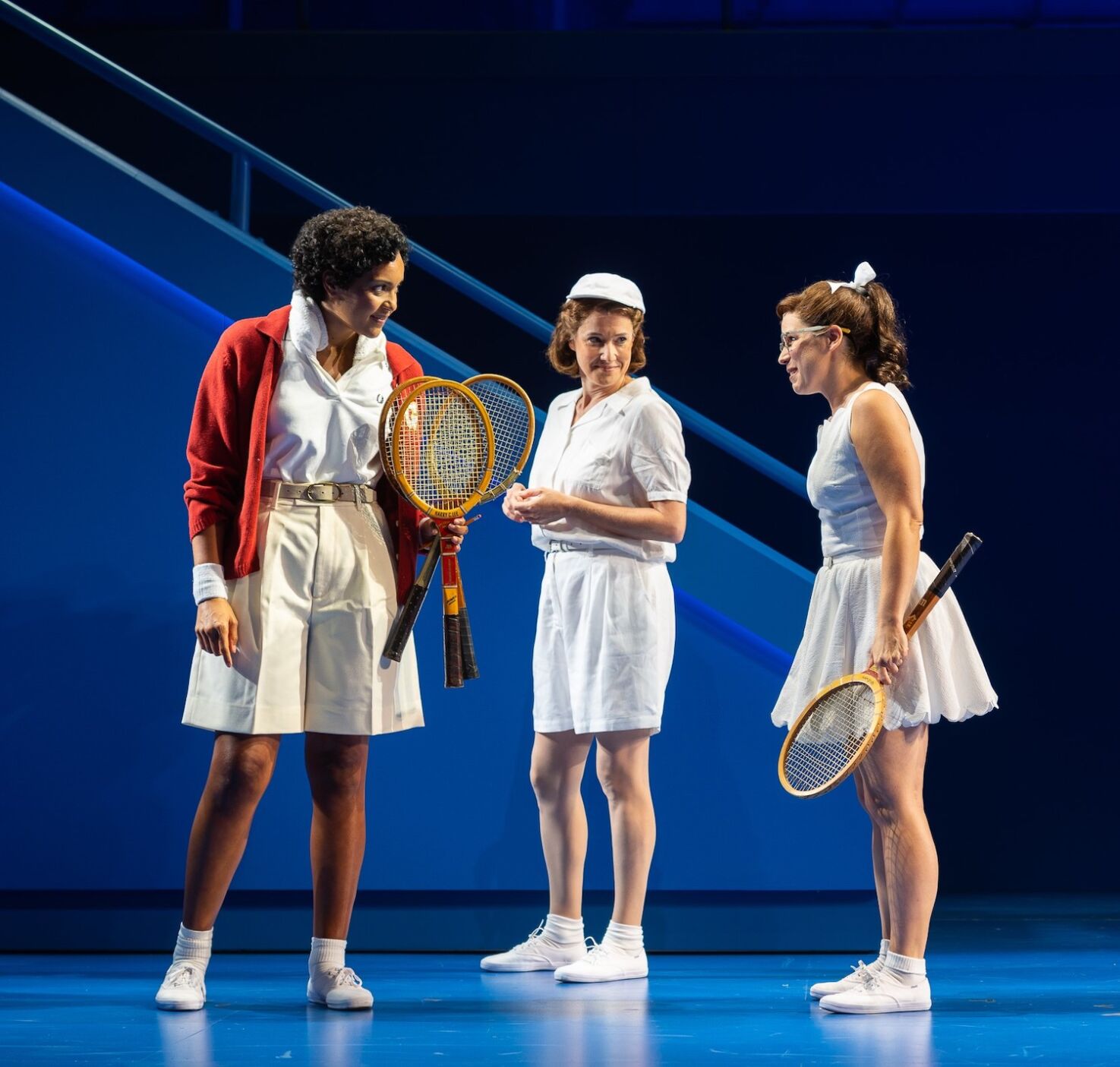 Courtesy of La Jolla Playhouse
King rarely appears onstage without other women by her side, especially the tough-but-practical Rosie Casals (Elena Hurst) and a hilariously fierce Frankie Durr (Lenne Klingaman, who brings the play's most confident comedic timing), both fellow tennis pros who balance and bolster her. Subtle blocking choices—Casal pressing ice to King's injured knee; King leaning in to murmur about a smarmy Grand Slam promoter with tennis magazine publisher Gladys Heldman (Nancy Lemenager)—lend authenticity and emotional nuance to a script that's unavoidably heavy with historical exposition.Early in the first act, a young King praises American tennis champ Alice Marble's (Bianca Amato) letter for American Lawn Tennis Magazine, in which she pressed the 1950 US Championships to allow Black player Althea Gibson (Rebecca S'Manga Frank) to compete. "That made all the difference!" King says."It made a difference," Marble insists, digging at the play's thematic core. "You can never make all the difference by yourself."See Love All at the La Jolla Playhouse's Mandell Weiss Theatre until July 2.