Part sleepy Hawaiian village, part posh resort destination, Lanai is the smallest of the main, inhabited Hawaiian Islands. Just a few miles west of Maui, it provides the feeling of a remote private island, without being all that remote.
Sometimes called the pineapple island, Lanai was once owned by the Dole family and had rows upon rows of pineapple plants, as far as the eye could see. The fields have since been cleared, and the entire island is now owned by billionaire Larry Ellison, co-founder and chairman of Oracle Corporation, an enterprise software company. (He's also the owner and founder of Oracle Team USA, winner of the past two America's Cup races.)
To get there, the quickest route is via Honolulu (Hawaiian and Alaska airlines offer direct flights out of SAN), and then take a puddle jumper to Lanai. Travelers can also fly into Maui and hop a ferry, which takes about an hour. Island Air (also owned by Ellison) recently unveiled a brand new Four Seasons lounge in its HNL terminal. This mini five-star hotel in an airport stocks free all-you-can-eat healthy snacks and comfy leather loungers perfect for a quick nap.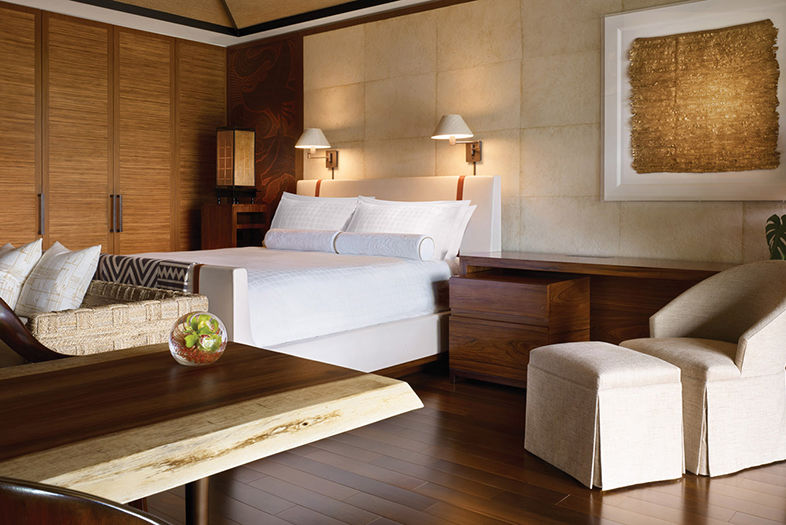 Four Seasons Resort Lanai at Manele Bay
Four Seasons Resort Lanai at Manele Bay
Ellison has done his part to make Lanai an exclusive stomping ground for the jet-set crew. With the exception of camping and the occasional VRBO, there are only two hotels, both Four Seasons, both owned by Ellison. The rustic Four Seasons Resort Lanai, the Lodge at Koele is set in the mountains, near Lanai City. About 15 minutes down the road, the Four Seasons Resort Lanai at Manele Bay is set on the beautiful white sandy shore of Hulopoe Beach. The hotel is currently in the process of a multimillion-dollar refresh, with plans for three new pools and new restaurants.
Some of the project is already complete, including the lobby and Nobu Lanai, serving chef Nobu Matsuhisa's renowned menu with some fresh Hawaiian additions. One wing of guest rooms is also finished, and rest assured, they are super-plush. Think Tokyo tech meets old Hawaiian tradition, with fancy Japanese toilets that open and flush on command, 75-inch plasmas, room service menus via in-room iPads, vanity-mirror bathroom TVs, and more—surrounded by sleek floor-to-ceiling wood details and lush tropical landscaping.
So many Four Seasons, so little time. Call us Californian, but we prefer our Hawaiian vacays by the beach, and recommend the latter of the two.
Up until recently, there was a third, independently owned place to stay, Hotel Lanai, a 10-room, plantation-style B&B. But Ellison bought that too, and his plans for the property are unknown. The locals rave about the in-house restaurant, Lanai City Grille, which is still open but under new management.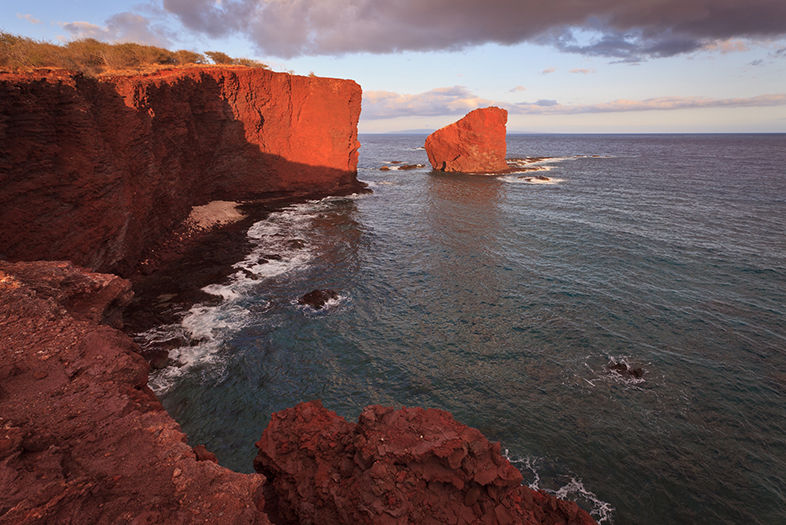 Puu Pehe (Sweetheart Rock)
Puu Pehe (Sweetheart Rock)
Activities abound for adventurists and sports fans. The Lodge at Koele offers horseback riding, clay shooting, archery, UTV rides, off-road tours, and more. At the beach, the protected marine preserve surrounding Manele Bay provides the perfect setting for snorkeling, diving, surfing, stand up paddling, and more. Take a sunrise hike up the rocky seascape southwest of the hotel and learn the legend of Puu Pehe (also known as Sweetheart Rock). The property also boasts an 18-hole Jack Nicklaus-designed golf course, with three holes along Lanai's dramatic red-lava cliffs, where the only water hazard is the Pacific Ocean. The course's grill, aptly named Views, has also been recently remodeled and serves a Hawaiian take on traditional golf course fare.
For the more leisurely traveler, take a sunset sail with Trilogy Excursions, and spot dolphins while sipping Chardonnay. Or take a stroll around the teeny main square of Lanai City, which has a few places to pick up souvenirs, including The Local Gentry and Mike Carroll Gallery. For a post-shopping meal, stop by Pele's, a super-casual Italian restaurant and pizzeria that has the distinction of being the only place in town, besides the hotels, to own a liquor license. Cheers to that! Meanwhile, the Shops at Manele Bay stock high-end selections from Missoni, Tory Burch, and more.
Luxury aside, the island's true charm lies in its untouched stretches of evergreen pines, misty mountain terrain, and sweeping seascapes. It's a place of gently crooked palms, courtesy of the coastal breeze—a place with a strong sense of history and local pride. The residents move slowly, but with a smile. ("Relax. You're on island time now.") It is old Hawaii, or Hawaii as it was meant to be: quiet, undeveloped, unhurried, full of legend and lore.
Aloha!
Photography by Hawaii Tourism Authority (HTA)/Tor Johnson, Pierce M Myers Photography