San Diego is famous for its sun, sand, and surf. It's also famous for its beer. With more than 150 breweries in the county, you would think there'd be a ton of places you could go where the view is as good as the beer. But, alas. Despite our world-famous beauty, super-scenic San Diego brewery sites are still few and far between.
Given their scarcity, I thought it would be nice to call out the local spots that actually offer beer with some kind of a view of the water. I'm including a few places that have only a limited or partial view because—as far as I can tell—there are only two spots that have full-on, unencumbered water vistas. There are, of course, many restaurants and bars up and down the coast that have great water views (but here I'm only talking breweries), and a number of breweries have created especially unique and welcoming outdoor tasting spaces at inland locations, but I'll cover those in another piece in the weeks to come. Meanwhile, if you want to sit outside and sip while taking in some cool coastal scenery, the following breweries/tasting rooms would be my top picks.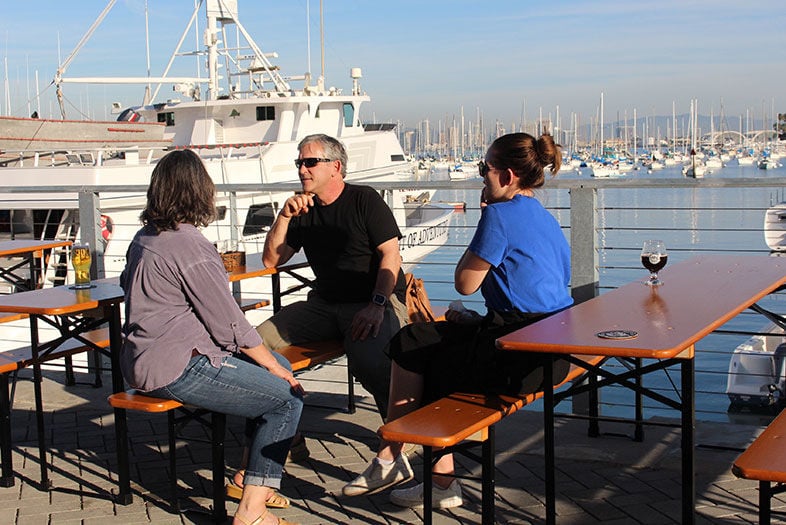 Indoor and outdoor space options make Eppig Point Loma one of the best waterside spots in San Diego. | Photo: Bruce Glassman
Point Loma
Perched right on a dock-like landing in the marina behind Point Loma Seafood, this is my favorite seaside tasting location in San Diego. A cozy tasting room with big garage-door-like openings to the outside offers a full lineup of Eppig's excellent beers, and a large outdoor seating space provides plenty of vantage points for sipping right alongside the water. And, if marinating in all the marine beauty gives you an appetite, Point Loma Seafood is only steps away. Fried clams and one of Eppig's awesome lagers on a sunny spring day? You'll never want to leave.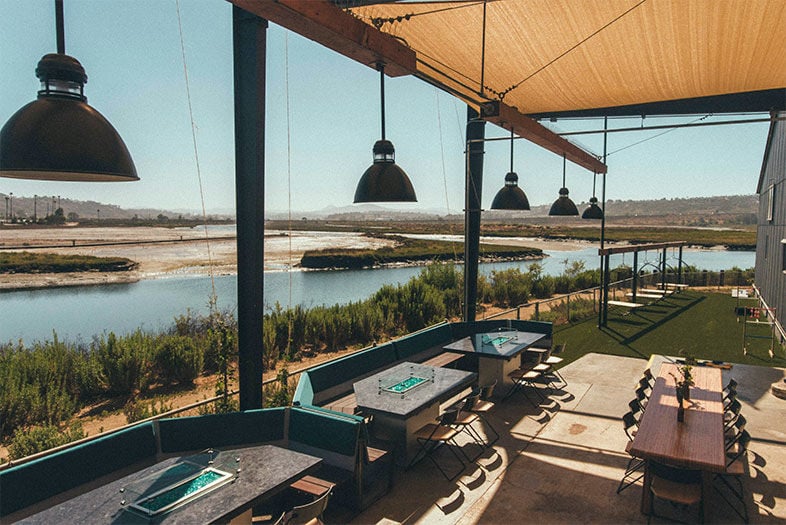 The San Dieguito Lagoon provides a dramatic backdrop for the tasting room and restaurant at Viewpoint. | Photo: William Perls
Del Mar
This beautifully designed brewery and restaurant space sits right on the San Dieguito Lagoon, directly across from the Del Mar Fairgrounds. The indoor tasting room opens out into an outdoor space that enables patrons to bask in a unique wetland habitat, replete with tall grasses, sand bars, and plenty of water fowl. Large booths with individual tabletop firepits are great for gathering with friends, and the full kitchen offers an excellent variety of unique, elevated pub-inspired dishes. Oh, and did I mention that the beer is also top-notch? All in all, this is one of the most satisfying beer-food-environments you can find in San Diego.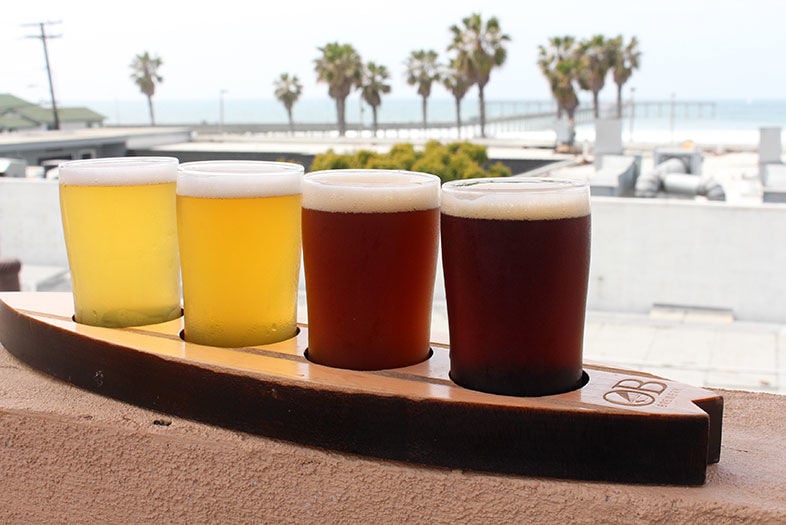 The rooftop at Ocean Beach Brewery provides a great view of the Ocean Beach pier. | Photo: Bruce Glassman
Ocean Beach
Newport Avenue has no lack of craft beer taps to choose from—it's currently home to tasting rooms for Culture, Belching Beaver, Helm's, and Kilowatt, in addition to many bars and restaurants. Ocean Beach Brewery, however, is the only actual brewery on the thoroughfare, and it happens to be the one that has the best ocean view in the area. This three-story building offers a bunch of seating environments to choose from, but the rooftop at OBB is the place to be. The space is simple and communal feeling— with benches, counters, and individual tables— and patrons who climb the stairs from the ground level are rewarded with a fine view of the Ocean Beach pier and beach from high above. A good collection of guest beers, as well as a solid lineup of four or five house-brewed selections (their Dunkel won silver at the 2017 GABF) makes this an appealing spot and a great place to hang on a lazy weekend afternoon.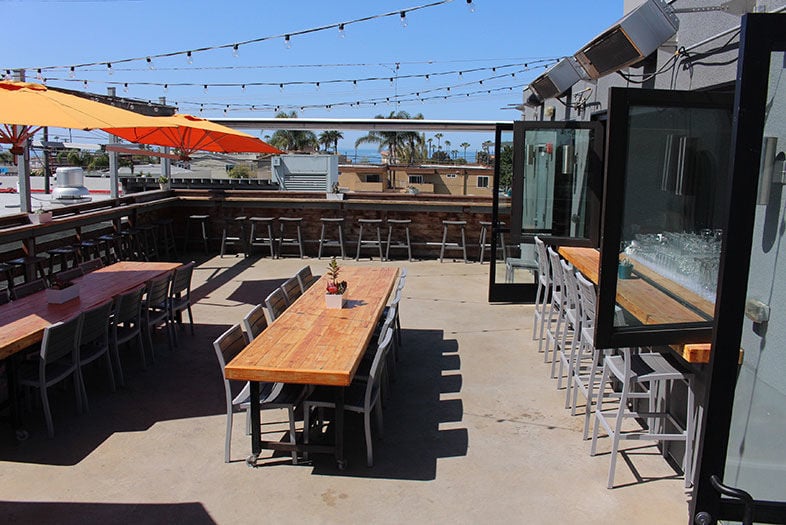 Bagby's rooftop option is only one of many comfortable and inviting seating areas available at the brewery. | Photo: Bruce Glassman
Oceanside
For sheer variety of seating environments, few places can rival Bagby Beer. Within its sprawling space, you can choose from outdoor counters and stools that face the South Coast Highway, an indoor bar with large communal tables, an outdoor beer garden, a bar and pizza oven area, covered outdoor tables, and a rooftop dining space that offers near 360º views of Oceanside. Part of that view extends out to the water, and though it's only partial, you can still dine al fresco and enjoy a gentle sea breeze while you eat. Bagby's beer list is one of the best around; it's got a great lineup of house brews as well as an impressive collection of guest beers and bottles, an intriguing collection of craft cocktails, and a full kitchen that offers everything from mussels to burgers to vegan and vegetarian entrées.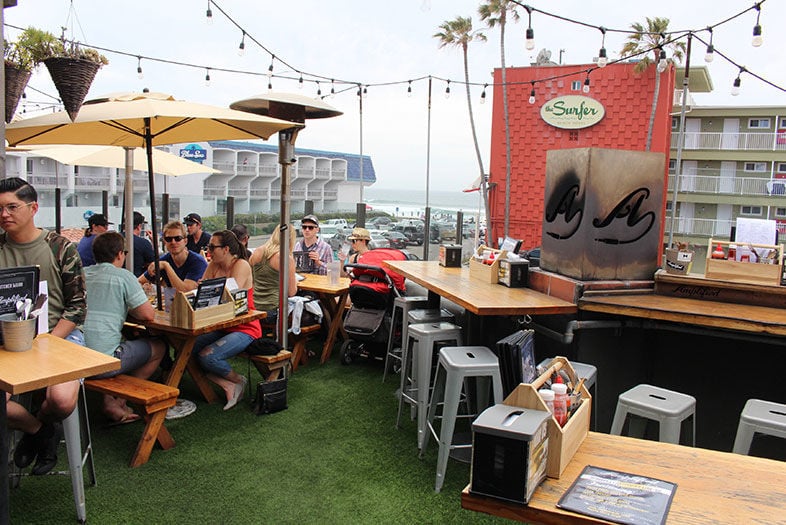 The terrace at Amplified's brewpub in Pacific Beach is only a steps away from the ocean, beach, and boardwalk. | Photo: Bruce Glassman
Pacific Beach
Here's another spot that combines great beer with a fun food menu and an enviable proximity to the beach. The terrace at Amplified's brewpub has a partial view of water that—when combined with the soothing onshore breeze—leaves you no choice but to chill. All of Amplified's beers are very good—their bier de garde, saison, and Electrocution IPA are particular standouts; and I found that their döner fries go down exceptionally well with any one of their hoppy brews. All in all, it's a relaxing setting with awesome beer food that's fun to share with friends.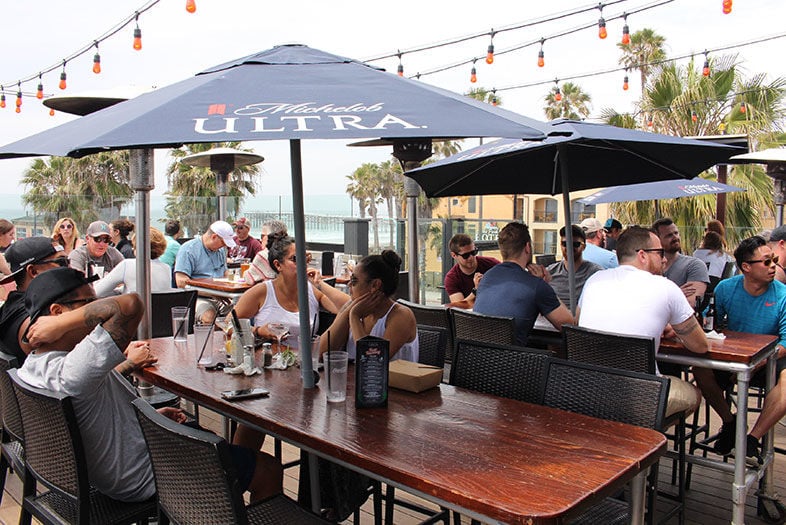 PB Ale House offers a rooftop seating option where patrons can enjoy a calming ocean breeze. | Photo: Bruce Glassman
Pacific Beach
Rooftop seating with a good view of the beach is the biggest selling point of PB Ale House's location. Numerous guest beers as well as house brews are available (in addition to a full bar), and a full kitchen offers most of the popular brewpub classics, including sandwiches, flatbreads, and tacos.
---
Follow Bruce on Instagram: @sdbrewdude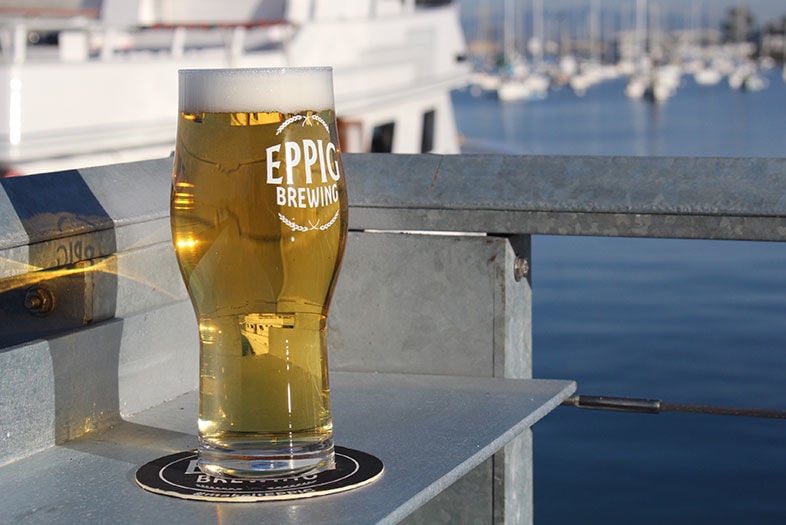 Eppig's new tasting room in Point Loma sits right on the marina. | Photo: Bruce Glassman