Viewpoint is one of those places that started out with a bunch of great things going for it. First in my mind is its killer setting: It's nestled on the edge of San Dieguito Lagoon, overlooking the shallow water and the abundant wildlife that resides there. An idyllic setting such as this is rare for breweries and brewery restaurants in San Diego, so it offers something truly unique.
Viewpoint is also the first and, to date, only brewery in Del Mar. Yes, that means they had to be brave enough to pioneer, but it also means they get to serve a previously (and woefully) underserved population. Good for them. And smart.
Another thing Viewpoint had going for it from the start was a beautifully designed space with plenty of room to move around. It's a space that melds the outdoors with the indoors and provides a seamless connection between the kitchen and the brewery area. So, bottom line: This place was well thought out.
Even with all the smart planning and the winning execution of their concept, the folks at Viewpoint didn't rest on their laurels—they still felt there were things they wanted to do better, or just do differently. No matter how successful a restaurant or brewery is, there are always aspects that owners and managers want to improve or rethink, especially in a business that's not yet a year old.
Sipping on a full-bodied and citrusy Mandarina Pale Ale, I sat down with Cofounder Charles Koll and Brewer Moe Katomski to talk about what Viewpoint's first year looks like in the rear-view mirror, and how they feel their business has evolved in that short time.
So, you guys are coming up on your first anniversary this month. How has the first year felt for you?
Moe Katomski: It's felt like three years!
What would you say has been the biggest surprise? Positive or negative.
MK: Positive: The beers have gotten better. We really got the system more dialed in. We also did our first barrel-aged beer, which we just released; kind of our mini anniversary party. And then we're going to release the bottle version later. It's a double abbey stout, and it was actually a collaboration with a couple of guys from Belgium.
Charles Koll: Yeah, they were from Bier en Karakter. They do a really popular stout in Belgium called Sword. The cool thing they brought to the table was a new perspective on a recipe that we've never really seen before. The recipe was much more in-depth—a lot more things than we're used to putting in the beer, a lot of components that we're not used to.
MK: We did a strong ale. It's an imperial stout recipe with an abbey yeast. It's a dark black beer. And it's pretty unique. We aged it in whiskey barrels.
CK: First barrel-aged beer we've ever done. Ever. They were Dickel bourbon barrels that went to Breckenridge, and when we got them from Breckenridge they were completely saturated.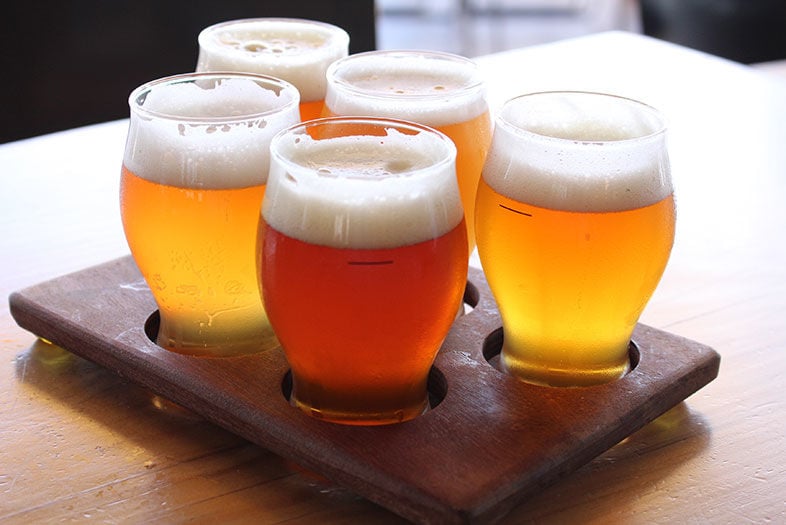 The beer menu at Viewpoint is nicely varied and offers styles for every palate. | Photo: Bruce Glassman
You spent the last year tweaking recipes and maximizing efficiency on your system. Talk a little bit about what your major priorities and challenges have been in that area.
MK: Well, to be honest, when we first opened we had a little bit of diacetyl in our beers. Our patrons loved it, actually, but one of the biggest things for me has been getting our procedures in place, doing diacetyl tests, and getting beers that are much truer to what we're actually trying to create.
CK: We've also spent a lot of time trying to figure out exactly what people want, and then figuring out how we're supposed to brew that without compromising our own values and what we want to be making.
MK: When we opened, Charles's whole philosophy was "drinkability." That was our focus for year one. And that meant, even if you like stout, you could come in and try the IPA and say, "Well, that's not my style, but it's not bad." We wanted to focus on more approachable flavor profiles, and now we still have that in the back of our minds, but we're also going to start being more aggressive with hop initiatives and bitterness on certain beers; things like that.
CK: We're in a very unique area. It's not like we're in North Park with everybody else around us. The people that we're serving are mostly not used to this style of beer. They think Stone is, like, friggin' out there! And with sours gaining traction and hazy beers becoming big lately, we've had to figure out our own demographic, which—truly—is Heineken drinkers and wine drinkers. So the drinkability aspect is important. We have this weird spot where we're trying to bridge the gap between the macro drinkers and the craft drinkers, trying to find this happy median. And what we've become better at is brewing beers that cover the whole spectrum. That's not to say all our beers are going to sit right in the middle. We're brewing our "macro-style" beers like Experiment A, which is low IBUs and low hop content [lager style], but also brewing stuff all the way on the other end, like the puckering IPAs and the stouts and darker beers.
What are your customers asking for these days, mostly?
CK: From this area: lighter beers.
MK: Lighter beers and fruited beers.
Fruited IPAs?
MK: Fruited anything. We did a kumquat hefeweizen and a cranberry fennel saison, for example.
CK: And a lot of people ask for light beers that are "totally crushable"—beers you can have all day by the pool.
You guys are also somewhat unique in that you opened with a full kitchen in addition to a brewery. Some of that drinkability you were looking for, I assume, was driven by a need to be food friendly, but what were some of the challenges of doing food and beer together?
CK: One thing I learned, or came to accept, was that there's no such thing as a beer that doesn't pair with food. All beers pair with food, it's just figuring out which food each beer pairs with. Having a beer that's easy drinking and not super aggressive one way or another, sure, it makes things a lot easier, but it also kind of takes the challenge out of it. So making our beers better is also about making the pairings better. And concentrating on making those tough decisions about how to pair things with a little more complexity. Like, everyone pairs stout with ice cream, right?
MK: We pair our stout with oxtail tacos.
CK: It's all about giving people that "aha" moment when they taste the food and the beer together. And I like to challenge our guests, especially if they say they don't like beer.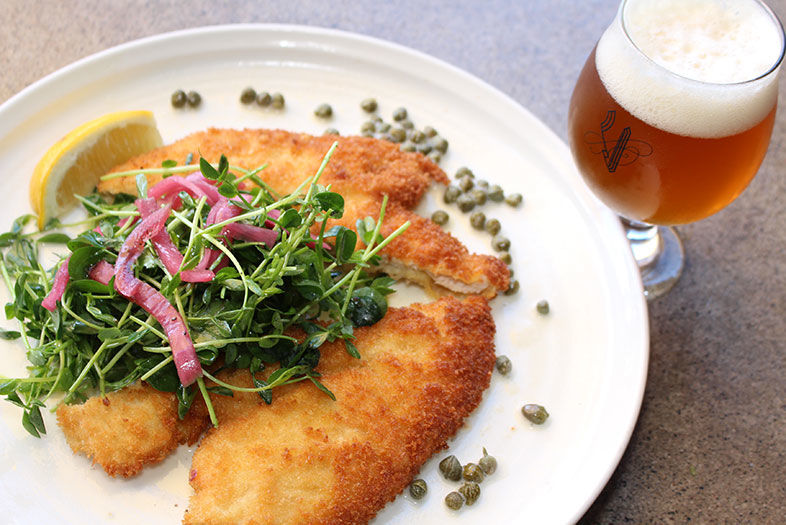 The summer menu includes Chef Gunnar's Chicken Schnitzel, which is crispy, light, and perfect with a cold lager, saison, or pale ale. | Photo: Bruce Glassman
Has the food menu evolved, too, according to what you're brewing? How have they influenced each other?
CK: We constantly try to push and change both, especially seasonally. For summer, for example, we replaced our wintertime Chicken Pot Pie with our Chicken Schnitzel. We also found a new farmer that does microgreens in a really unique way. We use his pea tendrils with arugula for the salad that goes on top. That's an easy summer meal; it's not heavy, it's fresh, and it goes great with beer.
MK: The Strawberry Belgian Blonde [collaboration with Chino Farms] is our seasonal summertime beer right now.
CK: We're also going to go nuts this wet hop season. We're going to brew as many wet-hop beers as we possibly can. We'll have to put some of our core beers on the back burner just to make room in the tanks for the truly seasonal things—the things we just can't produce any other time of year. That's a huge focus for us this year.
Finally, what would you say was the most satisfying thing about being in business this past year? Is it educating beer drinkers? Getting known among the Del Mar community?
CK: The support from our local community has been really, really solid. It's nice to know that—after a year—when they come in they feel free to have a conversation with us and let us know if something's not right, or if we can improve something, especially on the food side. Our patrons show us how consistent we have to be and how we have to keep our eye on the ball. More importantly, if something's not right, having a guest that has the courage to say something to us—because he or she loves our place and wants to come back—is truly important. When we have the opportunity to correct those situations, that's the best. And it makes me happy when other people care about my business as much as I care about my business. That just elevates you to a whole new level, because it means what you're doing is worthwhile.
---
Follow Bruce on Instagram: @sdbrewdude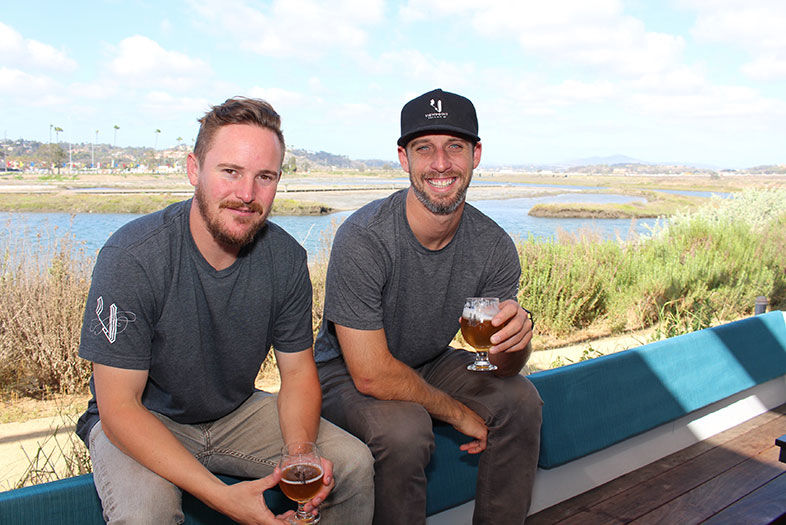 Co-Founder Charles Koll (left) and Brewer Moe Katomski are two of the creative forces behind Viewpoint. | Photo: Bruce Glassman