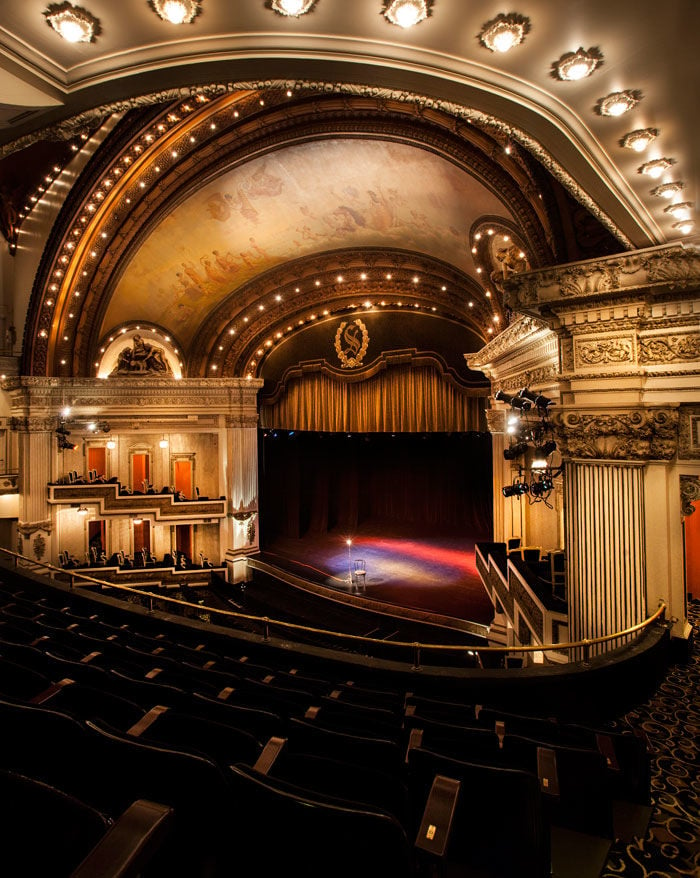 PLEASE TAKE YOUR SEATS
Commissioned by sugar magnate John D. Spreckels to commemorate the 1915 Panama-Pacific International Exposition, the theatre was originally built with 1,915 seats. Over the years, worn seats were replaced and upgraded. Today, it has 1,463 seats.
A 360˚EXPERIENCE
The theatre's unique design allowed for a staging of the famed horse-drawn chariot race in a 1923 performance of Ben Hur, with horses galloping through the theatre, onto the stage, and out onto First and Second avenues.
QUAKE-PROOF
Architect Harrison Albright began construction in 1910, two years after the great San Francisco earthquake. More than a century later, the theatre still retains a top-tier earthquake rating.
BOUGHT AND PAID FOR
The theatre opened on August 23, 1912, with a performance of the long-running New York show Bought and Paid For. It came via private train for one show only, at John Spreckels' expense. The audience gave an extended ovation with five curtain calls.
STAGE TO SCREEN
From theatrical productions and Vaudeville, the venue made the leap to motion pictures in the days of silent film, investing in a projection booth and silver screen in 1923. In 1928, the theatre switched exclusively to movies.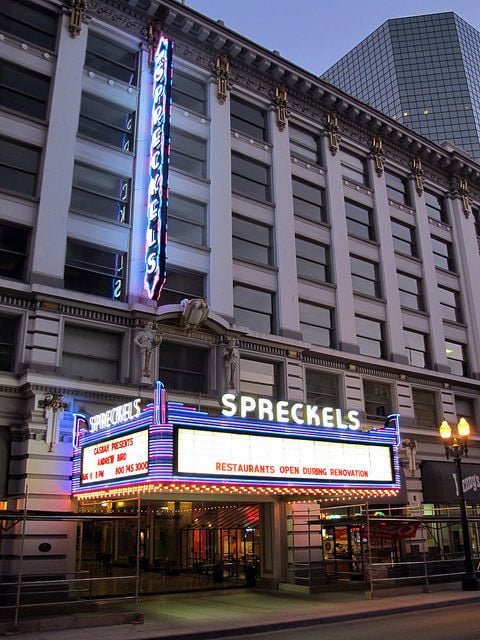 MARQUEE MOMENT
For its 2012 Centennial Celebration, the 75-year-old marquee was turned off for three months while it underwent a historically accurate restoration.
BUILT TO LAST
The structure, which cost an unprecedented $1 million to construct, remains mostly intact today, with its original onyx Grand Lobby, detailed woodwork, and tiled floors.
NEW MANAGEMENT
Owner Jacquelyn Littlefield, daughter of movie pioneer and one-time Spreckels manager Louis B. Metzger, took over operation of the theatre in 1944 at age 22.
GRAND GESTURE
In 1962, Littlefield bought the theatre from the Star and Crescent Investment Company and returned it to a stage-production venue. In 1978, when arson destroyed the Old Globe Theatre, she donated the use of the Spreckels for the Globe's season.
FAMOUS ACTS
The Spreckels Theatre has hosted perhaps the widest variety of acts in the region, ranging from Charlie Chaplin to Abbott and Costello, Ronald Reagan to Ray Charles, and Ellen DeGeneres to Eddie Vedder.