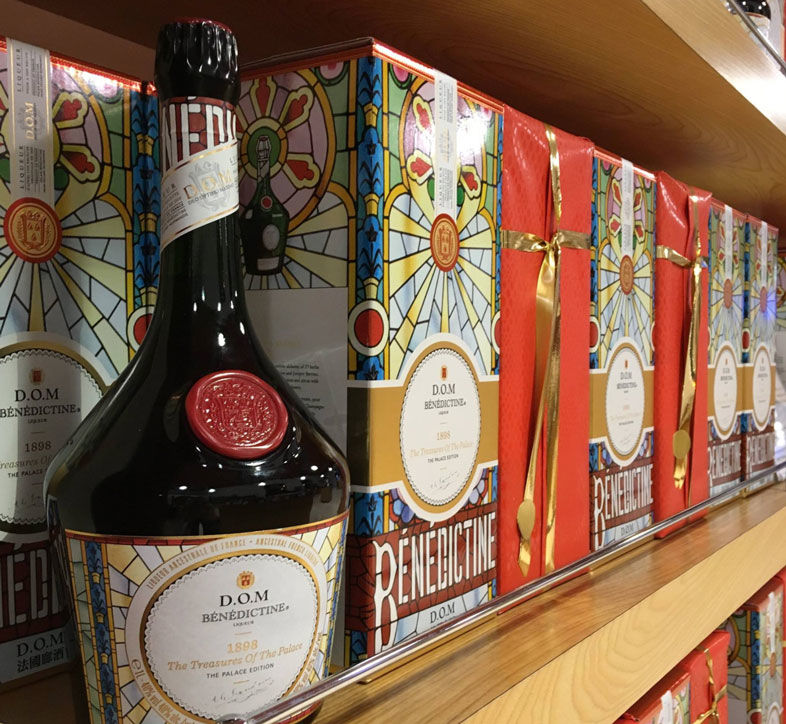 Photo courtesy of Palais Benedictine via Facebook
Benedictine. If you grew up in the '70s, it was probably a staple in your parents' (or grandparents') liquor cabinet. Or, maybe you know its prepackaged cousin, B&B (Benedictine and Brandy), that used to come in a cool collector's tin.
It would be a stretch to say Benedictine's making a resurgence. Rather, it pops up on menus every now and then at the craftiest of craft-cocktail spots and I've yet to find an instance where it doesn't make for a thoughtful, tasty cocktail. Most recently, bartender Jay Choi (Ad Libitum, Realm of the 52 Remedies, CoLab) used it in a bourbon bartender's-choice cocktail he made for my husband. As Choi was making the cocktail, he commented on how much he liked using Benedictine.
"What I personally like about it is its distinctive flavor," he said, "honey, clove, vanilla, cinnamon, lemon peel and orange peel. I often play with it with brandy or also bourbon." (See below for Choi's bourbon-and-Benedictine cocktail recipe.)
The herbal liqueur was created in the 19th century by a French winemaker, Alexander LeGrand, who came up with a clever origin story as a marketing tool. He claimed monks at the Benedictine abbey of Fécamp in Normandy produced the liqueur until the abbey was destroyed during the French Revolution. LeGrand claimed to have found the recipe among his family's library.
Like so many other liqueurs, Benedictine's recipe remains a secret. We know some of what's in it, but not everything.
With its pleasant flavors—one review I came across described Benedictine as "sublime"—you can drink it neat or over a large cube of ice. Add some to coffee for dessert. Its most famous use is in the classic Vieux Carre cocktail, one of my favorites.
Here's Choi's Benedictine cocktail (it's excellent):
1 1/2 ounce high-proof bourbon
1/2 ounce Benedicine
1/2 ounce Fernet-Branca
2 dashes Boy Drinks World walnut bitters (pick up a bottle at Collins & Coupe)
Stir with ice and serve in a rocks glass over ice.
Where to buy Benedictine:
You can find it pretty much anywhere, really. Make sure it's Benedictine D.O.M. (and not Benedictine B&B).
Where to try Benedictine:
Wagyu Old-Fashioned @ Born and Raised: The upscale steakhouse uses Benedictine in this classy take on an old-fashioned that includes a Wagyu-infused bourbon, aromatic bitters, and citrus zest.
Bolt from the Blue @ Ironside: With its hints of citrus, Benedictine pairs well with agave spirits, evident in this tasty cocktail made with mezcal, tequila, Averna, and Angostura bitters.
East County @ George's Level 2: Sam Peters' elegant ode to his old stomping grounds (part of Level 2's epic San Diego–inspired cocktail menu) is made with cognac, Lustau Vermut Rojo (a sweet, nutty vermouth), malted rye, Benedictine, and a caraway tincture.
Or, if you're really into it, visit Le Palais Bénédictine in Normandy, the insanely elegant, actual palace, where Benedictine's distilled.
Got a spirit you're curious about? Email me and I'll feature it.