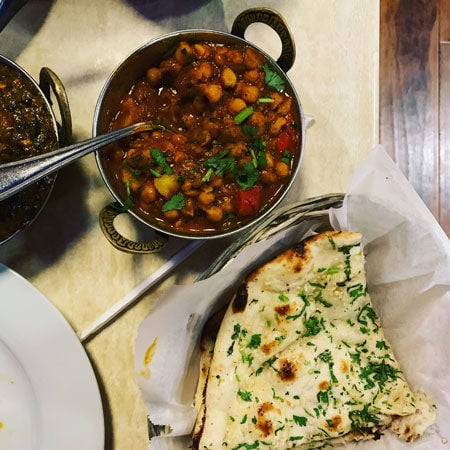 After 12 years of being a food writer, I've been contractually obligated to eat most of god's creatures in various ways, treated Noah's ark like a Vegas buffet. And so I try to balance that out with vegetarian meals. And Indian food is a life raft. Taste of the Himalayas has long been a favorite. It's located in one of the dreariest streets of San Diego, Midway, where commerce seems mostly auto body and nude body varietal, where potholes are often filled not with asphalt but with Marlboro butts. But I feel at home, and that's often where the best food is, made better by others' unwillingness to venture here. Taste of Him's palak paneer is a spicy, north Indian cousin to what Americans know as steakhouse creamed spinach, the spinach (palak) sautéed with cubes of fresh squeaky cheese (paneer) and laden with spices (garam masala chief among them). You can see the paneer off to the left here. The chana masala is in full frame, and also delicious, those giant Indian chickpeas (chana) in tons of spices, served over rice or just eaten as a sort of curry soup. And, of course, garlic naan, the waif model of garlic breads.
3185 Midway Drive, Point Loma.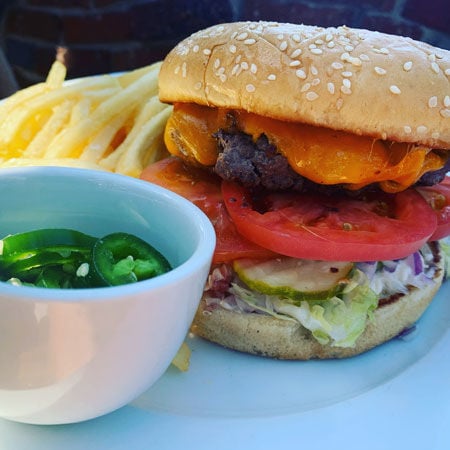 To prove a point I've always said about burgers, here's a terrible photo of a burger. Arguably one of the top three burgers in the city. If the burger could speak, it would say, "Jesus, man, delete it." There are a few things in life that simply don't photograph well, and among them are moons, my naked body, and burgers. That said, the "Drugstore Burger" at the Lodge at Torrey Pines is what happens when a four-star chef refuses to muck things up by proving he's fancy and just makes a damn good, timeless burger. Jeff Jackson has said he made it as a tribute to the burgers at drug stores. Got that soft, white sesame bun that's squishy like Wonder Bread but, unlike Wonderbread, doesn't taste like it's actively leeching the nutrients out of you. Ground chuck, housemade mayo, bread and butter pickles, chopped lettuce, tomato, cheddar. The secret: he steams that bun in the burger fat, so it gets burgery itself. There used to be an off-menu "Atomic" version of this that was spicy, but the Grill said they were unfamiliar with it and Mr. Jackson's legacy depends on whether or not they remedy that. Hell of a burger.
11480 N. Torrey Pines Rd., La Jolla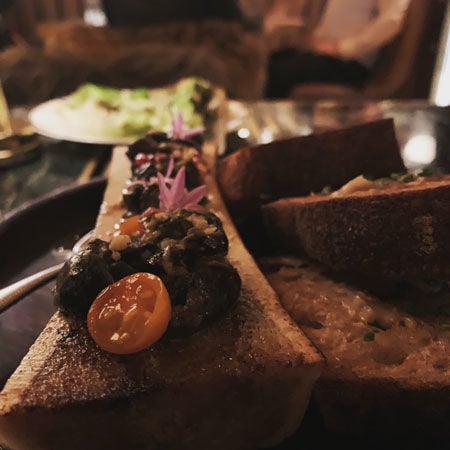 Snails. Eating them sounds about as appealing as recreational root canals. Early humans started eating the slimy little jaywalkers about 30,000 years ago, long before the French turned them into a delicacy with butter, garlic, herbs, butter, and butter. Haven't been to San Diego's steakhouse Born & Raised in over a year, but remembered why I hyperventilated over their rendition in my original review. A tiny parade of them is routed atop a river of meat butter that is roasted bone marrow. Take both, put on supplied toast, and marvel at how chefs' skills can make even the ewest and grossest sounding foodstuffs not just palatable, but desirable.
1909 India St., Little Italy