El Cajon Mountain
11 Miles Out and Back—Challenging
Free Parking
Cooler months make it the right time to tackle this trail, which is on many a San Diegan bucket list. To start, park at the lot at the entrance to El Capitan Open Space Preserve and follow the trail to the top.
Signs along the way will show you how far you've come—and how far you still have to go. Fair warning: You'll be wiped out at the end, but the views are worth it. Afterward, refuel over shawarma plates of rice and pita at Sahara Taste of the Middle East (2990 Jamacha Road, El Cajon) and finish it off with old-school frozen yogurt at Yogurt Mill (935 Broadway, El Cajon). You've earned it!
Hellhole Canyon, Borrego
5.5 Miles Out and Back—Moderate
Dog Friendly, Free Parking
This trail is great to traverse in chillier months, and especially if it has rained recently, so you can see the waterfall at the end. Park in the lot on Montezuma Valley Road in Anza-Borrego Desert State Park and follow the trail to Maidenhair Falls. Be sure to snap views of the rocky plateaus that look like the surface of Mars along the way. Before road-tripping home, stop at El Borrego Restaurant (747 Palm Canyon Drive, Borrego Springs) for traditional tacos and burritos or crispy French fries.
San Diego River Garden
2 Miles Out and Back—Easy
Dog Friendly, Stroller Friendly, Free Parking
This little trail is hidden in Mission Valley where you'd never expect. It's also a great place for kids to wander around and look at carefully marked plant species along the garden paths. To get there, park on Rancho Mission Road and follow Camino del Rio North to the garden entrance a little less than a mile away. Wrap up with refreshing smoothies and acai bowls at the nearby San Diego Blenders (4242 Camino del Rio North, Mission Valley), or go for tacos at Crack Taco Shop in the same plaza.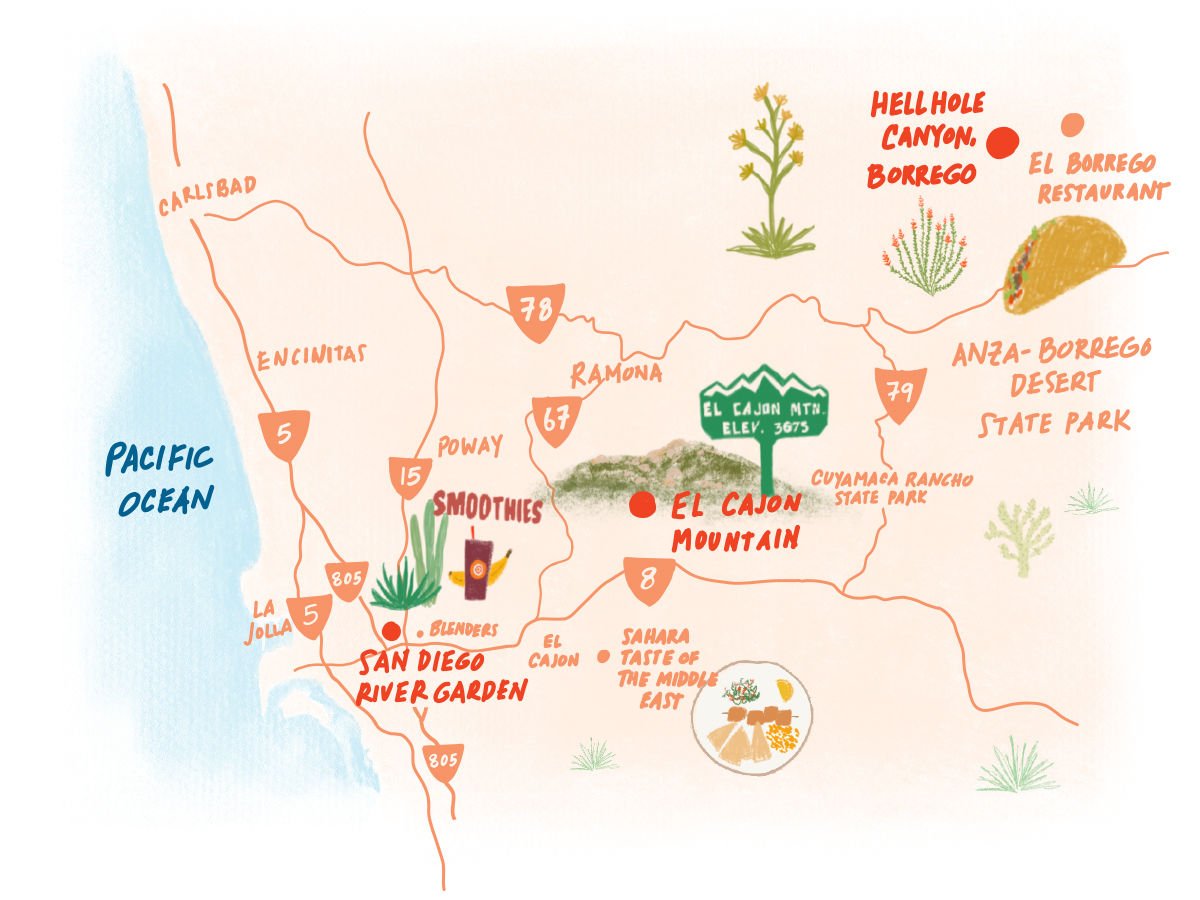 Illustration by Katie Hart