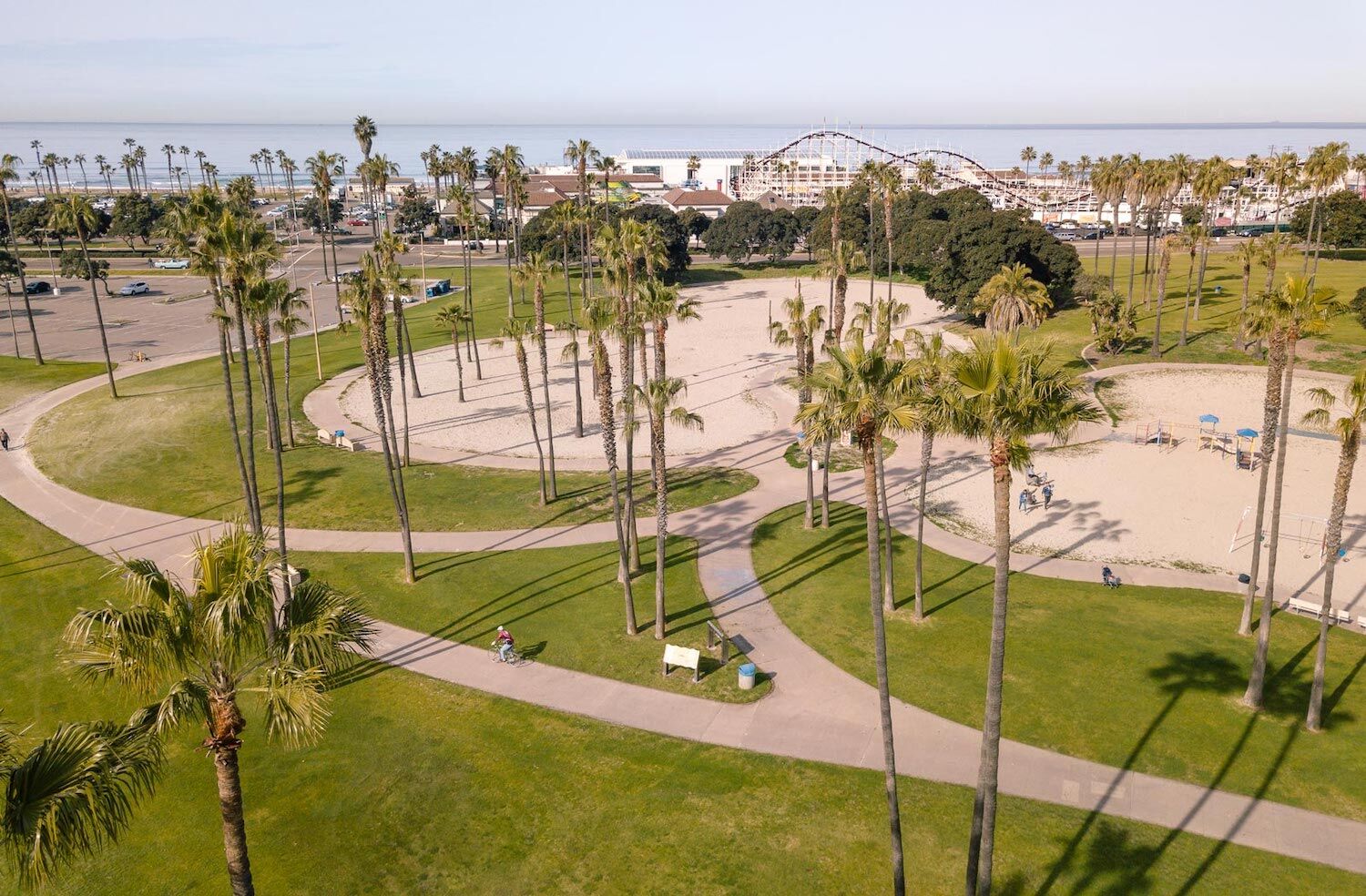 Courtesy of the San Diego Tourism Authority
I didn't ride a bike without training wheels until I was 10 years old. I was intimidated by steep hills, sharing the road with cars, and any sort of cardio exercise. But then something changed: I received my very own bike. It wasn't just any bike—it was my dad's cherry-red 1993 Specialized RockHopper, a bike that had three more years of life experience than I did. Once a rusting relic in my father's garage, it became my way to freely explore San Diego, the city I've called home my whole life.Since then, I have spent countless hours tracing the following trails, loops, and bike paths with friends and family. Whether you're a beginner or experienced cyclist, these treks offer something for everyone (including some truly stunning views). With summer traffic in full swing, it's time to trade in four wheels for two and embark on these scenic routes around San Diego.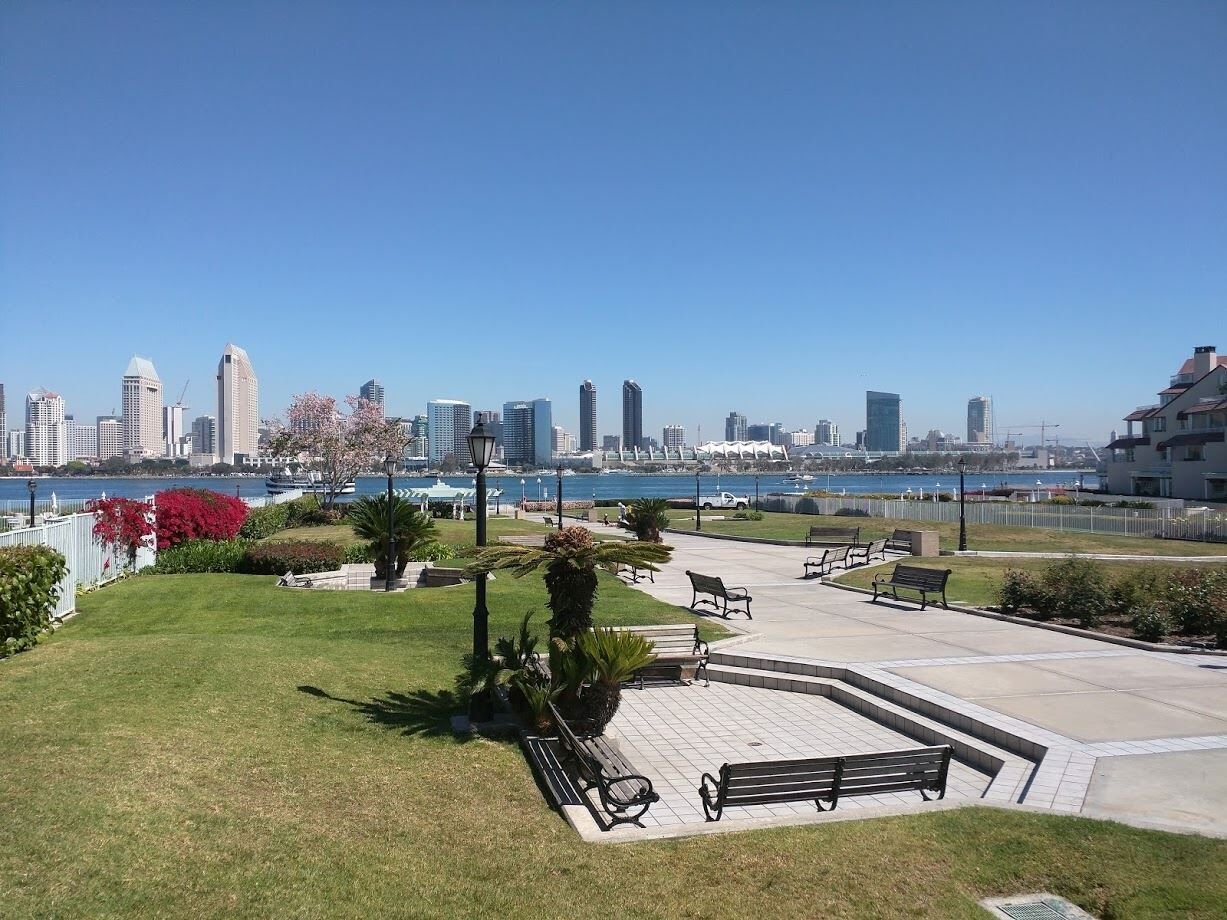 Courtesy of the City of Coronado
Bayshore Bikeway
12 miles
The Bayshore Bikeway is a great spot for bikers of all skill levels who want to enjoy a beautiful waterside view of downtown San Diego. The path is generally flat and provides a wide, dedicated lane for bikers, pedestrians, and skaters to share. Casual riders can start their cruise at the Coronado Ferry Landing and circle back at the Coronado Yacht Club.More serious bikers can follow the path beneath the Coronado Bridge and along the Silver Strand Highway 75, then turn onto Palm Avenue for the final stretch to the Imperial Beach Pier. Some folks even take the Coronado Ferry to the Coastal Rail Trail (see below) for a full-day biking adventure. Stop by the Coronado Coffee Company stand just off the Coronado Ferry Landing Pier, a popular spot for cyclists to fuel up on caffeine before a long jaunt down the Silver Strand.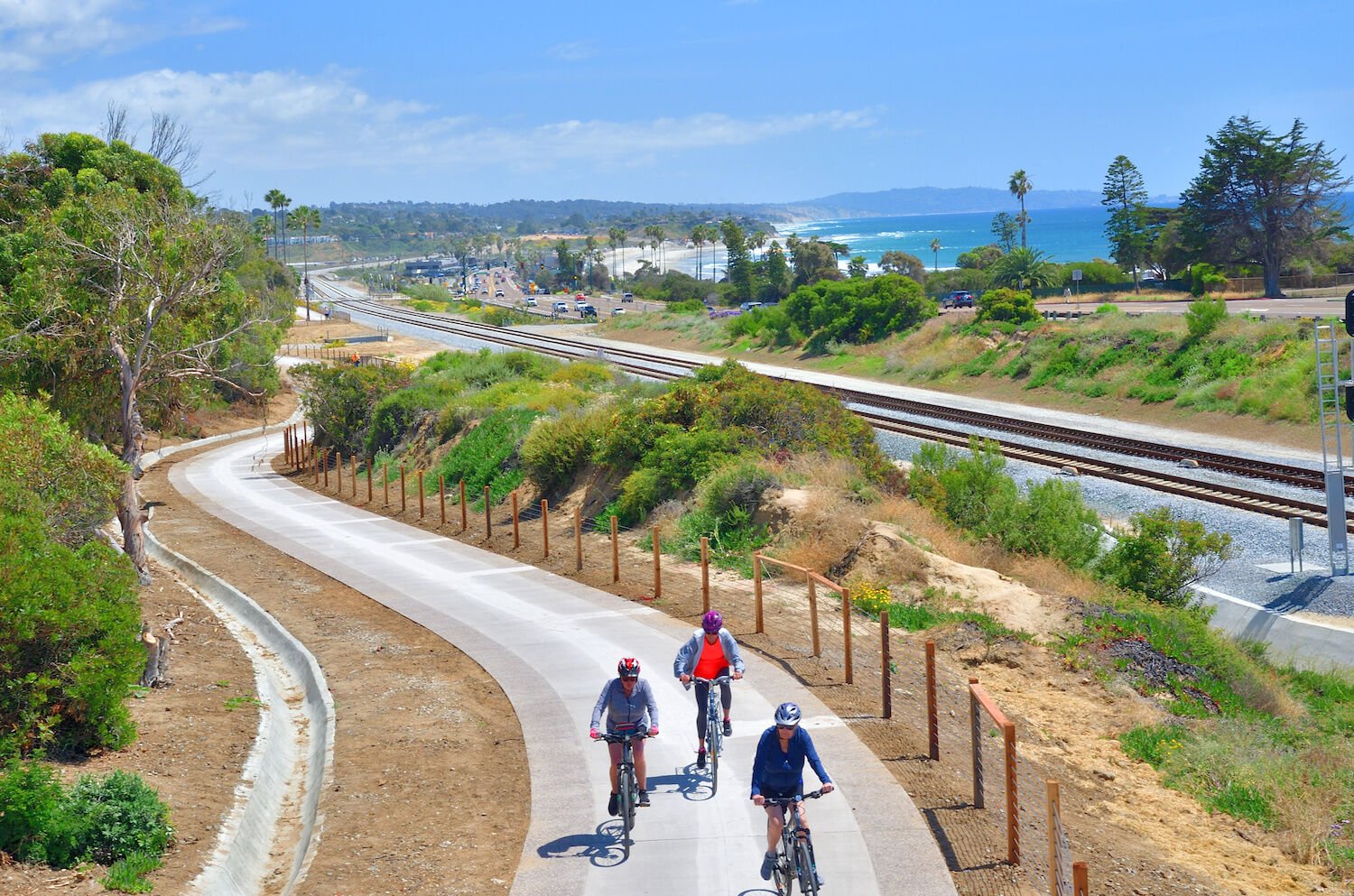 Courtesy of Keep San Diego Moving
Coastal Rail Trail – Encinitas to Oceanside
13 miles
This flat and scenic North County trail is a gorgeous, laidback stretch between Encinitas and Oceanside. Park near Swami's Beach and pedal north along Highway 101 adjacent to the Coaster tracks into Carlsbad. If you need a pit stop, drop by Carlsbad Village for a bite to eat at Board and Brew or take the stairs down to the beach, then continue the ride into Oceanside.For expert cyclists, the full Coastal Rail Trail (with dedicated bike lanes in development) runs a total of 44 miles from Oceanside to the Santa Fe Depot downtown, a whopping 3 hour and 20 minute ride through the entire county.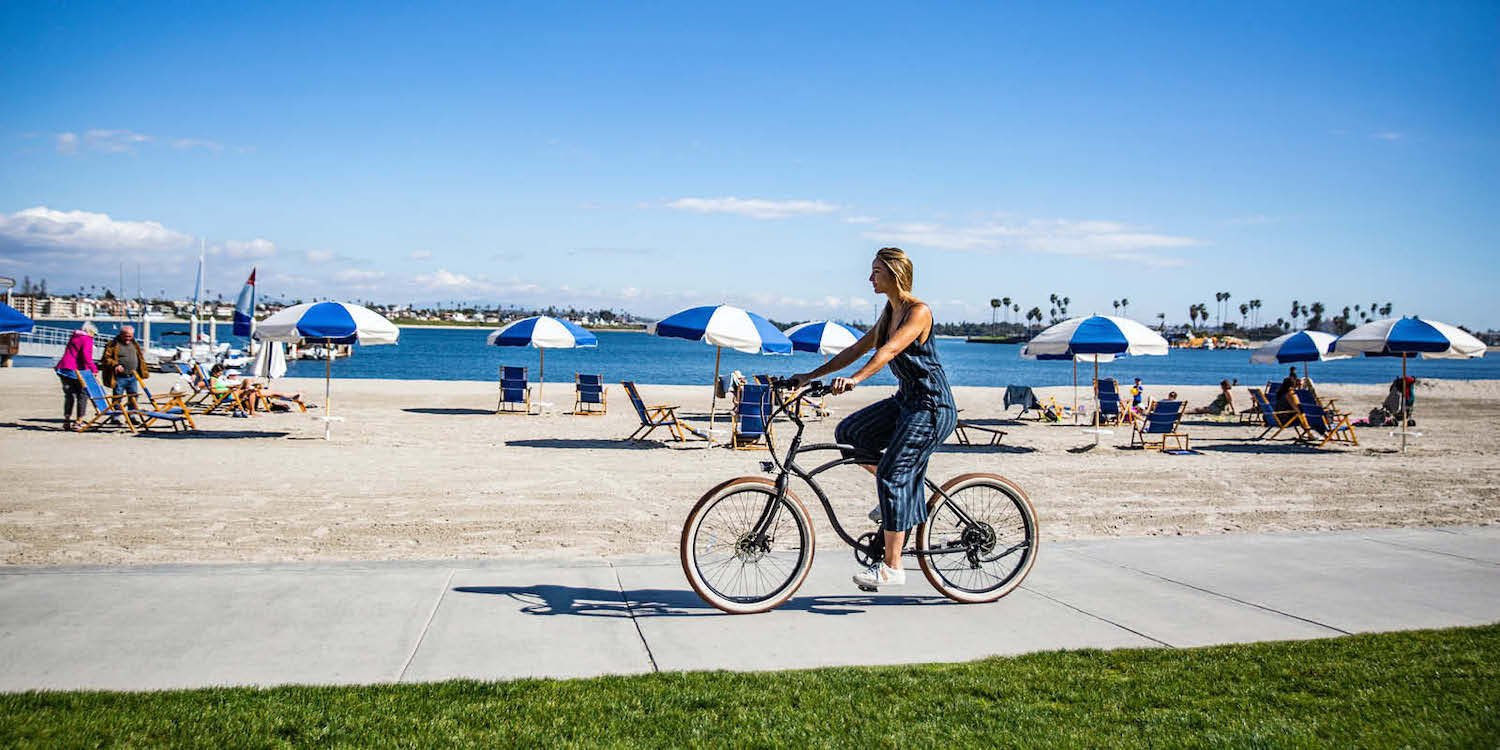 Courtesy of the San Diego Tourism Authority
Mission Bay Bike Loop
11 miles
Enjoy a beginner-friendly 11.3-mile loop around Mission Bay, featuring flat cement paths, waterways, bridges, and a view of Fiesta Island. This is a popular spot for tourists in summer, so expect to share the path with skaters and cyclists trying to beat their time trials.Out-of-town visitors can rent bikes from a myriad of nearby shops, including Ray's Rentals along Mission Boulevard. You might even run into legendary rollerblader SloMo while you're at it. End your ride with a picnic along the bay or a stop in Belmont Park for a revitalizing drink, or continue your cruise up the boardwalk to Pacific Beach.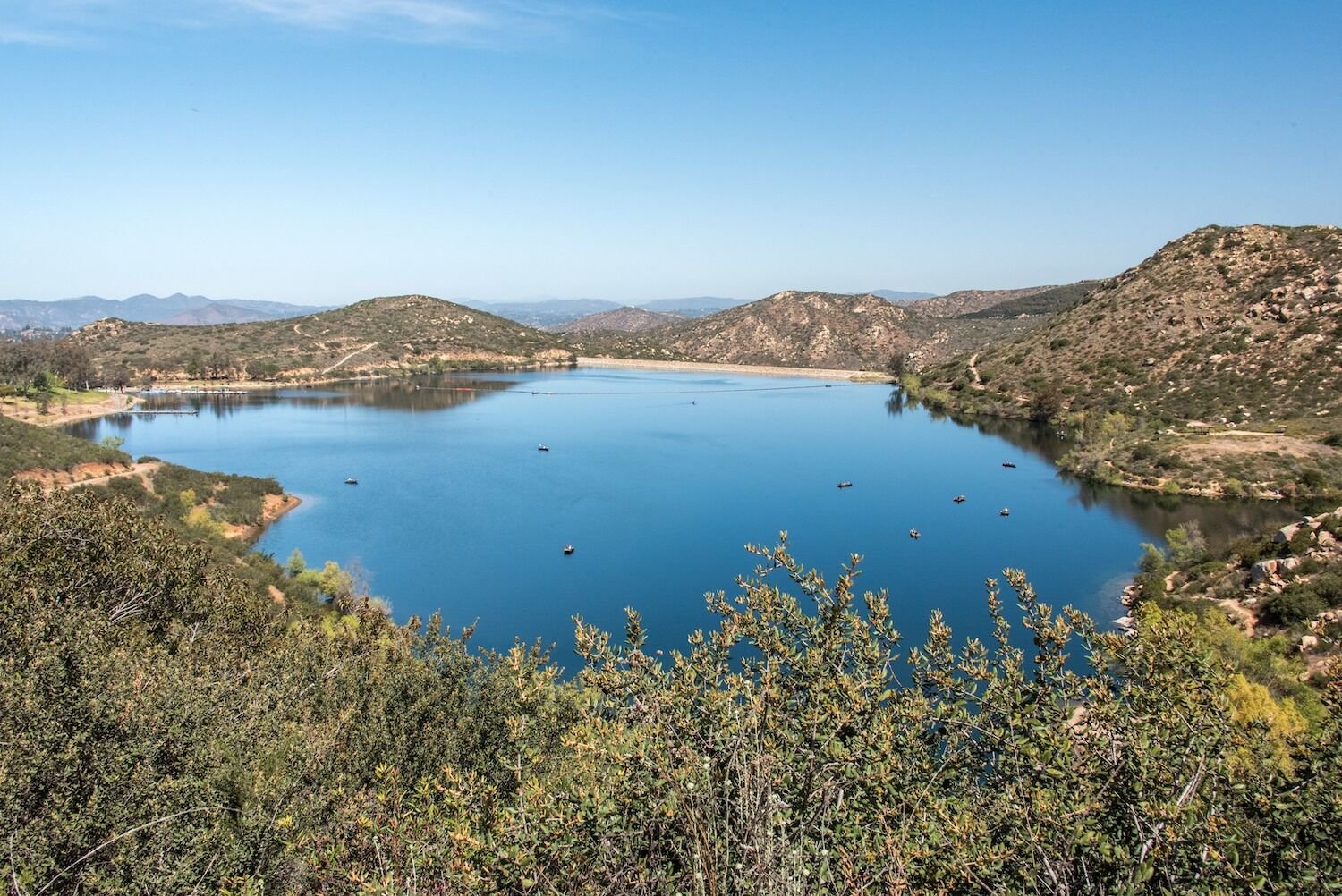 Courtesy of the Outdoor Project
Lake Poway Loop Trail
3-5 miles
For a less-crowded ride, head to Lake Poway in East County. The dirt path follows the lake's perimeter, with a moderate 579-foot climb along the hillside. Just under three miles, the East County jaunt offers natural eye candy without throngs of tourists. Avoid the Blue Sky Reserve trail on the dam side of the lake and, if you don't have a Poway address, bring $10 for non-resident parking in the lot on weekends.Those up for a bigger challenge can split off at the Mount Woodson trailhead for a 5.4-mile loop with inclines and views of the iconic Potato Chip Rock. Be sure to bring extra sunscreen and water, as the heat can be intense in the summer months.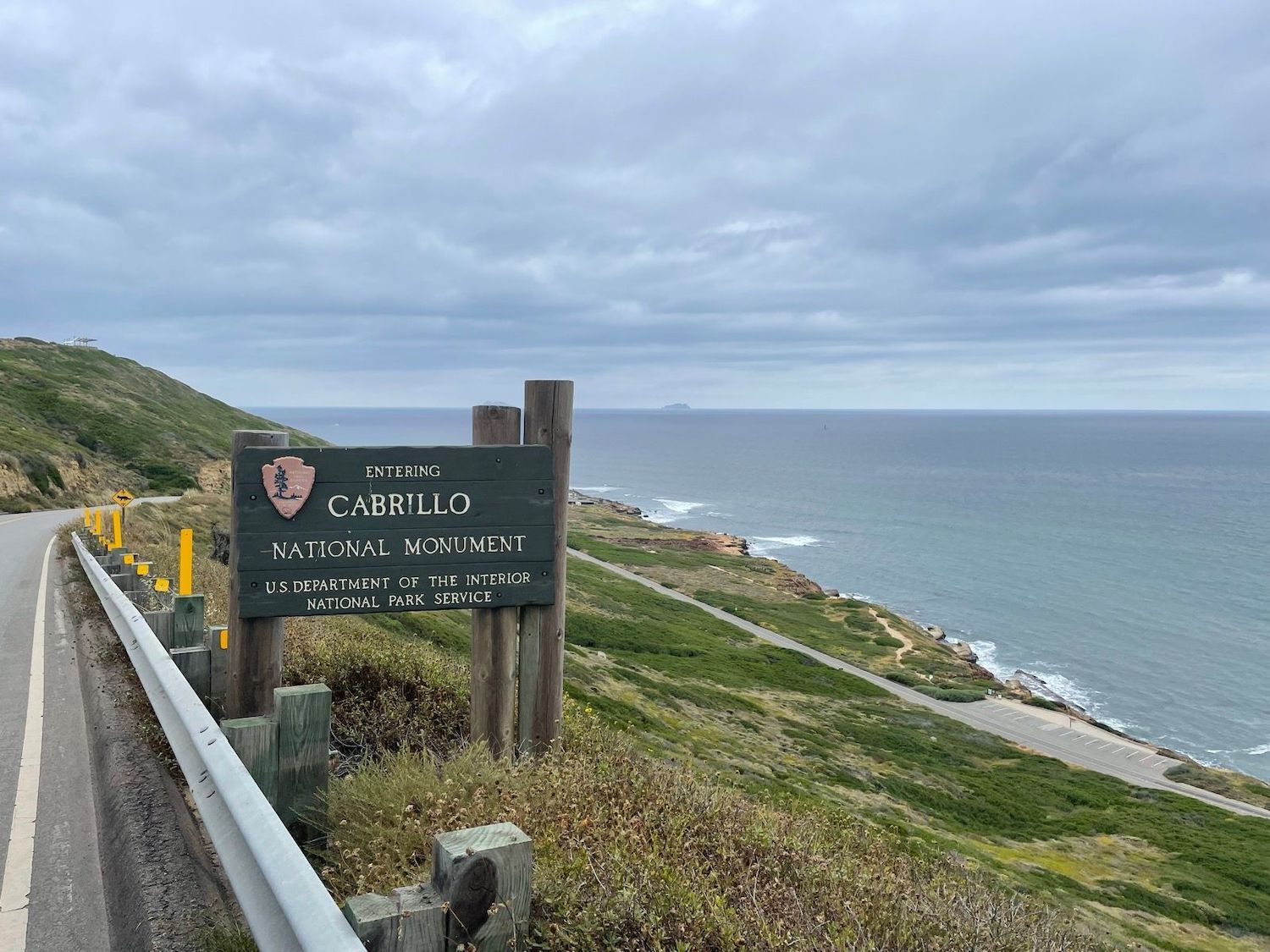 Courtesy of Strava
Ocean Beach Pier to Cabrillo National Monument
10 miles
Take in lovely sights of Sunset Cliffs, Point Loma, and the city skyline on this eight-mile route along the coast (but note that the path does contain hills and requires cyclists to share the road with drivers). Start at the Ocean Beach Pier and take Sunset Cliffs Boulevard to Catalina Boulevard for a smooth incline up the hills, passing World War II bunkers, military barracks, and the Fort Rosecrans National Cemetery. Pay the $10 entrance fee at Cabrillo National Park to continue the ride down the gorgeous coastal road, past critter-filled tide pools.The descent down Cabrillo Road can provide amazing views of the ocean, but the 350-foot, .75-mile ride back up the hill can be an absolute leg-burner, so prepare accordingly and get all your gear (including cold water!) in order.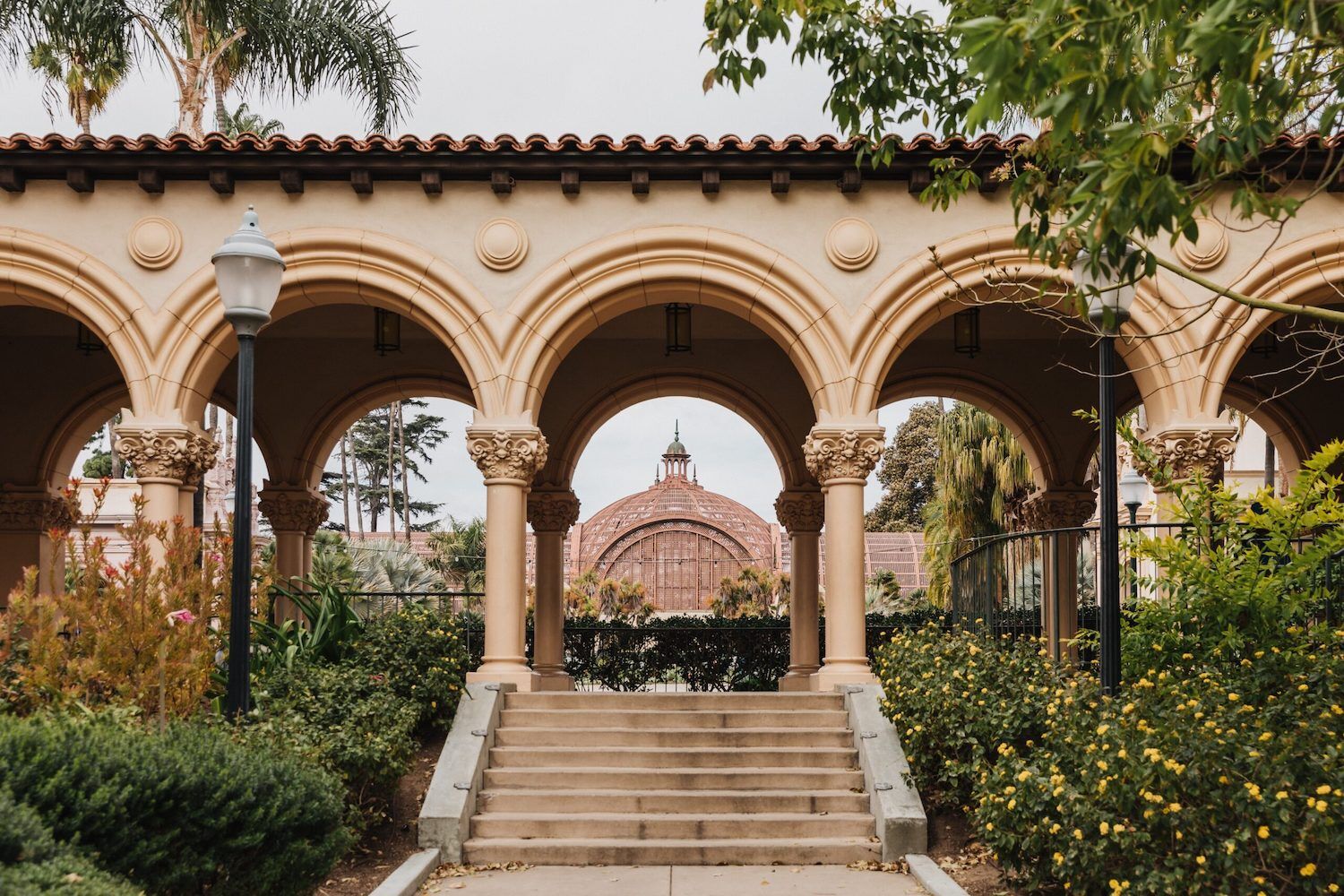 Courtesy of Balboa Park
Balboa Park Loop
5 miles
Explore Balboa Park on two wheels with this loop that crosses the Prado Bridge and breezes by museums, gardens, and the park's traditional Spanish architecture. Biking through the 155-year-old green space can help you access spots often overlooked while driving in a car.After navigating through the park and passing the Fleet Science Center, cyclists can take Park Boulevard up to University Avenue for a ride through Hillcrest to enjoy a tasty bite at favorite spots like Ike's Sandwiches. If you're up for it, extend your cruise from Hillcrest into North Park for more city adventuring.
Courtesy of the USDA Forest Service
Big Laguna Trail
13 miles
Venture into the beautiful Mount Laguna meadows and find a bike loop ideal for weekend wanderers kicking off a camping trip. Located just under an hour east of downtown via the Sunrise Highway, the Big Laguna trail offers routes for beginners and advanced cyclists alike. Although mountain bikes are best for the area, road bikes can still manage the meadow loop for a less-strenuous family ride.Mountain bikers can start their cruise at the Sunset Trailhead, pass through the Mount Laguna Meadow campground, and check out the Cleveland National Forest's perimeter along the trail. Five dollars gets you access to the meadow's scenery, vibrant wildflowers, diverse wildlife population, and fresh mountain air. Don't forget to bring water, sunscreen, bug repellent, and your binoculars for bird-watching.