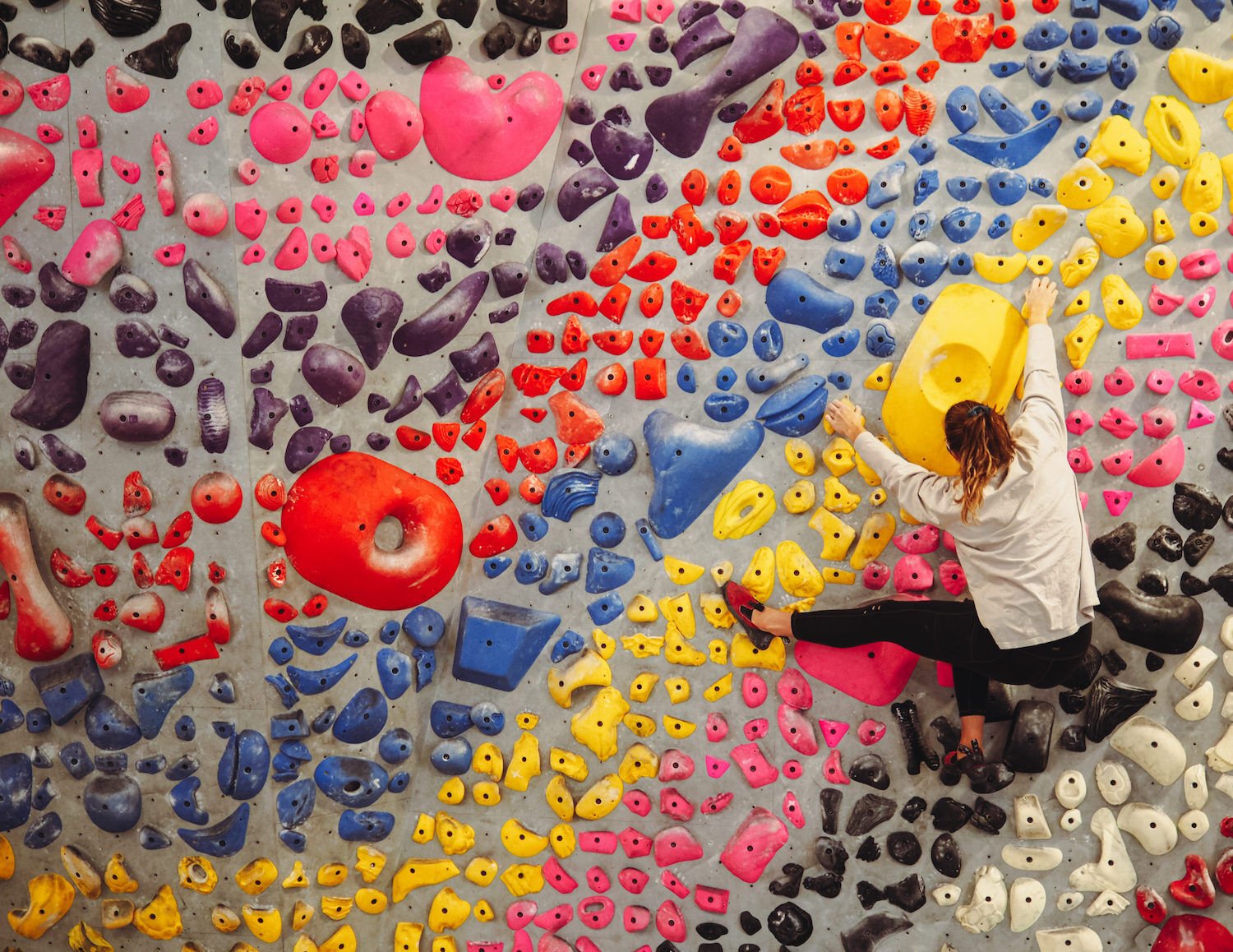 Courtesy of Mesa Rim
When first learning, rock climbing and bouldering might look similar, but there are a couple big differences. The former calls for ropes and protective gear, while bouldering is a free climb—just you and every muscle in your body. Both require mental and physical strength, discipline, and stamina, but each utilizes different equipment and approaches to ascension. Either way, as Mesa Rim's Dom Sengvilay says, once you start climbing, there's no turning back.Sengvilay first turned to the sport as a way to get outside during the pandemic. "My husband was interested in climbing," she recalls. "That's how I think a lot of people get into it—you know someone that climbs and they take you out." After starting off at Santee Boulders with a couple friends, she says she "fell in love" with the sport and joined local climbing center Mesa Rim as People Systems and Payroll Coordinator.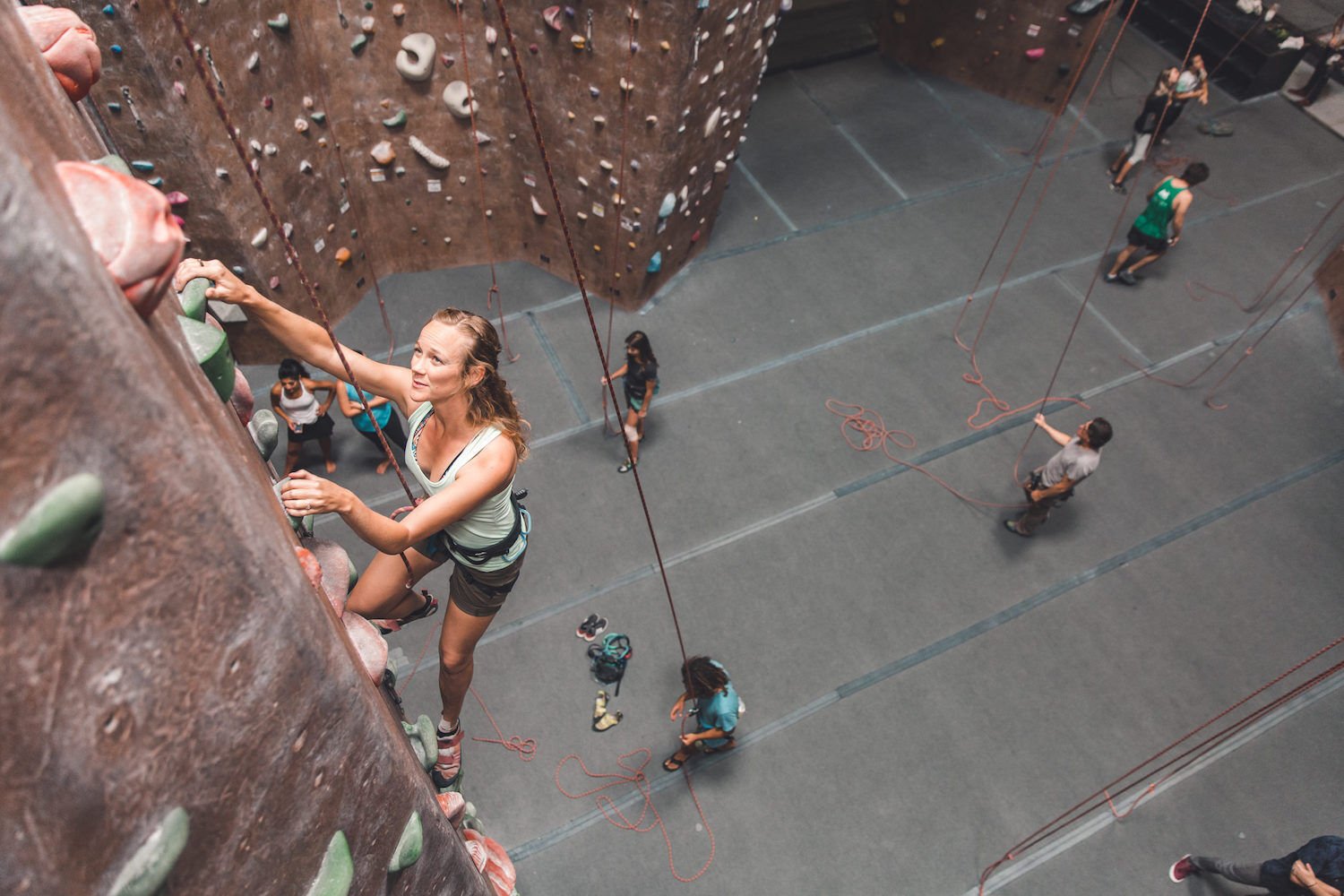 Courtesy of Mesa Rim
"I've only been with Mesa Rim for a year, but I'm definitely pretty deep in the climbing community now," she laughs. She says climbers tend to be very social, generally quick to root for people in and out of the gym. "If people see you trying hard, it's very difficult for them to not cheer you on, even if they don't know you," she explains. "It's very communal."She hopes that more folks start to discover a love for climbing, noting that, while it often reads to outsiders like an elite sport, it's actually a fun, accessible, and healthy way to connect with others. If you're curious on what you need to get started indoor rock climbing, here are some of her top tips and product picks.
---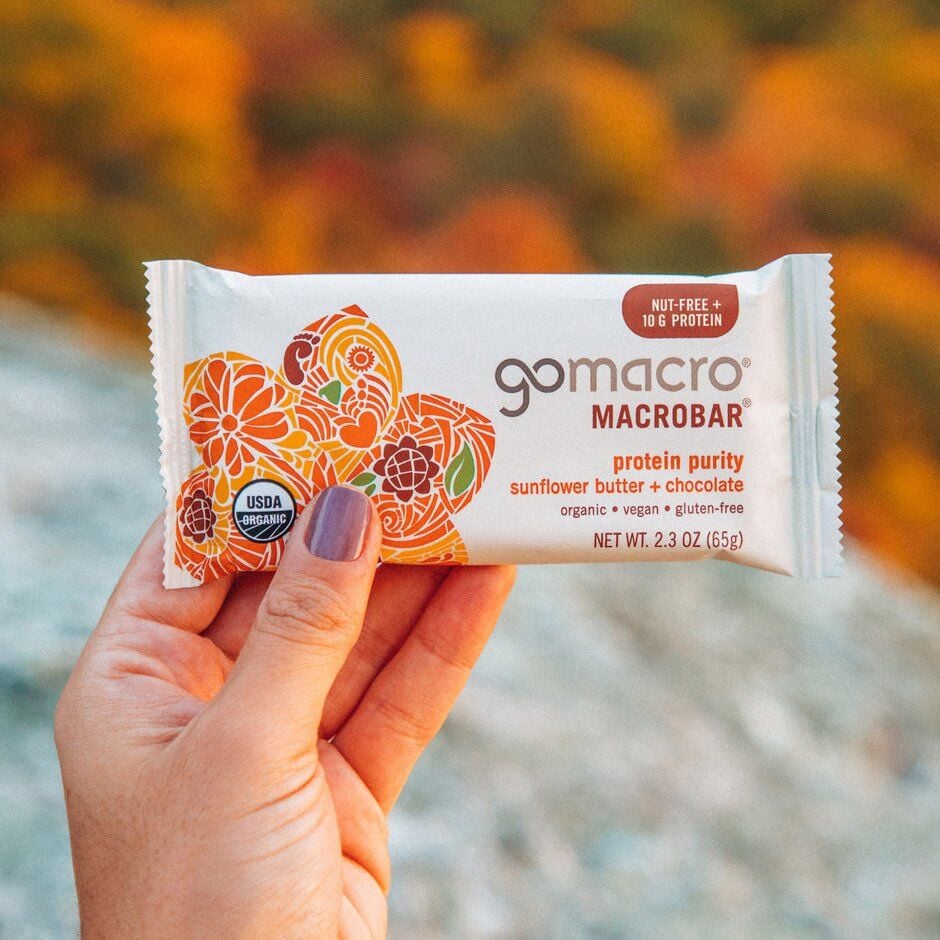 Courtesy of GoMacro
Fueling Up
"It's so basic, but eating is very important and does wonders for performance," she says. "Make sure to eat breakfast and bring protein bars for [long sessions]. Pack a small lunch for a good all day trip indoors or outdoors." Sengvilay likes to start her day with a warm bowl of oatmeal topped with fruit, and she fuels with Macrobars in between meals. For lunch, she'll buy a sandwich or tote some homemade onigiri (rice balls). "Don't forget caffeine," she adds. "I personally don't [often drink] coffee, but when I do, I love Dark Horse Coffee Roasters' cold brews. But usually I get my caffeine from Babe Yerba Mate Kombucha—the passion fruit and mint flavor, please!"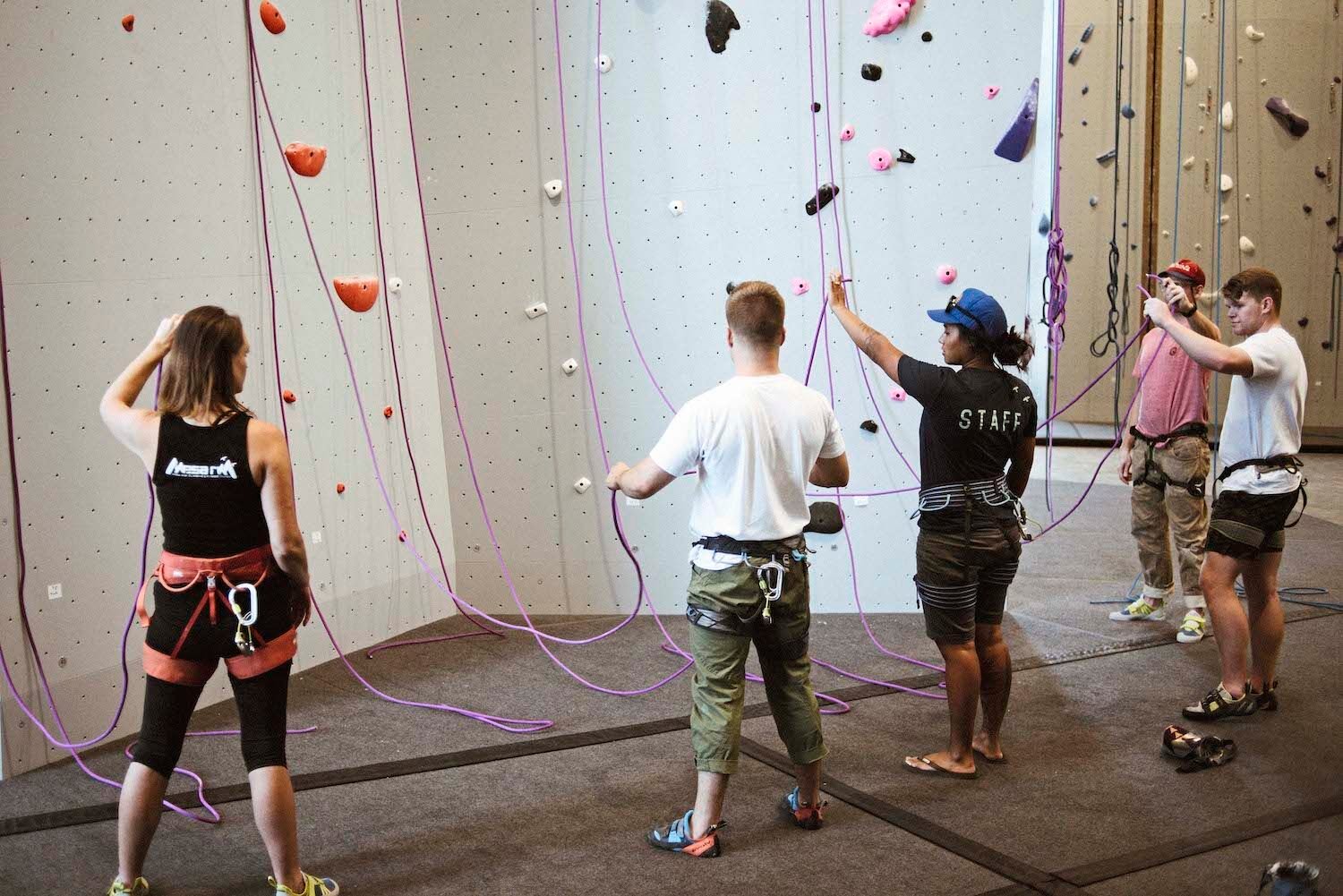 Courtesy of Mesa Rim
What to Wear
"Indoors or outdoors, I'm usually in leggings and an oversized tee," Sengvilay notes. "If I'm going to be in rougher terrain, I will opt for sturdier pants that still have comfort and stretch to them for climbing, like my Mountain Hardwear Dynama pants or Topo Designs boulder pants." And, she adds, "Don't forget a light packable jacket."
Building a Starter Kit
Sengvilay recommends the REI Co-op Flash 18 Pack to cart everything you need. "It carries everything and has a water bladder and all the hoops for my gear," she enthuses. "It's relatively inexpensive, too. It's a good daypack for all your gear and snacks, as well as water, first aid, and sunblock."She says a chalk bag and chalk are two other necessities to get started. "I love a good chalk bucket, since I mostly boulder, but a bag will work for both bouldering and rope climbing," she continues. "I personally like one that's not too deep, so I don't have to dig so far while I'm on the wall. For chalk, it's definitely all about preference. There's liquid or loose, chunky or fine. I prefer Friction Labs Gorilla Grip (Chunky) loose chalk for how well it lasts on my hands." And while crash pads—foam mats that can absorb impact to reduce the risk of injury from a fall—aren't essential for beginners, they can help ease safety fears for newbies trying their hand at rocks outside of the gym. "A crash pad might be a good investment if you plan on bouldering outdoors often," Sengvilay emphasizes. "Mad Rock pads are my favorite, and Metolius is a good budget option."
Best Climbing Shoes 
A non-negotiable need: climbing shoes. Sengvilay recommends beginning with "something with a neutral profile [that's] not too aggressive." While she got her start with Black Diamond Momentums, her current go-to suggestions for first-timers are the La Sportiva Tarantulaces or Finales.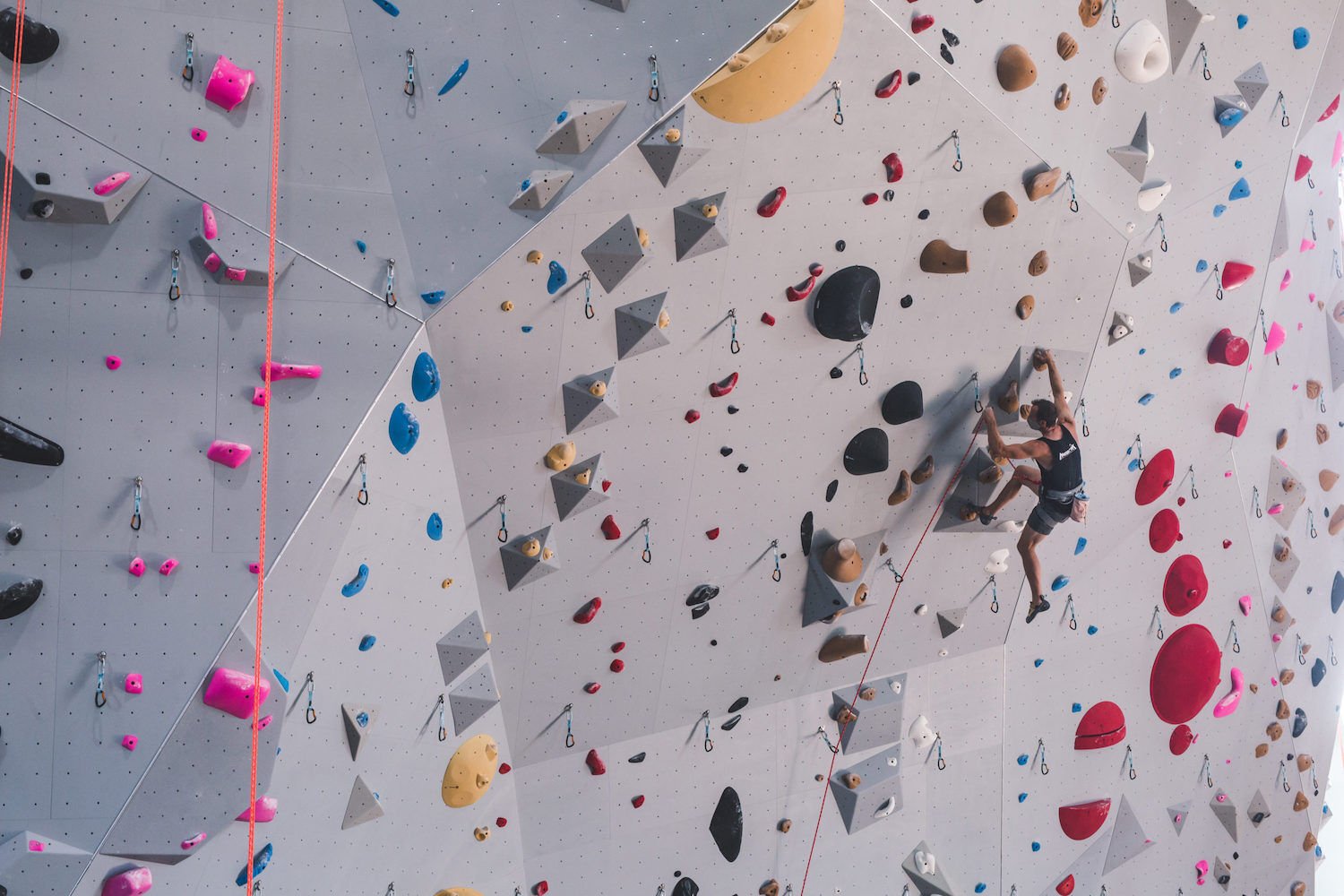 Courtesy of Mesa Rim
For Aspiring Rope Climbers 
"If you're planning on getting into rope climbing as well, you'll definitely need a harness," Sengvilay says. "Black Diamond Momentum is a great one to start out with and will work for both indoor and outdoor climbing." While a belay device and locking carabiner will likely be a future investment for avid rope climbers (she likes GriGri and the Black Diamond twistlock), tapping a more experienced belay partner to train with and borrowing their gear can be a good way to get going without purchasing some of these smaller pieces.
Check Your Apps
According to Sengvilay, "Mountain Project is the best app for finding routes outside. It's all updated by the climbing community." The app tends to be much more robust and current than most printed climbing guides, but "if you're trekking out to a more established crag, specific guide books are great, too," she says.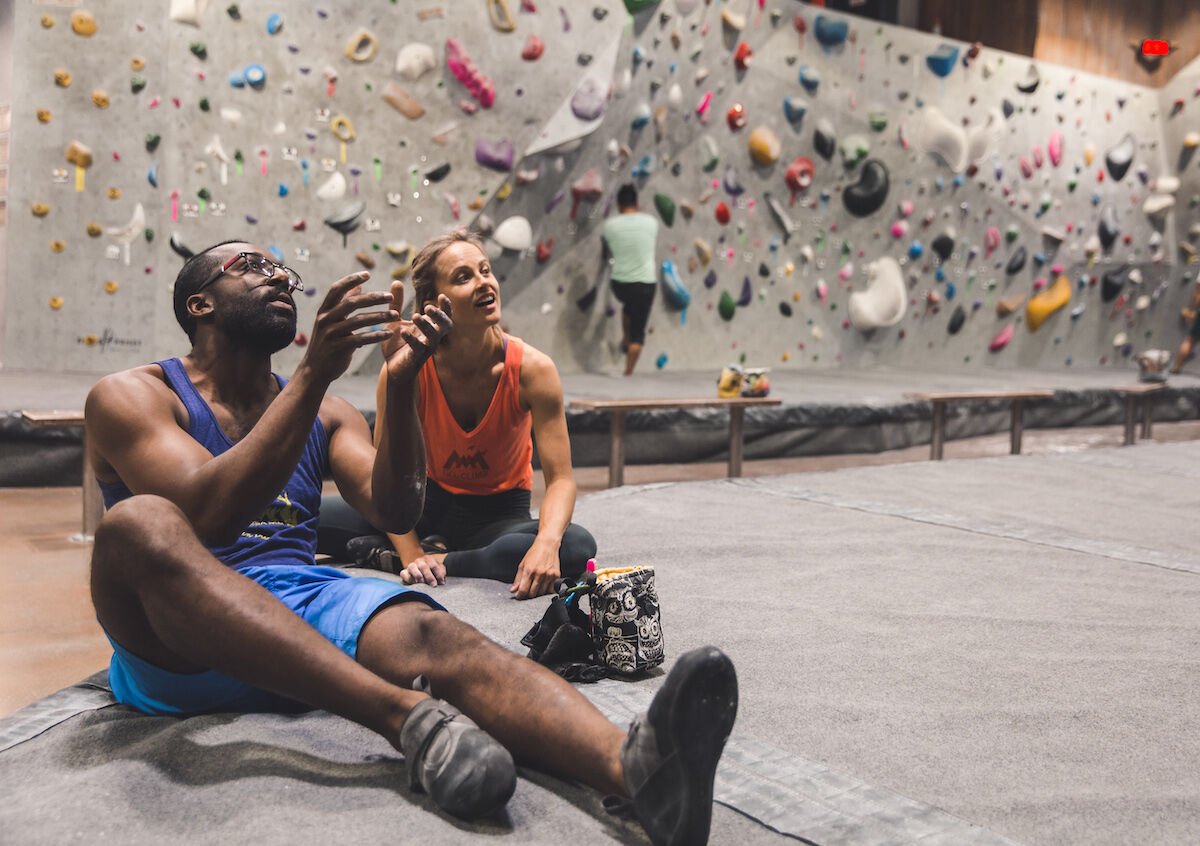 Courtesy of Mesa Rim
Bring a Buddy 
Climbing and bouldering can be great solo, but they are even better with friends, Sengvilay promises. "[Climbing friends] can show you the must-try routes at a crag, lend you the gear that you might not have yet, and best of all, pump you up while you're on the boulder," she says. Not sure where to start? Try a local meet-up or organization like Climbers of Global Majority, Queer Climbing Collective, and Brown Girls Climb to meet your new bouldering besties.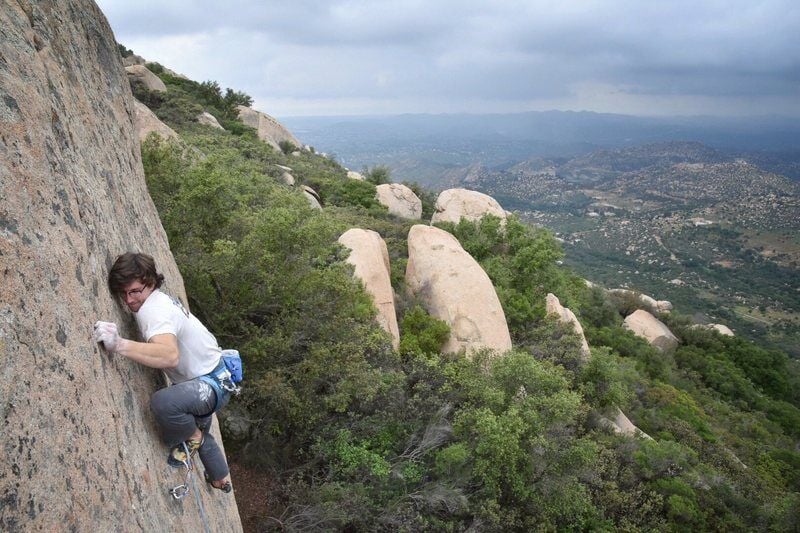 Courtesy of Mountain Project
Favorite Local Outdoor Crags 
For excellent starter climbs close to home, Sengvilay likes bouldering at Santee Boulders and rope climbing at Mission Gorge. But don't be afraid to go a bit farther afield. "We are so close to other amazing crags that can make a good day trip—Joshua Tree, Tramway, and Black Mountain offer great boulders and ropes," she says.
Final Tips
Some general rules of exercise and hiking apply to climbers, too. Make sure to warm up and stretch to avoid pulled muscles, don't forget to carry out any gear you brought with you to the crag, and, Sengvilay emphasizes, "have fun!"
This post contains affiliate links to products and services. We may receive compensation when you click on links.