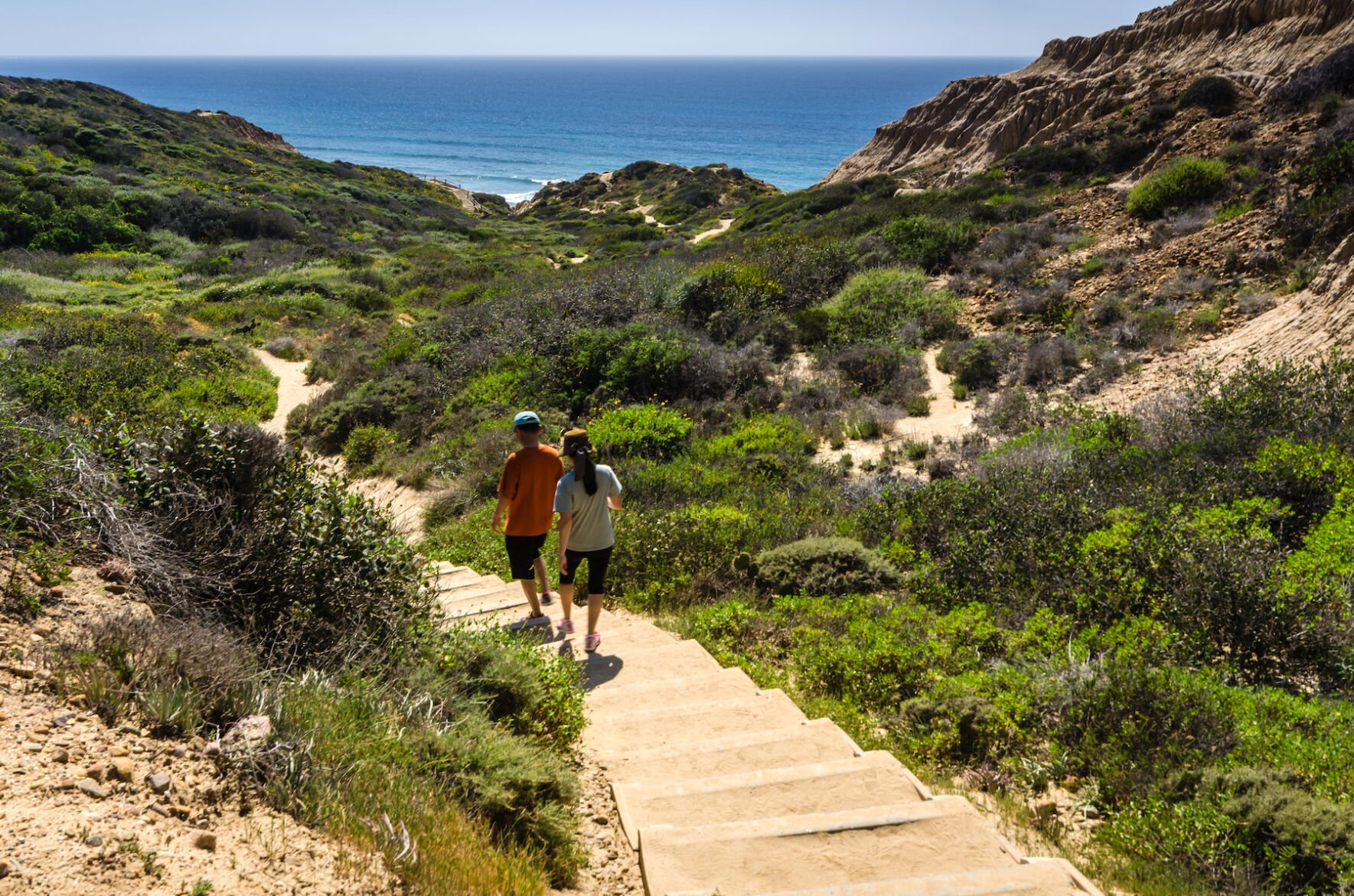 Only in San Diego do we climb mountains on first dates. For fun. Hiking is quickly becoming a healthy alternative to the bars and coffee shops frequented by singles. Here, we vet our fave trails—and après-hike spots—to put romance to the test.
Sunset Cliffs 
This run along the cliffs above crashing ocean waves is romantic at sunset or, honestly, anytime. Take a date to impress them with the beauty of your exercise spots. Start at Ocean Beach Dog Park, run toward OB Pier, and weave your way along Niagara Avenue and Sunset Cliffs Boulevard to the ocean. You can extend the run into the looping trails in Sunset Cliffs Natural Park, or stop and sit on the cliffs to watch the ocean. An actual sunset is a bonus, but not required.
Distance: 6.1 miles out and back
Difficulty: Moderate
Refuel spot: Newbreak Coffee & Cafe after the return trip for lattes, smoothies, or more substantial sandwiches and wraps (1959 Abbott Street, Ocean Beach)
Old Sea World Drive 
If you want something a little more isolated that still catches ocean breezes, try this lesser-used dirt trail along the San Diego River. Turn onto it just before Friars Road meets Sea World Drive; your date will think you're an in-the-know insider when you come to this secluded path. Follow it straight west, and when you reach the end of Quivira Jetty, you'll feel like you're standing at the edge of the world.
Distance: 4.5 miles out and back
Difficulty: Easy
Refuel spot: Royal Rooster for draft beer, tacos and burritos, or Slush Puppies with a dockside view (1717 Quivira Road, Mission Bay)
Torrey Pines 
This quintessential San Diego hike is a little cliché, but the views really are unsurpassed. Start in the Torrey Pines State Reserve lot on North Torrey Pines Road and follow the dirt trail south into the park. Try the Guy Fleming Trail or the Razor Point Trail, but any of the trails in the park come to the edges of Torrey Pines' sweeping cliffs that overlook the ocean and crashing surf below. If you time it right, you'll see spectacular sunsets.
Distance: From the parking lot around Guy Fleming and back is just under 2 miles. Add more trails for a longer distance.
Difficulty: Moderate
Refuel spot: You'll have to drive back to Bird Rock Coffee Roasters, but their joe can't be beat, plus pastries and other snacks (2212 Carmel Valley Road, Del Mar)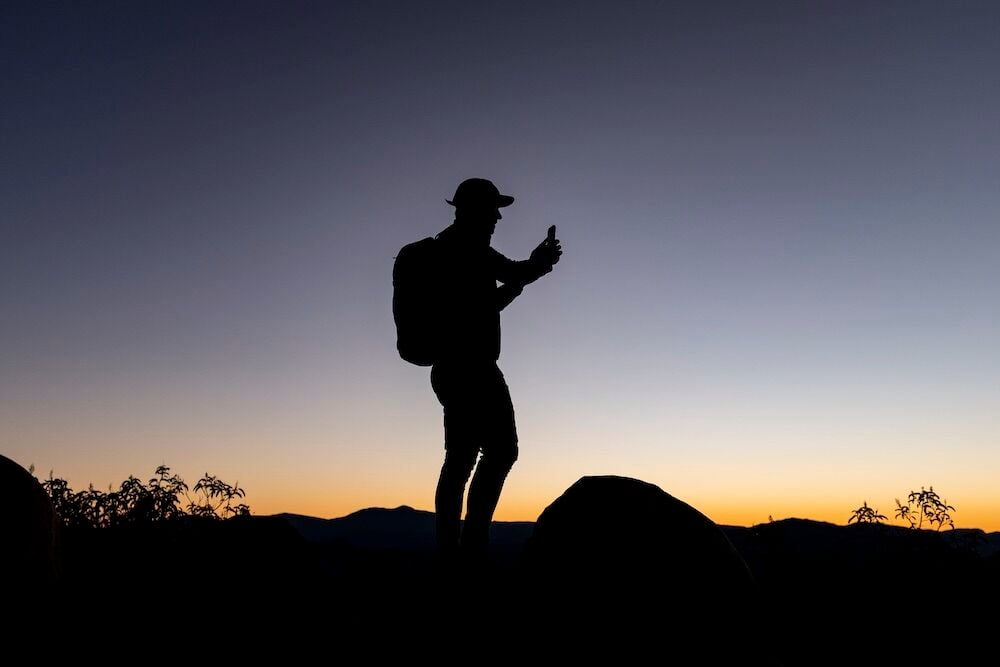 Todd Glaser
Iron Mountain 
If you want something a little more rugged and farther inland, tackle the climb up Iron Mountain. It's not ridiculously steep or long, so you won't exhaust yourselves on a first date, but it's still a challenge. The wooden gate you start by passing underneath feels rustic, as does the first bit of the hike among the trees. Then you climb up and out of the woods as you head to the top, with scenic views along the way.
Distance: 6.6 miles, but if you're feeling energetic and the date is going well, you can extend to 9.5 miles by taking a longer loop.
Difficulty: Challenging
Refuel spot: Get a quintessential diner experience at Franco's Flapjack Family Restaurant, with hash browns, chicken and gravy, and of course, flapjacks (14034 Poway Road, Poway)
Volcan Mountain Trail  
This is another rugged inland hike, but not quite as challenging, and it begins with a unique gateway designed by local artist James Hubbell. Plus, it's lesser known, so your date will think you know all the best hiking spots. The top has stunning views of Iron Mountain, Mount Woodson, and beautiful wildflowers at the right time of the year. Start at the gravel road to the trailhead off the 78, just north of downtown Julian.
Distance: 5.2 miles for the loop
Difficulty level: Moderate
Refuel spot: Get organic coffee and tea and baked goods made from scratch at Regulars Wanted Beanery (1921 Main Street, Julian) or go straight for dessert at Julian Pie Company (2225 Main Street, Julian).
El Cajon Mountain 
If you have a very fitness-focused date and really want to spend a full day with them, it'd be a real bonding experience to tackle El Cajon Mountain together. It's one of San Diego County's most difficult peaks and the trail to get there goes up, then down, then up, then down, then has a final steep climb to the top. A warning: Start early and don't go in the summer months—in fact, the trail is closed in August. There are signs along the way that show you how far you've come, and how far you still have to go.
Length: 11 miles out and back
Difficulty level: Challenging
Refuel spot: The old-timey-feeling Yogurt Mill has soft serve in portions bigger than your head, but don't worry, you've earned it (935 Broadway, El Cajon)
Daley Ranch 
If you're looking for something much easier and more low-key, head to this spot in North County, which has other trail options if you want to add distance. Start at the parking lot on La Honda Drive and follow the Ranch House Trail to the East Ridge loop. You'll pass a small pond along the way, and can keep meandering on different trails for as long as you choose.
Length: 2.2 miles for the loop
Difficulty level: Easy
Refuel spot: Get breakfast, or pies, or pork chops at J&M's Family Restaurant (1215 East Valley Parkway, Escondido).
Lake Miramar 
If you're looking for a run or bike instead of a hike for a first date, the winding loop around Lake Miramar is a great spot. This path is flat and follows a perfect five-mile loop that hugs the lake the entire way. As you cross the dam on the western side of the lake, you're treated to a picturesque view all the way to La Jolla. Plus, there are benches to stop along the way and chat more, if you'd like.
Length: 5 miles
Difficulty level: Easy
Refuel spot: C's Ice Cream & Deli has more than 10 kinds of root beer. If that's not enough of a reason to go, they also offer delicious sandwiches, salads, ice cream, and other snacks. (9969 Mira Mesa Boulevard)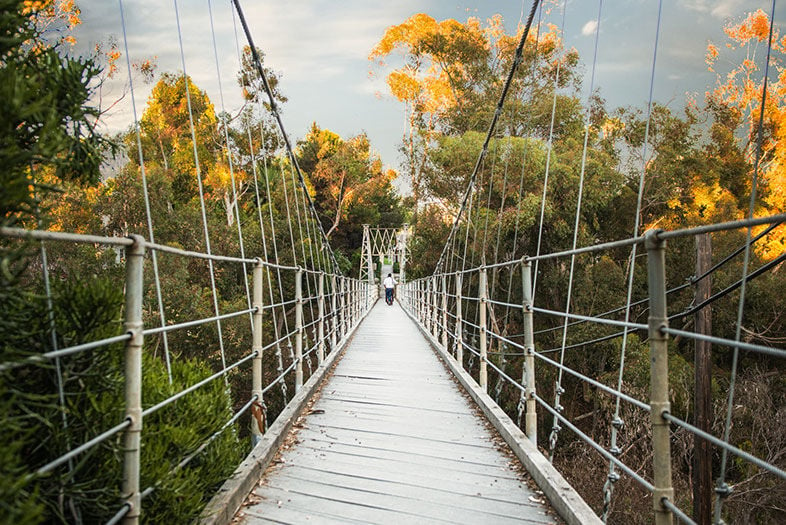 Spruce Street suspension bridge | Photo by Corey Jenkins
Balboa Park Seven Bridges Hike 
This urban hike will take you across all seven pedestrian bridges scattered around Balboa Park and Bankers Hill. Start in Balboa Park's Rose Garden and take the bridge over Park Boulevard. Walk west through the park on El Prado to Cabrillo Bridge over the 163. Keep going on Laurel Street till you hit First Avenue, then turn right and you'll find the First Avenue Bridge. Take a right on Quince Street and cross the Quince Street Bridge. From there, turn left on Fourth Avenue, another left on Spruce Street, and you'll come to the Spruce Street Suspension Bridge (it moves as you walk, so you may want to grab your date's hand!). It's a long way to the next one: Make your way back north and east until you come to University Avenue. (If you hit Sixth Avenue first, just head north). Take University east (you'll cross over the 163 again, but that bridge doesn't count!) to Vermont Street and turn left. Past the Trader Joe's you'll find the Vermont Street Bridge. On the other side, turn right on Lincoln Avenue and head all the way to Georgia Street, turn right again, and take the short Georgia Street Bridge over University Avenue. Last is a right on Robinson Street and a left on Park Boulevard to get back where you started.
Difficulty level: Moderate
Length: 6.5 miles for the loop
Refuel spot: Panama 66 in Balboa Park has craft beers on tap, wine and salads, sandwiches, and apps like fried rainbow cauliflower and curry fries.