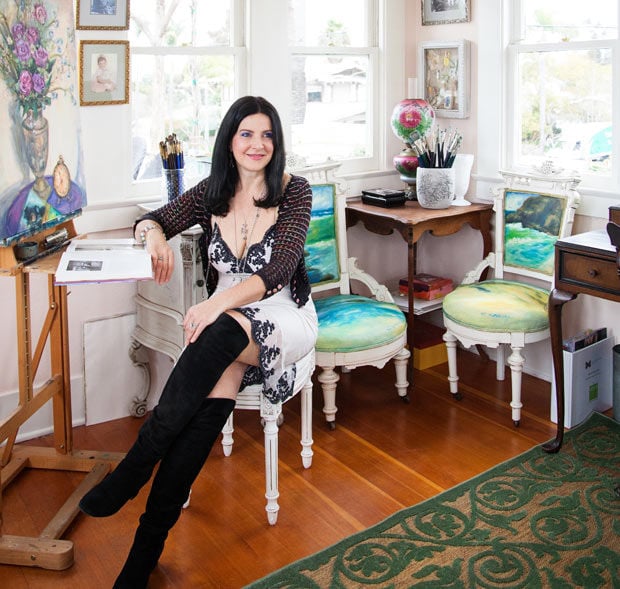 Concetta Antico
Neighborhood
Mission Hills
BUILT
1913
STATS
2,500 square feet, with three bedrooms and three baths, plus 1,000 square feet of deck space and an upper widow's walk
HER STORY: Welcome to the colorful world of Concetta Antico. The 53-year-old Australian-born artist is blessed with superhuman vision, a rare condition called tetrachromacy, which allows her to see nearly 100 million more colors than the average person. Her gift has led to a successful career as a contemporary impressionist and art teacher. At home, life is just as vibrant. Concetta and her husband, Jason Pizzinat, along with their two children and nine- plus cats, live in a classic Craftsman, just down the street from her Mission Hills studio. The house is welcoming and nostalgic—shabby chic meets French farmhouse, with the personal touches of someone with an eye for the eclectic. Concetta is a treasure seeker, and her home is a place where memories (bird feathers from a park in Sydney, a daisy chain made by her daughter, and more) become decorative vignettes, arranged in artful ways. In every corner and on every side table, there is a story to tell. "Everything in this house has meaning to me," she says. "There's an old saying that something has to be useful or beautiful. I'm big on the beautiful."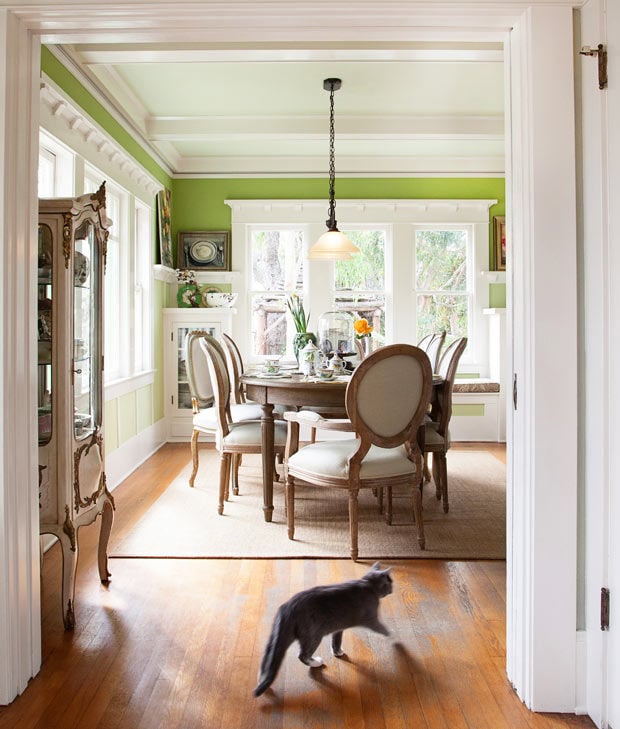 Concetta mixed a pairof antique green and gold-rimmed chairs with a dining set from Restoration Hardware. "They add that spin, that surprise, the pop," she says. "The discussion becomes: Who's going to get to sit in that chair? The princess chair."
WHITE OUT
The entire home is rich with Craftsman details, such as built- in shelving and dentil molding. "These old houses are décor in themselves," Concetta says. "They are whimsical. And the architecture is so inspiring." When she moved in eight years ago, she painted all the original woodwork white, which she knows purists will scoff at. But she felt it was too dark. "I wanted a San Diego lifestyle, and here, we are all about the light," she explains. "I love the light in this room in particular."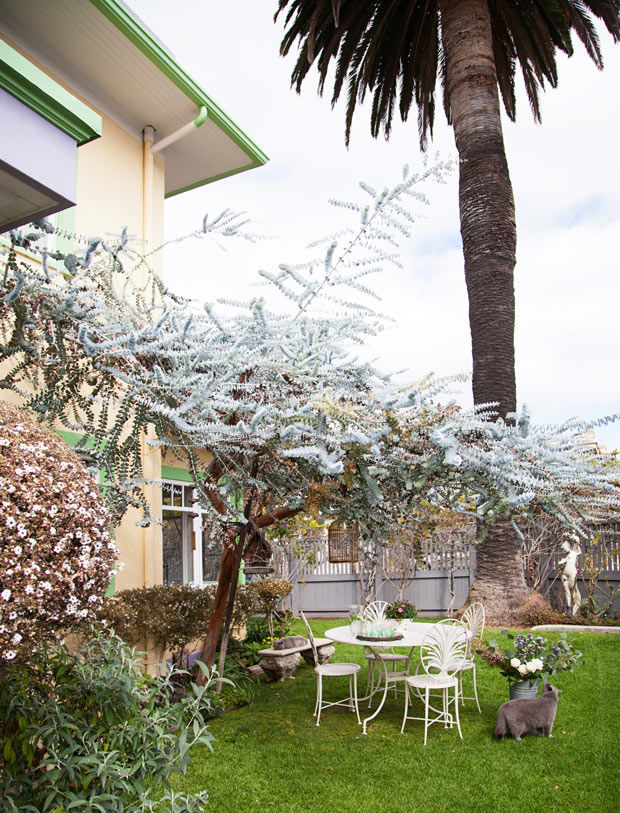 FLORA AND FAUNA
When the family bought the house, the yard was just dirt, except for the Canary palm and a jacaranda tree. Today, a wispy seven-year-old silver dollar eucalyptus hangs over a vintage table and chairs on the front lawn. Concetta trained it to grow that way. "I think gardens are really important. Imagine this house without its garden!" says the artist, who did all the landscaping herself, adding a peppermint willow, a vegetable garden, and fruit trees (lemons, mangoes, avocados, Washington oranges, figs, and apricots) to the property.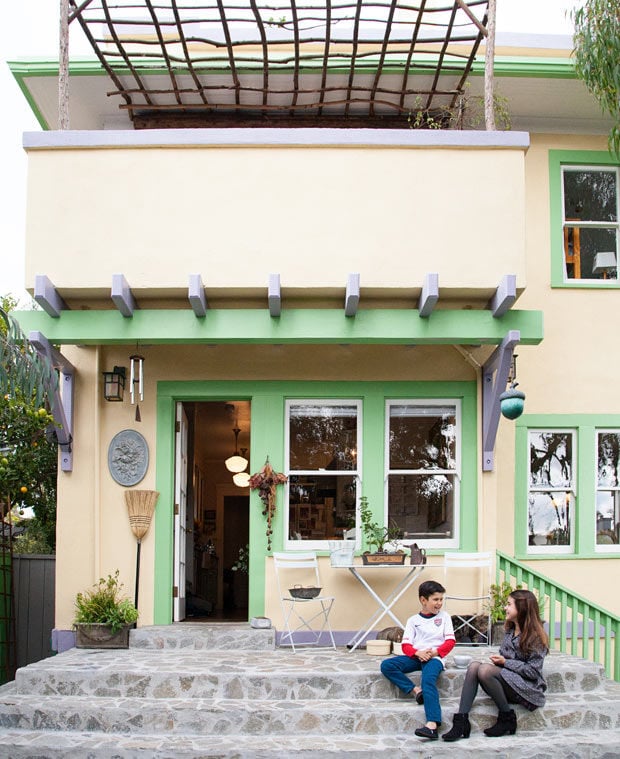 COLORFUL AND RUSTIC
The exterior of the house is painted with soft pastels to complement the surrounding landscape, especially the purple wisteria that blooms in the spring. Concetta commissioned Curt Levine of The Giving Tree in Pine Valley to create the pergola and a matching gazebo (not pictured). The rustic pieces are made of oak, willow, and cedar harvested from Mount Palomar. Pictured: Zen, eight, and Ava, 12, talk international soccer and pretzels, beside a Ballard Designs table and chairs on the back porch.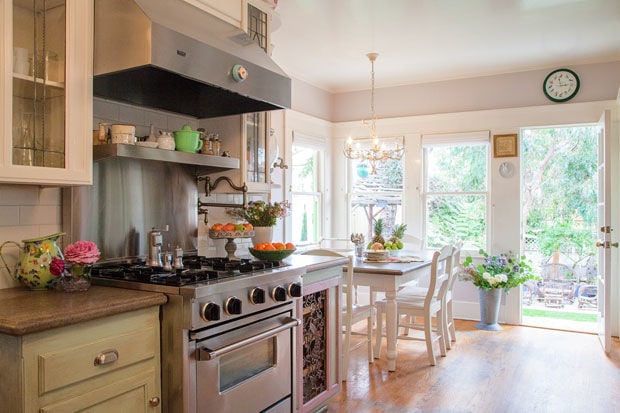 CREATIVE CUPBOARDS
The kitchen counters are topped with natural leathered granite from Amazon Stones on Miramar Road. Concetta used the same material to update an old wooden farm table that came with the house. She customized vintage windows from Architectural Salvage into cabinets, and the lower cupboard is fashioned from a piece of an old screen door. She says, "I feel really comfortable in this house because it is very me."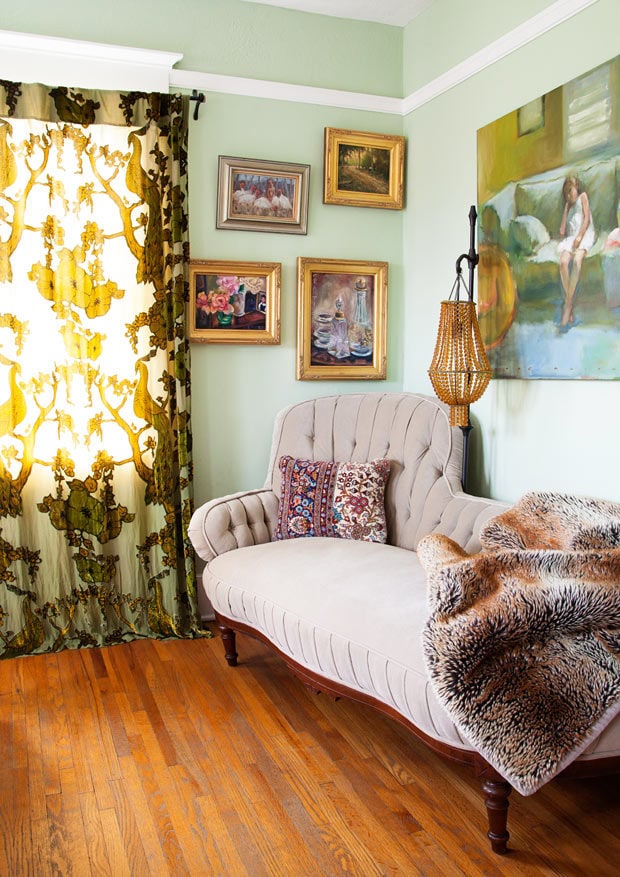 LITTLE RESTING PLACE
Concetta bought these velvet drapes at Anthropologie—a serendipitous find, given that peacocks are in her signature paintings and business logo. The 200-year-old chaise was originally upholstered in red velvet, filled with horsehair, and had springs sticking out of it. But she appreciated its distinctiveness. "Chaises are rare," she says. "They don't make furniture like that anymore. You can be lying down or sitting up. It's the best of both worlds." Throughout the house there are seating areas like this one in the master bedroom, with vignettes of art and other collectibles. Concetta calls them "little resting places."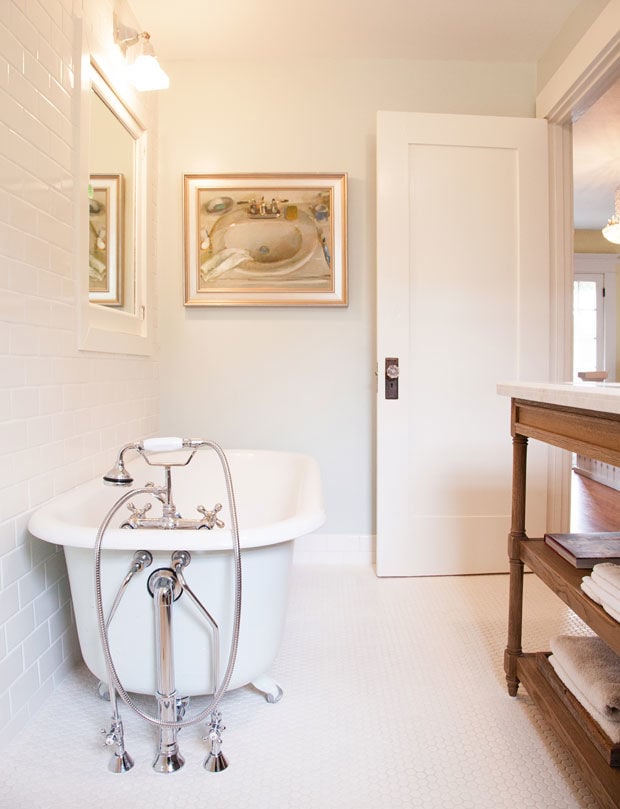 FRESH AND CLEAN
"I know if I can visualize it, then it can be done," says Concetta, who customized this bathroom to fit a double sink, claw-foot tub, and shower in the confined space. "Don't be restricted by what is. Think about what can be." With walls of subway tile and octagonal-tile flooring, the entire room functions as an open shower via a showerhead  and drain in the corner (not pictured). "It splashes just so," avoiding the tub and sinks. An apropos painting by Laguna Beach artist and friend Marc Whitney hangs near the door. Of the space's overall design, she says, "I love a white bathroom. It's so fresh and clean. And the octagonal tiles create a great sensation on your feet."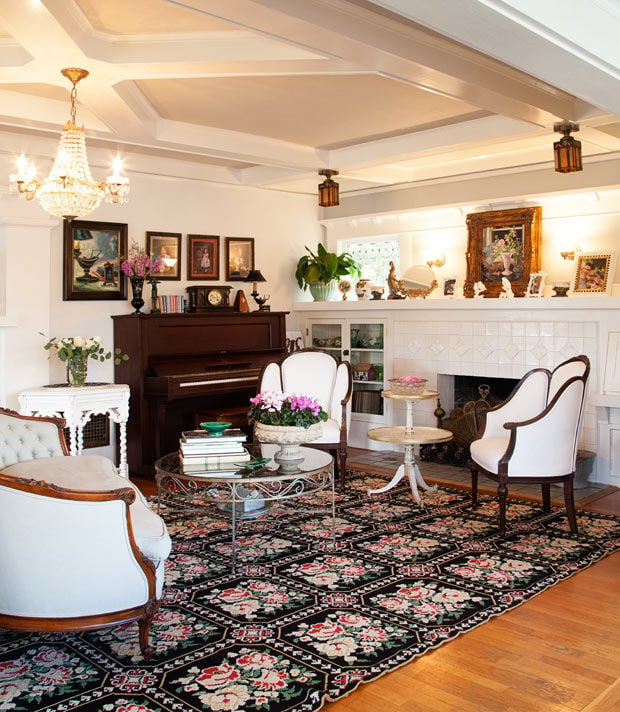 THE ANTI-DESIGNER
A 100-year-old Steinway holds court in the formal living room. Purchased at ABC Piano in El Cajon, the instrument was the first piece of furniture in the house when the family moved in. "It blessed the house," says Concetta. The rest of the room is an eclectic mix of antiques and heirlooms, such as the iron and glass coffee table from The Corner Store in La Jolla (now in Ocean Beach) and the needlepoint area rug that was owned by Jason's mother. "I'm sort of anti-designer, and don't believe you have to have a lot of money to make things nice," says Concetta, who did all the decorating herself. "Things don't have to match or have a particular theme. The theme should be you."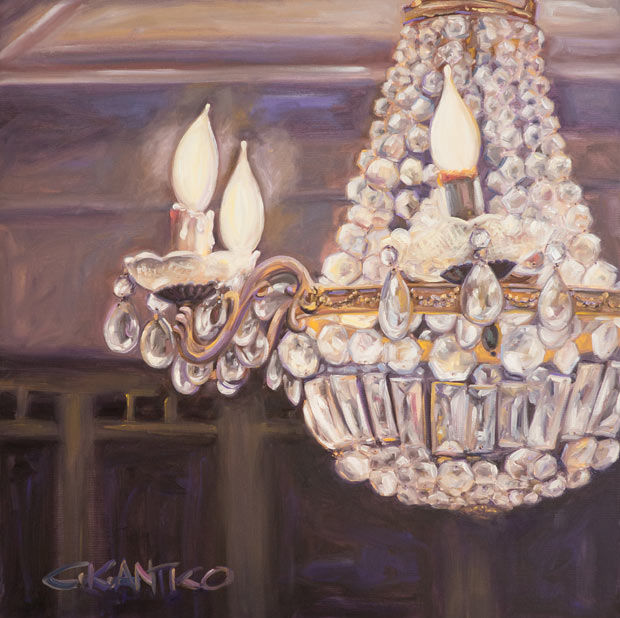 Concetta's life and home often inspire her art. She sold this chandelier at a yard sale, then found it again years later at an antique shop, recognizing it by a piece of mismatched crystal on one of the candles. "It was like finding an old friend!" The painting Twinkle, Twinkle followed soon thereafter.