Words and Pictures Co.
April 15 and 16
For an exclusive French-inspired meal to coincide with Easter weekend, head to Bleu Bohème. Concocted and constructed by the owner and executive chef Ken Irvine, Bleu Bohème's $48 Lapin au Vin is a white wine-braised rabbit with mustard, capers, crème fraiche and fresh herbs, served with pappardelle. Guests are encouraged to pair this dish with one of their cocktails, martinis or wines with selections available by the bottle or in pitchers.
4090 Adams Avenue, Kensington
Easter Brunch (April 17):
Brunch buffet style at The Marine Room, one of San Diego's most prolific beachfront dining spots. Standout seafood dishes from the menu include their crab cake benedict and avocado salmon toast, and their buffet features a meat carving station with Kurobuta ham, prime rib and lamb, as well as plenty of fresh dessert options. Brunch costs $175 per person, $60 for children aged 6-12, and $225 if you want free-flowing champagne. Visit their website for reservation details.
2000 Spindrift Drive, La Jolla
Take a culinary trip across the Atlantic to Valentina, a wine bar and bistro inspired by the owners' various trips to Europe and the Mediterranean. For brunch, their menu is centered around springtime bites, glazed ham and champagne to wash down all the Easter essentials. As for dinner, Valentina is offering a three-course fixed menu for $55 per person, complete with schnitzel soaked in lemon caper sauce and lamb stew with sides of baby vegetables and fingerling potatoes.
810 North Coast Highway 101, Encinitas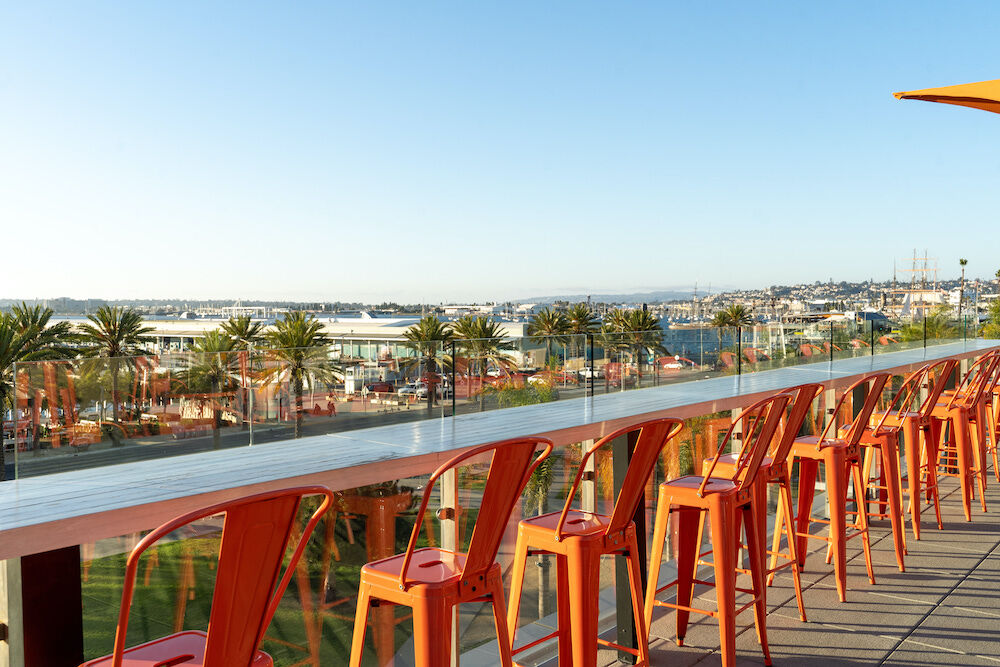 Kimberly Motos
Enjoy the flavors of Italy while perched on top of InterContinental San Diego's downtown rooftop. Garibaldi's three-course Easter menu offers sweet and savory Italian pastries, and five entree dishes to choose from before finishing off with a cassata Siciliana. The can't-miss entrees include the Italian omelet with caciocavallo cheese, the breakfast pizza topped with pancetta and fried egg and the sweet and fruity castagnaccio bread pancakes. The brunch costs $45 per person and can be upgraded to include bottomless caposaldo prosecco or Aperol Spritz for $29 more.
901 Bayfront Court, Downtown
Another seaside brunch option is The Shores Restaurant, named for its location among La Jolla's picture-perfect coastline. Their a la carte Easter menu, available from 10 a.m. to 4 p.m., features breakfast entrees like the lobster benedict with chipotle hollandaise and bananas foster french toast that pairs vanilla dipped challah bread with Vermont maple syrup and pirate rum. If you're not in the mood for sweet options, their Atlantic salmon with orzo and pancetta promises a delectable dining experience. Book your reservation here.
8110 Camino Del Oro, La Jolla
Have an ethereal patio brunch at 7 Mile Kitchen with plenty of exceptional brunch picks and wood-fired pizzas lining the extensive menu. Their brunch options include sweet, savory and spicy with a selection of pastries, hash and omelets, highlighted by their Baja omelet filled with jalapeno, chorizo, avocado and cheddar cheese. If you're arriving with lunch in mind, try their Tartufo artisanal pizza, topped with wild roasted mushrooms and caramelized onions and topped with arugula, white truffle cream and Reggiano cheese. Brunch will roll on from 7 a.m. to 2 p.m., and you can make your reservations here.
5420 Grand Pacific Drive, Carlsbad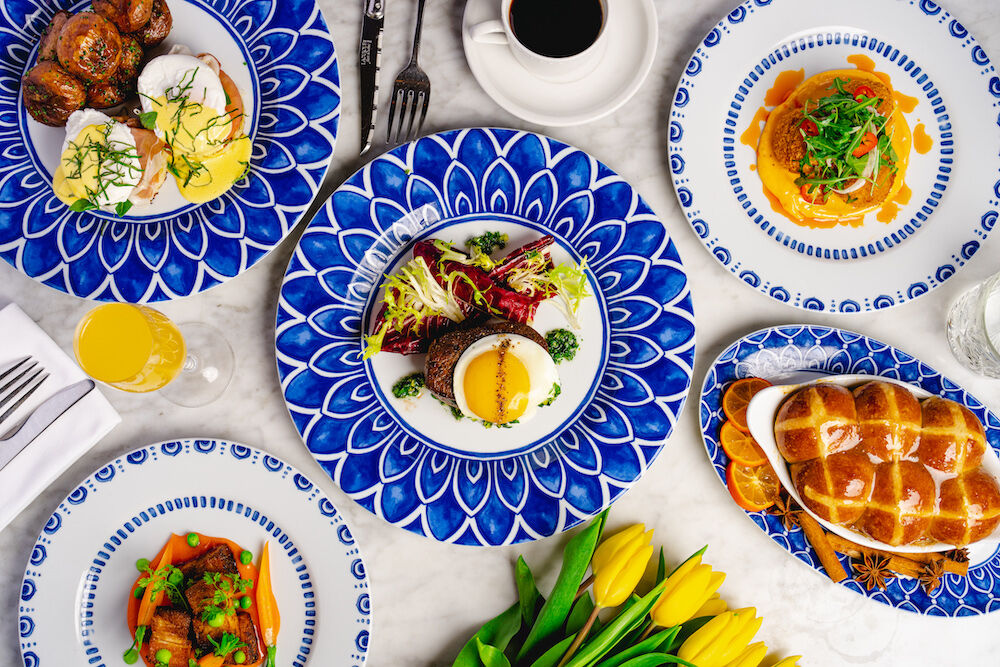 James Tran
Indulge in a two course menu with plenty of local favorites, whether it's inside Herb & Sea's beach-themed interior or on their sun-soaked patio. Start by diving into their easter rolls served with cinnamon butter, followed by avocado toast and crab cake appetizers and a choice from various entree options including their benedict with prosciutto, and a lobster roll packed with heirloom tomato. Add-ons include their $15 doughnut basket with five mini donuts that can be sweetened even further with icing and toppings and 3 grilled spot prawns for $50 to add another seafood centerpiece. The menu is $65 per person and you can reserve a spot for Easter brunch between 10 a.m. and 2 p.m. here
131 West D Street, Encinitas
Callie's debut Easter brunch promises a meal of epic proportions. Chef Travis Skiward's planned $75 Mediterranean-inspired four-course family-style feast includes starters like the asparagus mimosa with smoked salmon and sauce gribiche and spring agnolini stuffed pasta with zucchini, stracciatella and marjoram. The most noteworthy breakfast offerings include an elegant twist on eggs benedict with Calabrian duck sausage and the Israeli shakshuka made with harissa tomatoes and feta cheese. Reservations can be made here for a brunch spot between 10 a.m. – 4 p.m., and walk-ins can choose from an a la carte menu at the bar during this time.
1195 Island Avenue, East Village
Chef Sam Deckman has a lot in store for Torrey Pines' Farmer & The Seahorse on Easter Sunday. The special buffet will feature honey roasted ham, herb crusted salmon and deviled eggs served with dijonnaise, chives, Old Bay, lemon juice and Tabasco. Make sure to save room for dessert as their sweets section features limoncello tiramisu with white chocolate, lady fingers and limoncello frosting and bread pudding served with white chocolate sauce. Brunch is $75 per person for adults and $25 for kids, reservations can be made here.
10996 Torreyana Road, Torrey Pines
Serẽa Coastal Cuisine is a prime brunch location for Easter Sunday due its seaside location and lusciously rich menu items. Easter selections include fresh oysters and strawberry ricotta pancakes with whipped salted butter and warm maple syrup, a mouth-watering dish sure to impress. An exclusive menu item only available on Easter is Executive Chef JoJo Ruiz's special Mexican shrimp & smoked grits, which is finished off with poached eggs, tomato conserva and bagna càuda. You can take a chance walking in, but making a prior reservation on OpenTable is recommended.
1500 Orange Avenue, Coronado
20|Twenty's Easter brunch menu promises so many exciting dishes that it'll be hard not to try everything. Specialty dishes to choose from include the lobster risotto and blueberry basil pancakes, but don't sleep on the "elixers" like the green monster juice if you want a tasty Easter experience without the carbs. To go with the brunch setting, alcohol options include $18 bottomless mimosas with cranberry, orange, pineapple and pineapple-guava flavors and their $15 ultimate bloody mary made with Tito's Vodka. To secure your spot for Sunday, make a reservation here.
5480 Grand Pacific Drive, Carlsbad
Events:
April 11-17
If you're staying at the Hotel Del Coronado this Easter weekend, expect to feel the Easter spirit. Besides hosting brunch in the hotel's notable Crown Room and a special luxurious brunch at Serẽa, the Hotel Del Coronado is hosting two Easter egg hunts on Del Beach this Sunday at 10 a.m. and 12 p.m. Keeping with the Easter theme, the movie "Hop" will be playing on Saturday, April 16 as part of their Movies on the Beach series with a private bonfire, s'mores and sand chairs for comfortable viewing. Last but certainly not least, don't miss out on the hotel's Easter Roast at sunset all week long (April 11-17), where guests will each receive an Easter basket full of chocolate and candy including Peeps, Reeese's eggs and gourmet chocolates to make s'mores with.
1500 Orange Avenue, Coronado
April 16
Take a ride on the Bunny Train this Saturday, April 16 at the Pacific Southwest Railway Museum. The ride will begin at Campo Depot and travel 45 minutes across East County San Diego to the museum's display building which will be prepped with plenty of surprises. The area will be set up with two easter egg hunting areas with one aimed towards smaller children and another with more challenging finds hidden by the Easter Bunny, who will also be making an appearance. Train tickets include entrance into the display building and entry into both Easter egg hunts. Purchase your tickets here.
750 Depot Street, Campo
Check out the "largest egg hunt" in Carlsbad this Saturday, April 16 from 10:30 a.m. – 12:30 p.m., where kids can "scramble" to find colorful eggs filled with candy. Other activities include face painting, crafts, cookie decorating and games like soak the bunny. No prior registration is needed for the event so feel free to just show up and scramble.
6600 Hidden Valley Road, Carlsbad
Easter fun at Walnut Grove Park gegins with a Bunny Breakfast from 8-10 a.m. with pancakes, eggs and sausage and opportunities to take photos with the Easter Bunny, which you can register for ahead of time here. The highlight of the day is the Egg Scramble (with start times organized by age groups) which is intended for the whole community to participate and search for 20,000 eggs hidden throughout the park that are filled with prizes. Arrive early and take part in the free children's carnival with games and jumpers before the scramble begins.
1950 Sycamore Drive, San Marcos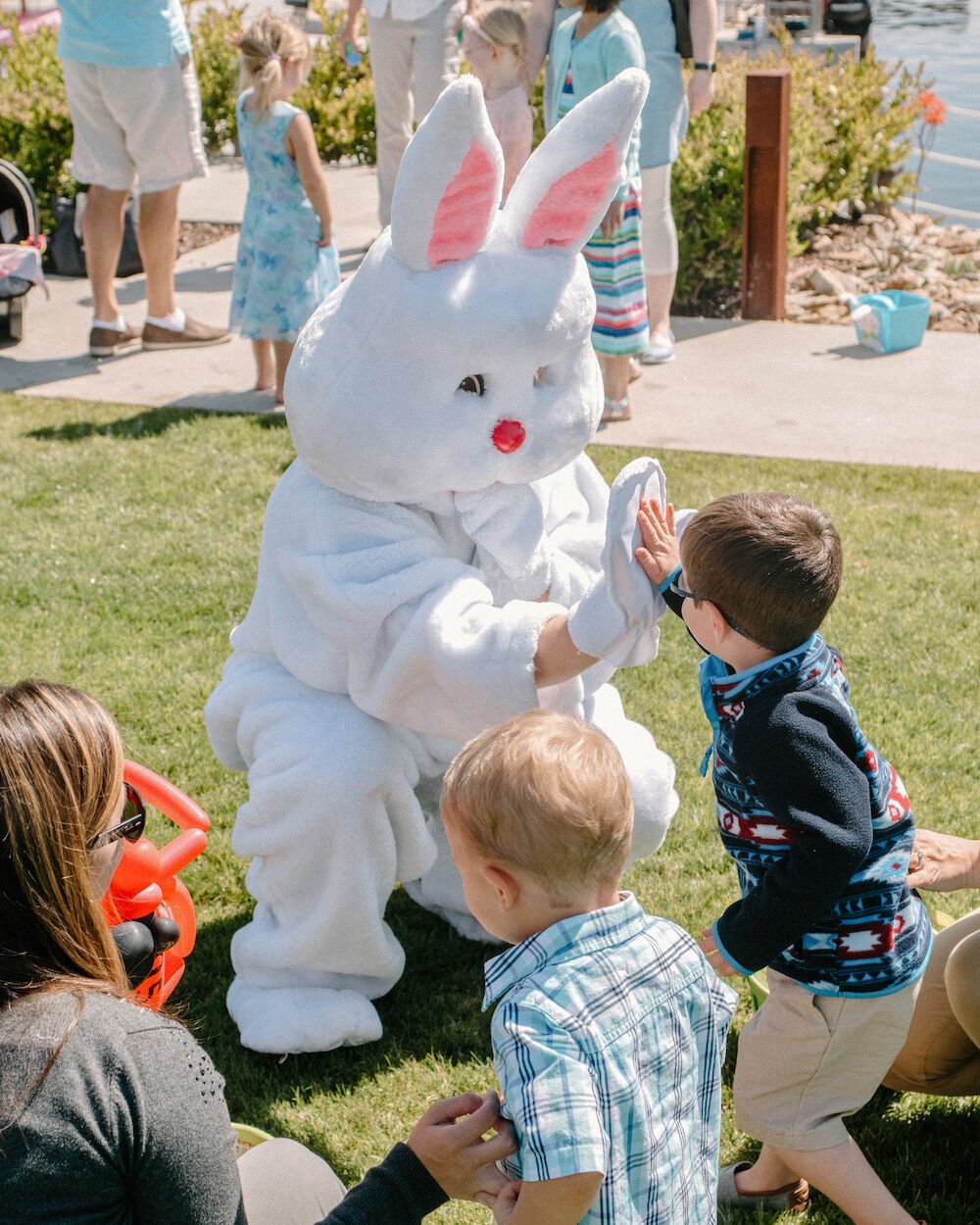 Courtesy of Lakehouse Hotel and Resort
April 17 
Lakehouse Hotel & Resort's Easter schedule promises fun for the whole family. Buffet style brunch options include an egg & omelet station with eggs and fixings, a cinnamon french toast bar packed with toppings like fresh berries, whipped cream and chocolate chips and a smoked salmon station that includes mini bagels, shaved red onion and whipped cream cheese. After brunch, enjoy activities on the Lakeside lawn, there will be live music, activities like face painting and balloon animals and many opportunities for kids to take photos with the Easter Bunny and hunt for eggs. Brunch at The Grill is $70 per adult and $35 per child (12 and under) and their special Easter Sunday Staycation & Brunch Buffet package comes with two free brunch tickets.
1025 La Bonita Drive, San Marcos
Enjoy a whole day full of activities on the beach in North County this Easter Sunday at the Seabird Resort. The resort's restaurant Piper is hosting an Easter brunch from 11 a.m. – 5 p.m. that's $75 per adult, 50% off for children and free for kids ages 5 and under. Outdoor activities on the Coastal Terrace from 9 a.m. – 1 p.m. include 'Build a Bunny,' cookie decorating craft tables, two Easter egg hunts and an Easter egg roll, where winners will be awarded a special Easter basket that includes a stuffed animal, toys and chocolates. Events are open to hotel guests and non-hotel guests alike so keep this on your radar.
101 Mission Avenue, Oceanside