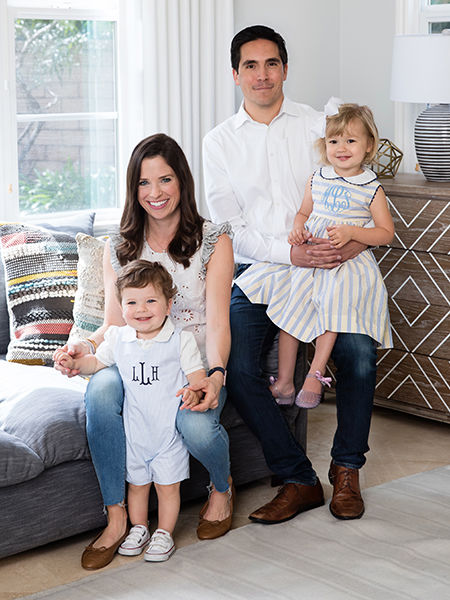 JENNIFERSIEGWART
Hunter Landa may be a California girl, but as she puts it, "I'm very Southern. I like a preppy, timeless style." So it's no surprise that when she met designer Erika Gervin—who grew up in Atlanta and was in the same Texas sorority as her—it was a match made in design heaven. Their kids are even the same age.
"I always have Southern elements injected into my space," Gervin says. "I think that's part of why we hit it off on our initial call."
They quickly went from all-business to besties. "We were on the phone about paint colors for the house the day after I left the hospital with my second-born."
They landed on a crisp white coat to cover up loud yellow lacquers throughout the first floor—the only part of Landa's home that wasn't turnkey.
She and her husband, Fernando, bought in North County's gated Santaluz community last year, attracted by amenities like a clubhouse, a pool, kids' camps, golf clubs, and miles of hiking trails, all a quick drive from where they grew up in Rancho Santa Fe.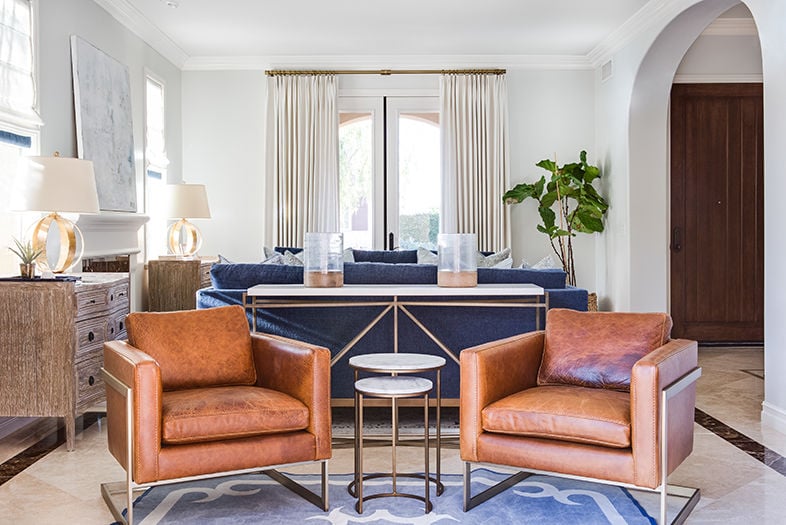 Positioned at the back end of the formal living room, two cognac leather chairs from Lee Industries and nesting tables by West Elm create the couple's "whiskey-tasting room," where they steal away for at-home date nights after the kids go to bed.
With the kiddos—Madrid, 3, and Leonardo, 1—and the fashion blog Navy & Orange now comprising Landa's full-time gig, she admits, "My niche is not interior design. That's why I needed Erika."
Still, she knows what she likes, and that's not the quintessential San Diego beach bungalow. Her taste skewed more traditional after moving to Texas for college and then living in New York and Rome to work for the US Embassy.
With only the white walls as her canvas, Gervin outfitted the home from scratch, finding furnishings in tune with the family's East meets West Coast style.
For the formal living room, sofas in navy, Landa's favorite color, were a must. Gervin opted for custom-made—just like all the curtains in the home—and a neutral coffee table by Tritter Feefer to juxtapose the colors, then dressers by Orient Express and lamps from Circa to balance the space.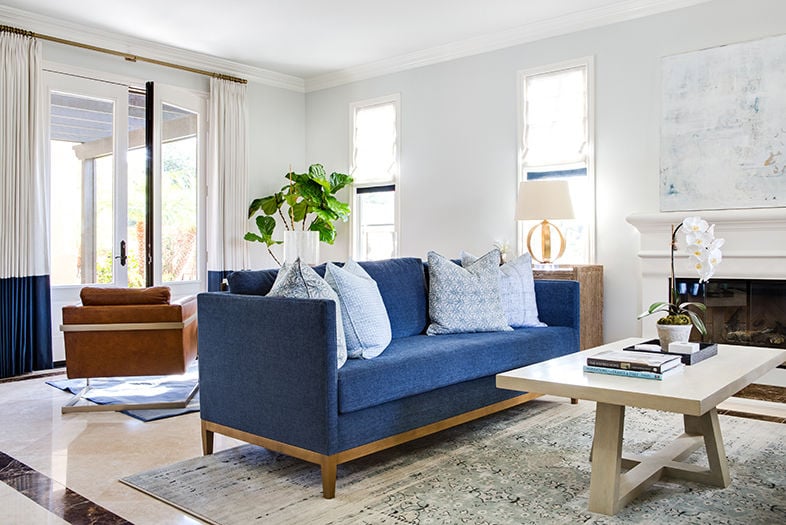 The formal living room, right off the entryway, was a space worth splurging on and playing up Landa's favorite color, with custom-made navy sofas, a coffee table by Tritter Feefer, dressers by Orient Express, and lamps from Circa.
"I walk by this room and can't believe it's inside my house," Landa says. "It's my dream room."
Gervin adds, "We splurged in the front room, knowing the kids would hang out more in the living room. Trying to find that balance of design but functionality is so important, knowing how they're going to live in the space with two little ones."
As a space made for entertaining, the dining room was also ripe for indulgence.
A 10-foot-long custom table centers it, with a light fixture by Kelly Wearstler gleaming like a disco ball.
"When I kept thinking of family holidays, I couldn't stop thinking of them being in this house," Landa says, noting that they hosted 38 family members for Christmas, some of whom traveled from Mexico.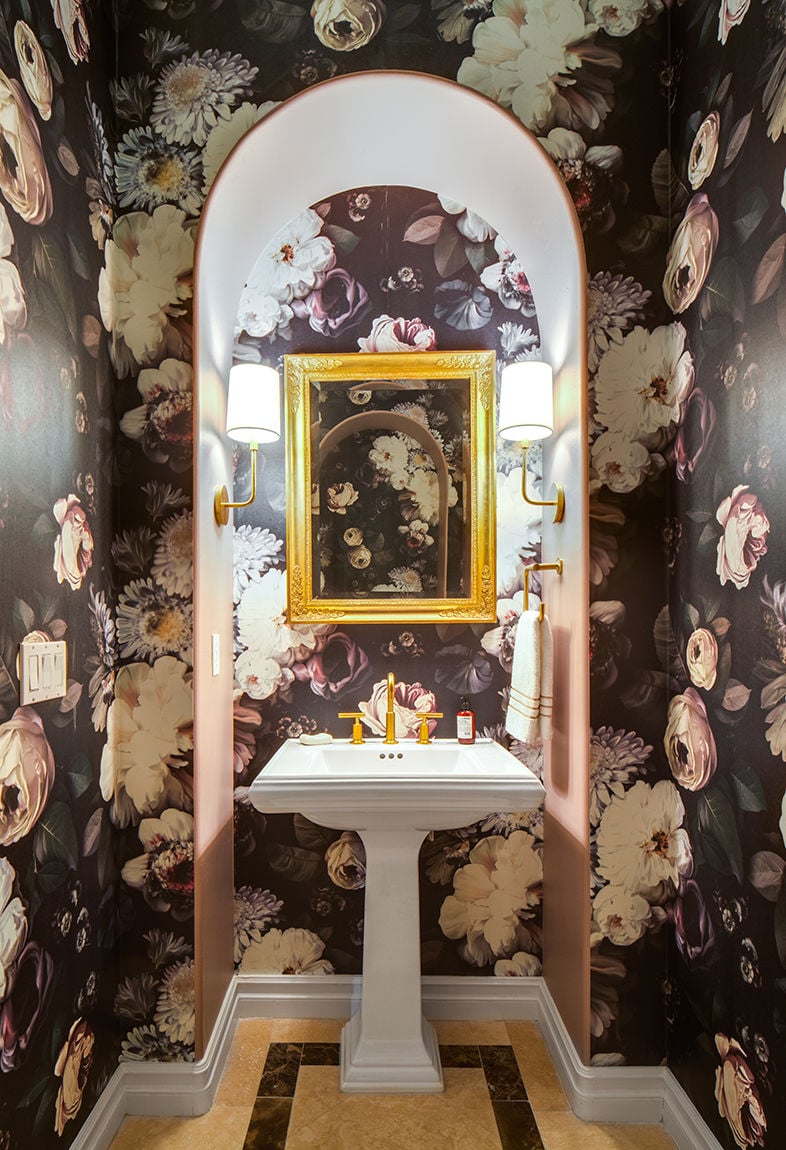 Ellie Cashman floral wallpaper puts a fun and feminine touch on the powder room, complete with gold accents in the faucet, sconces, and a mirror that's a family heirloom.
A family heirloom also hangs in the powder room: a gold-framed mirror that inspired more gold accents throughout the room, which is cloaked in Ellie Cashman floral wallpaper.
"I wanted something a little more loud and feminine," Landa says, and jests, "I don't know if my husband completely signed off on this before we ran with it."
One thing Mom and Dad both agree on? The family room is the heart of the home.
Borrowing a trick from the formal living room, the darker sofas by Four Hands—"They're kid-friendly and easy to clean," Gervin says—contrast with light coffee tables from CFC Furniture. Geometric dressers from Gabby and lamps from Arteriors settle the room's symmetry, and a fiddle-leaf fig tree adds a natural element.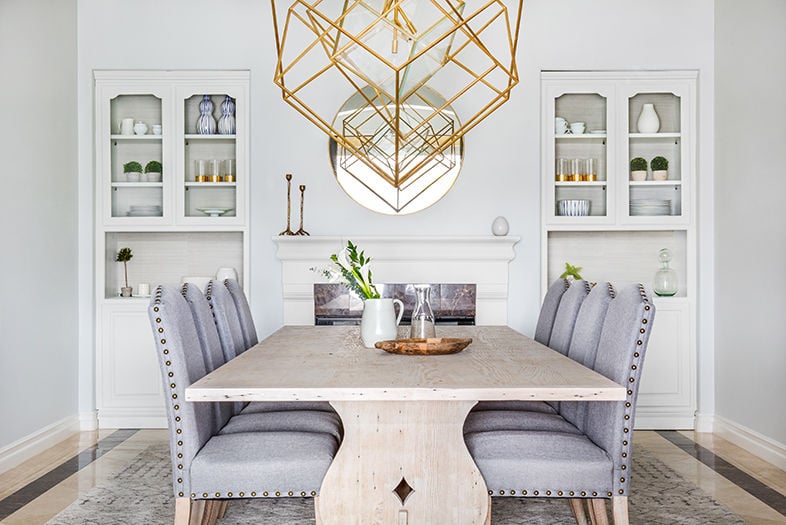 A light fixture by Kelly Wearstler glimmers above a 10-foot-long table in the dining room, the Landas' space for entertaining during the holidays.
Unlike its formal counterpart, on any given day you might find toys, puzzle pieces, and snacks sprinkled throughout the other living room. But as Landa puts it, "I'd rather the kids be happy and the house be dirty than vice versa."
She and her husband have their own escape, in two cognac leather chairs on the back end of the formal living room—an area they've dubbed the "whiskey-tasting room"—where French doors open out to a quaint courtyard and fountain.
They have their date nights there, after the kids go to bed, winding down from a busy day with a pour of their favorites—bourbon for him and Champagne for her—and, most importantly, with each other.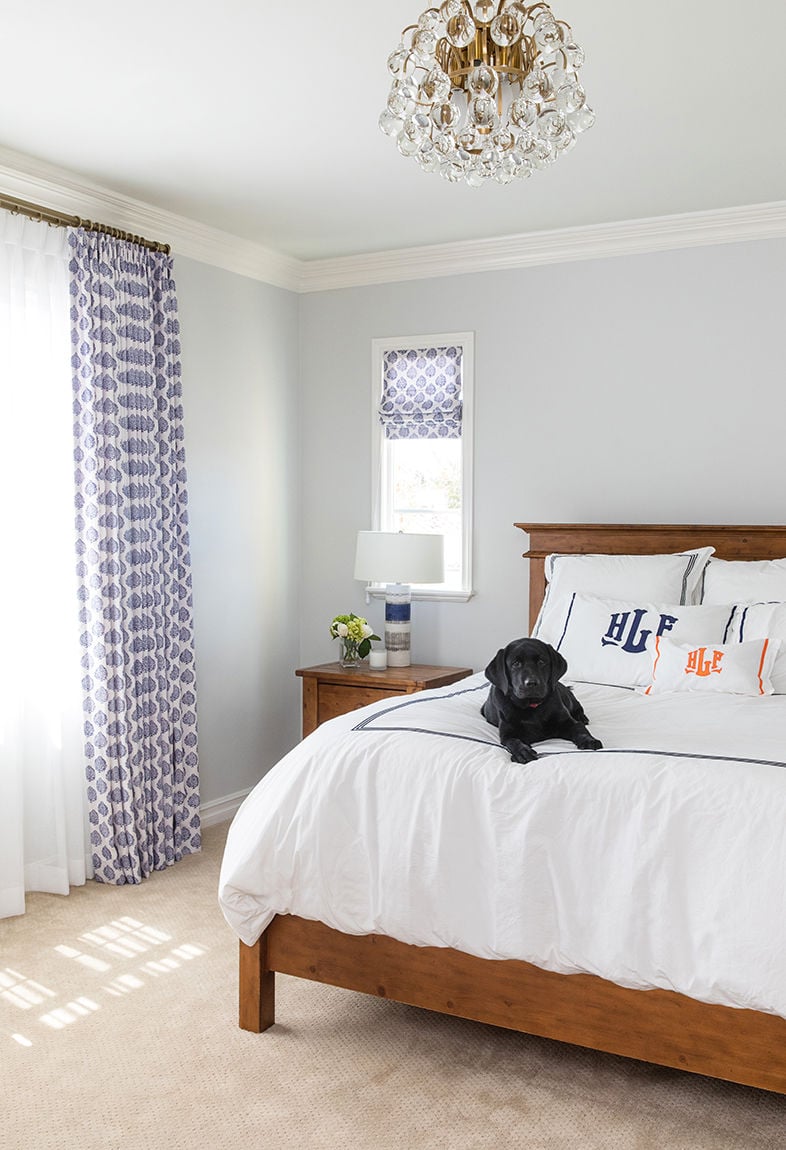 Jackson, the family's five-month-old puppy, in the second-floor master suite, which is outfitted with curtains custom-made by Erika Gervin.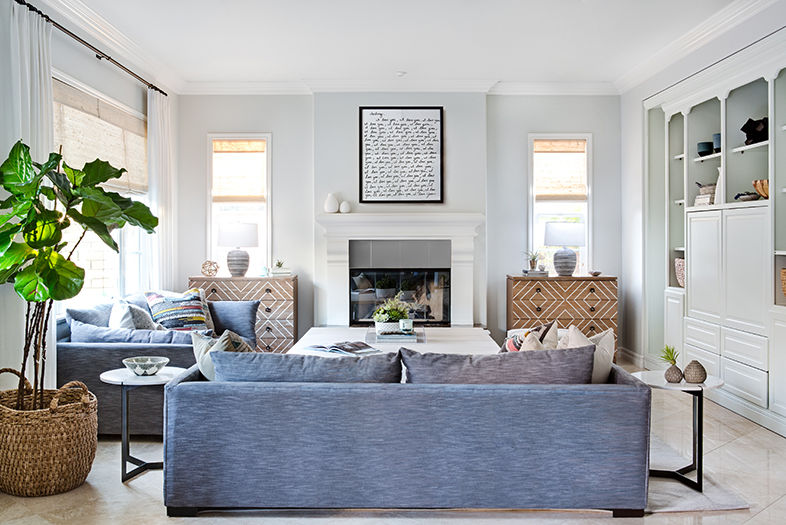 The family room, plush with sofas by Four Hands, is the heart of the home.